nvent NUHEAT H59310 Signature Programmable Dual-Voltage Thermostat
ITEMS
Change date and time
Access WiFi settings
Access weather forecast (WiFi connection required)
Current temperature
Target temperature or setpoint
Heating indicator – when visible, system is heating.
Access energy use data
Access Main Menu
GFCI test Button
GFCI Indicator
On/Off ButtonPress to turn system ON/Reset GFCI Hold to turn system OFF.
WARNINGS:
To avoid electric shock, disconnect the heating system power supply at the main panel before installation and maintenance of the thermostat. Keep thermostat air vents clean and free from obstruction. This thermostat is an electrical product and must be installed in compliance with the National and/or Local Electrical Code. Installation must be performed by qualified personnel where required by law.
Contents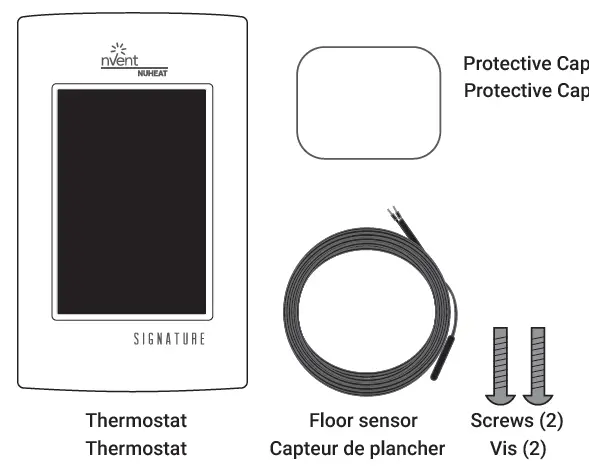 SETUP AND TROUBLESHOOTING VIDEOS, as well as a complete operating manual is available on nVent.com/NUHEAT.
Installation
Loosen screw at the bottom and remove faceplate. Do not attempt to remove the screw completely.
Turn power source OFF at breaker panel. Make electrical connections on power base. DO NOT over tighten the terminal screws. Secure protective cap onto power base.
The floor sensor cable must be routed to the junction box separate from power wires and the heating cable cold lead. Ensure that the insulation on the electrical wiring and the floor sensor inside the junction box are not damaged. Thread floor sensor through hole in the power base. Push electrical wires to the back of electrical box.
Push power base into electrical box. Secure power base to wall.
Make sensor connections. Remount faceplate. Do not touch the screen when mounting faceplate onto powerbase.
Turn power source ON at breaker panel. Perform system tests. Once systems tests are complete, press "Start Using Thermostat" and complete setup wizard.
Go into Settings > WiFi Settings to connect the thermostat to your WiFi network. You will be prompted to provide an email address for account setup. A verification email will be sent containing a link to complete your account setup.Setup your MyNUHEAT account. The nVent NUHEAT Signature mobile app is available at the App Store or Google Play.
TECHNICAL DATA
Supply ……………………………………………………………………..120/240 Vac 50/60 HzLoad ………………………………………………………………………..max. 15 A (resistive load)Power ……………………………………………………………………..1800 W at 120 Vac……………………………………………………………………………….3120 W at 208 Vac……………………………………………………………………………….3600 W at 240 VacGFCI ………………………………………………………………………..Class A (5 mA trip level)Temperature range ……………………………………………………+5 to +40°C, +41 to +104°FAmb. temp. range ……………………………………………………..0 to +25°C, +32 to +77°FWIFI ………………………………………………………………………..IEEE 802.11 b/g/nContains FCC ID ……………………………………………………….2ACSV-HF-LPT230Contains IC ID ………………………………………………………….12243A-HFLPT230Construction of Control: Electronic room thermostat for regulating electricalunderfloor heating.Method of Mounting Control: Independently mounted control for flush mountingType of Action ………………………………………………………….Type 2.B.Rated Impulse Voltage ………………………………………………2500 VControl Pollution Degree ……………………………………………PD2
CERTIFICATION UL Listed for the US and Canada
According to the following standards:Thermostat: UL 60730-1UL 60730-2-9CSA E60730-1:13CSA E60730-2-9UL file number: E157297GFCI: UL 943 4th ed.CSA C22.2 No. 144.1-06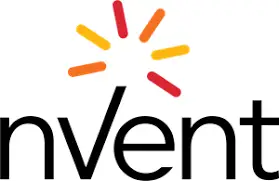 References
[xyz-ips snippet="download-snippet"]