Onn Roku TV 100012590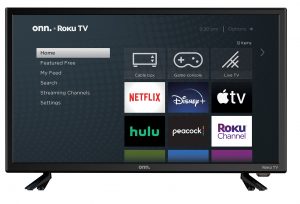 What's in the Box?
Check to make sure you have everything below.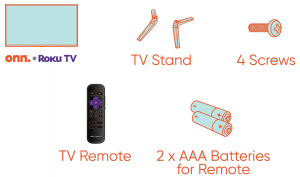 What you need:

Installing the Stands
Do not install the stands if you want to wall mount your TV. See your wall mount instructions or chat live at www.onntvsupport.com.
You will need: Phillips screwdriver (not included)
Place the TV screen-down on a clean, flat, soft surface (e.g.: blanket) to prevent scratches or damage to the screen.
Use a Phillips screwdriver to attach each stand with the provided screws.
Place the TV upright on a stable, level surface.
Grab your remote
Power your TV remote by inserting the included batteries carefully matching (+) and (-) indicated inside the battery compartment.
A. PowerB. BackC. Directional keypadD. Channel recallE. RewindF. SleepG. HomeH. VolumeI. View more optionsJ. Fast forwardH. Play/Pause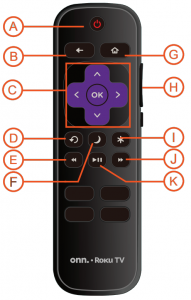 Visit go.roku.com/tvmanual for the complete Roku User Guide.
Connecting Devices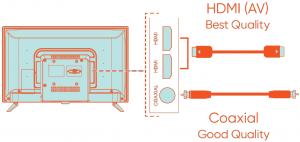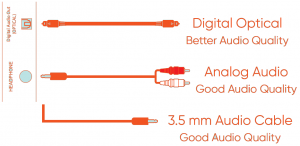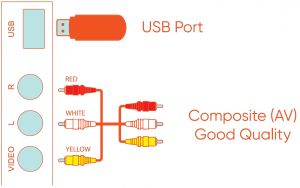 Connecting to Power
After connecting all your devices, connect the power cord to a power outlet. The TV enters standby mode and its indicator light turns red.
*Actual placement of TV ports may vary by model.
Setup & Activation
Tip: Have your wireless network name and password handy.
Follow the on-screen instructions on your onn.™ • Roku TV. If you aren't ready to connect your TV to a wireless network, you can still use it as a regular TV.
Activate your onn.™ • Roku TV using your computer, smartphone, or tablet to link to a Roku account. You need a Roku account to activate your onn.™ • Roku TV and access entertainment across thousands of streaming channels.
Note: Roku doesn't charge for activation support – beware of scams.
Endless Entertainment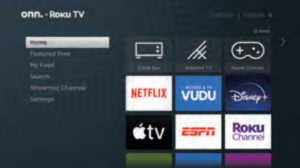 Stream what you love, including free TV, live news, sports, and more. Never miss the most talked-about events, award-winning shows, latest blockbuster hits, and more. It's easy to stream what you love and cut back on cable bills with access to 500,000+ movies and TV episodes across thousands of free and paid channels.*
*Payment required for some channels and content. Channels can change and vary by region.
Customer Support & Warranty
Online Chat: www.onntvsupport.comEmail: [email protected]
Customer Support:844-334-23559am – 9pm EST daily
Visit go.roku.com/tvmanual for the complete Roku User Guide.
We recommend keeping your TV box for the duration of your warranty. See your product warranty for details.
2 YEAR WARRANTY*Text "ONN REGISTER" to "888111"*1 year manufacturer warranty with purchase or 2 year warranty with product registration. Message and data rates may apply
We'd love to hear from you. Scan with your Walmart app and let us know what you think.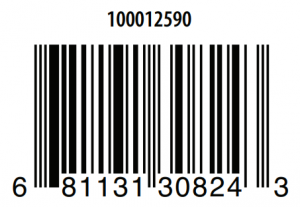 © 2020 Walmartonn. is a trademark of WalmartAll Rights Reserved.
References
[xyz-ips snippet="download-snippet"]