ooni Fyra 12 Wood Pellet Pizza Oven User Manual
Safety Legal Disclaimer – Must be read in full prior to use
Please read the present legal disclaimer fully before assembling, installing and using/servicing your Ooni. Failure to comply with all the provisions of the present legal disclaimer could result in property damage, serious bodily injury or even death.
Ooni is designed for outdoor use only. Ooni must always be placed outdoors, away from structures and never inside a building or a garage or in proximity to any enclosed area. Place your Ooni on a sturdy, level, stable and non-flammable surface and keep it clear and free from flammable or combustible materials, gasoline and other flammable vapours and liquids.
Be aware of any local laws or regulations that may specify a required distance between outdoor cookers and any structures, or that may limit outdoor flame of any type during drought or hazard periods.
Do not install or use your Ooni in or on boats or recreational vehicles.
Do not use your Ooni in high or gusty winds.
Your Ooni is not intended to, and should never be used as a heater.
Toxic fumes can accumulate and may cause asphyxiation.
Flames can blow outside of the metal enclosure:a. at the back where the fire is;b. from the front of the oven when you open the door; orc. from the top of the chimney.
Please keep away from the Ooni's openings and warn others around you.
Improper installation, adjustment, alteration, service or maintenance of your Ooni may cause injury or property damage. Therefore, do not use your Ooni unless it is completely assembled and all parts are securely fastened and tightened.
Your Ooni should be inspected on a regular basis.
When using the pellet burner: Add the pellets gradually to reach an optimum temperature. Adding too much pellets will enlarge the fire, risking damage to you or your Ooni.
When using your Ooni, there is a risk for your hands to be burned. You should never set hot items on or near combustible surfaces. DO NOT touch any metal parts when your Ooni is operating. Only touch the wooden/ plastic handles to open the door and lift the fuel hatch.
Never leave your Ooni unattended. Do not leave your Ooni unattended with the lid open while lit. Be aware of hazards (dry leaves, decking and other combustible materials) that may be in proximity to the Ooni while it is in use as they may present a fire hazard if any sparks are allowed to come into contact.
Keep all electrical cords away from your Ooni.
Ooni is to be used by responsible adults only.
Keep children, pets, and combustible items away from your Ooni at all times.
Do not attempt to remove any parts or move your Ooni when it is hot or while cooking.
DO NOT leave any hazardous objects such as lighters or barbecue lighting fluid next to your Ooni. Indeed, Ooni radiates heat to all directions.
Ooni remains hot even after visible flames have died down. Allow a minimum of 2 hours for it to cool down once you are done using your Ooni. DO NOT cover the Ooni immediately after it has been used and make sure all the fire and glowing embers have disappeared from the burner before storing it.
The approximate temperature of your Ooni (when being used) ranges from 250°F (120 °C) to 1000°F (550 °C).
Ooni is safe and hazard free when used as intended and according to safety guidelines, and will provide years of trouble-free use and enjoyment. It is the users' responsibility to maintain safe operation of the Ooni and to exercise reasonable standards of care at all times.
WARNING! This barbecue will become very hot, do not move it during operation.Do not use indoors!WARNING! Do not use spirit or petrol for lighting or re-lighting! Use only firelighters complying to EN 1860-3!WARNING! Keep children and pets awayDo not use the barbecue in a confined and/or habitable space e.g. houses, tents, caravans, motor homes, boats. Danger of carbon monoxide poisoning fatality.Do not cook before the fuel has a coating of ash.
What's in the box
Parts list
Main body
Door
Cordierite stone baking board
Chimney
Chimney cap
Fuel grate and fuel tray
Fuel hopper
Flame KeeperTM
Step 1Unfold the legs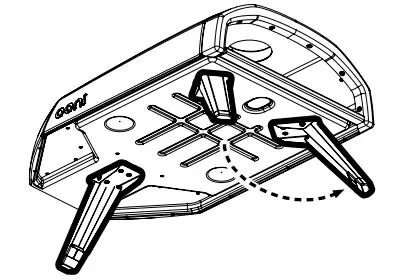 Step 2Assemble and then insert fuel tray and fuel grate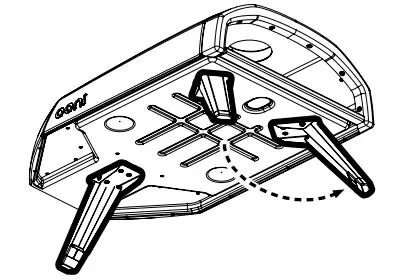 Step 3Insert pizza stone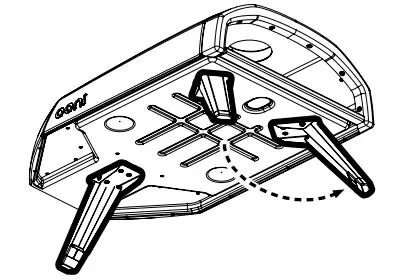 Step 4Insert chimney and lock in place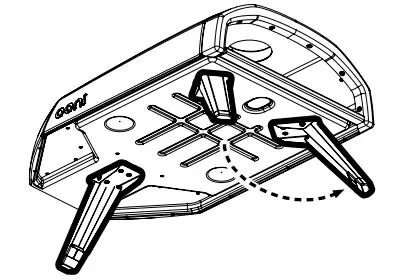 Step 5Add fuel hopper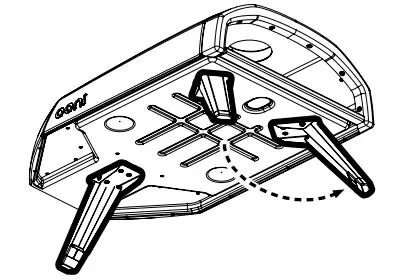 Step 6Add Flame Keeper™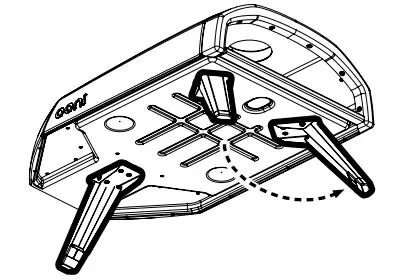 Step 7Add door and chimney cap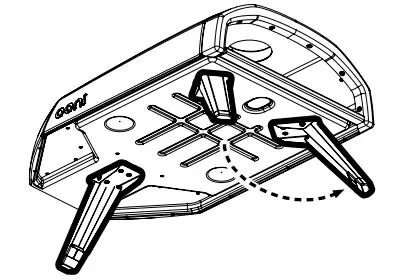 Lighting & extinguishingHardwood pellets
Step 1:Remove the chimney cap for optimum airflow through Ooni Fyra. Make sure the chimney vent is open. Keep the door on at all times throughout your cook unless adding or removing food.
Step 2:Remove the grate and fill with 100% hardwood pellets. We recommend approximately 5oz (150g) of pellets / 2 handfuls to start.
Step 3:Place a fire-starter at the front of the grate. Avoid anything that may impart unwanted flavours to your food. Light the fire-starter and push the grate back in to Ooni Fyra. Do not use spirit or petrol for lighting or re-lighting. Use only fire-lighters complying to EN 1860-3.
Step 4:Allow starter pellets time to fully ignite. Look through the viewing hole in the Ooni Fyra door to check for full flame. Gradually top up pellets little and often until you have reached the top of the hopper. Maintain this level throughout your cook for consistently high temperatures. A hopper full of pellets will last for 15 minutes.
To extinguishLet the fire burn down naturally and leave Ooni Fyra to cool. Do not remove ashes until Ooni Fyra has cooled completely.
Register your product at ooni.comFor the full user guide, cooking instructions, tips and tricks please visit ooni.com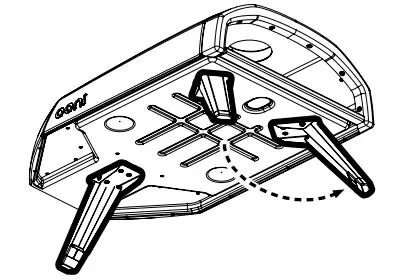 ooni.com© 2021 Ooni Ooni is a registered trademark of Ooni Ltd. All rights reserved.
References
[xyz-ips snippet="download-snippet"]