PhilipsOn-ear WirelessHeadphones32mm drivers/closed-backOn-earBluetooth ®TAH4205WT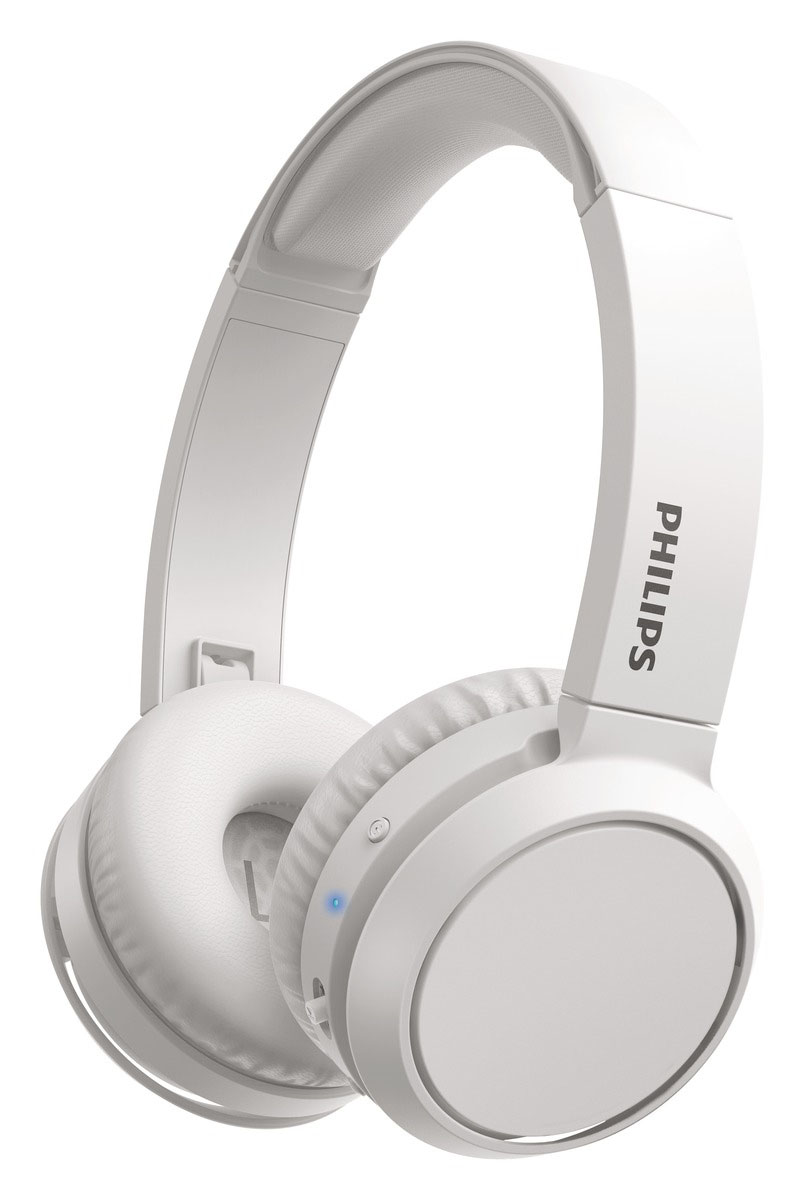 Feel that bass
Rock your sounds with bigger bass. These wireless on-ear headphones boast a BASS boost button, so you can pump it up whenever you like. You get up to 29 hours of playtime, quick charging, and stylish matte colors to choose from.
Easy on the move
Flat-fold design for easy storage
Compact foldable design for easy portability
Multi-function button. Easily control music and calls
Smart pairing. Automatically find Bluetooth devices
29 hours playtime. Big bold brass.
29 hours playtime. USB-C charging
Powerful 32 mm neodymium drivers
BASS boost button. Stronger bass at a touch
Charge for 15 minutes, get extra 4 hours of playtime
Great sound isolation from the closed-back design
Matte style. Maximum comfort.
 Eye-catching matte colorways
Lightweight, adjustable cushioned headband
 Soft ear cups that can be angled for maximum comfort
On-ear Wireless Headphones32mm drivers/closed-back On-ear, Bluetooth®TAH4205WT/00
Specifications
Sound
Acoustic system: Closed
Magnet type: NdFeB
Frequency response: 20 – 20 000 Hz
Sound Enhancement: Noise Reduction
Impedance: 32 ohm
Speaker diameter: 32 mm
Sensitivity: 110 dB
Diaphragm: PET
Type: dynamic
Connectivity
Microphone: Built-in microphone
Bluetooth profiles: A2DP, AVRCP, HFP, HSP
Bluetooth version: 5.0
Maximum range: Up to 10 m
Convenience
Volume control
Call Management: Call on Hold, Switch between 2 calls, Answer/End Call, Reject Call, Switch betweencall and music Accessories
Quick start guide
USB cable: USB-C cable
Power
Battery Type: Li-Polymer
Standby time: 166 hr
Talk time: 21 hr
Music playtime: 29 hr
Design
Product dimensions
Product dimensions (W x H x D): 16.5 x 18.5 x 4 cm
Weight: 0.15 kg
Packaging dimensions
Packaging dimensions (W x H x D): 19.5 x 22.5 x 5 cm
Gross weight: 0.2861 kg
Nett weight: 0.1805 kg
Tare weight: 0.1056 kg
EAN: 48 95229 11028 1
Outer Carton
Number of consumer packagings: 3
Outer carton (L x W x H): 21.2 x 16.5 x 24 cm
Gross weight: 1.0665 kg
Nett weight: 0.5415 kg
Tare weight: 0.525 kg
GTIN: 1 48 95229 11028 8
Highlights
BASS boost button.These on-ear headphones boast powerful 32 mm neodymium acoustic drivers that give you crisp sound and rich bass. When you want more, simply press the BASS boost button and you'll feel the difference instantly.
29 hours playtime.
You get up to 29 hours of playtime from a 2-hour charge via USB-C. If you start running low on power, a quick 15-minute charge will keep the music playing for another 4 hours.
LightweightAvailable in stylish matte colorways, these on-ear headphones boast a cushioned headband that's so light you'll barely feel it. The soft ear cups are clearly marked for left/right ears and can be angled until they feel just right.
Flat-fold designRoll with the bass. The ear cups fold flat and swivel inward, for easy storage in your pocket or bag. Just fold them up and you're ready to go.
Multi-function button.Don't like the current track? Skip it with a long press. Want to reject a call? A simple button-press takes care of that. Smart Bluetooth pairing means these earphones remember the last devices they were paired with.Compact Foldable Real compact foldable which is excellent for travel and lets you take your music anywhere.


Issue date 2020-07-08 © 2020 Koninklijke Philips N.V. All Rights Reserved.Version: 4.3.3Specifications are subject to change without notice.Trademarks are the property of Koninklijke Philips N.V. or their respective owners.12 NC: 8670 001 68195EAN: 48 95229 11028 1www.philips.com
References
[xyz-ips snippet="download-snippet"]