OUTDOORFLAME SPEAKER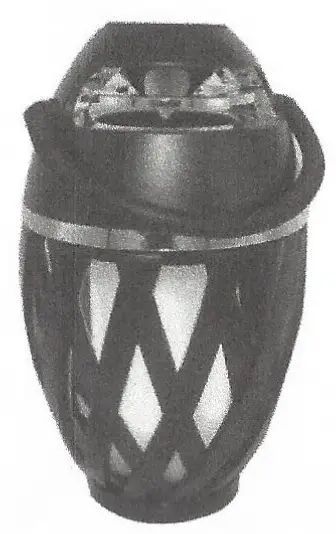 PRODUCT OVERVIEW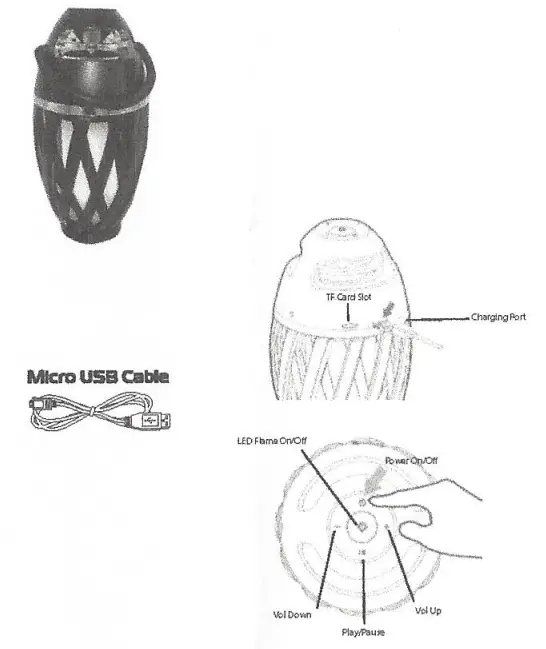 CHARGING YOUR SPEAKER
The battery must be fully charged prior to use. It takes approximately 4 hours to fully charge your Speaker (from the depleted unit).
A Via AC Adapter/Wall Charger: Using the provided Micro USB cable, connect your Speaker (Micro USB port) to the AC Adapter (USEI port).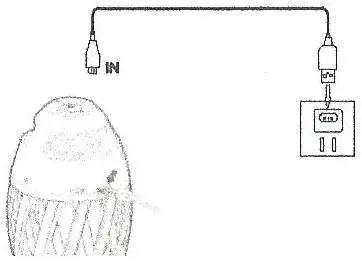 B Via Computer: Using the provided Micro USB cable, connect your Speaker (Micro Use port) to the computer/laptop (USB port).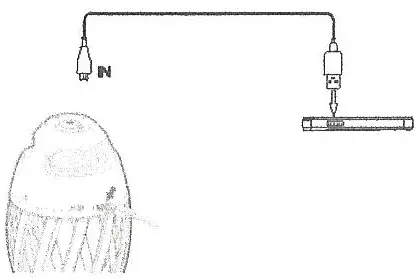 PAIRING THE SPEAKERTO BLUETOOTH DEVICE
Make sure the Bluetooth function is available on your cell phone. Specific palling procedures WI be different depending on &trent cel phone. For detailed information, please refer to your cell phone's User Guide.
After a successful pairing, devices will memorize each other. Therefore, no pairing IA be needed next time
Keep the distance between the cell phone and the speaker within 3 feet ( for pairing only).
Turn on the speaker by pressing the "Power On/Off" button
The tone prompt will sound. The unit will automatically enter into pairing mode.
Activate the Bluetooth function of the cell phone to search for Bluetooth devices. After finishing the search, select "A1 +" in the device list displayed.
Your Al+ speaker is ready to use.
SPENCER CONTROLS
ON/OFFPress and release the Power On/Off buttonVOLUMEDuring a call of when listening to musicVolume +Press and hold + Button.Volume –Press and hold – button.
MUSICGo to the next songLong Press +Go to the previous songLong Press –TF CARD MODE (automatic after inserting TF card)
| | | |
| --- | --- | --- |
| Go to the next song | Go to the previous song | Play/Pause |
| Press + Button | Press – Button | Press Button |
PLAY/PAUSE Press

to play/pause the music.
TWS MODE
Turn off the Bluetooth mode on your mobile device,
Turn on the speakers by pressing the"Power On/Off" button
On either speaker, press and hold the "LED Flame On/Off" button for 3-5 seconds, and wait until you hear a "ding-dong" confirmation tone. The speakers are now connected, and you can connect your Bluetooth device.
LED FLAME
To use the LED flame function, press and release the LED Flame On/Off button once. The lamp will turn on to the dimmest setting. There are 3 brightness levels; press and release to change the brightness.
IMPORTANT SAFEGUARDS
Keep the speaker away from any source of heat.
Always adjust the speaker volume to a suitable level to avoid hearing damage or damage to the unit.
If not using the speaker for a long period of time, keep the internal battery charged (charge once every 3 months). This will extend the life of your lithium battery.
SPECIFICATIONS
Frequency: 50 Hz-20KHZ
Battery: 1500 mAh Li-Ion
Distance: 33 ft (10m)
Charging time: 4 Hours
Playing tire: 10 Hours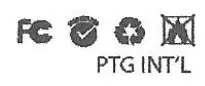 [xyz-ips snippet="download-snippet"]