POWERTECH MB3816 Wireless Power Bank
Specifications
| | |
| --- | --- |
| BRAND | POWERTECH |
| MODEL | MB3816 |
| Material | ABS |
| Batteries | Li-Polymer battery |
| Capacity | 10000mAh |
| Input Voltage Current | DCSV / 2.1A |
| Output Voltage Current | DCSV / QC.3.0 |
| Wireless Output | 10W |
Product Detail Introduction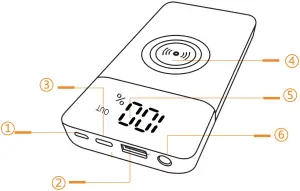 Micro USB charging port
USB interface
TYPE-C port (both input and output)
Wireless charge area
LED Display screen
Alimentation
Features
(Innovative Design) Stylish and clean minimalist appearance.
(Ergonomical) Quality finish with a comfortable hand feel. Thin and lightweight, great for people on to go.
(Large capacity) High performance battery with up to 1 0000mAh capacity. Perfect for high frequency users and extended trips.
(Multiple connector) The power bank also includes two USB output ports, and a USB TYPE-C input/output port. You can up to charge 4 digital devices at the same.
Package Accessories
Wireless Power Bank* 1
Micro USB Cable * 1
User Manual * 1
Notes
Do not drop, hit or shake the mobile power bank as it may damage or the displace the lithium battery which may lead to failure!
Do not submerge into the water.
Avoid prolonged exposure to sunlight or rain.
Do not store or carry flammable liquids, gases or explosives near mobile power banks.
Use compatible cables only. Forcing in incorrect adapters/cables may damage unit.
Keep your mobile power bank out of the reach of children to avoid accidents.
Do not disassemble the damaged 1mobile power bank.
Choose smart mobile power protection. Intelligent protection has several advantages: over-current protection + short-circuit protection + over-discharge protection + regulator protection + overcharge protection, users do not have to worry if there's going to be a security risk after being charged for certain period of time.
Mobile power banks should be charged and discharged every month.
Warranty Card
Dear users, Thank you for purchasing POWERTECH products, in order to provide better service, please read the user manual carefully after purchased.
Unauthorized removal or misuse of the user is not covered by the warranty
| | |
| --- | --- |
| Customer Name |   |
| Contact Information |   |
| Contact Address |   |
| Product Model |   |
| Purchasing Date |   |
| Order No. |   |
| Purchasing Place |   |
Distributed by:Electus Distribution Pty. Ltd. 320 Victoria Rd, Rydalmere NSW 2116 Australia

[xyz-ips snippet="download-snippet"]