Poynting OMNI-403 User Guide
1. Packing Check List
Item
Description
Quantity
1.
A-OMNI-0403

Antenna only

1
2.
M4 Allen Cap screws
4
3.
3mm Allen Key
1
4.
Adapter Base
1
5.
Seal
1
6.
Locking nut
1
The appearance of each component
Antenna Unit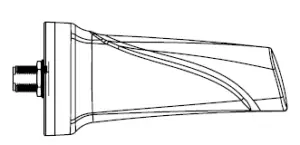 Adapter Base and Seal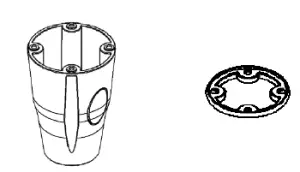 Allen cap screw and locking nut
3mm Allen key

2 Optional Accessories
Optional Accessories
A-BRKT-037: Marine flat mount antenna
bracket stainless steel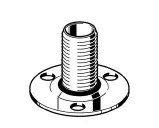 AA-BRKT-038: Marine ratchet rail mount antenna bracket stainless steel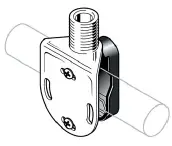 A-BRKT-039: Heavy duty marine mount antenna bracket stainless steel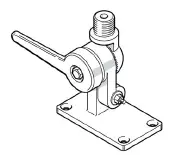 3. Introduction
This User Guide provides information on the installation instructions of the Omni-directional marine antenna (A-OMNI-0403)
Antenna Configuration 1
Pole mount with optional L-Bracket Antenna Configuration 2 Marine mount with optional bracketry using the provided allen key. bExploded View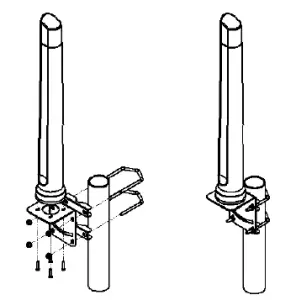 Antenna Configuration 2
Marine mount with optional bracketry using the provided allen key. Exploded View Exploded View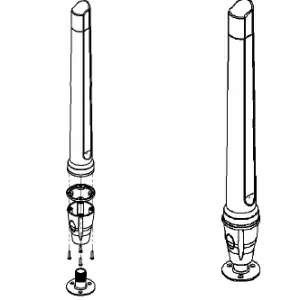 4.  Installation Instructions
Open the antenna package andconfirm that all listed components are available.
Consider the antenna mounting precautions below before installation.
Straight cable entry
 

Slide the RF cable through the bracket pipe, seal and adapter base. Fasten the adapter base to the antenna using the provided allen key.

 

Assembled antenna with straight entry

cable.

 
Side cable entry

 

Use a flat screw driver on the knock out edge of the adapter base to break the knock out section as shown above.

A file might be required to remove sharp edges.

 

 

 

 

 

 

 

 

 

Assembled antenna with side entry cable.
5. Antenna Mounting Precautions
Place the antenna at the highest point of the vessel and ensure that there aren't any surrounding obstructions to the antenna.
In order to avoid communication interference, ensure that the antenna is placed at least 0.5m away from other antennas and metal objects.
Avoid installing the antenna near the vessel's chimney, as the smoke and soot emitted by the chimney can obstruct the signal level achieved by the antenna.
Install the antenna away from the vessel's heat sources and flammable gases.
6 Cable Routing
Survey the planned cable route and look for any blocked passages. Consider alternate routes to find the best available path. Always keep the cables as short as possibleto make sure that minimum cable losses are achieved.
Note: Take advantage of any existing cable channels. e.g wiring conduits to route the cables.
Avoid running cables through components or sharp apertures that may cause excessive chafing. Doing so may erode the jacket and break signal continuity. Also, avoid kinking, pinching, or twisting a cable during a run.
Use cable ties to secure the antenna cables. When handling the antenna cables,it is essential you follow these basic rules:
Never pull on the cable connectors; pull only on the cable.
Never run cables in a manner that in terferes with the driver's ability tosafely operate the boat.
Tighten the connectors and ensure that the cables don't rattle loose.
7 Safety
The antenna may not be used as a climbing or pulling device.
Considerations must be taken when mounting the antenna that people do nothang or pull on it.
Use safety goggles when drilling theantenna hole.
Avoid using bits that are dull, bent ordamaged.
Be aware of where your fingers are in relation to the drill bit when using the drillingmachine.
To stop the drilling machine, let the drillchuck come to a complete stop on its own. Never grasp the chuck in an attempt tostop the drill bit.
Avoid operating while under the influenceof drugs, alcohol or medication.
Make sure that any loose fitting jewellery orclothing is secured and tie back long hair asthey can get caught in moving parts duringinstallation.
Avoid awkward hand positions where asudden slip could cause a hand to moveinto the drill bit or cutting tool.
Read More About This Manual & Download PDF:
[xyz-ips snippet="download-snippet"]