ARCUS200S-BTTWS GAMING EARBUDSUSER MANUAL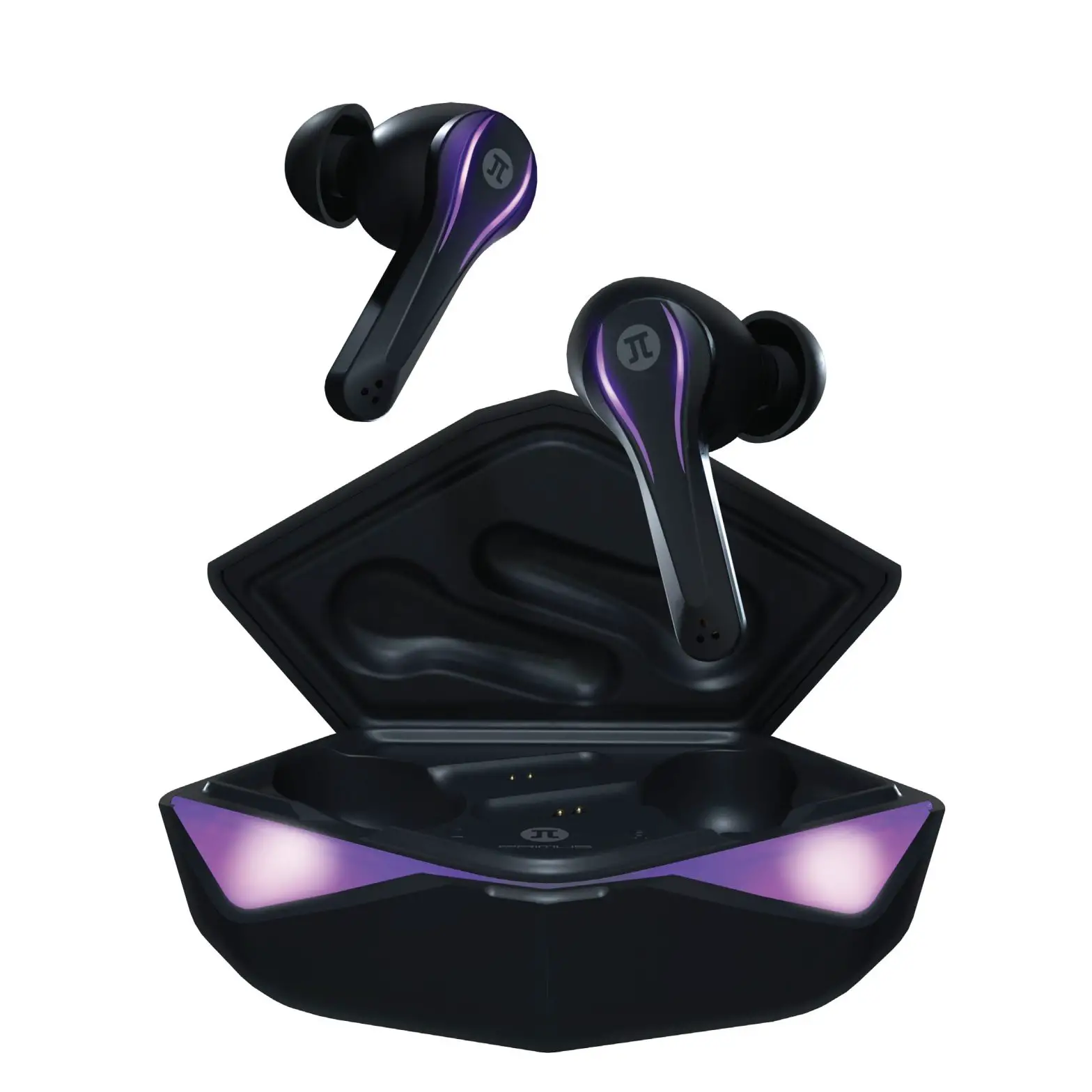 INTRODUCTION
Thank you for choosing Primus' new gaming True Wireless Stereo earbuds, specially designed for the serious gamer who doesn't want to lose the slightest detail of the adrenaline-loaded videogames. Suitable for the most realistic sound effects, this amazing headset delivers brilliant audio through noise-isolating ear speakers that will surely lure you into the most fantastic journey. By adopting the most advanced Bluetooth® V5.0, the Arcus wireless earbuds let you experience brilliant and clear audio with faster transmission rates, stronger connection stability, and a longer range. It also features a gaming illumination mode, low latency, and touch-sensitive controls, so you can fully focus on staying at the top of your game!We encourage you to thoroughly read this quick installation guide to get the most out of this innovative and truly portable wireless audio device.
MAIN FEATURES
True wireless stereo (TWS) technology — designed to stream audio seamlessly through both earbuds at the same time
Armed with the advanced Pixart dual host decoding, gamers can easily switch between music and gaming modes
Optimal latency gives pro gamers the competitive edge by syncing in just 65ms the audio to the action on the screen
Smart one-step pairing — open the case to instantly connect to your Bluetooth® devices, giving you the option of choosing between mono or stereo listening
Touch-sensitive controls require just a simple tap to activate your commands
Gaming-grade 12mm dynamic drivers easily capture the sound of flying bullets, the blast of epic struggles and in-game audio for a more engaging and  immersive virtual experience
Experience ultimate freedom with the latest Bluetooth® V5.0 wireless profile
360º full-range surround sound – acoustically balanced for clarity and sharpness from every angle
Built-in HD microphone with noise cancellation allows hands-free conversations and clear voice communications during tournaments
PACKAGE CONTENT
| | |
| --- | --- |
| • TWS gaming earbuds | -2 |
| • Portable charging case | -1 |
| • Type-C USB charging cable | -1 |
| • Silicone ear tips  (S, M, L) | (3 pairs) |
| • User manual | -1 |
PRODUCT OVERVIEW
CHARGING CASE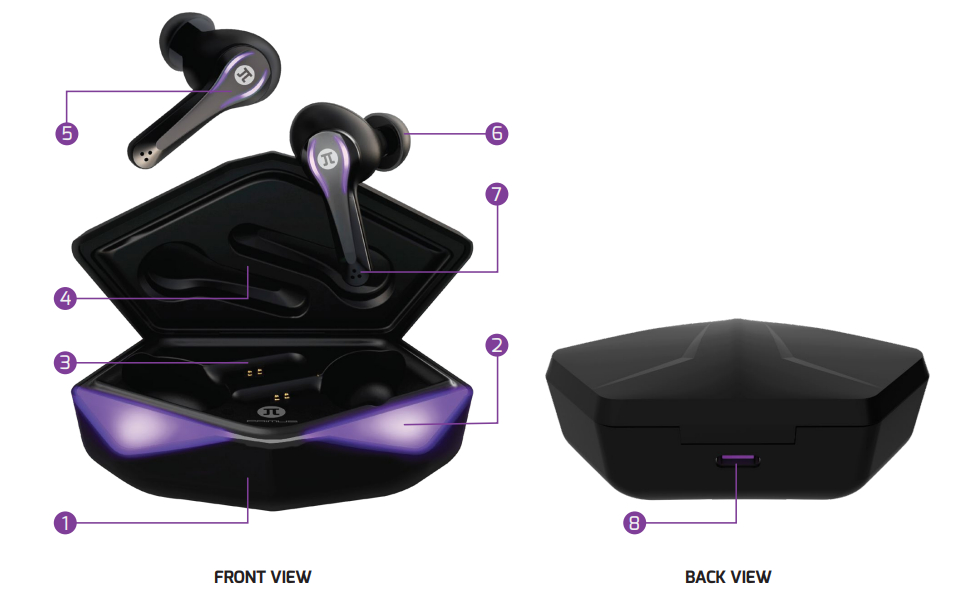 Portable charging case: place each earbud on the corresponding left and right sides to recharge. Controls are disabled when earpieces are inside the charging case.
Charging case LED indicator: displays the current status of the case with or without the earbuds inside.
Magnetic charging compartment: place earbuds in each side to recharge them.
Charging case cover: open to automatically power on and synchronize the earbuds. Close it with the earbuds inside the compartment to power them off and start the charging process.
Earbud with LED and soft-touch multifunction control: tap for power, music, and phone call management.
Removable silicone tips: provide a comfortable and secure fit.
HD microphone: picks up your voice for phone calls, intra game communications, and hands-free management of your mobile device
Charging port: insert the Type-C -USB cable in this jack.
| | |
| --- | --- |
| MULTI-FUNCTION COMMAND | Function |
|  SINGLE TAP | The left earbud (L) will cause the volume to decreaseThe right earbud (R) will cause the volume to increaseOnce the highest or lowest audio level is reached, a single tone will be generated through the earbuds |
| DOUBLE-TAP | When in phone mode:– Play/pause media– Answer /hang up a call |
| TRIPLE TAP  | The left earbud (L) will play the previous trackThe right earbud (R) will play the next track |
| VOICE ASSISTANT INTERFACE | Press and hold the left earbud (L) for 2 seconds to activate Google Assistant or Siri (on supported devices).To cancel this function, press and hold the same control again for 2 seconds.A tone will be heard every time the voice recognition feature is toggled on or off |
| SOUND EFFECTS | Press and hold the right earbud (R) for 2 seconds to enter the low latency mode. The LEDs on the earbuds will glow, accompanied by the Game mode prompt to notify that it has been switched on.  Likewise, Music mode will be heard when pressing and holding the right earbud (R) once more for 2 seconds in order to enable this option |
LED STATUS INDICATOR
| | |
| --- | --- |
| STATUS | Function |
| POWER ON | LEDs on both earbuds light up 3 times accompanied by a voice prompt |
| POWER OFF | LEDs on both earbuds light up once accompanied by a voice prompt |
| PAIRING | LEDs will blink once per second |
| GAMING MODE | Turns on the breathing light effect on both LEDs |
| LOW BATTERY | Both LEDs blink simultaneously every two seconds |
| EARBUD CHARGING | Open the case to place earbuds inside the compartment.The LEDs on the case will glow for 10 seconds. Close the cover to start charging. The LED on each earbud flashes when charging, and turns off when  the built-in battery is fully charged |
| CASE CHARGING   | When battery power is less than 25%, both LED indicators to light up once simultaneouslyWhen battery power is between 25% and 50%, both LED  indicators to light up twice simultaneouslyWhen battery power is between 50% and 75%, both LED indicators to light up three times simultaneouslyWhen battery power is between 75% and 100%, both LED indicators will turn to solid purple |
BASIC OPERATION
Charging the case and earbuds
Note: The case and earphones have internal, non-removable, rechargeable batteries. Do not attempt to remove the battery as you may damage the device.
To charge the case, plug the USB cable into a power source and the Type-C in the case's port. The case starts charging automatically.
Charging the case battery with the earbuds inside to their full capacity may take up to 2 hours.
Charging the battery of the case alone when connected to a Type-C port will normally take 1.5 hours.
While the earbuds are being charged using the energy stored in the case, the LED indicator on each side lights up momentarily. This process will normally take 1.5 hours to complete its cycle.
When fully charged, the LED of the case will change to solid purple. The LED on each earbud will turn off when charging is complete.
The fully charged buds have power for up to 5 hours of playback time, 4 hours of gaming time or up to 17 hours of standby time.However, these times may vary depending on the mobile device used, on the usage profile, and on the calling/ listening habits of each individual user.
When the remaining battery power is less than 10%, an audible prompt will be heard to indicate that the earbuds need to recharge.
Turning your earphones on or off
The earbuds will automatically turn on as soon as they are taken out from the charging case. They will start synchronizing with each other and pairing at the same time, as well.
If you need to turn the earbuds on manually, press and hold both Multifunction control for about 5 seconds. The Power-on prompt will be heard alerting of this event.
To turn the earbuds off, you can put them back to the charging case and close the lid. Or you can also hold the  Multifunction control on both earbuds for about 5 seconds. The Power off prompt will be heard upon shutting off.
ADVANCED OPERATION
Pairing your earbuds with a mobile device
Simply take the earbuds out of the charging case, or power them on as it has been indicated previously.
Set your Bluetooth® phone to "discover" the wireless earbuds.
Place the phone and earbuds within one meter of each other.
After both earbuds have synchronized with each other, the LED light on the left earbud will blink slowly to indicate that they have entered into the pairing mode.
Select the PWH-200 earphone from the list of newly discovered devices in your phone.
Accept by pressing Yes or OK on the mobile device. Depending on your Bluetooth® version, you may be prompted to enter the passkey 0000 (4 zeros).
The Connected prompt will be heard and both LEDs will go off once the wireless link has been successfully established.Now you can check the battery level on the status bar of your phone.If after 60 seconds the pairing process fails, please repeat steps 1 through 6 as described above.
The earbuds work seamlessly in either mono or TWS stereo listening.
The headset will automatically go into standby mode after a short period of inactivity to save battery life.
You only need to pair the earphones with your phone once, as it will re-pair automatically.
The automatic re-pairing feature will allow the headset to be reconnected after being switched back on or when placed again within wireless range.
Call management using your wireless earbuds
When there is an incoming call, your phone will ring. Briefly tap the Multifunction control twice on either earphone to pick it up. You may also press the answer button on your cellular phone to receive the incoming communication in your headset.
To end a call, simply tap the Multifunction control once again.
To ignore an incoming communication and send the caller to voicemail, tap the Multifunction control for 2 seconds.
Music playback and voice command using your wireless earbuds
Touch the Multifunction control twice on any earbud to play and stop audio playback.
When listening to music, tap the left Multifunction control once to decrease the audio level. Tap the right Multifunction control once to increase it.
Tap the left Multifunction control three times to go to the previous track, and the right one to go to the next track.
To enable the voice command feature in supported devices, press and hold the Multifunction control on the left earbud for about two seconds. Repeat the same to cancel this mode. A tone will be heard every time this function is toggled on or off.
To switch between the available sound effects, press and hold the Multifunction control on the right earbud for about two seconds. The Game mode prompt will be heard to notify that it has been switched on, activating at the same time the breathing light effect on both earbuds.
To go back to Music mode, simply press and hold the right earbud (R) Multifunction control for 2 seconds once again. The LED light effect will be disabled.
Wearing your earphones
The earphones are intended to fit comfortably for all-day hands-free wearing.
Select the tip that best fits the size of your ear canal. Gently push the earphone into your ear. The earphone should rest securely and comfortably in your ear when properly inserted.
Voice quality when speaking will be best when there are no obstacles between the mobile phone and earphones, including your body.
PROPER CARE
Troubleshooting
If you cannot connect the headset to your phone, do as follows:
Ensure that the headset is charged, switched on, paired with, and connected to your phone.
Ensure that the Bluetooth® feature is activated on your phone.
Check that the headset is within 30 feet of your phone and that there are no obstructions between the headset and the phone, such as walls or other electronic devices.
Factory reset
A factory reset can be used to restore all features to their factory settings and delete all previous Bluetooth® pairings from the memory.
Turn on the earbuds and unpair them from your mobile device by rapidly tapping the Multifunction control 5 times.
Three seconds after clearing the wireless connection, the earbuds will automatically power off.
Next, put them back on the charging case. The factory default settings on the device has now ben restored.
Open the case and proceed to connect to Bluetooth® as usual.
Precautions
Your headset is powered by rechargeable batteries. The batteries can be charged and discharged hundreds of times, but it will eventually wear out. Recharge the batteries only with compatible chargers designated for this device.
Unplug the USB charger from the source when not in use.
Parts of the headset are magnetic. Metallic materials may be attracted to the headset. Do not place credit cards or other magnetic storage media near the headset, because information stored on them may be erased.
Do NOT drop, hit, or shake the device.
Do NOT disassemble, repair, or modify the earphones yourself.
Do NOT use harsh chemicals, cleaning solvents, or strong detergents to clean the device.
Do NOT expose the headset to excessive heat or to direct sunlight for long periods of time.
Do NOT store the device in a place with high humidity or dust.
DEVICE
PWH-200
TYPE
True Wireless Stereo gaming earbuds with portable charging case
FORM FACTOR
In-ear
BLUETOOTH  VERSION AND CHIPSET
Version 5.0, Pixart
FREQUENCY RESPONSE
20Hz-20kHz
SIGNAL-TO-NOISE RATIO
≥92dB
DC INPUT
≥30mA
DRIVERS
DRIVER UNIT
Φ12mm
MAXIMUM POWER OUTPUT (RMS)
5mW
FREQUENCY
20Hz ~20kHz
IMPEDANCE
32Ω
SENSITIVITY 
93dB
MICROPHONE
DIRECTIVITY
Omnidirectional
SIGNAL-TO-NOISE RATIO
≥92dB
OUTPUT IMPEDANCE
8Ω
SENSITIVITY
-42±3dB
CONNECTIVITY
CONNECTION TYPE
Bluetooth  V5 AVRCP/A2DP/HFP/HSP
WIRELESS RF FREQUENCY
2.402GHz-2.480GHz
WIRELESS RANGE
33ft
BATTERY
CHARGING TIME
Charging case + earbuds2 hours total
Earbud battery only1.5 hours
Charging case battery only1.5 hours
CHARGING CASE CYCLES
Approximately 2.5 cycles when fully charged
RUN TIME 2
Earbud battery only5 hours (music mode at50% volume)4 hours (gaming mode at50% volume)
Earbud total playtime, including case cyclesUp to 17 hours
STANDBY TIME 
4 days
CHARGING METHOD
Type-C USB jack
BATTERY TYPE 
Polymer
BATTERY CAPACITY
Earbud – 50mAh each Charging case – 400mAh
ADDITIONAL INFORMATION
DIMENSIONS (WXHXD)
Charging case – 1.8×1.2×3.3in
WEIGHT
Charging case – 2.1oz
CABLE LENGTH
13.7in
WARRANTY
Two-year limited
1Range estimate is based on an area free and clear of obstacles and interference, and within the line of sight between both Bluetooth® 5.0 devices2 It depends on the volume level and type of audio files being played
FCC statement
This equipment has been tested and found to comply with the limits for a Class B digital device, pursuant to part 15 of the FCC  Rules. These limits are designed to provide reasonable protection against harmful interference in a residential installation. This equipment generates, uses, and can radiate radio frequency energy and, if not installed and used in accordance with the instructions, may cause harmful interference to radio communications. However, there is no guarantee that interference will not occur in a particular installation. If this equipment does cause harmful interference to radio or television reception, which can be  determined by turning the equipment off and on, the user is encouraged to try to correct the interference by one or more of the  following measures:
Reorient or relocate the receiving antenna.
Increase the separation between the equipment and receiver.
Connect the equipment into an outlet on a circuit different from that to which the receiver is connected.
Consult the dealer or an experienced radio/TV technician for help.
Primus® is a registered trademark. All rights reserved. All other brand names and trademarks are the property of their respective owners. Any mention of such is only intended for identification purposes, and therefore shall not be construed as a claim to any or all rights pertaining to those brands. Made in China.

[xyz-ips snippet="download-snippet"]