PYLE 5.25″ Wireless BT Speakers PLUTV55BTR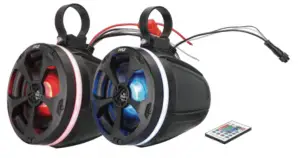 PLUTV55BTR Installation
To avoid potential shorts in the electrical system, be sure to disconnect the (-) battery cable before installation. Use this unit with a 12-Volt battery and negative grounding only. Failure to do so may result in a fire or malfunction.
Speaker Mounting suggestion as below:
Step 1: Put the PLUTV55BTR speaker in a safe place.Step 2: Slide in the buckle with rubber pad attached to the bracket stand of the speaker. Attach the set to the handle bar of vehicle/ship.Step 3/4: Attach screw to lock the buckle.Step 5: Using accessories of Butt Connector to Connect Speaker wires (See Illustration 1)
Step 6: Using accessories of Butt Connector to Connect Power Cable (See Illustrations 2)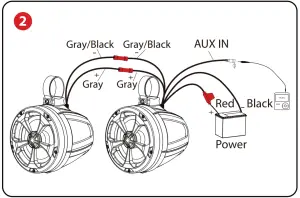 Step 7: Connected two speakers by RGB connect wire, see the drawing in below (See Illustration 3)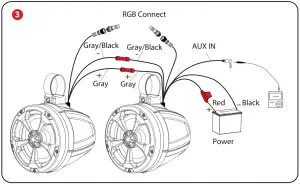 Remote Control Functions
10 static colors for choice with 8 kind of brightness which can adjust up and down.
3 colors flash, 4 colors strobe, 7 colors fade, 7 colors smooth, all modes can adjust the brightness and speed.
In static color mode, the brightness can adjust up and down.
6 kinds of EQ mode.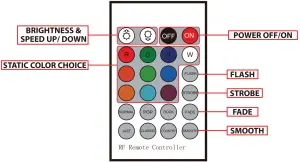 Features
Pro Audio Powersport Speakers with RGB Lights
Amplified (Active) Speaker System · Wireless BT Music Streaming Ability
Bridged Sound System: (2) x 5.25" Woofers + (2) x 1" Tweeters
Marine Grade Waterproof Rated Construction
Weatherproof & Water-Resistant Housing
2-Way Full Range Stereo Sound Reproduction
Built-in Digital Sound Processing Amplifier
Integrated Speaker Power & Wiring Harness
Compact Size & High-Powered Output
Impressive Bass Response
Aux (3.5mm) Input Jack
Connect & Stream Audio from External Devices
Sleek Design, Machine Molded Speaker Cabinet Housing
Rugged, Universal Mount Bracket Design for Roll-Bar/Roll-Cage
Used for Off-Road Outdoor Vehicles: ATV, UTV, 4×4, Jeeps, Marine
Watercraft Wireless BT Connectivity
Simple & Hassle-Free Pairing
Instant Wireless Audio Streaming Ability
Works with All of Today's Latest Devices
Smartphones, Tablets, Laptops, etc.
Wireless BT Version: V5.0
Wireless BT Network Name: `PyleUSA'
Wireless Range: 30+ ft.
*Wireless BT Receiver Module Built-Into Amplifier of Main/Active Speaker
What's in the Box
(1) 5.25" Amplified Main Speaker
(1) 5.25" Passive Support Speaker
Speaker Connection Wires, 6.6′ ft.
(2) Butt Connectors, 16-22 AWG
(2) 1.75″ Aluminum Mounting Brackets
(2) 2″ Aluminum Mounting Brackets
(2) 6.5″ x 0.95″ x 0.67″Inches Rubber Pads
(2) 5.7″ x 0.95″ x 0.67″Inches Rubber Pads
(2) 6x50mm Hexagon Socket Head Cap Screws
(2) Stainless Steel Nuts
RGB Connection Wire, 6.6′ ft.
Remote Control
Technical Specs
Speaker Power: 1000 Watt MAX
Amp Power: 2 x 250 Watt MAX @ 4 Ohms (2 x 125 Watt RMS)
Amp Type: 2-Channel, Class D
Marine Grade Waterproof Rating: IP-X5
Speaker Type: Polypropylene Cone, Butyl Rubber Surround (x2)
Tweeter Type: Neodymium Dome (x2)
Frequency Response: 80Hz-20kHz
Impedance: 4 Ohm
Magnet Type: 24 oz. Circuit
Mid-Woofer Voice Coil Type: 1", Aluminum
Sensitivity: 88 dB +/- 2 dB @ 1M/1W
Anti-Thump Turn-On
Soft Turn On/Off
T.H.D: <0.05% · S/N Ratio: >80dB
Channel Separation: >65dB
Amp Freq. Response: 20Hz-20 kHz
Fuse: 1 x 15A
Power Supply: DC 12V
Universal Mounting Brackets Roll-Bar / Roll-Cage Diameter: 1.75" ~ 2.0" ­inches
Speaker Dimensions: 6.5" x 7.1" x 9.5" -inches, with Bracket (-Each)
| | |
| --- | --- |
| | This products can expose you to a chemical or group of chemicals, which may include "Di (2-ethylhexyl) phthalate (DEHP)" which is known in the state of California to cause cancer, birth defects, or other reproductive harm.For more info, go to https://www.p65warnings.ca.gov/. |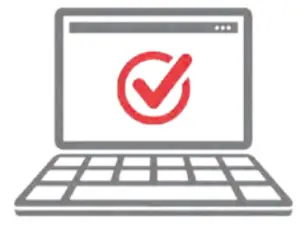 Questions? Issues?We are here to help!Phone: (1) 718-535-1800Email: [email protected]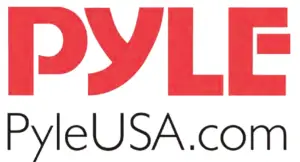 References
[xyz-ips snippet="download-snippet"]