PYLE PDWMU115 UHF Wireless BT Microphone 
User Manual

Product Introduction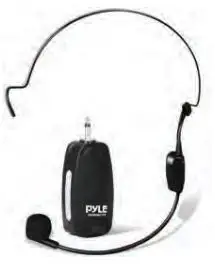 UHF all-purpose wireless microphone is suitable to all kinds of audio equipment as much as PA system.The standard 3.5mm plug convertable to 6.5mm plug is very convenient. Stable signals, sounds loud and clear.
Function Introduction

Operation
Switch Order: Dial the switch of the receiver to ON, then dial the switch of headset microphone to ON.
Frequency conversion/frequency conversion steps:A. Automatic Frequency: When the receiver and microphone are turned ON, the reception indicator (blue) changes from flashing to constant light, and the head- mounted emission indicator (red) changes from flashing to constant light.B. Manual frequency conversion: Keep the receiver and wore a transmitter in the open, and let the receiver light with the launch of the lamp head 15 cm distance corresponding to each other, and then press and hold M button on the trans- mitter for three seconds, receiver light's blue and launch the red light flashing began to sweep at the same time, when the lights stop flashing and stays on, the frequency conversion succeed.
Charging: when the receiver is charging using the charger, the charging indicator light is bright red; When the charging is complete, the indicator lights off.
Volume Adjustment: the default volume of power ON is 5 level (medium volume), adjust V+ to increase the volume and V- to decrease. The volume level is not saved.The default volume is turned ON.
Features:
Wireless BT Music Streaming Ability
Convenient Microphone Voice-Over
Talk-Over Ability via Wireless BT Streaming Music with Microphones
Simple Plug-and-Play Operation
Integrated Low Noise Circuitry
Noise-Eliminating SMT Technology
Crisp Audio Clarity for Vocals & Singing
Connect & Stream Audio to External Devices
1/4" -inch (6.3mm) Wired Microphone Input
Rear Panel 1/4" -inch (6.3mm) Unbalanced Mixed Output
Rear Panel Aux (3.5mm) Audio Input/ Output Jacks
Perfect for Professional Audio Stage & Studio Performances
What's in the Box:
Headset Microphone
USB Charging Cable
Audio Connection Cable
Receiver Unit
Wireless BT Connectivity:
Instantly Stream Music from Your Devices
Works with All Your Favorite Wireless BT Devices (iPhone, Android, Smart phone, iPad, Tablet, PC, etc.)
Wireless BT Network Name: 'Pyle USA'
Wireless BT Password: '0000' (4 Zeroes)
Wireless BT Version: 2.1
Wireless Range: 30'+ ft.
Handheld Transmitter Specs:
Carrier Frequency: U Band
Frequency Stability: <0.002%
Transmit Power: 10mV
Current Consumption: <25mA
Harmonic: <Main wave 40dB
Standard: Fixed Frequency
Pickup: 6000 Single Directivity
Battery Operated: 2*AA/MIC (not included)
Antenna: Built
Receiver Specs:
Receiving Frequency: U Band
Frequency Stability: <0.002%;
Sensitivity: 2mV
Interference Frequency Ratio > 90dB;
Image Interference Ratio: >88dB
Signal to Noise Ratio: >95dB;
Audio Output: 800mV-1.4V
Working Range: Standard conditions 30 to 50m
Receive Channel: 2
Supply Voltage: 5V
Battery Type: 1000mAh, Polymer
Open Circuit Sensitivity: >115 dB
Frequency Response: 100Hz-10kHz
Output Impedance: 600 Ohm, +/-3dB (0dB=1V/Pa @ 1kHz)
Power Consumption: 3W
Antenna: Universal Antenna
Product Dimension (L x W x H): 0.49" x 0.49" x 0.16" -inches
Questions? Issues?We are here to help!Phone: (1) 718-535-1800Email: [email protected]
References
[xyz-ips snippet="download-snippet"]