PYLEPROpyleUSA.com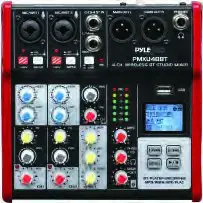 PMXU48BT 4- Channel Wireless BT Studio Mixer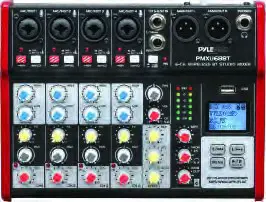 PMXU688T 6-Channel Wireless BT Studio Mixer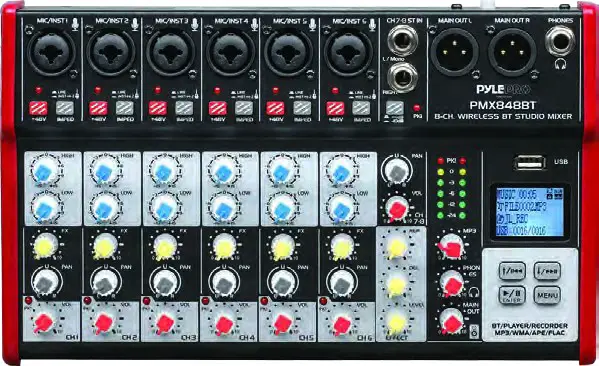 PMX8488T 8-Channel Wireless BT Studio MIxer
Pro Audio Digital DJ Audio Mixer Console (+48V Phantom Power)
User Manual 
One Year Warranty PeriodThis product is guaranteed for no material or workmanship defects within one year's period from the purchase date of the original buyer. To ensure the high-level performance of the property and reliability in the design and manufacture of this appliance, PLEASE READ THE USER'S MANUAL BEFORE OPERATION. In case of malfunction, please inform immediately and return the machine with defects to us, or our authorized agent, and go repairing according to the following conditions
Within the warranty period
Warranty ConditionsThe device must be installed and operated according to the instructions of this manual. The device hasn't gone through any intentional or unintentional mistaken uses, neglects, or alterations which are described in this manual, or authorized by us. Any necessary adjustment, correction, or repair should be carried out by us or any authorized agent of this device.  Please attach the purchase proof with freight prepaid when you return the defective machine to us or our authorized agent. The machine returned should be packed well and avoid possible damages on the way of transit. In some areas, these stipulations may vary. Concerning any possibly adoptive additional warranty clauses, please contact our sales agent.
NOTICETo avoid the possibility of malfunction/damage to the product, damage to data, or damage to other property, follow the notices below.
Handling and Maintenance
Do not use the device in the vicinity of a TV, radio, stereo equipment, mobile phone, or other electric devices. Otherwise, the device, TV, or radio may generate noise.
Do not expose the device to excessive dust or vibration, or extreme cold or heat (such as in direct sunlight, near a heater, or in a car during the day), inorder to prevent the possibility of panel disfiguration, unstable operation, or damage to the internal components.
Do not place vinyl, plastic, or rubber objects on the device, since this might discolor the panel.
When cleaning the device, use a dry and soft cloth. Do not use paint thinners, solvents, cleaning aids, or chemically impregnated wiping cloths.
Condensation can occur in the device due to rapid, drastic changes in ambient temperature-when the device is moved from one location to another, or air conditioning is turned on or of, for example. Using the device while condensation is present can cause damage. If there is reason to believe that condensation might have occurred, leave the device for several hours without turning on the power until the condensation has completely dried out.
Avoid setting all equalizer controls and faders to their maximum. Depending on the condition of the connected devices, doing so may cause feedback and may damage the speakers.
Do not apply oil, grease, or contact cleaner to the faders.Doing so may cause problems with electrical contact or knob motion.
When turning on the AC power in your audio system, always turn on the power amplifier LAST, to avoid speaker damage. When turning the power off, the power amplifier should be turned off FIRST for the same reason.
Schematic diagram of the equipment connection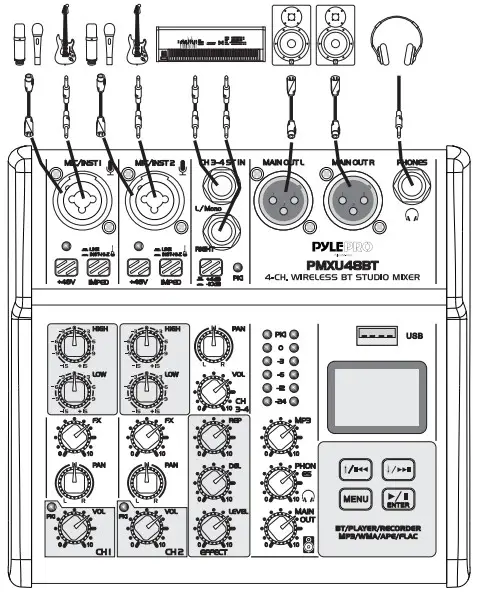 PMXU48BT Front and Back Panel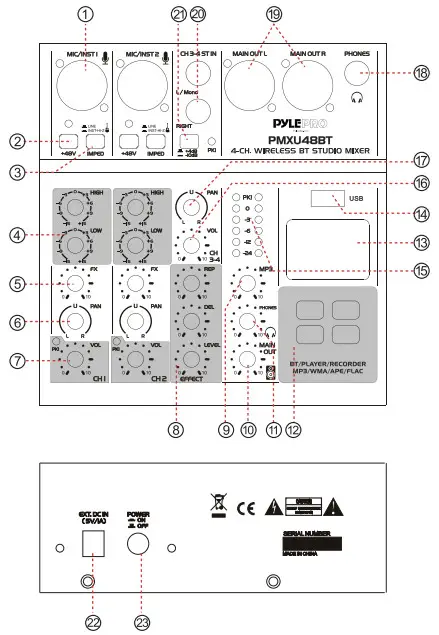 PMXU68BT Front and Back Panel PMX848BT Front and Back Panel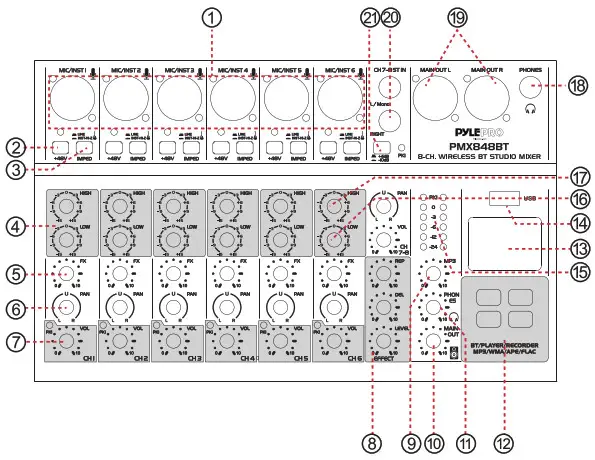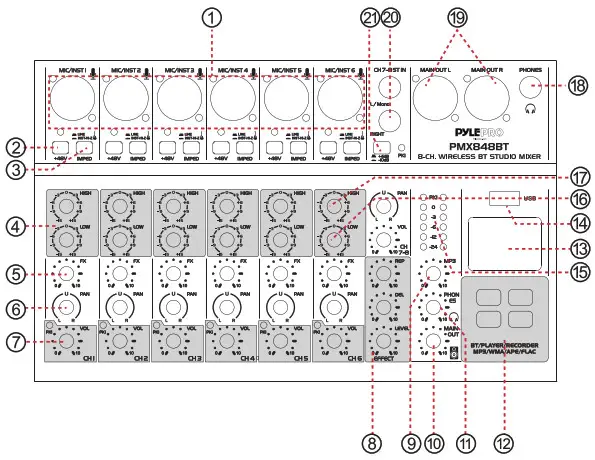 Front and Back Panel Function
Mike/Line/Guitar input jacks of MIC channel: The jacks are used to connect microphones or other audio devices in support of cannon plugs and 6.35 plugs.
+48V phantom switch/LED: When this switch is turned on, the +48V LED lights and DC +48 V phantom power is supplied to the XLR plug on MIC input jack.NOTICEBe sure to leave this switch off if you do not need phantom power. Follow the important precautions below, in order to prevent noise and possible damage to external devices as well as the mixer if you turn this switch on. Be sure to leave this switch off when you connect a device that does not support phantom power to the channel. Make sure to turn this switch off when connecting/disconnecting a cable to/from the channel. Slide the knob on the channel to a minimum before turning this switch ON/OFF.
Guitar/Line input shifter: The switch is used to shift the connections to different sound sources of the input channels. Switched up, the input channel can be connected directly with a high impedance audio device such as an electric guitar or a bass. Switched down, it can be connected to a low-impedance sound device. Warning!In the operation of the switch, all level output control (such as channel volume knobs, monitor output knobs, and earphone knobs) should be set up to the minimum position. Because this operation will cause a sudden impact sound, which can damage the external devices and the hearing of the personnel on-site.
Mic input CH 2 band EQ: This is a high-quality, sensitive, 2 segment equalizer that adjusts the overall tone of the channel. The adjustment waveform of the high and low bass equalizer is the shape of the broom, which affects the  frequency of 12KHz and the sound below 80Hz;
FX send knob: Adjust the size of the signal sent to the digital effect processor. The signal transmitting point is located after the volume knob of the channel;
PAN knob: Positions the channel signal between L/R in the stereo mix;
MIC input volume knob/peak LED: Adjust the volume of the sound input from the microphone or other source connected to the channel. When the peak light lashes, indicating that the input signal is too high, please turn the volume knob to the left to reduce the volume. In normal use, please avoid the peak light for a long time;
Digital effect processor adjusts the knob:REP: adjust how many times the echo repeats;DEL: adjust the time interval between each echo.LEVEL: adjust the volume of the effect processor.
MP3 audio signal volume knob: Adjust the audio signal level from the MP3 player;
MAIN output volume knob
Phones output volume knob
MP3 Player/Recorder controlled keyboard
MP3 Player/Recorder LCD display
MP3 Player/Recorder USB port
MAIN output level meter
The stereo input channel volume knob
The stereo input channel balance knob
6.35mm specification for stereo headphone output interrupts
MAIN output jacks: XLR balanced output interrupt for the connection of active speakers, power amplifiers, or other audio devices.
6.35mm-spec stereo line input jack
The stereo line input signal sensitivity selection button, bounce to +4dB, press 10dB;
DC power supply 5V socket
Power switch
BT/MP3 player/recorder operation instructions:24.1. Definition of keysA. Shortly press: the previous one/choose upward or left;Press and hold: reduce the volume.B. Shortly press: the next one/choose downward or right;Press and hold: increase the volume.C. Menu key;D. Play/Pause/Confirm key24.2. System setup: When there is no USB disk inserted, shortly press any key and enter the main menu items, shortly press the chosen key, select the "system setup" key, press "play confrm key" to do the system setup.The list is as follows:A. Backlight time: After there is no operation, the backlight will turn off automatically after a certain time. This selection item is for you to choose the time you need to turn off. The default is not turned off.B. Language selection: English or Chinese menu display.C. Contrast: Adjust the contrast degree of the display screen to suit the different light environments.24.3. Start the BT connection: When there is no USB disk inserted, shortly press any key, and enter the main menu item.Shortly press the selection key, and select the "BT mode" item.Press the "Play confrm key" to connect.The Wireless BT Network Name is 'PYLEPRO MIXER'24.4. Music mode: When the USB disk is inserted, it will start to play the music automatically. Under the interface of playing music, shortly press "menu" key, a couple of setups under the music mode will pop up.A. Circulation mode: there are multiple modes such as all circulation, single circulation and random play to be chosen.B. EQ mode: there are a couple of balance modes such as nature, rock, pop and classic modes to be chosen.C. Master disc directory: do the reading of audio files in the file folder, you can choose the music promptly.D. Delete the file: delete the audio file currently playing.24.5. Record mode: Under the interface of playing music, press and hold the "menu" key, and enter the recording work mode:A. Shortly press "Play" key, start the recording, or pause the recording;B. Long press "Play" key, finish the recording and save the recording file, automatically quit and return to the play interface;C. Recording file format: MP3/48Khz sampling/128Kbs bit rate.24.6. Connect the computer: In the main menu, select and confirm the "Connecting computer" item. Use the USB cord to connect with theUSB port of the computer. It can be used as a USB sound card to play music.24.7. Any setup changes will be stored and memorized at the time of switch-off
System Block Diagram
PMXU48BT – PMXU68BT – PMX848BTWireless BT Studio MixerPro Audio Digital DJ Audio Mixer Console (+48V Phantom Power)
PMXU48BT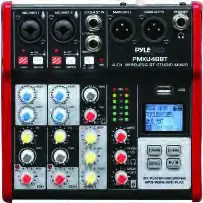 (2) XLR/14'' Combo Audio LINE/Microphone Inputs
+48V Phantom Power, Independent Mic Channel
Audio Mixer Type: 4-Channel
Total Unit Dimensions (L x W x H): 6.50'' x 2.59'' x 6.50'' -inches
PMXU68BT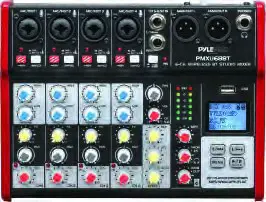 (4) XLR/14'' Combo Audio LINE/Microphone Inputs
+48V Phantom Power Control
Audio Mixer Type: 6-Channel
Total Unit Dimensions (L x W x H): 8.70'' x 2.59'' x 6.50'' -inches
PMX848BT
(6) XLR/14'' Combo Audio LINE/ Microphone Inputs
+48V Phantom Power Control
Audio Mixer Type: 8-Channel
Total Unit Dimensions (L x W x H): 10.80'' x 2.59'' x 6.50'' -inches
Features:
| | |
| --- | --- |
| • Digital Studio DJ Mixer System• Pro Audio Console Controller• Multi-Channel Sound Source Mixing• Microphone, Instrument / Guitar / Keyboard Mix Ability• Built-in Wireless BT Streaming Receiver• USB Interface: MP3 Flash Drive Reader/Computer Connection• LCD Digital Display & Front Panel Control Center• ID3 Tag Readout: Display Song Title / Artist• Connect & Stream Audio from External Devices• MP3 Digital Audio File Compatibility• (2) XLR 3-Pin (L/R) MAIN Outputs | • 1/4'' (6.35mm) Mono / Stereo Inputs• 1/4'' (6.35mm) Headphone Jack• Output Signal Level Indication• BUS Audio Control, Sound Routing• Rotary Adjustment Knobs & LED Indicator Lights• Independent Channel Input Audio Configuration• Gain, High, Low, FX/Send, Pan Tone Audio Adjustment• Power ON/OFF Switch• Used for Professional DJ Studio Applications, Audio Recording, On-Stage Performances |
What's in the Box:
Wireless BT Studio Mixer
Wall Power Adapter
Wireless BT Connectivity:
Hassle-Free Audio Streaming Ability
Works with All of Today's Latest Devices (Smartphones, Tablets, Laptops, Computers, etc.)
Wireless BT Network Name: 'PYLEPRO MIXER'
Wireless BT Version: 2.1
Wireless BT Range: Up to 33'+ ft.
Technical Specs:
| | |
| --- | --- |
| • CH 1/2 MIC/LINE: Gain: -14+40 dB;• 2 Band Graphic EQ: 80Hz/12KHz, +15dB• Audio Level Meter: 2 x 6 Point LED Display• Max Output Level: 3 Vrms• System Gain: -14 +40dB• Frequency Response: +0.5 dB, 20Hz-20kHz• Dynamic Range: 102 dB | • THD+N @ 1KHz: <0.03%• Stereo Crosstalk: 92 dB• Maximum USB Flash Support: Up to 64GB• USB Digital Audio File Compatibility File-Types: MP3, WMA, APFLAC• Phantom Power Voltage: +48V• Power Consumption: Max: 5W• Power Supply: 120/240V, 5V/1A |

This product can expose you to a chemical or group of chemicals, which may include "Nickel Carbonate" which is known in the state of California to cause cancer, birth defects, or other reproductive harm. For more info, go to https://www.p65warnings.ca.gov/.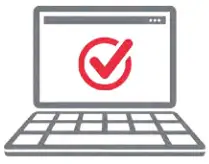 VISIT US ONLINE: Have a question?Need service or repair?Want to leave a comment? PyIeUSA.com/ContactUs
Questions? Issues?We are here to help!Phone: (1) 718-535-1800Email: [email protected]
References
[xyz-ips snippet="download-snippet"]