Qolsys QW8200-840 Wi-Fi Router Dual Band 
Installation Guide
IQ WIFI QUICK INSTALL GUIDE
FEATURES & OVERVIEW
The IQ WiFi is a mesh capable router that covers every corner of every room with safe, seamless WiFi.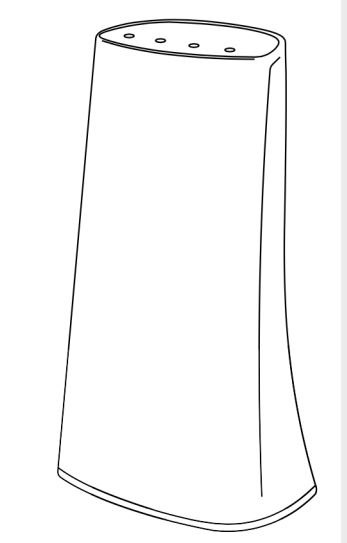 Features:
WiFi mesh prioritizes ethernet backhaul (wired connection) then shared wireless backhaul (if wired connection isn't available)
Stand alone or parallel configuration supported
Web interface or IQ Panel configurable
WiFi version 5
Supports Dual-band 2.4G/5G
Supports 7 additional Agents (1 Controller)
SPECIFICATIONS
SKU: QW8200-840Dimensions: 150mm x 89 mm x 57.2 mmWeight: 172gUsage: For Indoor use onlyCompliance: FCCProcess and Memory: SSoC: MT7621DA (MIPS1004Kc dual-core 880MHz, SPI NOR Flash 64MB)Memory: 128MB DDR3 embeddedOperating Temperature: 0°C – 40°C (32°F – 104°F)Relative Humidity: 10% – 90% RH (non-condensing)
Operating Distance: Up to 130ftFrequency Type:Wireless IEEE 802.11 b/g/n 2.4GHzIEEE 802.11 a/n/ac 5GHzWired Type:LAN and WAN Gigabit Ethernet PortsLED Indicator: 2 color LED (Green and Red)Power Supply:Input: 100-240VAC, 50-60Hz, 0.3A MaxOutput: 12 VDC, 1A
STEP 1 CONNECT THE IQ WIFI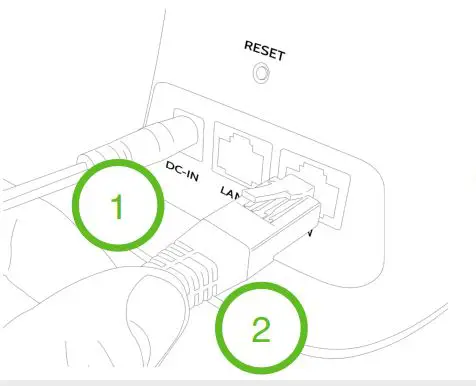 Plug the barrel jack end of the power supply into the "DC-IN" port
Connect the provided ethernet cable into the "WAN" port
STEP 2  CONNECT TO THE MODEM OR EXISTING NETWORK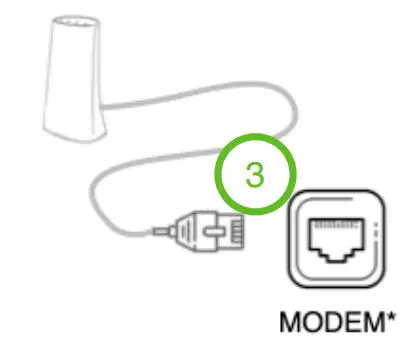 Connect the opposite end of the provided ethernet cable into the "ETHERNET" port on the modem*.
*Note: for parallel installs plug the ethernet cable into an available port on the customer's existing router (see additional considerations)
STEP 3 POWER UP THE IQ WIFI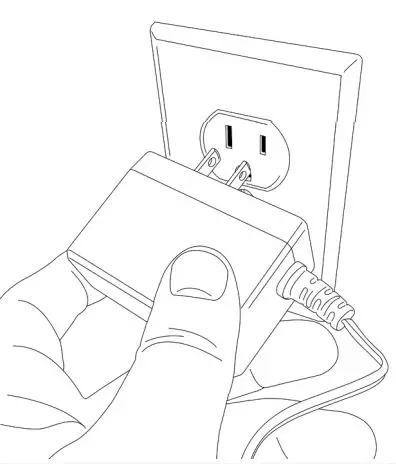 Plug in your power supply to the wall outlet.
* Note: IQWIFI may take up to 5 minutes to power up before proceeding to the next step
STEP 4 ADD ALL AGENTS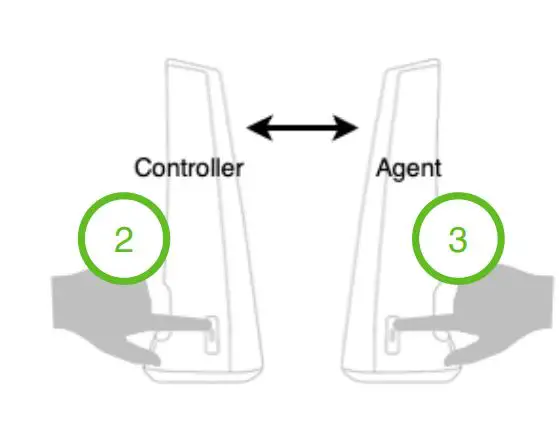 Power up an additional IQ WiFi (see step 3)
From the controller briefly touch the WPS button to activate pairing mode.
From the agent briefly touch the WPS button to pair
Allow 3-4 minutes for the agent to pair and auto update.
Note: LED behavior; LED will slowly flash indicating pairing WPS mode has been enabled. If followed by a red flash, pairing was unsuccessful.
STEP 5 PAIR CONTROLLER TO IQ PANEL

STEP 6 RENAME YOUR NETWORK (SSID)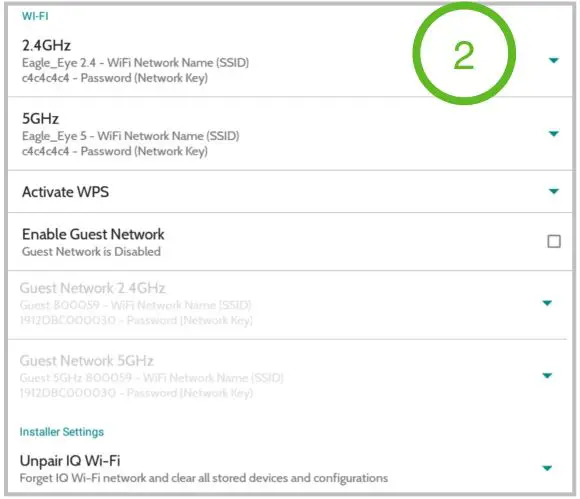 Open settings tray from IQ Panel > Settings > Advance Settings > type in valid code > touch Installation > Devices > WiFi devices > IQ WiFi icon
Touch the down arrows to make edits to the Network Name (SSID's)
STEP 7 CREATE UNIQUE SSID AND PASSWORD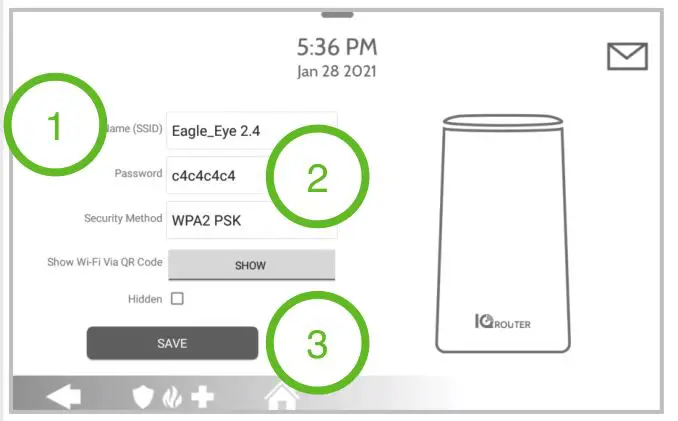 ADDITIONAL CONSIDERATIONS
You can set up the IQ WiFi in either of these ways:
As the only wireless network on the premises: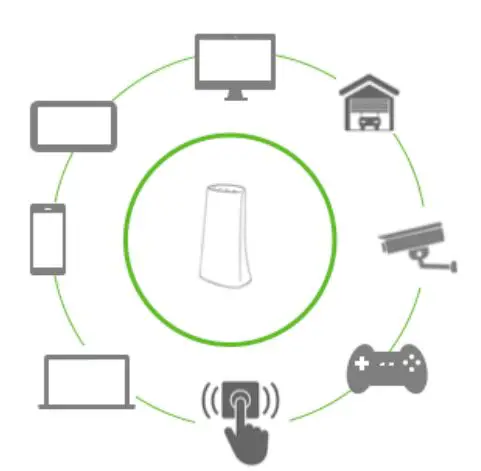 Great for:-Improving connectivity for ALL WiFi devices on the network.-Offering support for the entire network.
In parallel with an existing wireless network: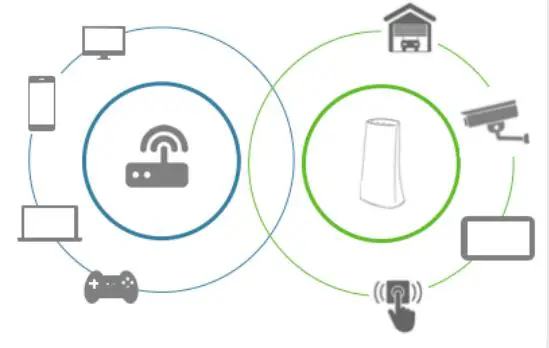 Great for:
-Keeping the security and smart-home devices private/hidden from the rest of the WiFi connected devices on the network.-Making online/remote support easier as only known/authorized devices should be connected.-Ensuring better connectivity for dealer supported devices.
TROUBLESHOOTING
Factory Default: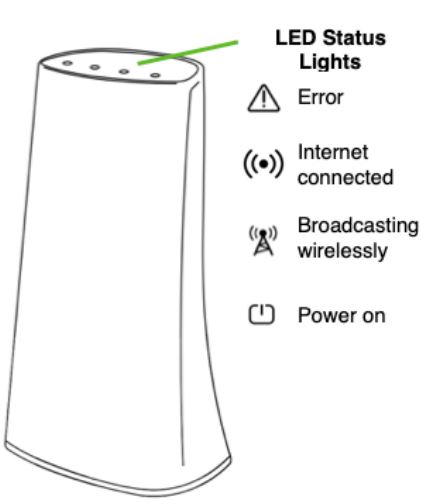 – Press and hold the physical reset button for about 15-20 seconds or until the Power LED begins to flash. During a reset the power LED will flash quickly, slow to a stop, reboot and then slowly pulse until it remains solid GREEN.
Adding Additional Agents:
– Add up to 7 agents per Controller for a total of 8 IQ WiFi units.– Ethernet backhaul is supported and will default to wired connectivity so long as an ethernet cable has been connected properly.
Document#: IQWIFI06152021Revision#: 6/15/21Issue Date: JUNE 2021Qolsys Product #: QW8200-840
Johnson Controls proprietary.Reproduction without permission is not permitted.
QUESTIONS?CONTACT TECH SUPPORT[email protected]
This device complies with part 15 of the FCC Rules. Operation is subject to the following two conditions: (1) This device may not cause harmful interference, and (2) this device must accept any interference received, including interference that maycause undesired operation. Changes or modifications not expressly approved by the party responsible for compliance could void the user's authority to operate the equipment.This device complies with Industry Canada license-exempt RSS standard(s). Operation is subject to the following two conditions: (1) this device may not cause interference, and (2) this device must accept any interference, including interferencethat may cause undesired operation of the device.
References
[xyz-ips snippet="download-snippet"]