RAZER SEIREN V2 X USB Condenser Microphone User Guide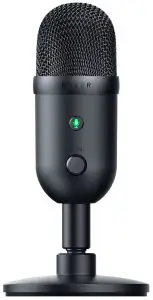 Stand out amongst a sea of streamers with clarity that cuts through the noise. Be heard with the Razer Seiren V2 X—a USB microphone perfect for any streaming setup, packed with all the tech required to make your voice truly come to life.
WHAT'S INSIDE / WHAT'S NEEDED
WHAT'S INSIDE
Razer Seiren V2 X
A. Mic mute button
B. Mic gain control knob
C. 3.5 mm headphone port
D. Type C port
E. Support rod
F. Thread mount
Desk stand base
Type C to Type A cable
Important Product Information Guide
WHAT'S NEEDED
LET'S GET YOU COVERED
You've got a great device in your hands, complete with a 1-year limited warranty coverage. Now maximize its potential and score exclusive Razer benefits by registering at razerid.razer.com
Got a question? Ask the Razer Support Team at support.razer.com
TECHNICAL SPECIFICATIONS
MICROPHONE
Power required / Consumption: 5V / 350 mA
Sample rate: 96 KHz
Bit rate: 24
Capsules: 25 mm condenser microphone
Polar patterns: Super cardioid microphone
Frequency response: 20 Hz ~ 20 KHz
Sensitivity: -34dB (1V/Pa at 1kHz)
Max SPL:120 dB
Signal to Noise: 105 dB (A-weighted)
GETTING STARTED
Securely fasten the Razer Seiren V2 X onto the desk stand base.
Connect the microphone to the USB port of your PC using the Type C to Type A cable.
On your PC, right-click on the sound icon on the system tray and select Open Sound Settings.
On the Sound window, set Razer Seiren V2 X as the default Output and Input device. When set as the default output device, an audio output device (such as a headphone) must be connected to its 3.5 mm headphone port. This will allow you to listen to the audio output and recording at the same time.
USING THE MICROPHONE
MUTING THE MICROPHONE
Press the mic mute button to mute or unmute the microphone. The button will light up in red when the microphone is muted.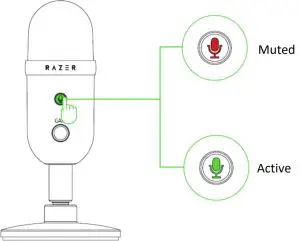 ADJUSTING THE MICROPHONE GAIN
Rotate the mic gain control knob clockwise or counterclockwise to increase or decrease the sensitivity of the microphone when capturing sound, respectively. This is recommended if the microphone is capturing too much ambient noise and vice versa.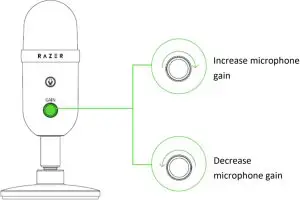 SAFETY AND MAINTENANCE
SAFETY GUIDELINES
In order to achieve maximum safety while using your Razer Seiren V2 X, we suggest that you adopt the following guidelines:
Should you have trouble operating the device properly and troubleshooting does not work, unplug the device and contact the Razer hotline or go to support.razer.com for assistance.
Do not take apart the device and do not attempt to operate it under abnormal current loads. Doing so will void your warranty.
Keep the device away from liquid, humidity or moisture. Operate the device only within the specific temperature range of 0°C (32°F) to 40°C (104°F). Should the temperature exceed this range, unplug and/or switch off the device in order to let the temperature stabilize to an optimal level.
Listening to excessively loud volumes over extended periods of time can damage your hearing.
Furthermore, legislation of certain countries permits a maximum sound level of 86db to affect your hearing for 8 hours a day. We therefore recommend that you reduce the volume to a comfortable level when listening for prolonged periods of time. Please, take good care of your hearing.
MAINTENANCE AND USE
The Razer Seiren V2 X requires minimum maintenance to keep it in optimum condition. Once a month we recommend you unplug the device and clean it using a soft cloth or cotton swab to prevent dirt buildup. Do not use soap or harsh cleaning agents.
LEGALESE
COPYRIGHT AND INTELLECTUAL PROPERTY INFORMATION
©2021 Razer Inc. All rights reserved. Razer, the triple-headed snake logo, Razer logo, and "For Gamers. By Gamers." are trademarks or registered trademarks of Razer Inc. and/or affiliated companies in the United States or other countries. All other trademarks are the property of their respective owners.
Windows and the Windows logo are trademarks of the Microsoft group of companies.
Razer Inc. ("Razer") may have copyright, trademarks, trade secrets, patents, patent applications, or other intellectual property rights (whether registered or unregistered) concerning the product in this guide. Furnishing of this guide does not give you a license to any such copyright, trademark, patent or other intellectual property right. The Razer Seiren V2 X (the "Product") may differ from pictures whether on packaging or otherwise. Razer assumes no responsibility for such differences or for any errors that may appear. Information contained herein is subject to change without notice.
LIMITED PRODUCT WARRANTY
For the latest and current terms of the Limited Product Warranty, please visit razer.com/warranty.
LIMITATION OF LIABILITY
Razer shall in no event be liable for any lost profits, loss of information or data, special, incidental, indirect, punitive or consequential or incidental damages, arising in any way out of distribution of, sale of, resale of, use of, or inability to use the Product. In no event shall Razer's liability exceed the retail purchase price of the Product.
GENERAL
These terms shall be governed by and construed under the laws of the jurisdiction in which the Product was purchased. If any term herein is held to be invalid or unenforceable, then such term (in so far as it is invalid or unenforceable) shall be given no effect and deemed to be excluded without invalidating any of the remaining terms. Razer reserves the right to amend any term at any time without notice.
References
[xyz-ips snippet="download-snippet"]