Razor 13015000 Jr. Folding Kiddie Kick Scooter Owner's Manual
SAFETY WARNINGS
AN IMPORTANT MESSAGE TO PARENTS:
Razor® Jr products are intended to allow younger children to learn and to enjoy their early experiences using ride-on toys. Studies suggest that children at age 3 have the coordination required to use a steering wheel or handlebar and can use a 3-wheeled scooter, but may not have developed the balance required to operate 2-wheeled scooters. This ability is expected to develop with time and experience to where, depending on experience, most children by the age of 5 have the balance and coordination to use 2-wheeled scooters. Adult supervision is required as children learn and grow because children do not understand the risks of riding in areas with cars and are at a very high risk of falling and injuring themselves.
This manual contains important information. For your child's safety, it is your responsibility to review this information and make sure that you instruct your child to follow all warnings, cautions, instructions and safety topics. Razor USA recommends that you periodically review and reinforce the information in this manual with younger riders and that you inspect and maintain your child's Razor Jr scooter to ensure their safety.
GENERAL WARNING: Scooter riding can be a hazardous activity. Certain conditions may cause the equipment to fail without fault of the manufacturer. Scooters can and are intended to move, and it is therefore possible to get into dangerous situations and/or lose control and/or fall.If such things occur you can be seriously injured or die. LIKE ANY OTHER MOVING PRODUCT, USING A SCOOTER CAN BE A DANGEROUS ACTIVITY AND MAY RESULT IN INJURY OR DEATH EVEN WHEN USED WITH PROPER SAFETY PRECAUTIONS. USE AT YOUR OWN RISK AND USE COMMON SENSE.
This manual contains many warnings and cautions concerning the consequences of failing to maintain, inspect or properly use your Razor Jr scooter. Because any incident can result in serious injury or even death, we do not repeat the warning of potential serious injury or death each time such a possibility is mentioned.
Do not allow children under age three (3) to use the scooter. Close adult supervision is required.
Do not exceed 44 lb (20 kg) total weight on the Razor Jr scooter.
Rider weight does not necessarily mean a child's size is appropriate to fit or maintain control of the scooter.
Always pay attention to where your child is going.
Always wear safety equipment, such as helmet, knee pads and elbow pads. Always wear a helmet when riding your scooter and keep the chinstrap securely buckled.
Always wear closed toe shoes.
Ride on smooth, paved surfaces without loose debris, such as rocks or gravel, and away from motor vehicles.
Avoid sharp bumps, drainage grates, and sudden surface changes as scooter may suddenly stop.
Avoid streets and surfaces with water, mud, ice, sand, gravel, dirt, leaves and other debris. Wet weather impairs traction, stopping, and visibility.
Do not ride at night or when visibility is impaired.
Avoid excessive speed associated with downhill rides.
Obey all local traffic and scootering laws and regulations.
Watch out for pedestrians.
A parent's decision to allow his or her child to ride this product should be based on the child's maturity, skill and ability to follow rules.
ACCEPTABLE RIDING PRACTICES AND CONDITIONS
Direct parental supervision is required at all times. Scooters are meant to be used only in controlled environments, free of potential traffic hazards and not on public streets. Do not allow your child to ride a scooter in any areas
where vehicle traffic is present. Child must maintain a hold on the handlebars at all times. Never allow more than one child at a time to ride a scooter.
Never use near steps, sloped driveways, hills, roadways, alleys or swimming pool areas. Keep fingers and other body parts away from the product when folding or unfolding. Adults must not allow children to assist in folding or unfolding the scooter.
PROPER RIDING ATTIRE
Always ensure child is wearing proper protective equipment, such as an approved safety helmet. A helmet may be legally required by local law or regulation in your area. A child should always wear shoes, never ride barefooted or in sandals, and keep shoelaces tied and out of the way of the wheels. Knee pads and elbow pads are recommended.FAILURE TO USE COMMON SENSE AND HEED THE ABOVE WARNINGS FURTHER INCREASES RISK OF SERIOUS INJURY. USE AT YOUR OWN RISK AND WITH APPROPRIATE AND SERIOUS ATTENTION TO SAFE OPERATION. USE CAUTION.
WARNING: ALWAYS INSPECT SCOOTER PRIOR TO RIDING. Properlyinspecting and maintaining your scooter can reduce the risk of injury. Always inspect your scooter before riding and regularly maintain it. Replace worn parts when they occur.WARNING: CHECK LOCAL LAWS REGARDING SCOOTER USE. Check
local laws and regulations to see where and how you may use your scooter legally. In many states and local areas scooter riders are required BY LAW to wear a helmet. Check local laws and regulations regarding laws governing helmet use and scooter operation in your area.
BEFORE YOU BEGIN
Adult assembly required. Remove contents from box. Inspect the contents for scratches in the paint and/or dents that may have occurred during shipping. Because your scooter was partially assembled and packed at the factory, there should not be any problems, even if the box has a few scars or dents.
WARNING: DO NOT USE NON-RAZOR PRODUCTS WITH YOUR RAZOR JR SCOOTER.Razor Jr scooters have been built to certain Razor design specifications. The original equipment supplied at the time of sale was selected on the basis of its compatibility with the frame and all other parts. Certain aftermarket products may not be compatible and will void the warranty.
WARNING: Keep fingers
clear of the pivoting mechanism when folding or unfolding the Kiddie Kick. Do not allow children to fold or unfold this product. Product ID Locations: See locations to the left
Deck (underneath unit)
Box – side of UPC (not shown)
Box Contents:
ASSEMBLY AND SET-UP
Assembling the T-bar No tools required.
Pull the folding release lever away and up to raise the front fork into the upright position

Remove the "E" shaped fixed pin from the front fork assembly.
Remove the "E" shaped fixed pin from the front fork assembly.
Slide the steering clamp cover onto the T-bar.
Insert the T-bar into the front fork assembly using your thumb to depress the button on the T-Bar until it "locks" into place.
Insert the "E" shaped fixed pin into the open hole on the front fork assembly to secure T-bar.
Slide the steering clamp cover down and over the "E" shape fixed pin.
Deck and Handlebars
Check for cracks or broken connections. Although broken decks are rare, it is possible for an aggressive rider to run into a curb or object and wreck and bend or break the deck. Get in the habitof inspecting your scooter on a regular basis.
Hardware/Loose Parts
Check and secure all fasteners before every ride. There should not be any unusual rattles or sounds from loose parts or broken components. If the unit is damaged, do not ride. Reference"Safety Warnings" on page 1 of this manual.
Safety Gear
Always wear proper protective gear, such as an approved safety helmet. Elbow pads and kneepads are recommended. Always wear closed toe shoes (lace-up with rubber soles) and keep shoelacestied and out of the way of the wheels. NEVER RIDE BAREFOOTED OR IN SANDALS.
Laws and Regulations
Always check and obey any local laws or regulations
Be Careful!
This product is not for aggressive or trick riding. Avoid steep inclines and don't ride too fast — you can lose control and fall. Skateboard parks are not designed for young riders. Never ride intraffic or on the street and watch your surroundings for pedestrians, bikers, boarders and skaters. Maintain a hold on the handlebars at all times.
USAGE
How to Ride
Place one foot on the baseboard and push forward with the other foot. Ride with both hands on the handlebars. To turn, lean slightly in the desired direction. Practice turning slowly in an open area free of fixed hazards.
How to Stop
Step off to stop.
REPAIR AND MAINTENANCE
Cleaning
Wipe with a damp cloth to remove dirt and dust. Do not use industrial cleaners or solvents, as they may damage the surfaces. Do not use alcohol, alcohol-based or ammonia-based cleaners, as they may damage or dissolve the plastic components or soften the decals or decal adhesive.
Wheels
Under normal circumstances and conditions, Razor wheels are maintenance free. Nonetheless, it is the responsibility of the owner or guardian to periodically inspect the wheels for wear and tear, the axle for proper tightness, and for loose parts. When a wheel develops play, this is an indication of excess wear and replacement is necessary. Replace immediately with only genuine Razor wheels. Worn wheels are considered normal wear-and-tear and are not covered by the Razor Warranty. Wheels other than genuine Razor wheels may not be compatible with your Razor Jr scooter.The use of anything other than genuine Razor replacement parts may affect your safety and will void your warranty.
Replacement Parts
For replacement parts visit https://www.micarrito.mx/
PRODUCT PARTS
Keep your product running for years with genuine Razor parts. Visit our website or e-mail us for more information on spare part availability. (Specifications subject to change without notice.)
Handlebar Grips
T-Bar
Steering Clamp Cover
"E" Shape Fixed Pin
Steering Bushing (Upper/Lower)
Spacer
Front Fork Assembly
Folding Release Lever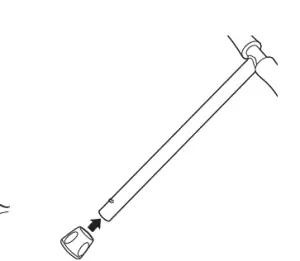 Razor USA LLCCopyright © 2003-2014 Razor USA, LLC. All rights reserved. Razor and the Razor logo design are among theregistered trademarks of Razor USA LLC in the United States and/or select foreign countries.
Read More About This Manual & Download PDF:
[xyz-ips snippet="download-snippet"]