ROCKVILLE 5.25" Home Bookshelf Speakers
Kevlar Woofers Owner's Manual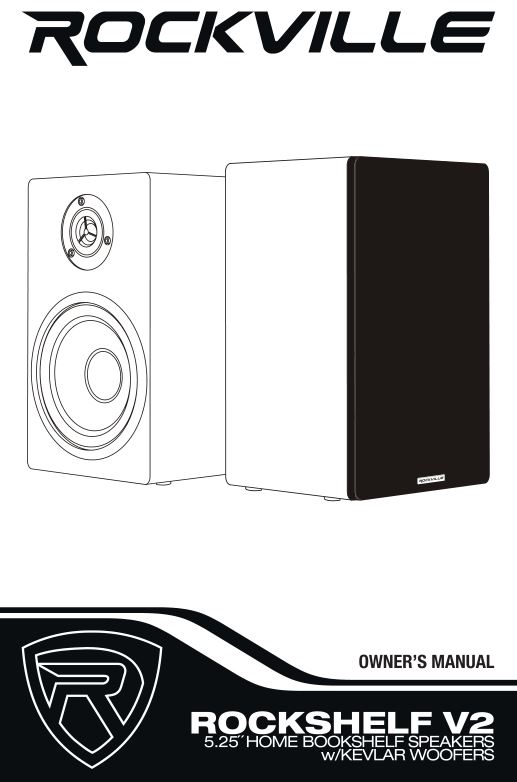 Thank you for purchasing these Rockville RockShelf V2 home bookshelf speakers. Please read this owner's manual carefully for proper use of your Rockville RockShelf V2 home bookshelf speakers. Should you need assistance, please call our technical help line at 1-646-758-0144, Monday through Friday, 9am to 5pm EST.
ATTENTION
Make sure to match your speaker and amplifier power ratings. Failure to do so can result in permanent damage to your speakers.
Distortion is an indication that amplifier or speaker is operating beyond its design limits. If you hear distortion, immediately turn down the volume to avoid permanent damage.
Do not place these speakers on an unstable cart, stand, bracket or table. The speaker may fall, causing serious injury to a child or adult and serious damage to the unit.
Do not use these speakers near water; for example, near a bathtub, sink, in a wet basement, or near a swimming pool.
The speakers should be situated away from heat sources such as radiators, heat registers, stoves, or other devices that produce heat.
Clean only with a soft damp cloth.
CONNECTING THE SPEAKERS
These speakers are passive and thus require an amplifier or receiver to give them power. They can be connected to any 4 or 8 ohm amplifier. When using the RockShelf V2 4 ohm model, you can connect one speaker per amp channel. When using the 8 ohm model, you can connect up to 2 speakers per channel as long as your amp is 4 to 8 ohm capable. If your speakers are relatively close to the signal source (50 feet or less), 16 gauge wire can be used. For longer distances, 12 or 14 gauge wire is recommended. Be sure to observe proper polarity by ensuring that the wire from the red speaker terminal is connected to the red or positive terminal of the signal source and that the wire from the black speaker terminal is connected to the black or negative terminal of the signal.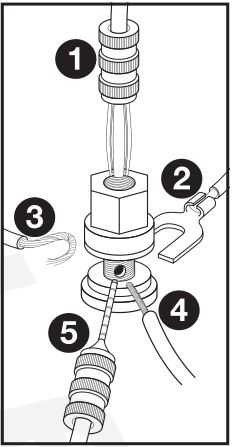 The RockShelf V2 features 5-way binding posts which can accept various types of connections:
Banana plugs can be inserted into the open end of the binding post.
Spade terminals can be placed around the metal post and clamped by the screw down cap.
Looped wire can be wrapped around the binding post and clamped by the screw down cap.
Straight wire can be inserted into the hole drilled through the bottom of the binding post and clamped down by the screw cap.
Pin connectors can be inserted into the hole drilled through the bottom of the binding post and clamped down by the screw cap.
POSITIONING THE SPEAKERS
To place the speakers, start with them placed directly in front of your primary listening position. Make sure the tweeters are as close to ear level as possible. As you are listening to music, make sure to pay close attention to the quality and separation of vocals and instruments. You can move the speakers closer together or further apart to optimize your listening experience. Always listen to several musical selections so that you hear lows (bass), midrange (vocals and horns), and highs (treble) from a variety of instruments and vocalists. Allow your speakers a "break-in" period before permanently positioning them. To break-in your speakers: at a moderate to low level, play a variety of music through the speakers over a day or two . This will help to prepare them for regular use and optimal performance.
MAGNETIC GRILLS
The grills included with your RockShelf V2 speakers use high strength magnets to hold them in place. They can be easily removed for cleaning or for aesthetic purposes. To remove them, place one finger on each top corner of the grill and gently pull the grill towards you. To replace, position the grill squarely over the face of the speaker and it will attach itself. Align the grill if needed.
CABINET CARE
The finish of your RockShelf V2 speakers can be maintained by periodically wiping it down with a lightly dampened fiber cloth. The grills can be brushed or vacuumed to remove dust.
FEATURES
Audiophile-grade black Kevlar woofer cone for excellent mid and low frequency response
Ultra-stiff Polypropylene dust cap on woofer
Rubber surrounds on woofer
Silk dome tweeter gives crisp and realistic sounding highs that you can't get with any other kind of tweeter
Gold-plated 5-way binding post terminals can accept banana, bare wire, spade terminals, and more
Detachable magnetic grill
Wall mount hanging bracket
Cabinet material: Top quality MDF with beautiful wood grain finish
Colors: black, white, classic
SPECIFICATIONS
RMS power: 45 watts each/90 watts per pair
Peak power: 180 watts each/360 watts per pair
Woofer: 5.25″ Kevlar cone
Tweeter: 0.75″ silk dome tweeter
1″ aluminum voice voils
Frequency response (±3db): 75Hz – 20KHz
Sensitivity: 86d8 1 W/1 m
RockShelf V2 54 impedance: 4 ohms
RockShelf V2 58 impedance: 8 ohms
Dimensions of each speaker: 10.4T(H) x 6.18″(W) x 5.75″(0)
Shipping carton dimensions (one pair): 14.96″(L) x 8.94″(W) x 12.9″(H)
Weight per speaker: 4.43Ibs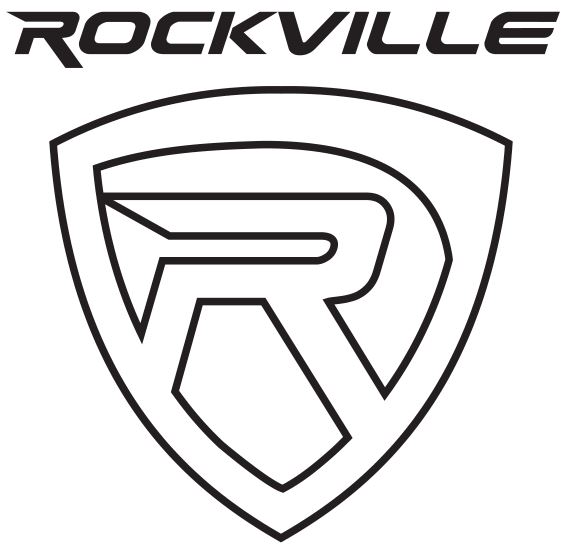 © 2020 ROCKVILLE // Features and specifications are subject to change and or improvement without notice.
[xyz-ips snippet="download-snippet"]