Owner's Manual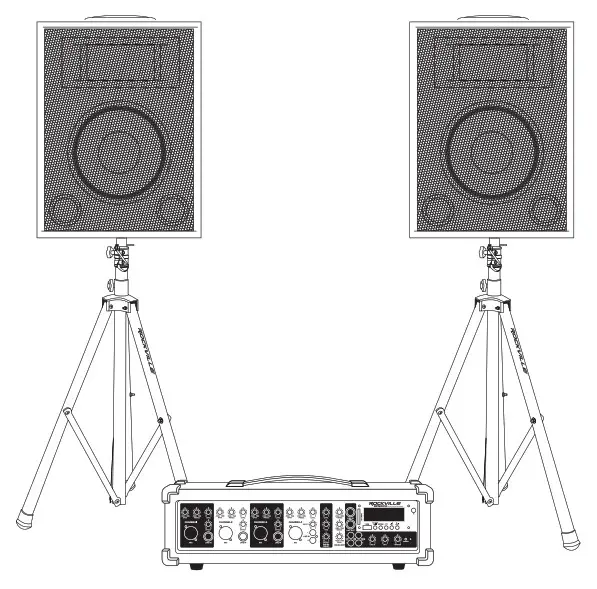 RPG2x10 V2 PORTABLE PA SYSTEMWho reads manuals? Instead, go to vimeo.com/441451401 or scan the QR code and watch a short video, which shows you how to set this item up and how to use it.

Portable PA System. Should you need assistance, please call our technical helpline at 1-646-758-0144, Monday through Friday, 9 am to 5 pm EST.
SETUP GUIDE

Much of the setup of the Rockville RPG2x10 V2 is similar to the setup of other sound systems, and many aspects require plain common sense. Safety should always be your first concern. Always use grounded outlets and three-wire extension cords. Run sound system cables in a way to prevent the danger of tripping and tape them down if needed. Place the speaker stands and mixer on a solid, level surface. Following these guidelines will help prevent personal injury and equipment damage, ensuring years of trouble-free use.
Stands and Speakers
Remove the speaker stands from the case. Be sure the legs on the stand are fully extended to provide a stable base for the speakers and are positioned on a level surface. Tighten the thumbscrew on the base so that it is snug, but do not overtighten (figure 1). Raise the speaker stands to the desired height, tighten the thumbscrew and install the safety pin as shown in figure 2.

Place speakers on stands and position them so that they will face toward the audience and away from the microphones. Connect speaker cables from the jack on the lower front of the speaker to the speaker outputs on the back of the mixer. Connect the left speaker to the LEFT OUTPUT and the right speaker to the RIGHT OUTPUT.

Only connect the included speakers to the mixer. The Rockville GB1's speakers provide an optimal load for the powered mixer and using other speakers may result in equipment damage.
CONNECTIONS
Microphones and Line InputsThe RPG2x1 0 V2's powered mixer is designed to work with any good-quality, balanced, dynamic or condenser microphone. Connect the included microphone(s) to the XLR (three-pin) input connectors as shown in figure 1. If using more than one microphone, connect them in the order they will be on stage for easy adjustment to each microphone. To connect a line-level device such as a keyboard, use a 1/4″ instrument cable and insert it into the corresponding 1/4″ jack as shown in figure 2.

Media Playback Sources
The RPG2x10 V2's powered mixer will accept various media playback devices.
To connect a turntable or a CD player use the CHANNEL 4 RCA inputs.
To connect an MP3 player or smartphone with media playback capabilities use the 1/4″ Line In jack or the RCA Line In inputs.
To connect a USB memory stick or SD/MMC card using the corresponding inputs on the mixer panel. Use the screen and controls to navigate and playback audio files.
To connect via Bluetooth, simply pair your device with the mixer.
PowerConnect the power cord to the receptacle on the back panel of the unit, and then to a suitable electrical outlet. If an extension cord is required, make sure it is a three-wire cord with an intact ground pin to preserve the safe ground.
GENERAL USE TIPS
Microphone UsageWhen practical, a single microphone is preferred. Additional microphones pick up more sound from the speakers and each mic must then be turned down to prevent feedback. However, if you have difficulty balancing the level of different individuals with one mic or if you still cannot get sufficient gain, using more mics can offer an advantage. For example, giving several singers their own microphone allows placement of the microphones much closer to each singer. This increases the volume of the sound at the mic and far outweighs any detrimental effect from using multiple mics. It also allows the volume of each mic to be adjusted separately for proper balance.Avoiding Irritating FeedbackThe placement of your microphone is critical in avoiding feedback through the RPG2x10 V2. Never set up your microphone in front of the speaker. Always set up your microphone behind the speaker. When approaching the speaker to make any adjustments, we recom-mend approaching the speaker from the rear and not walking directly towards the front of the speaker.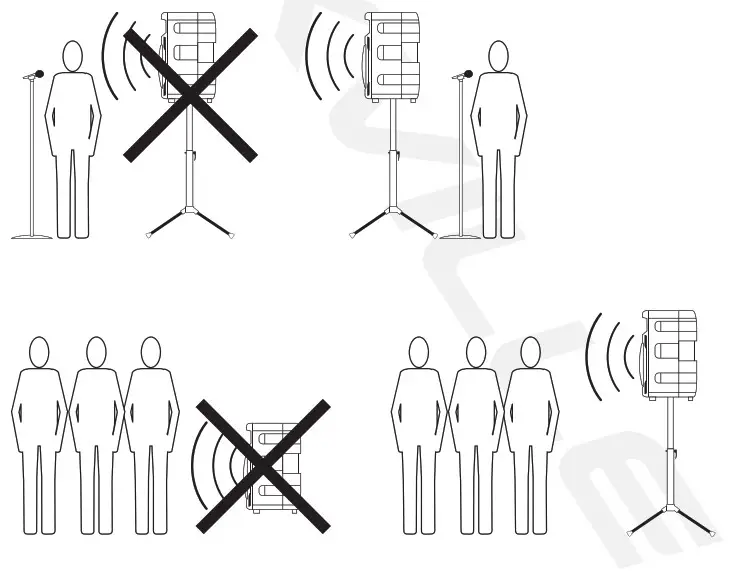 BASIC OPERATION
Setting Controls and Turning Unit OnBefore turning on the power, make sure all speakers, microphones, and other input devices are connected. Set Master Volume con to the 12 o'clock position and all other controls all the way down. Turn the power on by placing the ON/OFF switch located on the back of the mixer to the ON position.Adjusting Gain and Volume ControlsThe optimal setting for the powered mixer and included speakers is marked on the MAS-TER VOLUME control. Adjust the CHANNEL LEVEL control until the desired volume is achieved. If the desired volume is reached with the CHANNEL LEVEL turned down to one of the first three positions, turn the MASTER VOLUME down so you can turn the CHANNEL LEVEL up. If the desired volume is achieved when the CHANNEL LEVEL is close to max then raise the MASTER VOLUME so you can lower the CHANNEL LEVEL. These are the same as any basic mixer function.Adjusting Tone ControlsFor each active channel adjust the BASS and TREBLE controls to achieve the desired sound. Use moderation when making these adjustments, as extreme high settings of any of these controls can lead to a distortion of the sound and an increased chance of feedback on microphone inputs.HIGHThis High EQ shelving type of active tone control varies the treble frequencies (+/- 15dB at 12kHz) and is designed to remove noise or add brilliance to the signal, depending on the quality of the source.LOWA shelving type of EQ that varies the bass frequency levels (+/- 15dB at 80Hz). Low EQ adds depth to thin-sounding signals or cleans up the muddy ones As with any EQ, use sparingly. Too much of this EQ can give you a booming bottom end.
EQUALIZATION AND EFFECTS
Graphic EqualizerUnlike the BASS and TREBLE, controls on each channel that adjust only that specific channel's input signal, the three-band equalizer adjusts the tonal balance of all the signals going through the powered mixer. It offers control over LOW (BASS), MID, and HIGH (TREBLE) frequencies (+1-15dB) and offers flexibility in adjusting the sound. This equalizer also helps reduce or eliminate acoustic feedback.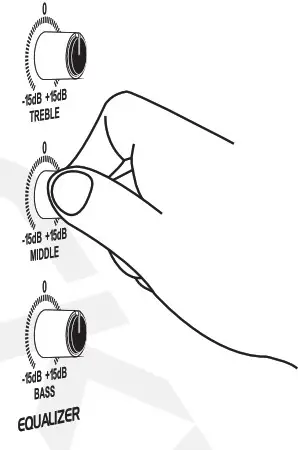 EffectsThis unit has a built-in digital delay. It's a reverb effect and features REPEAT, TIME, and LEVEL controls. The effect affects all channels (fig.1) and can be individually controlled at each channel using the EFFECT control (fig. 2).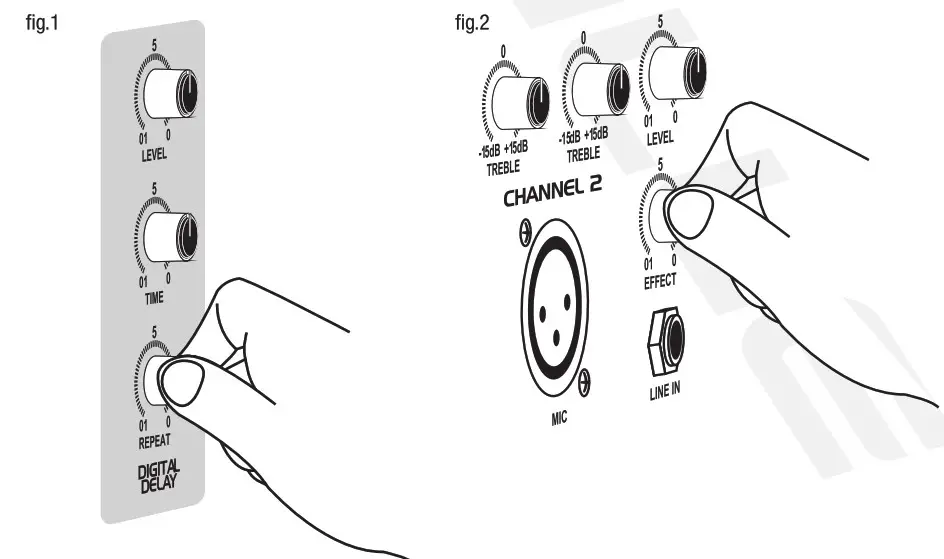 BLUETOOTH AND MEDIA
Bluetooth OperationTo listen to the music via the Bluetooth wireless connection, you must first pair (link) your RPG2x10 V2 with your Bluetooth phone and/or music device. Turn off any Bluetooth devices previously paired with the RPG2x10 V2. Turn on the Bluetooth feature on your phone or music device. Make sure the RPG2x10 V2 is ready for a Bluetooth connection. The Blue-tooth mode must be active. The LCD will say, "Bluetooth input". Place your phone or music device in Bluetooth search mode. The phone or music device will begin searching for the RPG2x10 V2. Select the unit, which should appear as Rockville, from the search results on your phone or music device. Select Ok or Yes to pair with your phone or music device.Supported Audio File Types
Media Source PlaybackHook up your media source device as mentioned previously. Which inputs are active will be displayed on the LCD screen. Use the controls on the source device for play, stop, forward and reverse functions. Adjust CHANNEL 4 controls on the mixer for the desired sound. For media playback using an MP3 player, smartphone, or other similar device use the MODE button to navigate to the proper setting. Connect using a stereo 1/4″ cable or a 3.5mm to RCA cable and use the source device for playback controls. When a device is connected to the 1/4″ jack the RCA jacks are automatically disabled. For audio file playback from a USB memory stick, use the MODE button to navigate to the USB setting. Use the LCD screen and controls to navigate and playback supported audio files. Use the controls on the mixer for play, pause, forward, and reverse. Follow the same procedure for SD/MMC input.If you do not choose to navigate or select a certain file the RPG2x10 V2 will play the files in the order they are stored on your USB or SD/MMC memory device. Non-audio files will show up in your navigation but will have no audio playback if selected. Only audio files can be selected for playback.Note: The RPG2x10 V2 does not allow playback through multiple media inputs simultane-
FUNCTIONS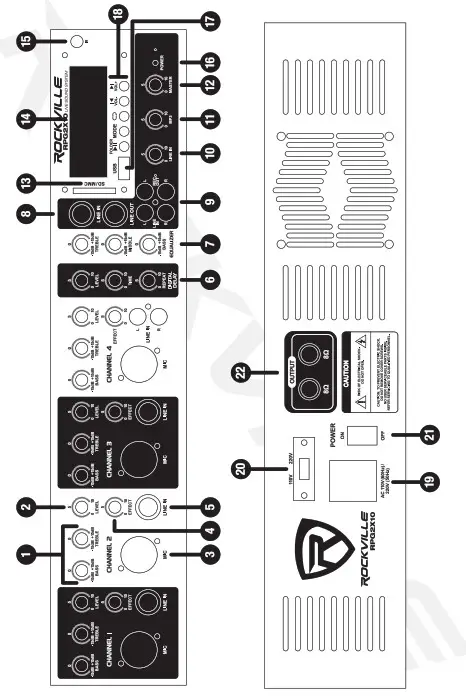 Bass and Treble control. Adjusts High and Low frequencies for the corresponding channel.
Level control. Adjusts gain level for the corresponding channel.
XLR microphone input. We recommend using professional balanced dynamic, condenser, or ribbon mics as they are least likely to be affected by interference. Low cost, high impedance talcs can be used, however, the level of background noise is higher since an unbalanced circuit is far more susceptible to interference.
Digital Delay Effect (reverb) control
Balanced 1/4-TRS input. It accepts signals from a variety of sources such as keyboards, electronic drums, tape recorders, mixers, etc. It will not process microphone Input. When you use an unbalanced 1/4-TRS plug, the line input automatically turns the ring into the ground.
Digital delay effect (echo) control panel.• The Repeat knob controls the rate of the delay.• The Delay knob controls the time interval of the delay.• The Level knob adjusts the mix level of the effect sound.
4 band equalizer. Adjust frequencies to +/-15dB
Balanced 1/4′"IRS Line In / Out jacks.
RCA Line In / Record Out jacks.
Line In volume control.
 MP3 (USB / SD / MMC input) volume control.
Master Volume control.
SD / MMC port. 1
LCD Screen.
1R receptor.
Power indicator LED.
USB port.
MP3 Player controls.• Press the Play button once to play track, press again to pause.• Mode control switches between input modes: Bluetooth, USB, SD / MMC, and Radio.• Repeat Button.• Previous / Next track buttons also allow you to control the volume. For volume control quickly press the button. To move between tracks press and hold the button for one second.• Record button allows you to record input back to your USB drive or SD / MMC card.
IEC AC power socket.
Variable voltage selector switch (110v / 220v).
Power switch.
1/4″ speaker outputs.
FEATURES AND SPECIFICATIONS
Portable PA system with 4 channel mixer
Complete Portable Pro DJ System
The compact and lightweight system delivers distortion-free sound even at extreme SPL
Speakers: 
Two 4 Ohm high power long-throw 10″ woofers with 1.5″ aluminum voice coils and 60oz magnets provide incredibly deep bass and acoustic power
200 Watts RMS / 400 Watts Program Power / 800 Watts Peak
State-of-the-art 1.75″ crystal piezo compression horn tweeter
Versatile two-way trapezoidal cabinet architecture: – Horizontal / Vertical position stage monitor – Pole mountable
Frequency range: 65Hz – 20KHz
Sensitivity: 92dB
Maximum SPL (110 Watts) 109dB
Transducer complement: 10″ woofer premium high-frequency driver on an exponential horn
Impedance: 8 Ohm
Input connections: Two 1/4″ jacks in parallel
Two 10ft XLR speaker cables
Enclosure materials and finish: Trapezoids, black carpet covered enclosure, and a full length black powder-coated steel grille
Microphones
Two Dynamic cardioid microphones designed for stand-mount application
On/off switch
Clean, natural sound
Low pop and handling noise
Includes two mic clips and two 6 meter XLR cables
Frequency response: 80Hz – 12KHz
Sensitivity. -53OBWPA (2.2mV/PA)
Output Impedance: 500 Ohm
Mixer
LCD Display
1JSB / SD Input
MP3 Playback
Bluetooth connectivity
200 Watts RMS / 400 Watts Program Power / 800 Watts Pe* into 4 ohms (2 x 8 ohm) speakers
4 balanced XLR microphone Inputs
Tape/CD Line Inputs
10 total Inputs
Master volume control
Bass, treble controls, and level controls on each channel
Reverb effect level control on each channel
Digital delay effect with Independent level control
Line Out for connection to external amplifiers
Return Input for the connection of external effects processors
Record Out for taping
RF Interference protection on all inputs
Aux Send Output: -10-day nominal. 1k ohms
Tape Rec Output -10 dB nominal. 1k ohms
Input Impedance: Low-2 Mc: 1k alms High-2 Line: 10k ohms Tape Input: 10k ohms
Input Channel Equalization: +/- IS dB 0 S kHz
3 Band equalizer. Bass: +/- IS 060 It Mid: +1-15 01 kHz Trebet +/- 15 010 kHz
Protection Circuit Power on Mute delay time. 2 seconds
Two collapsible speaker stands
Two 10ft speaker cables
TROUBLESHOOTING
| | | |
| --- | --- | --- |
| PROBLEM | CHECK | CORRECTION |
| No sound (LCD not lit) | Is Power switch on? Is the line cord connected to the live power outlet? | Turn the power switch on. Connect the power cord to live outlet |
| No sound (LCD not lit) | Are MASTER and CHANNEL GAIN controls up? | Adjust both MASTER and CHANNEL LEVEL controls upward to the desired level. Check speaker connections. Turn the mic switch on. Check mic or sound source connection. |
| No Effects | Are the channel EFFECT controlsturned up?Are the master EFFECT controls turned up? | Make sure the channel effect control is turned up. Check the master effect controls. Adjust master effect controls until the audio effect is heard. |
| Flies on USB the device will not playback | memory Is the file cued for playback?Are the audio files the proper format? | Check that you are in the proper input mode. Make sure your audio files are in the correct format. See the list of supported audio formats mentioned previously in this manual. |
| Loud howling or squeal from speakers | If it goes away when the CHANNEL or MASTER LEVEL controls are turned down, then it Is acoustic feedback. | Reduce microphone gain. Reposition microphone behind or farther from speakers. |
| Sound is distorted | Is the CHANNEL LEVEL at a very high setting? | Reduce CHANNEL LEVEL and increase MASTER VOLUME |
FEDERAL COMMUNICATIONS COMMISSION COMPLIANCE INFORMATIONResponsible party name: RockvilleAddress: 600 Bayview Ave,Entrance A,Inwood, NY 11096Hereby declares that the product Rockville RPG2x10 V2 Portable PA System complies with FCC rules as mentioned in the following paragraph:This device complies with Part 15 of the FCC rules. Operation is subject to the following two conditions: (1) this device may not cause harmful interference, and (2) this device must accept any interference received, including interference that may cause undesired operation.Note: This equipment has been tested and found to comply with the limits for a Class B digital device, pursuant to Part 15 of the FCC rules. These limits are designed to provide reasonable protection against harmful interference in a residential installation. This equipment generates, uses, and can radiate radio frequency energy and, if not installed and used in accordance with the instructions, may cause harmful interference to radio communications. However, there is no guarantee that interference will not occur in a particular installation. If this equipment does cause harmful interference to radio or television reception, which can be determined by turning the equipment off and on, the user is encouraged to try to correct the interference by one or more of the following measures:
Reorient or relocate the receiving antenna.
Increase the separation between the equipment and receiver.
Connect the equipment to an outlet on a circuit different from that to which the receiver is connected.
Consult the dealer or an experienced radio/TV technician for help.
Visit us at:RockvilleAudio.comDue to constant improvements, these specifications are subject to change without notice.Copyright 2020
[xyz-ips snippet="download-snippet"]