RPB-XLLARGE PORTABLE BLUETOOTH SPEAKEROWNER'S MANUAL
WHO READS MANUALS?Instead, go to vimeo.com/4 or scan the QR code and watch a short video that shows you how to set this item up and how to use it. If you prefer written instructions, please read ahead! With Rockville, you get many options.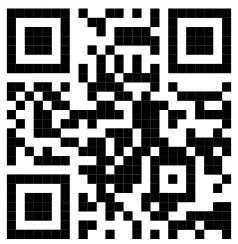 Missing items? If you ordered a bundle that includes more than one product and you are missing part of your bundle, then it just means your order shipped from two different warehouses. You will receive the remaining items very soon. If you have any concerns or inquiries, feel free to call our customer support center at 1-646-758-0144, Monday through Thursday, 9 am to 1 Opm EST, and Fridays, 9 am to 3 pm EST.Thank you for purchasing this Rockville RPB-XL Large Portable Bluetooth Speaker with TWS. Please read this guide carefully. Should you need assistance, please call our technical helpline at 1-646-758-0144, Monday through Thursday, 9 am to 10 pm EST, and Fridays, 9 am to 3 pm EST.
Included
RPB-XL Bluetooth Speaker
3.5mm to 3.5mm AUX Cable
USB Type C Charging Cable
Owner's Manual
Warranty card
IMPORTANT SAFETY INSTRUCTIONS

parts, refer service to an authorized Rockville service center.
Do not expose this unit to any kind of moisture.
Please ensure that the unit is situated in a properly ventilated area.
Make sure the unit is placed on a level and stable surface.
Functions
USB Type C power input port
5mm AUX input/reset switch (hidden inside of the jack)
USB port and Micro SD port (file size limit: 64GB)
USB DC 5V power output port
Bluetooth pairing button
PreviousNolume –
Playback status LED indicator
Microphone
TWS pairing LED indicator
NextNolume +
Play/Pause/Hands-free calling
Battery status LED indicators
Mode/Power: press to change modes (Bluetooth, USB, SD), press for 2 seconds to power on/off.
TWS pairing button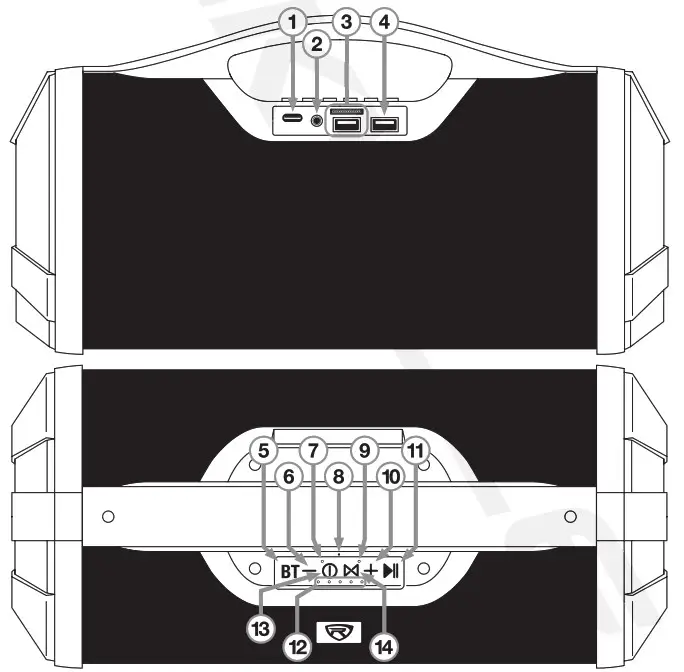 Bluetooth
Pairing
Upon powering on, the Bluetooth indicator light will flash quickly and you will hear a voice prompt indicating that the speaker is in pairing mode. Please note: if the device is in another mode, press the Bluetooth button to return to Bluetooth mode. Press this button for two seconds to disconnect the current BT device and enter pairing mode.
Ensure your device is in Bluetooth mode and discoverable.
Under the list of available devices search for and select RPB-XL.
If pairing is successful, you will hear a tone and the LED indicator will remain lit.
To unpair, the unit, press the BT button for two seconds or disconnect via your input device. You will hear a tone indicating the unit has successfully discon The RPB-XL will remember and automatically connect to the last paired device.
! ATTENTION: WHEN PAIRING YOUR BLUETOOTH DEVICE, PLEASE MAKE SURE THE VOLUME ON THE DEVICE IS TURNED UP.
Music
Press the -/+ buttons to raise or lower the volume. Press and hold -/+ buttons to navigate through tracks. Use the PLAY/PAUSE button to control playback. Playback functions can also be controlled from your input device.
Hands-Free Operation
To answer or end a call press the PLAY/PAUSE button.
Press and hold the PLAY/PAUSE button to reject an incoming call.
True Wireless Stereo (TWS)
Turn both speakers on and ensure that neither one of the speakers is paired to another device.
Press and hold (3 – 5 seconds) the TWS button on one of the speakers. The TWS LED indicator will flash white. This will be the primary speaker. It will connect automatically with the secondary speaker and the primary speaker's TWS indicator light will remain solid white.
Search for and select RPB-XL on your device's list of available Bluetooth Both speakers will automatically connect to your device. The primary unit will act as the left channel and the secondary unit will act as the right channel.
Play-back functions can be controlled by either speaker of via your device.
To disconnect, press and hold the primary speaker's TWS button for 3 – 5 seconds.
USB/SD Mode
Insert Micro SD card or USB flash drive (up to 64GB supported) into the corresponding port at the rear of the unit. Alternately, you can press the MODE button to select the desired input source.
Micro SD card/USB input should be automatically recognized and music will begin to play. The playback LED indicator will be solid white.
Press the 4+ buttons to raise or lower the volume. Press and hold -/+ buttons for 5 seconds to navigate through tracks. Use the PLAY/PAUSE button to control playback.
Aux Mode
Upon plugging in a 3.5mm jack, the unit will automatically switch to AUX input and begin to play music. The playback LED indicator will be solid white. Please note: If you plug in the 3.5mm cable prior to turning the
unit on, use the MODE button to select AUX mode.
Press the 4+ buttons to raise or lower the volume. Use the PLAY/PAUSE button to control playback.
Charging
When the unit's power is low, it will automatically shut off indicating that it needs to be charged. Please follow the charging procedure below.
Plug the included micro USB Type C cable into the port marked CHARGING.
While charging, the LED charging indicators will blink. When 3 of 5 LEDs are blinking, the unit is 60% charged. When 4 of 5 LEDs are blinking, the unit is 80% charged. 5 solid red LEDs indicate that the speaker is fully charged.
The fast charge time is 3 hours.
During playback, if 4 of 5 LEDs are on, the unit is at 80% capacity. When 3 of 5 LEDs are on, the unit is at 60% capacity.
Please note: During normal operation, the LED indicators will be off. To check the battery status, short press any button. The lights will illuminate for 10 sec­onds and then turn off. This function helps the unit conserve battery power.Factory ResetTo return the unit to its original settings, use a paper clip or toothpick to press the reset button located inside of the AUX jack.
Features and Specifications
Built-in dual USB inputs (One for USB audio playback and the other is a power bank to charge your phone)
TWS – True Wireless Stereo Linking of 2 speakers
RMS Power: 18w for the bass and 6w + 6w for highs =30 Watts RMS
Premium sound quality
Uses the best drivers and 2 passive radiator subwoofers to give amazing frequency range and sound quality
Uses DSP tuning and top of the line drivers to achieve a very balanced sound
Actions 4.2 BT chipset is energy efficient and offers high fidelity streaming
33-Foot Maximum Bluetooth Range
Built-in SD and USB ports (supports cards or sticks up to 64GB)
Supported file formats: MP3/WMA/APE/FLAC/WAV
5mm aux input
Fast Charge Time: 3 Hours
4v/4000mAh Lithium-ion battery supports up to 32 hours playback at 20% volume, 16 hours at 40% volume, and 5 hours at max volume
Battery charges with included USB Type-C cable
5 LED battery status indicators
Distortion: Less than 1%
Frequency Response: 60Hz – 20kHz
Play, Pause, Skip Forward, Skip Back, Volume Up, Volume Down
Will control next song, pause, play on popular apps like Pandora, Spotify, etc.
The built-in microphone allows you to make and receive phone calls hands-free
Compatible with any Bluetooth devices such as iPad, 'Phone, iPods, Laptops, Android phones, other cell phones, and MP3 Players
iPhone and Android devices will display the battery life of the speaker when connected through Bluetooth
Plastic Rubberized Handle which is easy for you to carry everywhere
Product Dimensions: 12.56″ (L) x 5.31– (W) x 5.98″ (H)
Product Weight: 3.46 lbs
Available Colors: black or camo
Troubleshooting
PROBLEM
SOLUTION
No Power
1. Make sure the unit is on.

2. Make sure the unit is charged. See page 5 for charging instructions.

Bluetooth/ TWS pairing fails

Check to see that both devices are turned on and that your Bluetooth device is discoverable.
Make sure you've selected the proper source.
Make sure that the Bluetooth device is within 5 feet of the unit.
Check the speaker and input source volume settings.
Move both devices away from other Bluetooth devices, microwaves, wireless routers, and other electronics.
Make sure that the unit is not paired to a previously paired device. See the Bluetooth and TWS instructions on page 4.

No USB/SD playback

Make sure you've selected the proper source.
Check that the SD card or USB flash drive is not damaged.
Make sure that the SD card's or USB flash drive's capacity is no more than 64GB.
Make sure that the music files are in one of the following formats: MP3, WMA, APE, FLAC, or WAV.
FEDERAL COMMUNICATIONS COMMISSION COMPLIANCE INFORMATIONResponsible party name: Rockville
Address: 600 Bayview Ave,Entrance A,Inwood, NY 11096Hereby declares that the product Rockville RPB-XL portable Bluetooth speaker complies with FCC rules as mentioned in the following paragraph:This device complies with Part 15 of the FCC rules. Operation is subject to the following two conditions: (1) this device may not cause harmful interference, and (2) this device must accept any interference received, including interference that may cause undesired operation.Note: This equipment has been tested and found to comply with the limits for a Class B digital device, pur­suant to Part 15 of the FCC rules. These limits are designed to provide reasonable protection against harmful interference in a residential installation. This equipment generates, uses, and can radiate radio frequency ener­gy and, if not installed and used in accordance with the instructions, may cause harmful interference to radio communications. However, there is no guarantee that interference will not occur in a particular installation. If this equipment does cause harmful interference to radio or television reception, which can be determined by turning the equipment off and on, the user is encouraged to try to correct the interference by one or more of the following measures:
Reorient or relocate the receiving antenna.
Increase the separation between the equipment and receiver.
Connect the equipment to an outlet on a circuit different from that to which the receiver is connected.
Consult the dealer or an experienced radio/TV technician for help.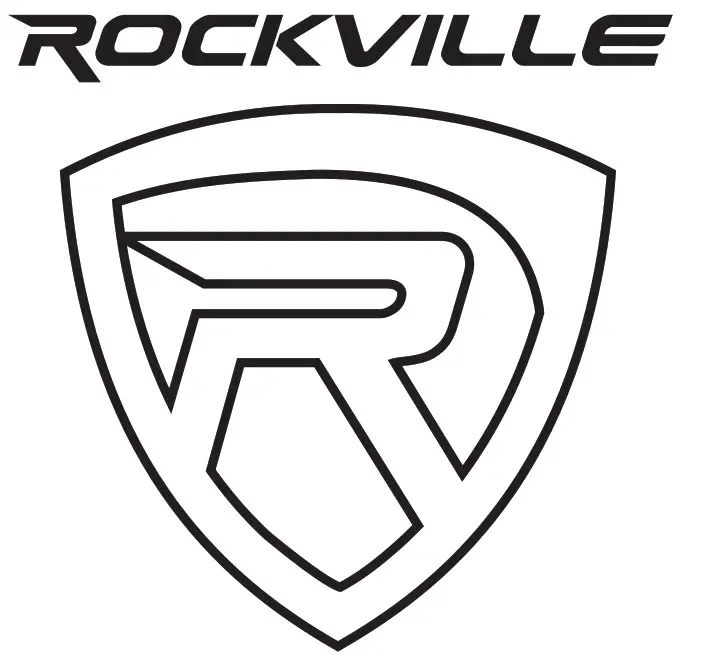 RockvilleAudio.com2021 ROCKVILLE // Features and specifications are subject to change and/or improvement without notice.
[xyz-ips snippet="download-snippet"]