NE63T8751SSSamsung Flex Duo™ Front Control Slide-inElectric Range with Smart Dial & Air Fry6.3 cu. ft. Capacity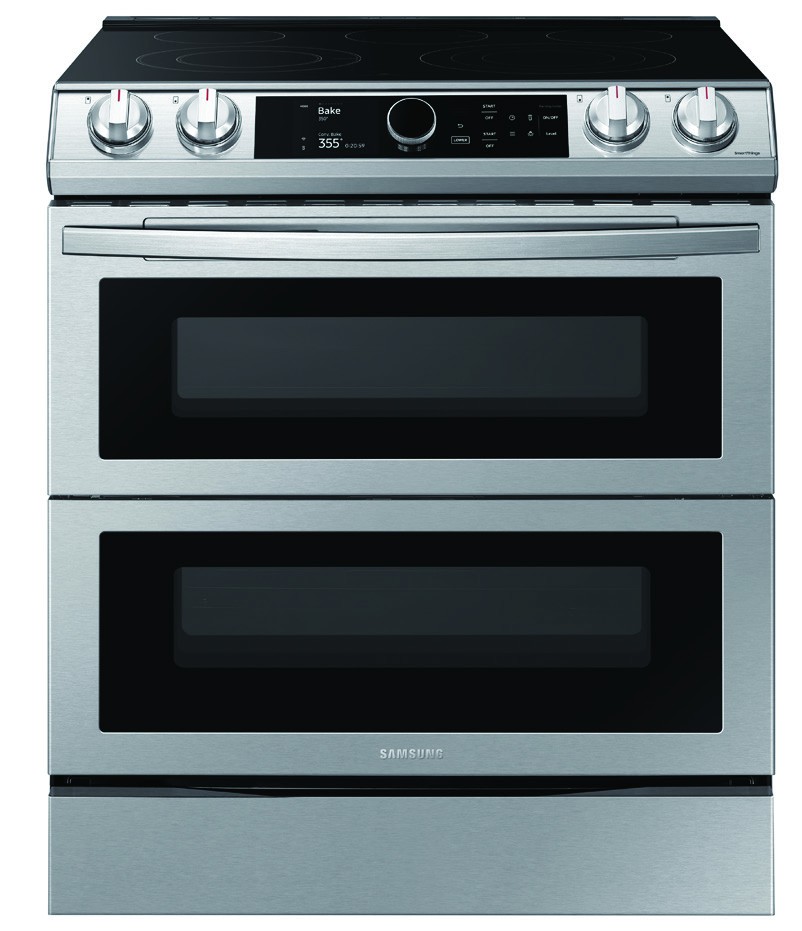 Signature Features
Smart Dial• The new Smart Dial simplifies oven settings in a single dial  nd intuitively learns based on your cooking preferences.Air Fry• Cooking just got healthier* with the new Air Fry mode. Using little to no oil, you can quickly prepare your favorite fried foods right in your oven. Air Fry tray included.*As compared to deep frying.Flex Duo™• The Flex Duo™ range is for the ultimate multi-tasker who wants to be effi cient in the kitchen. Use the full oven, or split it into two separate smaller ovens to suit your needs.
Available Colors

Fingerprint Resistant Stainless Steel (shown)

Fingerprint Resistant Black Stainless Steel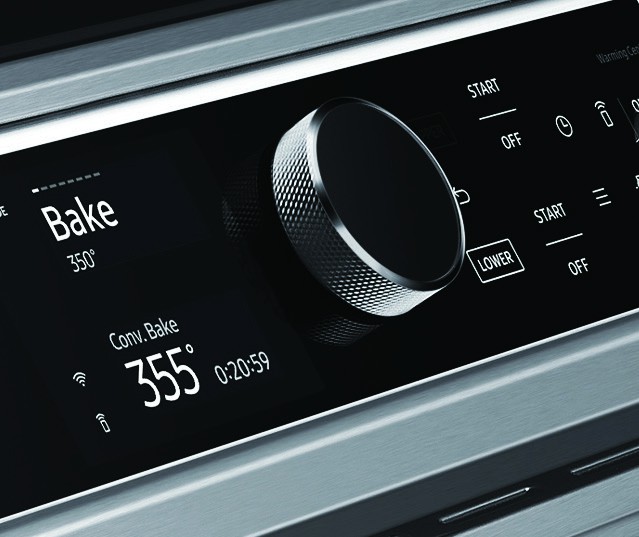 Smart Dial
Air Fry
Features
• Smart Dial
• Gliding Rack
• Air Fry, Tray Included
• Soft Close Door
• Flex Duo ™
• Storage Drawer
• Convection
• Flexible Cooktop:
• Illuminated Knobs
Five Element Cooktop– One Triple Element (6″/9″/12″)– One Double Element (6″/9″)– Two Single Elements (6″)– Warming Center
• Fingerprint Resistant Finish
• 3600 W Express Boil ™
• Large Oven Capacity – 6.3 cu. ft.
• Ready2Fit ™ Guarantee
• Temperature Probe
Convenience• Wi-Fi Connectivity• Voice-Enabled• Convection Auto Conversion• Self & Steam Clean• Hidden Bake Element• Child Safety Lock• Delay Start• Auto Oven Light• Kitchen Timer• Sabbath Mode

NE63T8751SSSamsung Flex Duo™Front Control Slide-inElectric Range with Smart Dial & Air Fry6.3 cu. ft. CapacityInstallation Specifications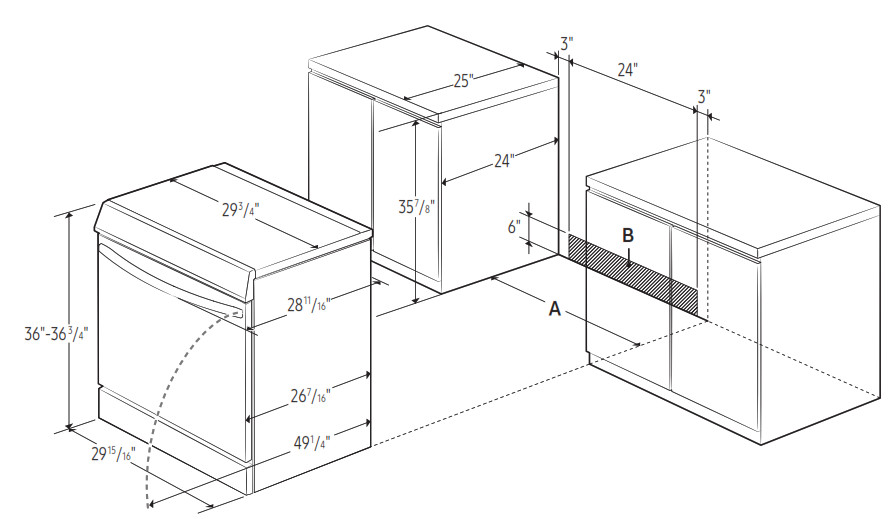 A: Cabinet opening min 30″B: Acceptable electrical outlet areaIMPORTANT: If your cabinets are over 363⁄4″ high, you must install this range on hard, heat-resistant support that raises the surface of the range so that it is about even with the countertop.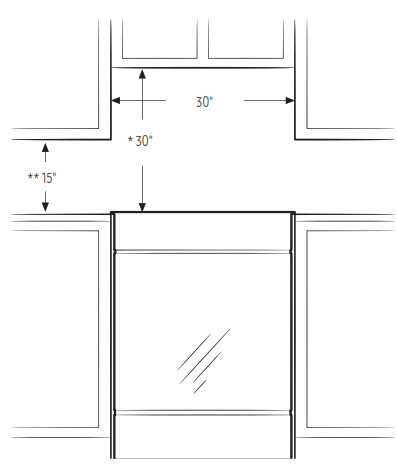 * 30″ minimum clearance between the top of the cooking surface and the bottom of an unprotected wood or metal cabinet; or 24″ minimum when the bottom of the wood or metal cabinet is protected by not less than ¼" of flame retardant millboard covered with not less than no.28 MSG sheet steel, 0.015″ stainless steel, 0.024″ aluminum,  or 0.020″  copper.** 15″ minimum between the countertop and the adjacent cabinet bottom.IMPORTANT: Consult with Installation Manual for detailed instructions before installing. All ranges must be installed with the Anti-Tip device that is included.
Power Source240V/208V/60 Hz/40AElectric Ceramic Cooktop• Right Front: 6″/9″/12″ Triple Element, 3000 W• Left Front: 6″/9″ Dual Element, 3600 W• Right Rear: 6″, 1200 W• Left Rear: 6″, 1200 W• Center: 7″, Warming CenterDual Oven• Upper Capacity: 3.4 cu. ft.• Lower Capacity: 2.7 cu. ft.• Convection Element/Heater• Convection Bake• Convection Roast• Bake• Variable Broil: Low/High• Air Fry• Bread Proof• DehydrateWarrantyOne (1) Year Parts and LaborProduct Dimensions & Weight (WxHxD)Oven Interior Dimensions:2413/16″ x 22 7/16″ x 19 3 /4″Outside Net Dimensions: 29 15 /16″ x 36-36 3 /4″ (Adjustable) x 28 11 /16″Weight: 203 lbs
Shipping Dimensions & Weight (WxHxD)Dimensions:  331 /16″ x 41 3 /4″ x 30 5 /16″Weight: 226 lbs
Color Model # UPC Code 3″ 24″ 3″Fingerprint Resistant Stainless Steel 25″ NE63T8751SS 887276409115 24″Fingerprint Resistant Black Stainless Steel NE63T8751SG 887276409108 9 35 7 /8″ 3 /4″ 6″ B
| | | |
| --- | --- | --- |
| Color | Model #  | UPC Code |
| Fingerprint ResistantStainless Steel 25″ | NE63T8751SS | 887276409115 |
| Fingerprint ResistantBlack Stainless Steel357 /8″4″ 6″ | NE63T8751SG | 887276409108 |

Actual color may vary. Design, specifications, and color availability are subject to change without notice. Non-metric weights and measurements are approximate.©2020 Samsung Electronics America, Inc. 85 Challenger Road, Ridgefi eld Park, NJ 07660. Tel: 800-SAMSUNG. samsung.com.Samsung is a registered trademark of Samsung Electronics Co. Ltd.
References
[xyz-ips snippet="download-snippet"]