Saramonic Multi-Pattern XLR USb Condenser Microphone
Introduction
The SR-MV7000 is an XLR & USB condenser microphone which can be used to capture audio to computers, most USB-C devices, XLR preamps and audio mixers with+48V phantom power. It features two selectable output solutions, one is 5-pin XLR output jack with 5-pin XLR to dual 3-pin XLR cable supplied, which can be used to connect to professional audio devices like audio mixer, another one is USB-C output jack, with USB-C to USB-NC output cables to connect with computers and other USB-C devices. And 4 pick-up patterns, low-cut filter, selectable gain control and 3.Smm headphone monitor jack helps you get the ideal sound for your recording, conference, interview, live-streaming and etc. Designed with 5/8″ female thread at the bottom of unit, it gives you variable options mounting to a tripod, boom pole and more. Including a detachable desktop stand and pop filter, you can start home-studio recording, podcast, voice-over as easily as possible.
Statement
Please read this manual carefully before using and strictly operate and store in accordance with the instructions. Please save it for your future reference. If the user manual can not help you to solve problems, please ask your retailer for help or email us: [email protected]
Cautions:
Do not use the unit under moisture condition or water, don't expose it to rain. Please store it in a cool, dry place.
Please use and store it in normal temperature. Do not move it from overheat­ed to supercooled condition frequently as well as keep away from heat sources such as heater or oven.
When using and storing, please pay attention to dust and moisture.
Be careful to violent collision.
To avoid acoustical feedback, do not hold the microphone close to the loudspeakers.
For the best pick-up pattern, do not hold your hand against the microphone cover.
Product Structure
Microphone capsule
Gain indicator(OdB, 10dB, 20dB, 30dB) @ Mute button
Polar pattern indicator
Volume control
GAIN control
!l Switchable pattern button
High-pass filter button ( To attenuate frequencies lower than 150 Hz. It can be used to remove rumble or other low frequency noise while recording.)
3.Smm headphone output
5-PIN XLR output
USB-C output ( DC 5V)
5/8″ threaded hole
Operational Guide
Setups Procedure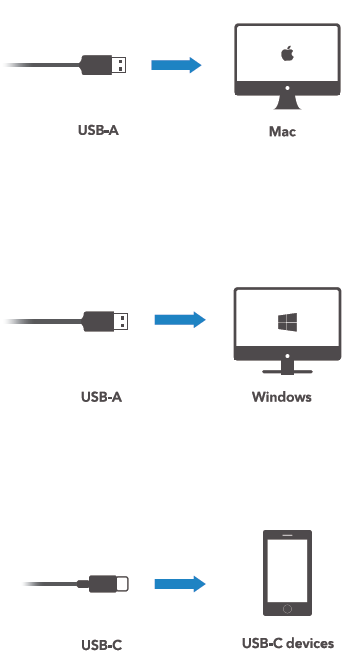 Mac OSX Setup Procedure (10.6.4 or later)
Connect the microphone to your computer via the supplied USB-C to USB-A output cables.
Open the Apple interface and select the "System Preferences·.
Select the icon of "Sound".
Choose ·use Audio Device" as input device and click "OK".
Windows Setup Procedure
Please download the driver from this website before Windows computer using. (http://www.jiayz.com/soft- ware/driver/official/XMOS-Ste- reo-USB-Audio-Class2-Driver-30E3_v4.13.0.exe)
After running the driver, simply follow the instructions to complete the installation.
Connect the microphone to your computer via the supplied USB-C to USB-A cable.
Open the control panel and select the "Sounds and Audio Devices"
Select· Audio" tab and choose "XMOS USB Audio" as input device.
USB-C devicase Setup ProcedureConnect the microphone to your USB-C devices via the supplied USB-C to USB-C output cables.Note: If your USB-C devices requires setting OTG function manually, please set the RQTG Connection" to "ONR. The OTG connection menu is usually in the "Additional Settings" in your phone setting menu.
Tips
To get optimum sound performance, adjust the microphone's pick-up angle. For maximum clarity and intelligibility, position the microphone pointed directly at the subject's mouth.Before adjusting the angle, slightly loosen the knobs. Avoid tightening or loosening knobs with great force as it might damage the screw threads. Always mount the pop filter to avoid plosive when recording.
Audio Output
The microphone offers two types of outputType-CAudio Output (Digital Signal Mode)Connect the microphone to your computers, USB-C devices via the supplied USB-C to USB-NC output cables.
XLRAudio Output(Analog Signal Mode)As an analog microphone, the 5-pin XLR output can be used to connectprofessional audio devices like audio mixer via S-pin XLR to dual 3-pin XLR cable and requires external 48V phantom power to operate.NOTE: The headphone ouput can't be functioned when in analog signal mode. Please connect the headphone output of mixer to monitor the incoming audio.
Packing List
SR-MV7DDO microphone
Microphone stand
Pop filter
1.6′ (0.5m) 5-pin XLR Female to dual 3-pin XLR Male Y-Cable
3.9′ (1.2m) USB-C to USB-A Cable
3.9′ (1.2m) USB-C to USB-C Cable
Specifications
Polar Patterns
CardioidCaptures sound directly in front of microphone and reject off-axis sound and ambient noise. Ideal for podcasts, vocal performance, instruments, livestreaming or other vocal recording.OmnidirectionalPicks up sounds in all directions. Ideal for multiple person recording applications, like round table discussions, conference calls, multi-person pod casts.StereoCaptures detailed stereo recording. Ideal for music, dialogs, or ambient sound recording in stereo.BidirectionalCaptures audio from the front and rear of the microphone, and provide equal sensitivity to both sides. Ideal for 2-person podcasts, interviews, dialogues, and music recording applications.

[xyz-ips snippet="download-snippet"]