SuperClamp 2-Bike + CargoAssembly Instructions 4027
TELL US WHAT YOU THINK

SARIS.COM/FEEDBACKREGISTER YOUR PRODUCT FOR UPDATES SARIS.COM/REGISTRATION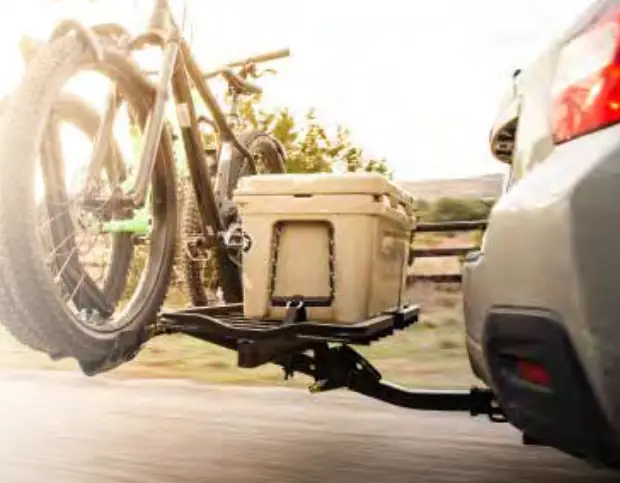 LONG FOR THE RIDE
Just as no garage is complete without a bicycle, at Saris, we believe no car is complete without a bike rack. Since setting off on this journey nearly 30 years ago, Saris racks have freed millions of bike-lovers to explore new territory and terrain, take part in group rides, bike pool to races, and commute to and from work.  And we continue to do so in style. As the all-time #1 best-selling bike rack, Saris Bones® continues to set the standard for excellence in design. Today all Saris bicycle racks are intuitive to load and secure and guaranteed for life.  Built by cyclists for cyclists in Madison, Wisconsin,  we strive to create the world's best bike racks. Because cycling is what we live for.MADE IN USA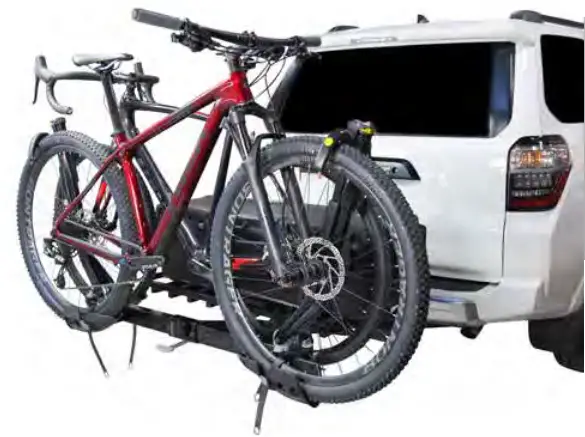 Specifications: 4027 SuperClamp 2-Bike + Cargo
For use with 2" receivers. Para usar con 2" enganches del receptor. À utiliser avec les 2" attelages récepteurs.


1.800.783.7257http://www.saris.com/en/vehicle-racks.html
Cargo: Max = 120 lbs/54kg Be sure cargo weight is centered on the platform. Cargo straps not included. User is responsible for properly securing cargo to platform. Carga: Máx = 120 lbs / 54kg Asegúrese de que el peso  e la carga esCentrado en la plataforma.Correas de carga no incluidas. El usuario es responsable de asegurar  adecuadamente la carga a la plataforma.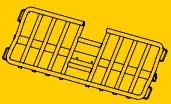 Chargement: Max = 120 lb / 54 kg Assurez-vous que le poids de la cargaison estcentré sur la plate- forme.Sangles de chargement non incluses. L'utilisateur est responsable de la sécurisation correcte du fret sur la plate-forme.Max = 35 lbs/ 16 kg per bikeMáx.= 16 kg/35 libras por bicicleta

Max = 35lb/16kg par vélo
Customer Support 1-800-783-7257 [email protected] saris.com Live Chat


View our installation video athttp://www.saris.com/en/instructional-videos-1.htmlFor relevant patents, see www.saris.com/patents
Tools Needed:
Items Included: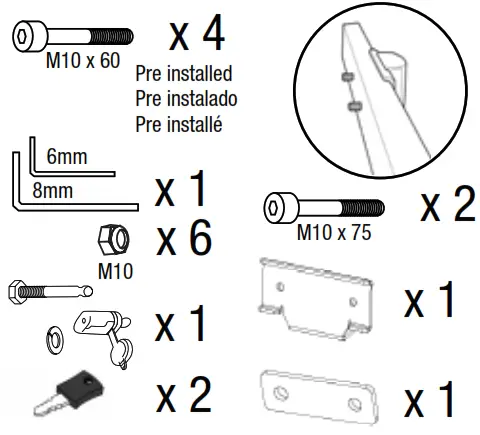 Optional Accessories: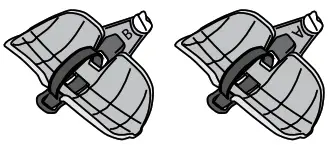 INSTALL RACK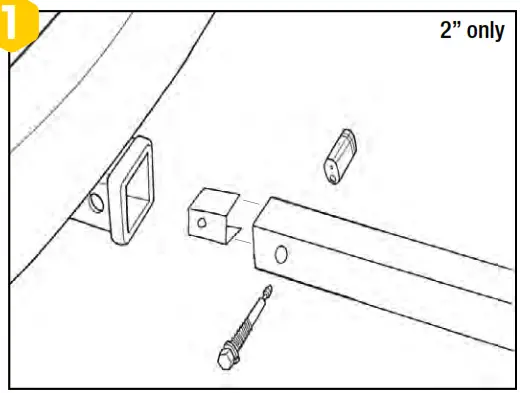 Insert hitchtite and line up holes. Install receiver and secure with pin and lock, as shown. Tools Required:  19mm(3/4'') Wrench.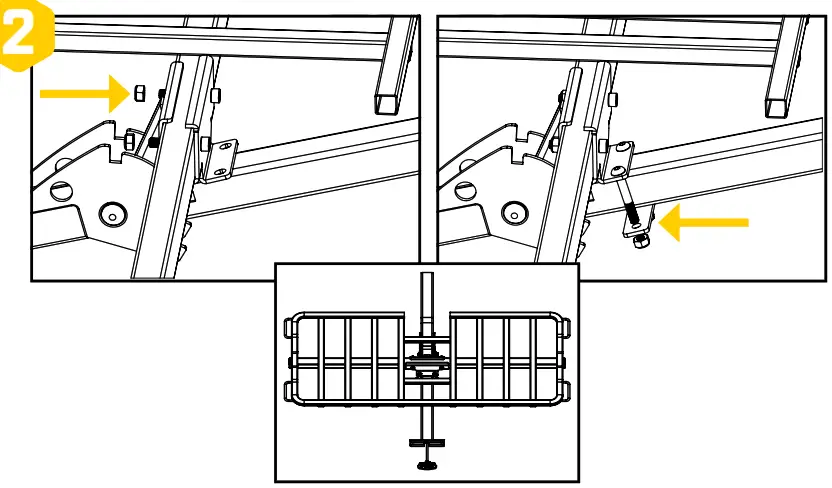 Line up the bracket with cargo bar and receiver, ensuring the cutout in the cargo tray is towards the vehicle. Secure with 60mm bolts and nuts, using a 17mm (9/16") wrench and 8mm hex key. Clamp bracket and backing plate to the receiver with 75mm bolts and nuts, using 17mm (9/16") wrench and 6mm hex key. Recommended torque  spec 15ft-lb.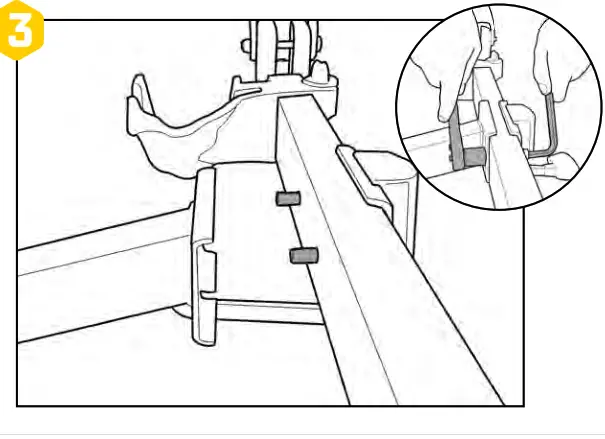 Line up the front plate with bar and receiver. Secure with bolts & nuts, using a 17mm(9/16") wrench and 8mm hex key. NOTE: Remove rubber tips Tools Required: 17mm Wrench, 8mm Hex Key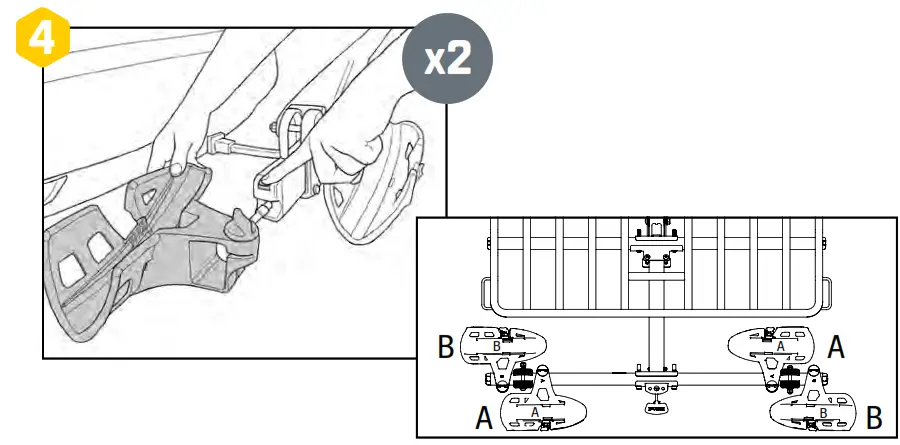 Slide on outer wheel trays to complete rack assembly. (Wheel tray with white reflectors installed on the passenger side of the vehicle facing away from the vehicle.)
LOAD BIKES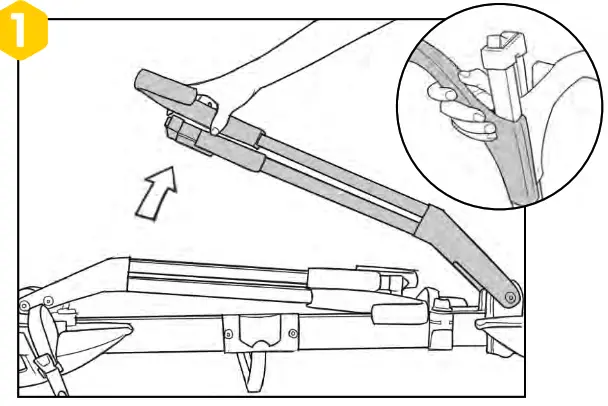 Push and hold the button on top of the arm to open the arm. Push and hold a button on top of the hook to slide the hook up.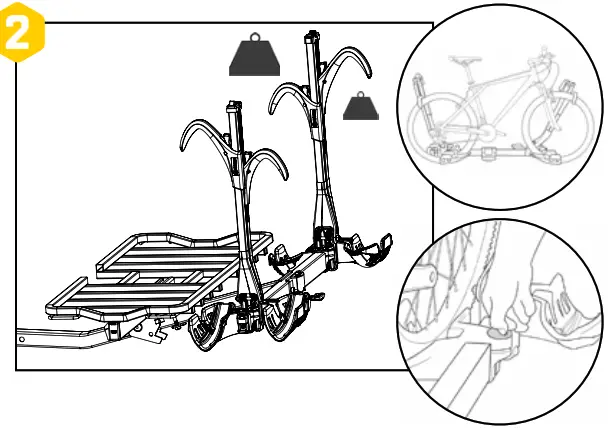 Load bikes. Heaviest bike closest to the car. Adjust wheel tray if necessary. Tighten wheel tray knob. NOTE: Position arms at ''10:00'' and ''2:00'' without contacting bike frame components.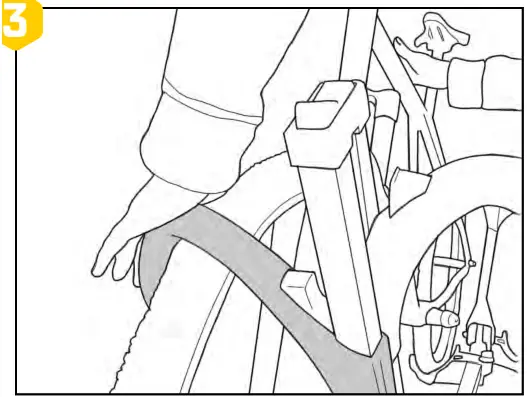 Press hooks down onto tires. Once the hook contacts the tire, firmly press the hook down until you hear 1  additional click. Ensure the tires are properly inflated and in good condition.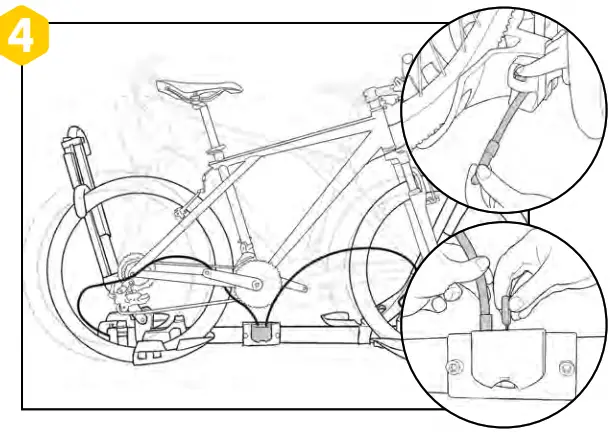 To lock bikes press and hold the button, pull out the lock cable, and route through the bike frame. Insert cables ends into lock shank as shown. Turn the key to the lock position to lock the cables. To return the cable press and hold the button while feeding the cable back into the bar.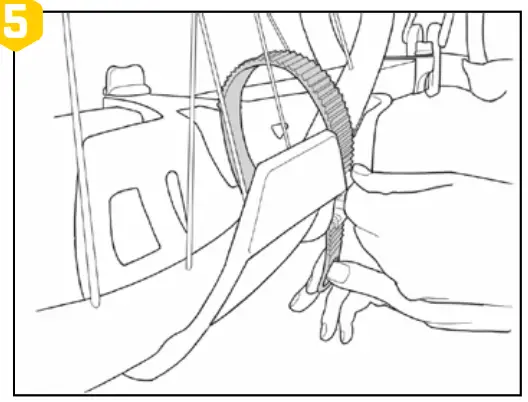 Use straps to secure front and rear wheels to trays.
HATCH ACCESS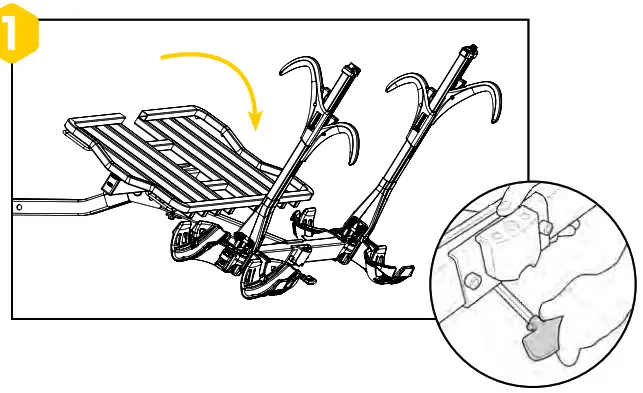 Remove pin with a lanyard at base of the rack, push handle, tilt rack away from the vehicle. Caution: hold bikes with available hand.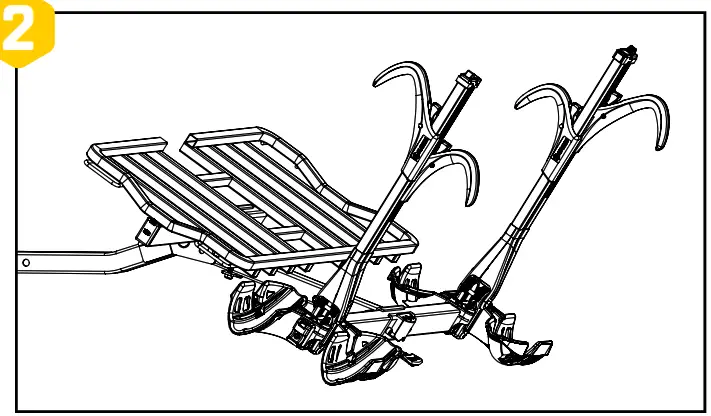 Access Hatch.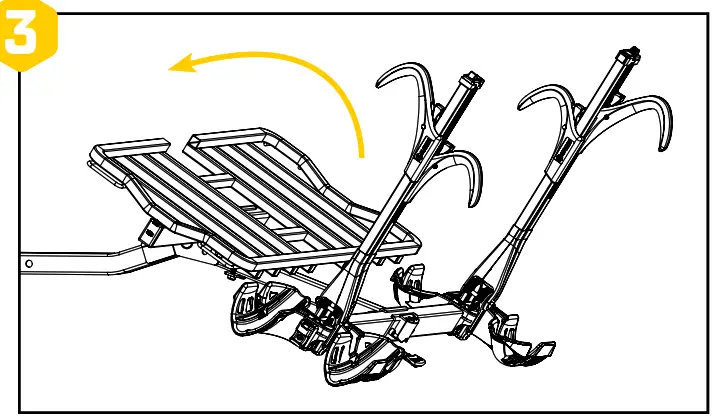 Push back into place, you will hear audible "click" when in place. Reinstall pin at the base of the rack.
RACK STORAGE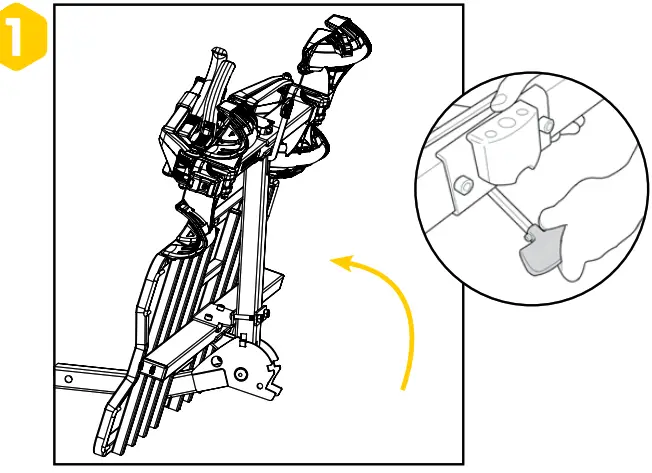 Push handle, fold-up rack toward the vehicle. You will hear an audible click when the rack is stored in the upright position.
Technical Specifications Bike carrier weight: 88lb/40kg Permitted cargo capacity: 120lb/ 54.4kg Max bike  weight: 35lb/16kg
CAUTIONS:
All requirements for compatibility/fit as stated in the current Saris vehicle/carrier compatibility guide must be followed. (Available at any Sari's dealer or www.saris.com). If your vehicle is not listed or you have any questions, please call our customer service at 800-783-7257 or visit www.saris.com.
Read and follow instructions carefully. Save owner's manual for future reference or parts information. Ensure that any other users of the bicycle carrier are familiar with their content.
Drive slowly over speed bumps, 5 to 10 mph max speed.
It's the end-users responsibility to ensure that the use of this product meets all local and state laws.
When cleaning vehicles and racks, use only water-soluble cleaners. Do not take the rack through a car wash.
Make sure bike tires are not directly behind the exhaust pipe.
The rack must be installed directly into the vehicle hitch receiver. Do not modify the hitch receiver or use hitch extenders.
Do not mount to any type of trailer or RV including Class B vehicles.
Prior to usage on the road, remove all loose parts from the bicycle, including (but not limited to) child seat, basket, lock, light, pump, etc.
This carrier is not recommended for off-road use or for use at a speed exceeding 70 mph (113 km/h).
The handling characteristics of a vehicle will change when a rear bicycle carrier is fitted and especially when it is loaded (in particular crosswind sensitivity, handling on bends, and braking). Driving techniques should be altered to allow for these changes, reduce speed, especially on bends and allow for longer braking distances.
The vehicle's total length increases when the bike carrier is attached. The bikes themselves may increase the vehicle's total width and height. Take care when reversingand/or entering garages or ferries, etc.
Remove carrier from the vehicle when not in use.
This carrier is constructed to carry standard bike frames. It is not intended for use with tandem or recumbent bicycles.
Replace any mounting strap at the first sign of wear. Replacement parts are available through your local Saris dealer or call 1-800-783-7257.
Tighten straps regularly during the journey.
The vehicle should be in good condition in the area in which the hitch is located.
Do not exceed the maximum load capacity of the carrier (120 lbs for tray or 35 lbs max per bike) Secure properly and adjust for even load distribution, loading the heaviest/biggest bike first and closest to the vehicle.
Saris absolves itself of responsibility for any personal injuries or consequential damage to property or wealth caused by incorrect fitting or use.
Be sure cargo weight is centered on the platform.
Cargo straps are not included.
User is responsible for properly securing cargo to the platform.
Warning and Disclaimer:This carrier has been designed to carry bicycles on specific vehicles. Before installation, the user must read and follow current Saris Fit Guide (available through Sari's dealer) recommendations and enclosed instructions. Fit recommendations are based on the vehicle's standard features; optional features may affect the fit recommendations. User must attach carrier correctly to the vehicle, check its attachment before each use, and inspect carrier parts for wear. Carrier's attachment to the vehicle is critical and beyond the control of the manufacturer. Manufacturer and seller expressly disclaim any and all liability for personal injury, property damage, or loss, whether direct, indirect, or incidental, resulting from the incorrect attachment, improper use, inadequate maintenance, or neglect of this carrier.
OFFICIAL WARRANTY TERMSSaris Cycling Group, Inc (SCG), the parent company of Saris Racks, warrants our product to the original consumer to be free from defects n materials and workmanship. Please retain your sales slip for your records, as proof of purchase will be required.
WARRANTY TERMCar Racks: As long as the original owner owns the product. Home storage/bike  storage: as long as the original owner owns the product
Kool Rack: 1 yearParking Racks: 1 yearNote: No damage to mounting surfaces is covered. Any product or part thereof found to be defective within the term as set forth above will be replaced without charge provided that: (1) its failure resulted from a defect in material or workmanship and not from normal wear and tear expected in the use of the product; (2) the product was not misused, improperly assembled, improperly maintained or damaged by accident; (3) there was no failure to follow instructions or warnings in Owner's Manual; (4) no alterations or modifications were made;  and (5) the product or part is delivered, freight prepaid, to Saris Cycling Group or an authorized service center. Please call 1-800-783-7257 to obtain a return authorization prior to return. SCG reserves the right to inspect any product before issuing a replacement. SCG's only obligation shall be to replace such products or parts that it determines are defective. LIMITATIONS The foregoing warranties are in lieu of and exclude all other warranties not expressly set forth herein, whether expressed or implied by operation of law or otherwise.  Other than as set forth above, SCG makes no warranty, whether express, implied, or statutory, with respect to any product, including, but not limited to, warranties of reliability, merchantability fitness for a particular purpose, or those arising from any course of performance, dealing, usage or trade. SCG shall not be liable for incidental or consequential losses, damages, or expenses in connection with its products. SCG's liability hereunder is expressly limited to the replacement of goods not complying with this warranty or, at SCG's election, to the repayment of an amount of the purchase price of the product in question. Some states do not permit the exclusion or limitation of implied warranties or incidental or consequential damages, so the preceding limitations and exclusions may not apply to you.
EXCLUSIONS
If the consumer does not heed  cautions listed in Instruction Manual, the damage is not covered under warranty
Impact/collision damage is not  covered under warranty
Cradles and strap damage due to improper arm placement are not covered under  warranty
Carrying anything other than a bicycle is not covered under warranty
Rust is wear and tear and is  preventable with rack maintenance
Weather impact (UV, salt air/water)
RECOMMENDED RACK MAINTENANCEEach use:
Wipe down trunk rack feet
Check straps for signs of wear
Check bike cradles and wheel scoops
Check for loose bolts  Every 90 days actions
Clean with water and mild soap
Lubricate locks if applicable (use wet, oil-based lubricant; NO WD-40)
Grease hitch bolt threads
Check for scratches in paint Lifetime warranty is available in North America only. Contact Us for more information.

Saris5253 Verona Road Madison WI 53711www.saris.com800.783.7257 | [email protected]
References
[xyz-ips snippet="download-snippet"]