User Manual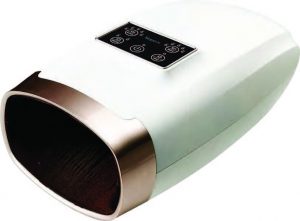 SereneLife Electric Hand Massager with Compression (SLHNDMSG85)
6 Modes & 6 Levels Pressure Point Therapy Massager for Arthritis, Pain Relief, Carpal Tunnel,and Finger Numbness.
Please read this manual carefully before using the product, and keep it in a safe place for future reference.
Please charge the unit before using it for the rst time to extend the battery life. Use a 5V,1A (or 2A) cellphone charger to charge it. When charging, the power indicator will ash which indicates the machine is charging. The Power indicator turns o after charging is completed.
Suitable for:
Someone who uses the computer for a very long period of time.
People who have poor palm blood circulation.
Women who want to maintain beautiful hands.
Product Features
Ergonomic design conforms to acupuncture points and curves of hands
Pneumatic segmented extrusion massage
Full palm acupuncture massage
With Heat function for cold circumstance (Optional function).
Micro seismic massage increase the massage interest (Optional function).
Control Panel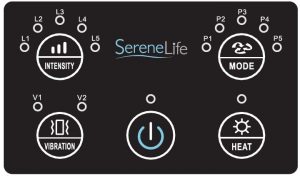 FEATURES

COMPONENTS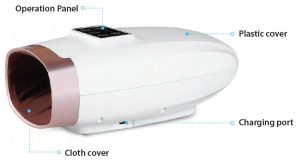 HOW TO USE THE CONTROL PANEL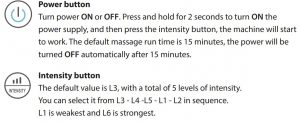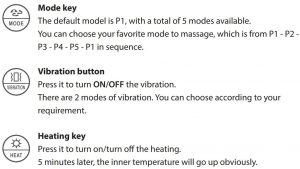 Troubleshooting method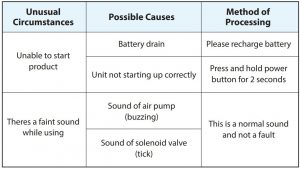 Features:
Innovative and Multifunctional Hand Massager
Squeezes Away the Stress and Strain
Improves Blood Circulation
Avoids Finger Numbness or Chronic Pain after a Carpal Tunnel Surgery
Easy to Use
6 Intensities, 6 Dierent Program Modes
2 Vibration Modes and 1 Heat Function
Cordless Rechargeable
Built-in Rechargeable Battery
Ergonomic Design for Ecient Results
Relieves Pain at Any Cost
Helps with Brain Activity and Sense of Touch
Suitable to Use for Athlete, Oce Specialist, Artists, etc.
Includes Finger or Roller Massager
Soothes Tired Fingers after a Long Day
What's in the Box:
Hand Massager
USB Charging Cable
Technical Specs:
Construction Material: Engineered ABS
Recommended Massage Session Duration: 10 Minutes
Hand Massage Pressure Strength: 86 kPa~106 kPa
Rechargeable Battery: 3.7V Lithium, 2500 mAh
Power Supply: 5V DC, 2A (USB Powered)
USB Cable Length: 3.2 ft.
Product Dimension (L x W x H): 11.4" x 6.7" x 5.11" -inches

Questions? Issues?We are here to help!Phone: (1) 718-535-1800Email:
SereneLife Electric Hand Massager with Compression User Manual – SereneLife Electric Hand Massager with Compression User Manual –
Questions about your Manual? Post in the comments!
References
[xyz-ips snippet="download-snippet"]