SILVA 37689 Trail Runner Free Ultra Headlamp User Guide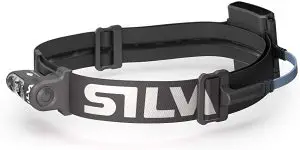 INTELLIGENT LIGHT
Trail Runner Free is equipped with Intelligent Light, which is a light distribution technology that combines a wide-angle flood light with a long reach spotlight. This unique light distribution, customized for running, gives the user peripheral and long-distance vision at the same time. For a runner – this results in less head movement, increased control, better balance and more speed.
PRODUCT OVERVIEW
The Trail Runner Free Ultra packaging consists of the following parts:
Headlamp unit
Free Technology™ headband
Hybrid battery case with built in visibility light
Textile extension cord
USB rechargeable battery (4.0 Ah)
Battery soft case
USB charge cable
Quick guide
BEFORE USE
ADJUST THE HEADBAND
The elastic headband with anti-slip silicone on the inside is designed to give a comfortable fit and to stay in place at speed activities such as running. Adjust the headband by moving the 2 sliding buckles on each side to fit comfortably on your head.
BATTERY CHARGING (4.0 AH BATTERY)
Located on the side of the 4.0 Ah battery pack is a Micro-B connector. Attach the included USB charge cable to this Micro-B connector.
Connect the USB connection to a wall outlet, computer or other standard USB connection.
Beneath the Micro-B connector there are 4 charge indication LEDs.

During charge the LEDs shows its progress with one or more red lights.
When fully charged all LEDs turns green.
Charge time is approximately 3 hours.
Note! When battery is fully charged the battery automatically switches to maintenance charge. However, never leave a battery unattended while charging.
INSERT THE BATTERIES (AAA BATTERIES IN HYBRID BATTERY CASE)
Open the hybrid battery case and insert three AAA batteries (not included). Either Alkaline, NiMH or Lithium batteries can be used. Please note the battery polarity.
As an option, a rechargeable Hybrid battery is available for purchase that fits perfectly in the Hybrid battery case.
Do not mix different brands of batteries. Do not mix batteries with different levels of discharge. If you don't intend to use the headlamp for a longer period, make sure you remove the batteries from the lamp.
CONNECTION TO HEADBAND
Connect the 4.0 Ah battery or Hybrid battery case to the buckle on the headband located on the left side. Included is also a textile extension cable that can be connected in between the headband buckle and either of the batteries if you want to carry your battery in your backpack, pocket or similar.
DURING USE
SWITCH ON YOUR HEADLAMP
On the side of the headlamp body there is a push button which controls all light modes.
Each press on the button gives you the following light:
Turns the headlamp ON in maximum brightness mode
Switches to medium brightness mode
Switches to minimum brightness mode
Starts over from 1
The flash mode, which is used to attract attention, is started from OFF mode by pressing and holding the button for more than 1 second.
To turn OFF; press and hold the button for more than 1 second.
MAX MODE INDICATION:Trail Runner Free is equipped with a visual indication when you toggle from minimum brightness mode to maximum brightness mode. This is visible with a quick flash and is helpful to prevent unnecessary button presses.
REAR SAFETY LIGHT
Built into the Hybrid battery case is a rear red light for extra visibility and safety. To turn this light ON, open the Hybrid battery case and slide the switch (located on the lower left side inside the case) to desired position (flashing red or red).
BATTERY STATUS INDICATION (4.0. AH BATTERY)
When battery is connected to the headlamp and turned ON, current charge status is visible for 30 seconds on the battery pack. If you want to check battery status during use, the headlamp needs to be turned OFF and then back ON.
BATTERY STATUS INDICATION (AAA BATTERIES)
When the headlamp is turned OFF a small LED is visible through the front lens of the headlamp to indicate the status of the batteries. This indication will be on for 5 seconds.
Green – Battery in good condition
Red – Battery in poor condition
AFTER USE
MAINTENANCE
To make sure you get maximum performance from your headlamp, clean the lamp unit regularly with a damp cloth.
ABOUT LI-ION (LI-PO) BATTERIES
The battery should be stored in a dry environment within the temperature range of -20°C – +35°C.
If you would like to store and not use your battery for a longer period (more than 30 days) the battery should be 50%charged.
Li-Ion batteries have a discharge rate of approx. 20% over a 30 day period (if fully charged and stored in +25°C).
Do not expose the battery for extreme temperatures which may cause fire or explosion.
Do not disassemble or mistreat the battery due to risk for chemical burn.
Keep away from children.
Do not submerge the batteries in water.
Do not short circuit the contacts.
Replace only with Silva battery
Note! Always make sure to disconnect the battery when the headlamp is not used.
Weight: (headlamp including headband): 55 gramsWeight battery (4.0 Ah): 85 gramsBattery type included: 1 x LiPo 4000 mAh 3.7 VCharging time: 3 hWeight battery (battery case + AAA batteries): 62 gramsLight distance (Max/Med/Min): 80 m/50 m/20 mLumen (Max/Med/Min): 400/200/50 lm
Burn time 4.0 Ah battery:Burn time +20 ºC:Max/Med/Min: 9 h/11 h/23 hBurn time -5 ºC:Max/Med/Min: 5 h/7 h/18 h
Burn time 3xAAA batteries:Burn time +20 ºC:Max/Med/Min: 25 h/50 h/70 hBurn time -5 ºC:Max/Med/Min: 10 h/20 h/40 hWater resistance: IPX5Operative temperature range: -20ºC – +60ºC
PROTECT THE ENVIRONMENT
Headlamp and battery should be recycled and must not be thrown in the regular trash. Dispose these items in accordance with applicable local regulations.
WARRANTY
Silva warrants that, for a period of two (2) years*, your Silva product will be substantially free of defects in materials and workmanship under normal use. Silva's liability under this warranty is limited to repairing or replacing the product. This limited warranty extends only to the original purchaser.
If the Product proves defective during the warranty period please contact the original point of purchase. Make sure to have your proof of purchase on hand when returning the product. Returns cannot be processed without the original proof of purchase. This warranty does not apply if the product has been altered, not been installed, operated, repaired, or maintained in accordance with instructions supplied by Silva, or has been subjected to abnormal physical or electrical stress, misuse, negligence or accident. Neither does the warranty cover normal wear and tear. Silva is not responsible for any consequences, direct or indirect, or damage resultant from use of this product. In no event will Silva's liability exceed the amount paid by you for the product. Some jurisdictions do not allow the exclusion or limitation of incidental or consequential damages, so the above limitation or exclusion may not apply to you. This warranty is valid and may be processed only in the country of purchase.
Batteries: one (1) year
For more information please visit www.silva.se
References
[xyz-ips snippet="download-snippet"]