Spotify Audio Pro Connected HiFi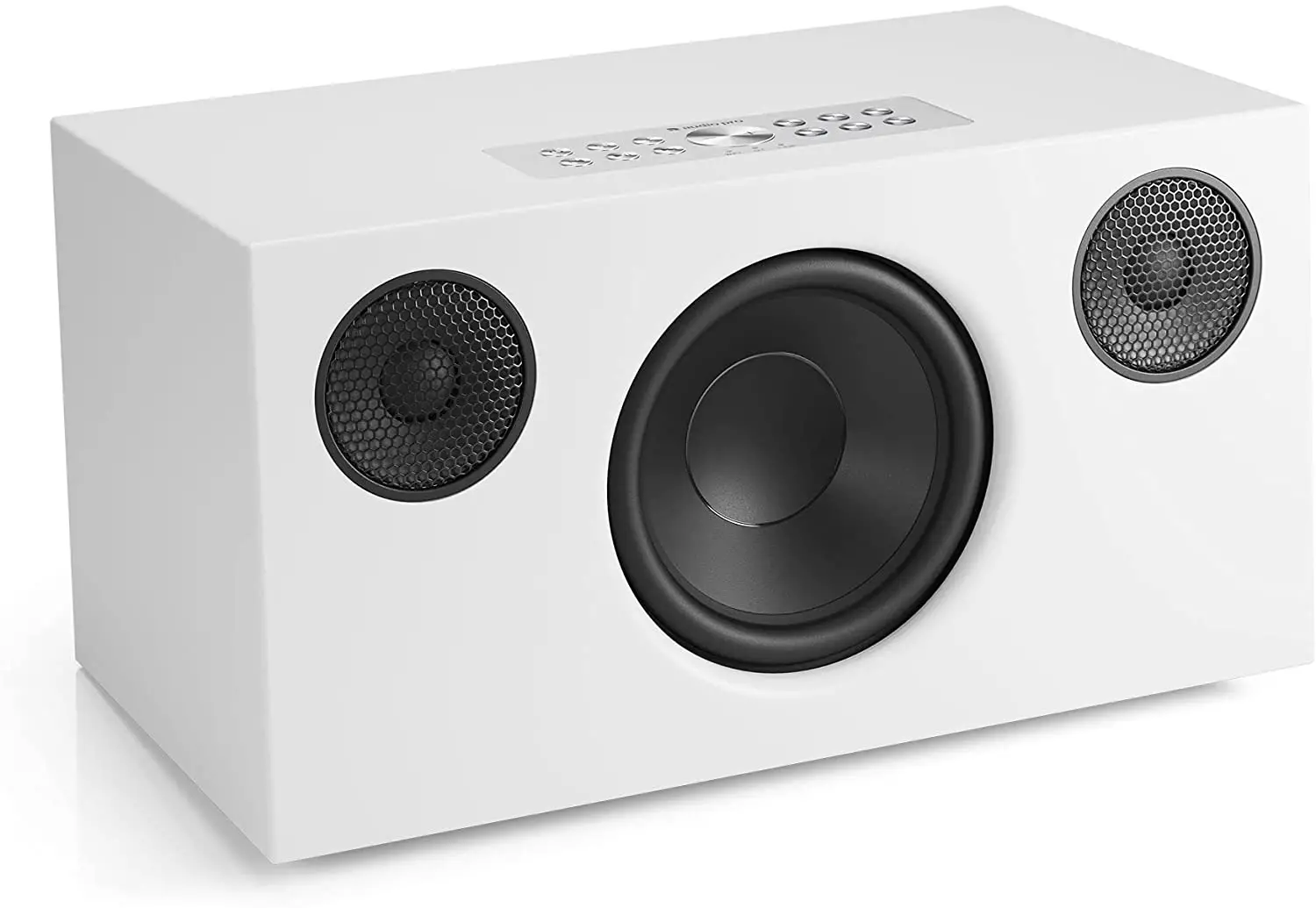 WELCOME TO MULTIROOM HIFIThe Audio Pro Connected HiFi products lets you enjoy wireless multiroom sound that enables you to enjoy your favorite music anywhere and everywhere around y our home.By utilizing your existing home network and the Audio Pro app on your iOS or Android™ device, you can explore, browse, and play music from your own music library or from many online str eaming music services.
In addition to easy wifi connection there is also Bluetooth wireless technology if you don't have a network. You can also connect your TV, turntable or cd-player by cable to enjoy all your music.The legendary Audio Pro sound quality is included.
Google, the Google logo, Google Apps, Android, Android Market, Google Places, Google Maps, YouTube, Google Navigation, Google Calendar, Gmail and Google Search are trademarks of Google Inc. Android™ is a trademark of Google, Inc. The Android robot is created and shared by Google and used according to the Creative Commons 3.0 Attribution License.
Your new speaker has Spotify Connect built in. Spotify Connect lets you control the music playing on your device, using the Spotify app on your mobile, tablet or PC. Listening is seamless. You can take calls, play games, even switch your phone off – all without interrupting the music. Use your phone, tablet or computer as a remote control for Spotify.Go to spotify.com/connect to learn how.LicensesThe Spotify Software is subject to third party licenses found here: www.spotify.com/connect/third-party-licenses.
REAR VIEW
CONTROLS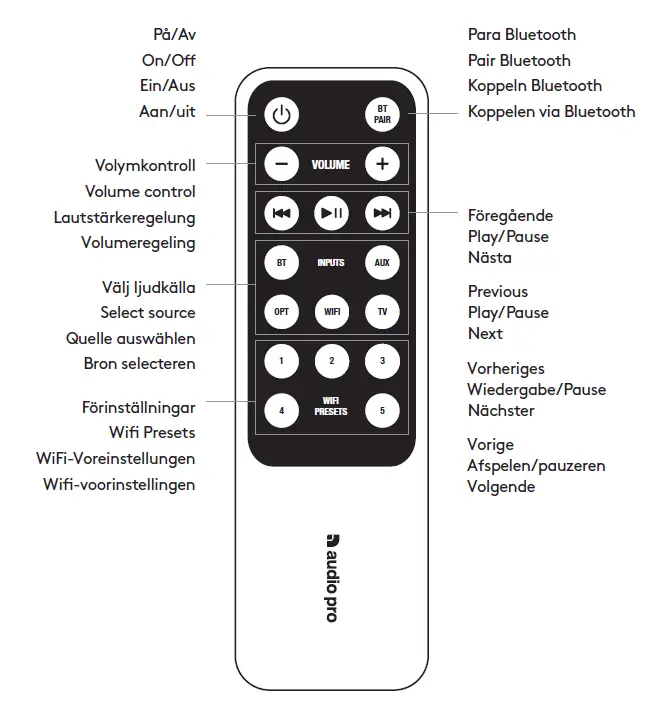 LED INDICATOR

CONNECT TO POWER
Place the speaker close to the router when carrying out the setup. You can subsequently view the signal strength in the app in order to test other positions.
DOWNLOAD THE APP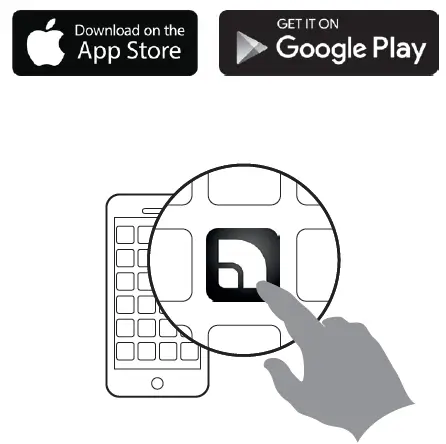 Search for "Audio Pro Control"
Launch the app and follow the instructions.
ADD A SPEAKER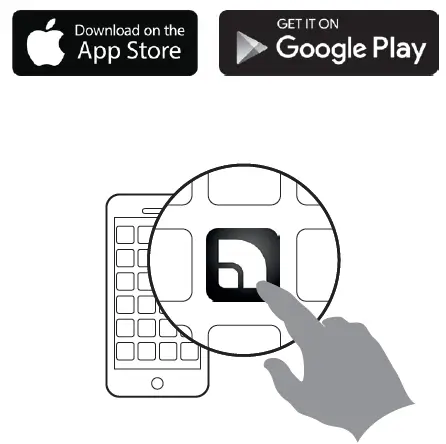 APP OVERVIEW
MAIN VIEWS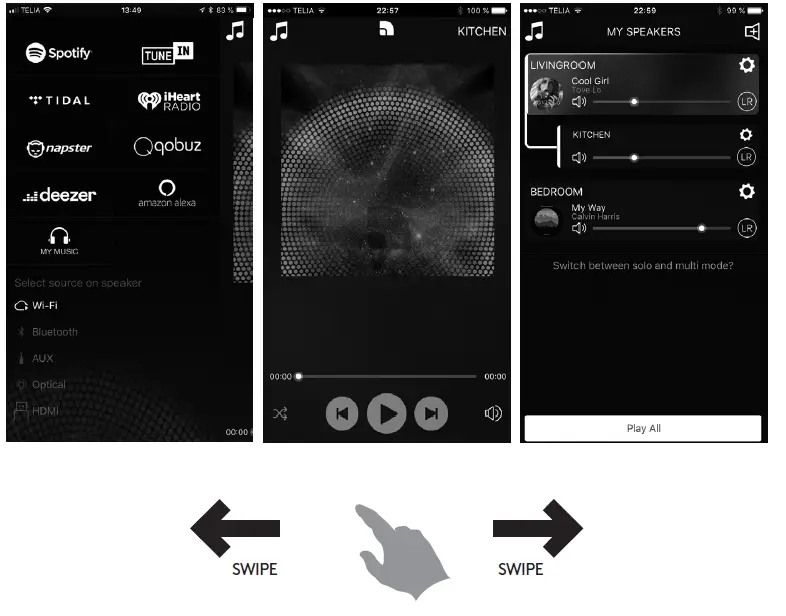 Music services and sources.
Player view
Speaker/device list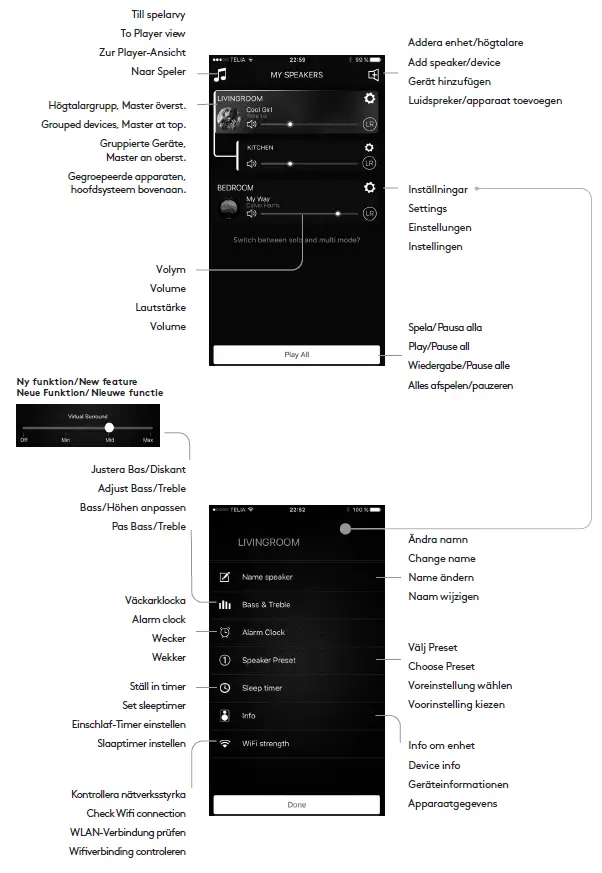 GROUPING SPEAKERS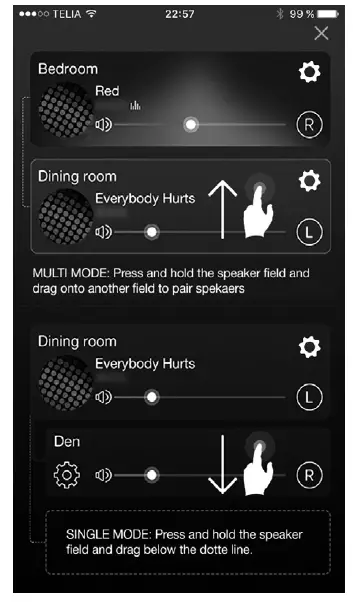 Press and hold down the speaker field while dragging it onto the other field in order to group.To ungroup, press and hold down the speaker field while dragging it under the dotted line.
The speaker onto which you release the speaker field becomes the master speaker. Music will play on all speakers in a group. Their volumes can be adjusted separately. Up to 6 speakers can be combined in one group.
MAKING A PRESET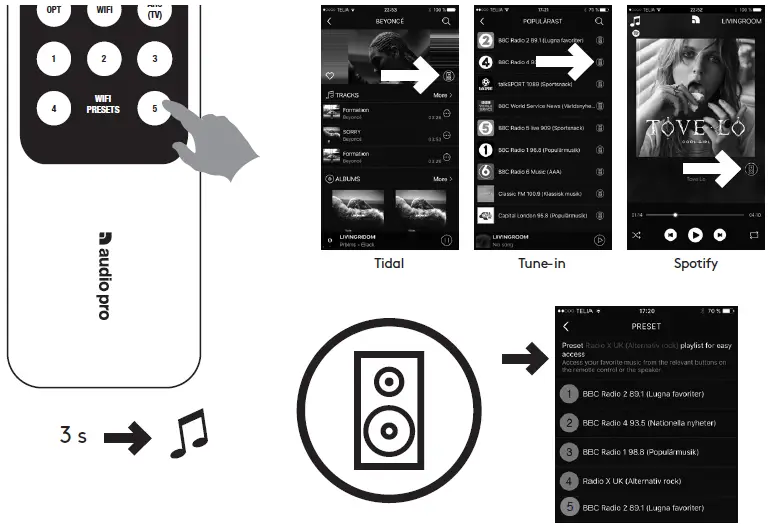 CONTROLS
IN THE APP
Play content in the app. Press the preset button for approx. 3 s until sound is heard. Done!When in the app using the various services, press the speaker icon.
SPOTIFY CONNECT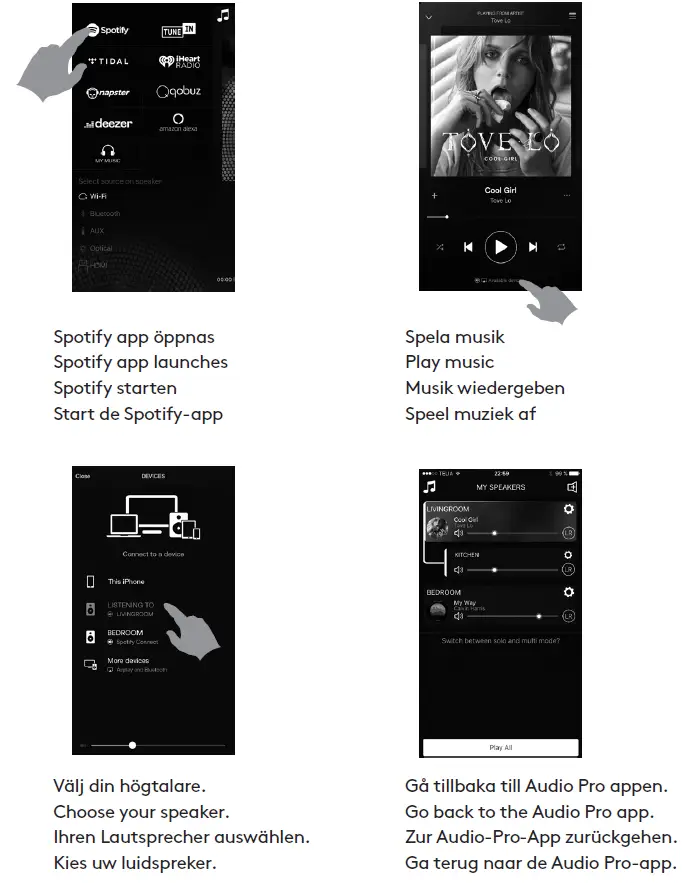 Connect your Audio Pro speaker to your wifi network.
Open up the Spotify app on your phone, tablet or laptop using same wifi network.
Play a song and select Devices Available.
Select your Audio Pro speaker and start listening.
BLUETOOTH
PAIR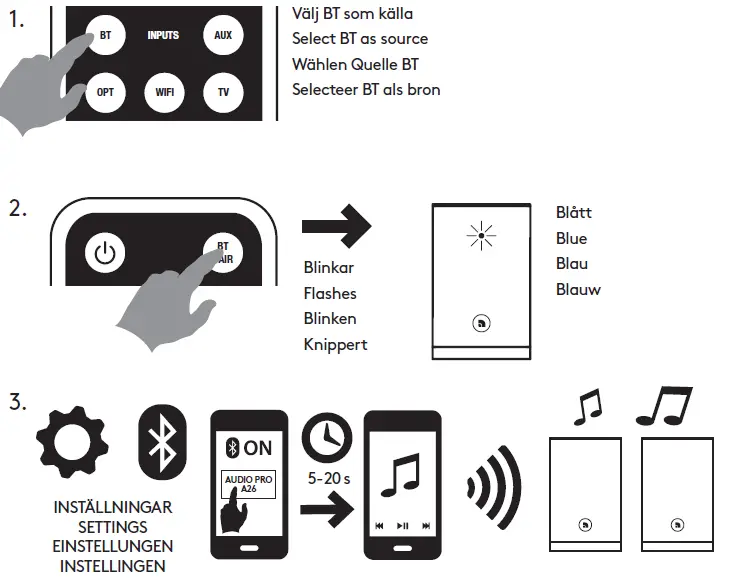 PLAYING FROM CONNECTED DEVICES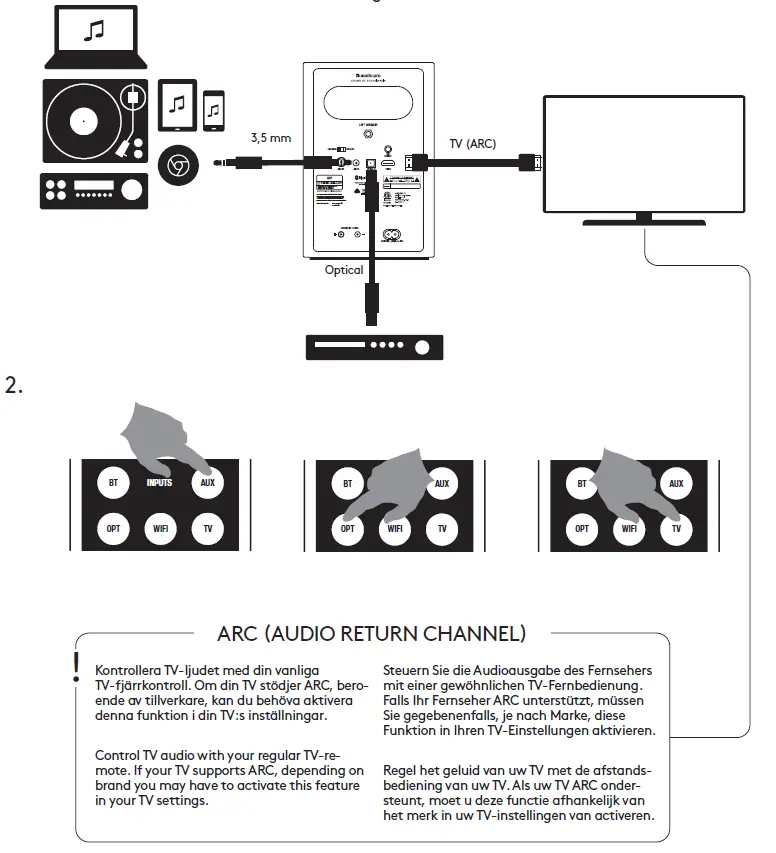 USING ALEXA THROUGH THE APP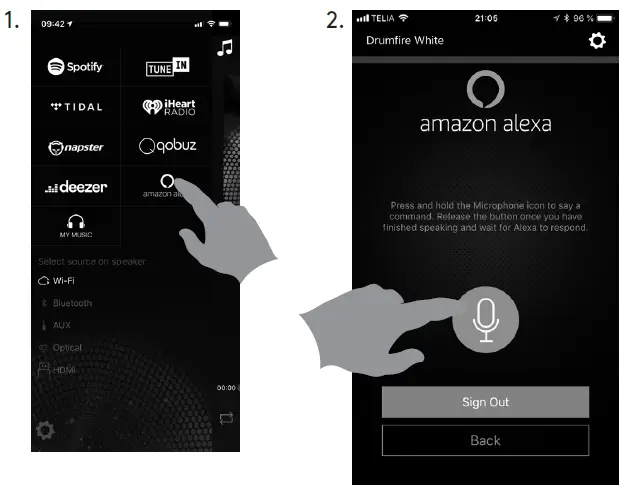 Press Amazon in source view.
Next, press and hold the Alexa button on the app while speaking to Alexa in your phone. When finished release the icon. You will hear an audible tone indicating Alexa has received the message and she will respond.
WIFI FAQ
PROBLEMS? TRY THIS FIRST:
Reboot your router.
In the router WiFi settings: deactivate Band Steering(Band spanning, Smart Connect).
MY SPEAKER WILL NOT CONNECT TO MY NETWORK
Make sure your mobile device is connected to your 2,4 GHz wireless network, A26/A36 can only connect to a 2.4 GHz wireless network.
Place the speaker close to the router when carrying out the setup. You can subsequently view the signal strength for other positions in the app.
Try installing your speaker via your router's WPS button. First press WPS on the router and then the Connect button on the back of the speaker.
I GET THE MESSAGE "DEVICE CONNECTION FAILED"
Move the speaker closer to the router.
Make sure your mobile device is con-nected to the same network.
Press the "Wi-Fi Connect" button on the rear of the speaker and press the "Add Speaker" icon in the app.
MUSIC CUTS OUT/STUTTERS OR EXPERIENCES DELAYS
Make sure your internet connection is working correctly.
Check for other devices in the network, they might be using a lot of bandwidth. Especially downloads or streaming of high-resolution video.
Check the signal strength in the Audio Pro app; if the signal strength is low, move closer to the router or connect using an Ethernet cable.
SPECIFICATIONS
Type: Powered stereo speaker system with bass reflex
Amplifier: Digital Class D amplifier, 2×75 W
Tweeter: 1″ textile dome tweeter
Woofer: 4.5″
Frequency range: 45-20 000 Hz
Crossover frequency: 2800 Hz
Dimensions HxWxD: 238x150x200 mm
Inputs: WiFi, Bluetooth 5.0 with apt-X® Low Latency codec, 1 x Aux In 3,5 mm, 1 x TOSLINK optical digital (only PCM), 1 x ARC/TV.
Outputs: RCA Sub Out
Power consumption STB(WiFi) / ON: 1,85 W / 5,20 W
Wireless network compatibility: 802.11 b/g/n, 2.4GHz only.
Supported audio formats: MP3, WMA, AAC, FLAC, Apple Lossless.
BOX CONTENTS
1 pair A26 Speaker
1 Manual
1 Remote control
1 Power cable
1 Speaker cable (4 m)
SYSTEM REQUIREMENTSIn order to be able to utilise apt-X®, the device (e.g. mobile telephone or tablet) must have apt-X® installed. Otherwise no sound enhancement will be achieved.
The lightning flash with arrowhead symbol, within an equilateral triangle, is intended to alert the user to the presence of uninsulated "dangerous voltage" within the product's enclosure that may be of sufficient magnitude to constitute a risk of electric shock to persons.
FCC
THIS DEVICE COMPLIES WITH PART 15 OF THE FCC RULES. OPERATION IS SUBJECT TO THE FOLLOWING TWO CONDITIONS:
THIS DEVICE MAY NOT CAUSE HARMFUL INTERFERENCE.
THIS DEVICE MUST ACCEPT INTERFERENCE RECEIVED, INCLUDING INTERFERENCE THAT MAY CAUSE UNDESIRED OPERATION.
FCC WARNINGAny Changes or modifications not expressly approved by the party responsible for compliance could void the user's authority to operate the equipment.This device complies with part 15 of the FCC Rules.Operation is subject to the following two conditions:
(1) This device may not cause harmful interference, and(2) this device must accept any interference received, including interference that may cause undesired operation.
This equipment complies with FCC radiation exposure limits set forth for an uncontrolled environment.Note: This equipment has been tested and found to comply with the limits for a Class B digital device, pursuant to part 15 of the FCC Rules. These limits are designed to provide reasonable protection against harmful interference in a residential installation.
This equipment generates, uses, and can radiate radio frequency energy and, if not installed and used in accordance with the instructions, may cause harmful interference to radio communications. However, there is no guarantee that interference will not occur in a particular installation. If this equipment does cause harmful interference to radio or television reception, which can be determined by turning the equipment off and on, the user is encouraged to try to correct the interference by one or more of the following measures:
Reorient or relocate the receiving antenna.
Increase the separation between the equipment and receiver.
Connect the equipment into an outlet on a circuit different
FCC/IC RADIATION EXPOSURE STATEMENTThe equipment complies with FCC/ IC RSS-102 Radiation exposure limits set forth for uncontrolled environment.This equipment should be installed and operated with a minimum distance 20 cm between the radiator and your body.
WARNING:TO REDUCE THE RISK OF FIRE OR ELECTRIC SHOCK, DO NOT EXPOSE THIS APPARATUS TO RAIN OR MOISTURE.CAUTION:TO REDUCE THE RISK OF ELECTRIC SHOCK, DO NOT REMOVE COVER (OR BACK). NO USER-SERVICEABLE PARTS INSIDE. REFER SERVICING TO QUALIFIED SERVICE PERSONNEL.
ICThis device complies with Industry Canada licence-exempt RSS standard(s). Operation is subject to the following two conditions: (1) This device may not cause interference, and (2) This device must accept any interference, including interference that may cause undesired operation of the device.
REMOTE CONTROL BATTERY INFORMATION
Do not ingest battery, Chemical Burn Hazard.
This product contains a coin/button cell battery. If the coin / button cell battery is swallowed, it can cause severe internal burns in just 2 hours and can lead to death.
Keep new and used batteries away from children.
If the battery compartment does not close securely, stop using the product and keep it away from children.
If you think batteries might have been swallowed or placed inside any part of the body, seek immediate medical attention.
IMPORTANT SAFETY INSTRUCTIONS
Read these instructions.
Keep these instructions.
Heed all warnings.
Follow all instructions.
Do not use this product near water.
Clean only with a dry cloth.
Operating temperature (˚C) 5–40 Humidity (%) no condensation 30–90
Do not block any ventilation openings. Install in accordance with the manufacturer's instructions.
Minimum distances around the pro-duct for sufficient ventilation, 10 cm.
The ventilation should not be impeded by covering the ventilation openings with items, such as newspapers, tablecloths, curtains, etc.
Do not install near any heat sources such as radiators, heat registers, stoves, or other products (including amplifiers) that produce heat.
Protect the power cord from being walked on or pinched particularly at plugs, convenience receptacles, and the point where they exit from the product.
Only use attachments/accessories specified by the manufacturer.
Unplug this product during lightning storms or when unused for long periods of time.
Refer all servicing to qualified service personnel. Servicing is required when the product has been damaged in any way, such as power-supply cord or plug is damaged, liquid has been spilled or objects have fallen into the product, the product has been exposed to rain or moisture, does not operate normally, or has been dropped.
Damage Requiring ServiceUnplug the product from the wall outlet and refer servicing to qualified service personnel under the following conditions:

When the power-supply cord or plug is damaged,
If liquid has been spilled, or objects have fallen into the product,
If the product has been exposed to rain or water,
If the product does not operate normally by following the operating instructions. Adjust only those controls that are covered by the operating instructions as an improper adjustment of other controls may result in damage and will often require extensive work by a qualified technician to restore the product to its normal operation,
If the product has been dropped or damaged in any way, and
When the product exhibits a distinct change in performance this indicates a need for service.

Object and Liquid EntryNever push objects of any kind into the product through openings as they may touch dangerous voltage points or short-out parts that could result in a fire or electric shock. The product shall not be exposed to dripping or splashing and no objects filled with liquids, such as vases shall be placed on the product. No naked flame sources such as lighted candles etc. should never be placed on the product.
Make sure that there is adequate ventilation if you install the product in confined spaces, such as book shelves or racks. Leave a distance of 20 cm above and on both sides of the product and 10 cm behind it. The back end of a shelf or board closest to the top of the product should be pushed forward to give a gap of about 10 cm behind. In this way, an exuding channel is formed where heated air can flow up.
The power supply and power cord for this product are intended for indoor use only.
Use only the supplied power cord/adapter.
References
[xyz-ips snippet="download-snippet"]