StarTech SATRD30CM 0.3 m Round Latching Sata Cable User Guide
Product Diagram (SATRD30CM)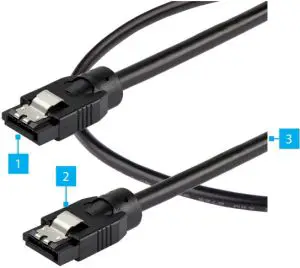 Part
Function
1
Latching SATAConnectors

Connect a SATA Drive to a Computer
SATA 7 pin – data only

2
Latch
3
SATA Cable

Color – black
Length – 0.3 m
Wire Gauge – 30 AWG
Compliant with SATA 6Gb/s specifications
Requirements
For the latest requirements please visit: www.startech.com/SATRD30CM.
Installation
Connect the Latching SATA Connectors to the SATA Port on a SATA Drive and to an available SATA Port on a Computer's Motherboard.
Operation
Disconnecting the Latching SATA Connectors
Press and Hold the Latch on the Latching SATA Connectors and Pull gently.Note: If you encounter resistance when attempting to remove the Latching SATA Connectors, reposition your finger over the Latch and try again.
Use of Trademarks, Registered Trademarks, and other Protected Names and SymbolsThis manual may make reference to trademarks, registered trademarks, and other protected names and/or symbols of thirdparty companies not related in any way to StarTech.com. Where they occur these references are for illustrative purposes only and do not represent an endorsement of a product or service by StarTech.com, or an endorsement of the product(s) to which this manual applies by the third-party company in question. StarTech.com hereby acknowledges that all trademarks, registered trademarks, service marks, and other protected names and/or symbols contained in this manual and related documents are the property of their respective holders.
Warranty Information
This product is backed by a lifetime warranty.For further information on product warranty terms and conditions, please refer to www.startech.com/warranty.
Limitation of Liability
In no event shall the liability of StarTech.com Ltd. and StarTech.com USA LLP (or their officers, directors, employees or agents) for any damages (whether direct or indirect, special, punitive, incidental, consequential, or otherwise), loss of profits, loss of business, or any pecuniary loss, arising out of or related to the use of the product exceed the actual price paid for the product.Some states do not allow the exclusion or limitation of incidental or consequential damages. If such laws apply, the limitations or exclusions contained in this statement may not apply to you.
Safety Measures
If product has an exposed circuit board, do not touch the product under power.
To view manuals, FAQs, videos, drivers, downloads, technical drawings, and more, visit www.startech.com/support
References
[xyz-ips snippet="download-snippet"]