Startrc Fimi Palm Selfie Stick Set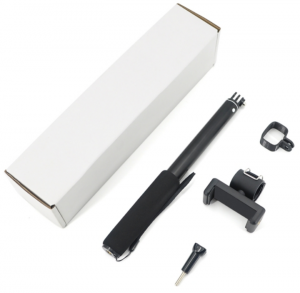 Introduction
The kit allows FIMI PALM to take selfies or shoot easily. The extend able stick will help you capture perfect view. Easy to store or carry. Provides more stable and proper distance shooting.
Key features
Allows FIMI PALM to take selfies with more proper distance, and have perfect shooting effects.
The selfie stick is extend able, and the shortest length is 28cm,and the longest length is 90cm.
The adapter on the end of the stick allows FI MI PALM to shoot with different angles.
Mobile phone holder. It allows to be fastened on the selfie stick firmly and is compatible with mobile phone with 55-8Smm width.
Selfie stick comes with a tripod adapter at the top, could be used in FIMI PALM/OSMO POCKET/GO PRO series and other sports cameras with GOP RO universal interface. 1/4 inch screw hole at the bottom, and it allows to connect to tripod, or other accessories.
In the box
Selfie stick (90cm) *1
Expansion accessories (3D print) *l
MS screw*!
Phone holder mount* 1
Sponge stick*l
Startrc Fimi Palm Selfie Stick Set Manual – Startrc Fimi Palm Selfie Stick Set Manual – Startrc Fimi Palm Selfie Stick Set Manual –
[xyz-ips snippet="download-snippet"]