QUICK START GUIDE
Multidimensional phaser
KNOBS AND SWITCHES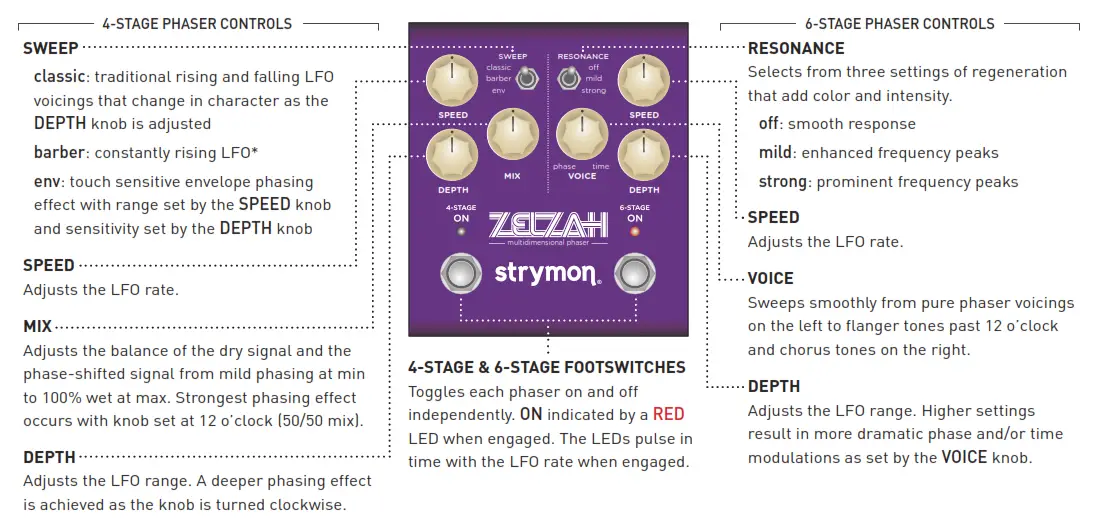 *barber polarity is set to positive by default and can be set as a secondary function. See full manual for details.
REAR PANEL SWITCHES AND CONNECTIONS

Multifunction communication jack for external control of Zelzah's features and functions. Use a standard TRS expression pedal for continuous control over the knobs of the pedal (default setting). Connect Strymon MiniSwitch for remote selection of a favorite setting or connect a Strymon MultiSwitch Plus for access to 3 presets. To use MIDI with Zelzah, connect a MIDI controller to either a Strymon Conduit or a Strymon MIDI EXP cable to send MIDI to Zelzah via 1/4" TRS MIDI. See full manual for configuration details.
>> Download the complete manual at strymon.net/support/zelzah <<
SAMPLE SETTINGS
These four sample settings can be accessed with a Strymon MiniSwitch, MultiSwitch Plus, or using an external MIDI controller.See full manual for details.

strymon.net
[xyz-ips snippet="download-snippet"]