SucceX-Force 5.8G25mW/100mW/400mW/800mW
Wiring Diagram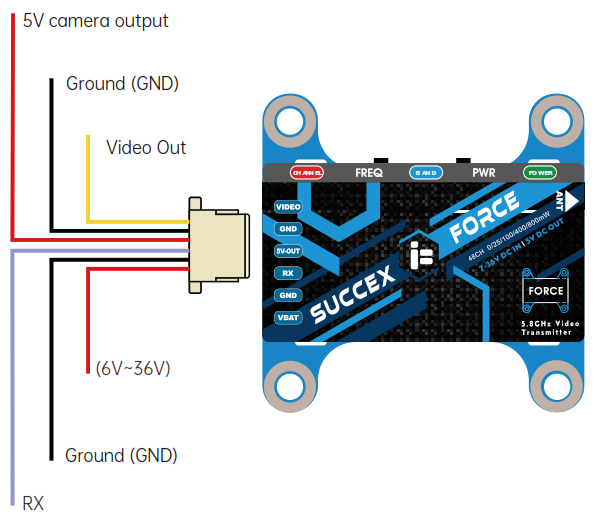 5V Output only for FPV cameras!
The RX wire can be linked to any free UART TX on your Flight Control and setup for IRC Tramp VTX telemetry to change parameters of your VTX through your OSD.
If you experience severe signal interference in your video feed please inspect your power source for electrical noise. Some common issues are too long motor screws, no additional capacitor added to your ESC, bad or noisy motors, bad or noisy ESC.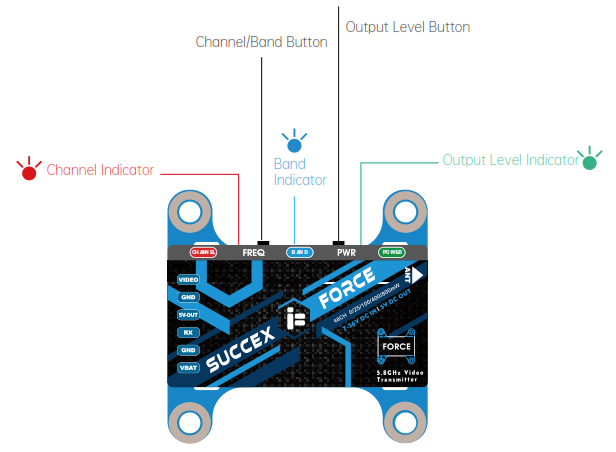 Power Level SelectionLong Press for 2 seconds to select Power Level
| | | | | | |
| --- | --- | --- | --- | --- | --- |
| Power | PIT | 25mW | 100mW | 400mW | 800mW |
| Green LED | light ON | Flash 1x | Flash 2x | Flash 3x | Flash 4x |
Band SelectionLong Press for 3 seconds to enter Band selection
| | | | | | | |
| --- | --- | --- | --- | --- | --- | --- |
| Group | BAND A | BAND B | BAND E | BAND F | RaceBand | LowRace |
| Blue LED | Flash 1x | Flash 2x | Flash 3x | Flash 4x | Flash 5x | Flash 6x |
Channel SelectionShort Press to enter the Channel selection
| | | | | | | | | |
| --- | --- | --- | --- | --- | --- | --- | --- | --- |
| Group | CH1 | CH2 | CH3 | CH4 | CH5 | CH6 | CH7 | CH8 |
| Red LED | Flash 1x | Flash 2x | Flash 3x | Flash 4x | Flash 5x | Flash 6x | Flash 7x | Flash 8x |
RF Frequency Table
BAND

CHANNEL

CH1

CH2
CH3
CH4
CH5
CH6
CH7

CH8

A
5865M
5845M
5825M
5805M
5785M
5765M
5745M
5725M
B
5733M
5752M
5771M
5790M
5809M
5828M
5847M
5866M
E
5705M
5685M
5665M
5645M
5885M
5905M
5925M
5945M
F
5740M
5760M
5780M
5800M
5820M
5840M
5860M
5880M
R
5658M
5695M
5732M
5769M
5806M
5843M
5880M
5917M
L
5362M
5399M
5436M
5473M
5510M
5547M
5584M
5621M
[xyz-ips snippet="download-snippet"]