HIGH GAIN ANTENNAANTENNA AMPLIFICATA PER INTERNI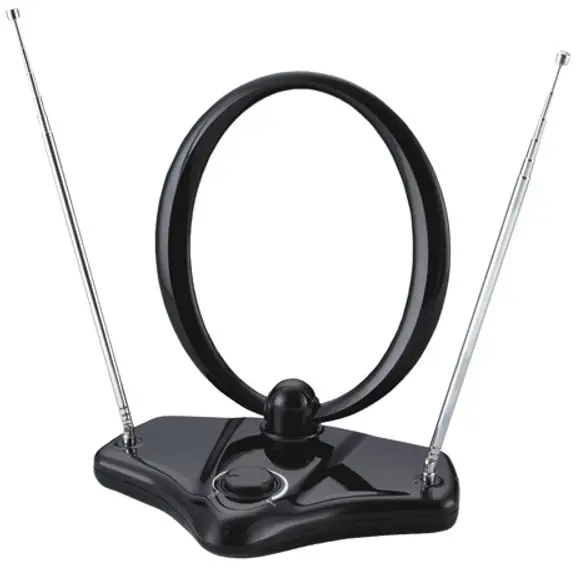 NAI-001 AMPLIFIEDINDOOR ANTENNA
Guarantee This product is covered by a 2 years guarantee from the date of purchase against any manufacturing defects, excluding any defects arising from improper use. A purchase document must be produced along with the request for repairing. Costs of return are at the buyer's expense.
DIGITAL INDOOR TV ANTENNA
INTRODUCTION:
This is a specially designed antenna far from both analog and digital terrestrial TV broadcasting reception. Lt can receive all the TV signals of your area in the VHF and UHF band, as well as the FM radio signal. It is the best solution for home reception and digital portable TV reception. This antenna is an active antenna powered through AC power. It is very practical to install and very easy to use.
Technical Data:
Frequency range: VHF: 87.5-230MHz: UHF:470-790MHz
Receiving Range: FM/VHF/UHF
Gain: 30dB(max)
Output Level: 100dBpV Max
Out Impedance: 75
Noise Figure: 3 dB
Power Supply: Via AC/DC adapter (DC12V/200mA)
Product Features:
Variable gain control
Power On/Off LED indicators
SMD circuit technology design
Built-in high gain and low noise amplifier
Adjustable loop aerial for the best UHF reception
Adjustable Telescopic antennas for optimum VHF and FM radio reception
Stylish and compact size design with highly innovative technique process
Adjustable gain to fine-tune the best reception for both digital and analog TV signals.
Specially designed for HDTV of various digital terrestrial signals (DVB-T, DMB-T/H, ATSC)and DAB/FM radios.
INSTALLATION:
Note: For the best reception, please check the following conditions
Keep the antenna away from the sources of interference: keep the antenna away from those big power consumption devices, such as air conditioner, elevator, hairdryer, and microwave oven …
Place the antenna near windows when using the antenna in indoor
install the antenna as high as possible: in digital terrestrial reception, if there are some interceptions between antenna and transmission tower, it will cause the signal to toss temporary. So if the antenna is installed as possible, those interceptions will be reduced.

SETTING AND CONNECTIONS
Connect the adapter to the antenna.
Connect the cable to a set-top box or TV
After checking that all the connections have been done properly, turn clockwise the ON/OFF knob (5) to switch the antenna on: led (3) lights up showing that the amplifier of the indoor antenna is working. Now, turn your television set on and select a TV program, then adjust the rod antennas (6), the dipole antenna (5), and the amplifier gain (4) according to what is described in the next paragraphs.
SIGNAL RECEPTION
VHF SIGNALS – I-III BAND (channels 1-12)
This antenna receives VHF signals (both analog and digital) through the rod antennas (6). Far best reception, adjust rod antennas as follows:
for I Band: extend completely the rod antennas;
far III Band: shorten the rod antennas to about 16 inches (the extension depends on the channel you want to receive);
then, move the rod antennas until you get the best signal reception.
UHF SIGNALS – IV-V BAND (channels 21-69)
This antenna receives UHF signals through dipole antenna (5):
tilt the dipole up and down;
turn the dipole sideways until you get the best signal reception.
GAIN ADJUSTING
In order to adjust the amplifier gain turn the ON/OFF knob (4) until to get the best signal reception:
to increase gain, turn the knob clockwise
to reduce gain, turn the knob anticlockwise
Note: This antenna can be used directly connected to a TV or terrestrial set-top box, please make reference to the following 2 different connecting ways to install your antenna.
Fig. 1: Directly connected to the TVFig. 2: Directly connected to the terrestrial set-top box

SIMPLIFIED EU DECLARATION OF CONFORMITY
Hereby, Superior Srl declares that the radio equipment type amplified indoor antenna "NAI-001" is in compliance with Directive 2014/53/EU. The full text of the EU declaration of conformity is available at the following internet address:http://www.telecontrol.tv/dl/Certifications/NAI001_CE-DoC.pdf

Correct disposal of this product(Waste Electrical & Electronic Equipment)This marking on the product, accessories, or literature indicates that the product and its electronic accessories should not be disposed of with other household waste.To prevent possible harm to the environment or human health from uncontrolled waste disposal, please separate these items from other types of waste and recycle them responsibly to promote the sustainable reuse of material resources. Household users should contact either the retailer where they purchased this product, or their local government office, for details of where and how they can take these items for environmentally safe recycling. Business users should contact their suppliers and check the terms and conditions of the purchase contract. This product and its electronic accessories should not be mixed with other commercial wastes for disposal. This product is RoHS compliant.

[xyz-ips snippet="download-snippet"]