Portable Speaker System with Bluetooth and FM-radioUSER MANUAL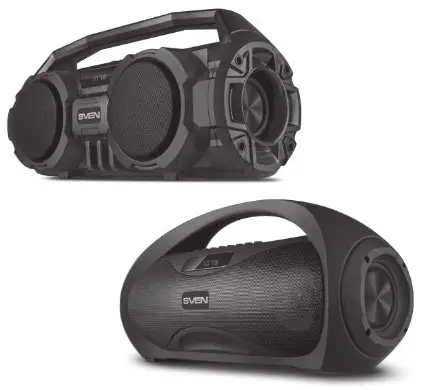 PS-415 PS-425www.sven.fi
Congratulations on your purchase of the SVEN speaker system!
COPYRIGHT© 2020. SVEN PTE. LTD. Version 1.0 (V 1.0).This Manual and information contained in it are copyrighted. All rights reserved.
BUYER RECOMMENDATIONS
Unpack the device carefully. Make sure there are no accessories left in the box. Check up the device for damage; if the product was damaged during transportation, address the firm which carried out the delivery; if the product functions incorrectly, address the dealer at once.
Shipping and transportation equipment is permitted only in the original container.
Does not require special conditions for realization.
Dispose of in accordance with regulations for the disposal of household and computer equipment.
Due to the self-discharge of the battery during storage, the product may not turn on immediately. In this case, it is recommended to connect speaker to the charger and wait for recovery.
APPLICATION
SVEN PS-415, PS-425 portable multimedia speaker system with Bluetooth and FM-radio is designed for operation with PC, notebooks and other mobile devices by means of data transfer via Bluetooth protocol. It can be also used in internet telephony, during video conferences, in multimedia applications, in interactive games. Microphone input, FM-tuner and the player with USB-flash and micro SD-cards are included.
PACKAGE CONTENTS
Speaker system ­ 1 pc
3.5 mm mini-jack to 3.5 mm mini-jack signal cable ­ 1 pc
USB to micro USB power cable ­ 1 pc
User Manual ­ 1 pc
Warranty card ­ 1 pc
SPECIAL FEATURES
Bluetooth wireless signal transmission
Effective multi-colored lighting
Wired/wireless audio signal transmission
Built-in player for audio files from USB-flash and micro SD card
Built-in equalizer
Microphone input
Built-in FM tuner
LED display
Speaker system description
M: switching modes button: Bluetooth/Radio/Player/LINE IN (short pressing); ON/OFF the service signals (long pressing)
: switching backlight modes (short pressing); repeat mode selection button (long pressing in Player mode):ONE ­ repeats the current track;RAND ­ play tracks in the random order;ALL ­ plays all tracks in the sequential order;FM station deletion (long pressing in Radio mode)
V-: volume decrease button
V+: volume increase button
EQ: changing timbres (in all modes except AUX), microphone volume, microphone echo level (short pressing); Memorize selected frequency (long pressing in Radio mode)
: previous track (short pressing in Player and Bluetooth mode); Navigation on the track (long pressing in Player and Bluetooth mode); Previous track/station (in Radio mode)
: Play/Pause button (in Player and Bluetooth mode); Start/Stop auto scan (long pressing in Radio mode); Disconnect from device (long pressing in Bluetooth mode); Mute (short pressing in Radio and LINE IN mode)
: next track (short pressing in Player and Bluetooth mode); Navigation on the track (long pressing in Player and Bluetooth mode); Next track/station (in Radio mode)
Display
Indicator
DC 5V: micro USB jack for charger connecting, the USB port of laptop PC
ON/OFF: POWER button
TF: micro SD card slot
USB: USB-flash card slot
AUX: 3.5 mm mini-jack for audio signal connecting (phone, MP3 player, etc.)
MIC: 6.3 mm jack microphone jack
CONNECTION AND OPERATION
Attention! The built-in battery must be charged completely prior to the application. Speaker system battery charging
Connect speaker system to a USB port of PC or USB charger using micro USB to USB cable (included). During battery charging the indicator j is red. Indicator j goes out when the battery is charged.
The battery is used in the speaker system as an integral part of the device, therefore do not try to extract or replace it, because this can result in the warranty cancellation or the device damage.

Fig. 2. Connection diagram
OPERATION MODES
Bluetooth mode
Wireless data transfer via the Bluetooth protocol enables to connect speaker system to compatible devises. Maximum radius of action of data transfer is 10 m. Such obstacles as walls or other electronic devices can interfere with the signal transfer.
Turn on the speaker system Bluetooth mode ­ press button a several times until display shows «bt» inscription.
It is necessary to select the search mode of devices with Bluetooth on a signal source (telephone, notebook, smartphone, etc.). «SVEN PS-415/425», massage will be displayed on the screen which is to be connected to*.
When connection is successful, there will be a short beep and the indication of the search mode on speaker system is over**.
Radio modeAttention! To improve the reception quality of the radio signal, connect the 3.5 mm mini-jack cable (included) to the AUX input c or connect the microUSB-USB (included) to the USB input n. · Turn on the speaker system ­ press button a several times until the display shows the station frequency. Long-term pressing button g activates auto search mode. After scanning completion, the first scanned radio station will start to operate automatically. With buttons f and h select a desired radio station.
Player modeAttention! The file system of a micro SD carrier is FAT32. Maximum volume is 32 GB. It is not recommended to use the micro SD Ultra Speed.
The system will enter the Player mode automatically when a carrier (USB flash or SD card) is connected to corresponding ports. Use button g to switch between Play/Pause modes. You can control tracks by using buttons f (previous track) and h (next track).The use in the wired mode (LINE IN)
Speaker system can be used as an external device for amplifying any audio source with a 3.5 mm output mini-jack. Connect a cable mini USB, plug 3.5 mini-jack to the audio input AUX o. Turn the speakers to the LINE IN mode ­ press the M a button several times until «LINE» appears on the display.* You might have to enter «0000» code to connect some models of devices via Bluetooth.** If the item has been already registered in the device list of a source, then the second search mode activation is not obligatory. Choose the item name «SVEN PS-415/425» and the «connect» command on the source.
TECHNICAL SPECIFICATIONS
| | |
| --- | --- |
| Parameter, measurement unit | Value |
| Frequency response, Hz | 100 – 20 000 |
| Output power (RMS), W | 12 (2 × 6) |
| Speaker diameter, mm | Ø 70 |
| Battery capacity, mA*h | 1 500 |
| Power supply | USB/ 5V |
| Weight, g | 1 150 |
| Dimensions, mm | 320 × 160 × 130 (PS-415)320 × 160 × 125 (PS-425) |
Notes:
Technical specifications given in this table are supplemental information and cannot give occasion to claims.
Technical specifications and package contents are subject to change without notice due to the improvement of SVEN production.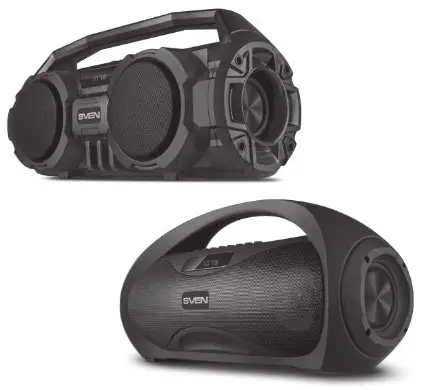 Models: PS-415, PS-425Manufacturer: SVEN PTE. LTD, 176 Joo Chiat Road, 0202, Singapore, 427447. Produced under the control of Oy Sven Scandinavia Ltd. 15, Kotolahdentie, Kotka, Finland, 48310. Made in China.
® Registered Trademark of Oy SVEN Scandinavia Ltd. Finland.
PS-415 PS-425
[xyz-ips snippet="download-snippet"]