swingball 7293 Mookie 5 in 1 Multiplay all Surface Instruction Manual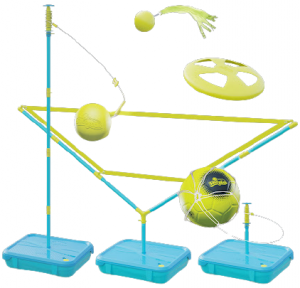 WARNING! Please retain this information for future reference. Please remove packaging before giving to a child.WARNING! Not suitable for children under 36 months. Small parts. Choking hazard. Long cord. Strangulation hazard Adult supervision recommended. Adult assembly required.WARNING! Do not aim at eyes or face. This product will last longer if not exposed to direct sunlight for prolonged periods. Store indoors when not in use. Empty water from base to avoid it going stagnant. It is recommended that strung rackets are not used. For safety reasons, players must never position themselves inside the arc of travel of the ball. Moisten needle before inserting into valve.
Tool Parts

Assembly Instructions







HELP
Please contact our website for advice, assistance, spare parts and official rules. www.swingball.co.ukEmail: [email protected]Helpline: +(44) (0) 1525 722769 (9am and 5pm weekdays)Mookie. Flitwick, Beds. MK45 5BX UK.© Mookie 2020.
All rights, including trademarks or brand names, registered or unregistered, in and to the Swingball® brand products and associated equipment are owned by and used under licence from Swingball Ltd, BVI.
In addition, these rights include the configuration and colour combinations of the products, including their packaging, the names (if not already registered) SWINGBALIY (including the artistic rendition thereof), TRILATTICE CHECKERBAT\'", ALL SURFACE' stand, ALL SURFACE' SWINGBALC, TURBO HEW, TURBO SLEEVE.", LOOSE LOOP", and FREEWHEEL GROOVE', the slogans "JUST PLAY IT", and "THE WAY TO PLAY"' and copyright in the rules governing play.
© 2020. All rights reserved. Swingball® Limited BVI.
MADE IN CHINA
FOR AU I NZ: IMPORTED FOR KMART STORES IN AUSTRALIA AND NEW ZEALAND
KEYCODE: 43067909BATCH CODE:
EU Authorised RepresentativeThe Merrion Buildings — Iconic Offices 18-20Merrion Street, Dublin 2, D02 XH98
We reserve the right to alter the specification on this product without prior notice. The Swingball logo is a UK Registered trademark.
[xyz-ips snippet="download-snippet"]