tc electronic MASTER X HD-DT Multiband Dynamics Processor Plug-In with Hardware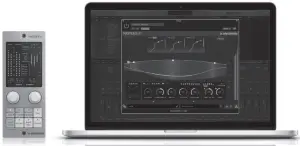 Thank you for purchasing the MASTER X HD multiband dynamics processor. Read through this Quick Start Guide to get things set up, and don't forget to download the full manual from tcelectronic.com for all the in-depth explanations.
Software Download and Installation
The combined MASTER X HD plug-in installer for both the NATIVE and DT Desktop Controller products can be downloaded from the following page:
www.tcelectronic.com/masterxhd-dt/support/
The MASTER X HD plug-in requires an active PACE iLok license to work. Using the Desktop Controller is optional and all parameters are available in the plug-in.
Save the installer file (.pkg or .msi file) in a convenient location on your hard drive. Double click the installer and follow the instructions to install the plug-in.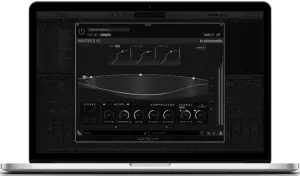 Activate your MASTER X HD iLok license
Step 1: Install iLokThe first step is to create an iLok user account at www.iLok.com and install the PACE iLok License Manager on your computer if it's your first time using iLok.
Step 2: ActivationIn the received mail (when buying the NATIVE version) or on the backside of this printed document (when you have bought the DT Desktop Controller version) you will find your personal Activation Code. To activate your software, please use the Redeem an Activation Code feature in the PACE iLok License Manager.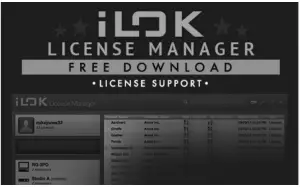 Get a Free Demo LicenseMake use of this hassle-free offer to try out our plug-ins before you buy.
14-Day Trial Period
Fully Functional
No Feature Limitations
No Physical iLok Key Needed
Step 1: Install iLokThe first step is to create a free iLok user account at www.iLok.com and install the PACE iLok License Manager on your computer if it's your first time using iLok.
Step 2: Get your free licenseGo to www.tcelectronic.com/brand/tcelectronic/free-trial-masterxhd-native and enter your iLok User ID.
Step 3: ActivationActivate your software in the PACE iLok License Manager.
Connecting the MASTER X HD-DT Desktop Controller (optional)
Getting the Desktop Controller up and running couldn't get any easier. Plug the included USB cable into the unit's rear micro-USB port, and connect the other end to a free USB port on your computer. The Desktop Controller is bus powered so no other power cables are necessary, and no additional drivers need to be manually installed.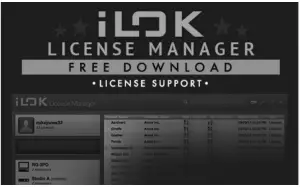 The Desktop Controller will light up upon successful connection. You can now apply the plug-in to a channel in your DAW to begin using the effect. This process may vary slightly depending on your software, but generally should require these steps:
Select a channel or bus in your DAW to which you would like to add the effect Access the mixer page where you should see a section dedicated to effect slots
Open the menu where you can select from a list of effect types, which probably includes many stock plugins that are included with the DAW. There should be submenu to view general VST/AU/AAX options.
The plug-in will likely be found in a dedicated TC Electronic folder. Select the MASTERX HD and it will now be added to the signal chain.
Double click on the effect slot that contains the MASTERX HD to view the plug-in UI. There should be a green link icon at the bottom, and text that indicates successful connection between the plug-in and the Desktop Controller.
Operating the MASTER X HD
After you have installed the plug-in, activated the iLok license and optionally connected the MASTER X HD-DT Desktop Controller via USB, you can begin inserting the plug-in to your tracks.
Adjustments to the effect are done in two ways. Either by using the plug-in user interface or via the physical Desktop Controller.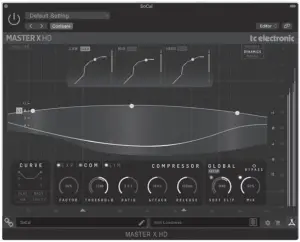 Download the full user manual from www.tcelectronic.com/masterxhd-dt/support/ to learn about all the details of both the plug-in and the Desktop Controller functionality.
Other important information
Register online.Please register your new Music Tribe equipment right after you purchase it by visiting tcelectronic.com. Registering your purchase using our simple online form helps us to process your repair claims more quickly and efficiently. Also, read the terms and conditions of our warranty, if applicable.
Malfunction.Should your Music Tribe Authorized Reseller not be located in your vicinity, you may contact the Music Tribe Authorized Fulfiller for your country listed under "Support" at tcelectronic.com. Should your country not be listed, please check if your problem can be dealt with by our "Online Support" which may also be found under "Support" at tcelectronic.com. Alternatively, please submit an online warranty claim at tcelectronic.com BEFORE returning the product.
Power Connections.Before plugging the unit into a power socket, please make sure you are using the correct mains voltage for your particular model. Faulty fuses must be replaced with fuses of the same type and rating without exception.
Important Safety Instructions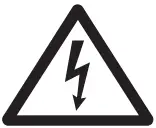 Terminals marked with this symbol carry electrical current of sufficient magnitude to constitute risk of electric shock. Use only high-quality professional speaker cables with ¼" TS or twist-locking plugs pre-installed. All other installation or modification should be performed only by qualified personnel.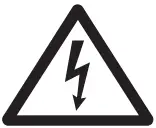 This symbol, wherever it appears, alerts you to the presence of uninsulated dangerous voltage inside the enclosure – voltage that may be sufficient to constitute a risk of shock.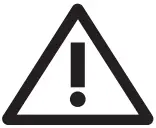 This symbol, wherever it appears, alerts you to important operating and maintenance instructions in the accompanying literature. Please read the manual.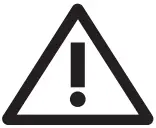 CautionTo reduce the risk of electric shock, do not remove the top cover (or the rear section). No user serviceable parts inside. Refer servicing to qualified personnel.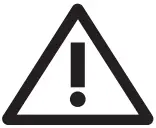 CautionTo reduce the risk of fire or electric shock, do not expose this appliance to rain and moisture. The apparatus shall not be exposed to dripping or splashing liquids and no objects filled with liquids, such as vases, shall be placed on the apparatus.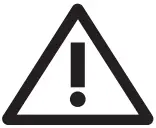 CautionThese service instructions are for use by qualified service personnel only. To reduce the risk of electric shock do not perform any servicing other than that contained in the operation instructions.
Repairs have to be performed by qualified service personnel.
Read these instructions.
Keep these instructions.
Heed all warnings.
Follow all instructions.
Do not use this apparatus near water.
Clean only with dry cloth.
Do not block any ventilation openings. Install in accordance with the manufacturer's instructions.
Do not install near any heat sources such as radiators, heat registers, stoves, or other apparatus (including amplifiers) that produce heat.
Do not defeat the safety purpose of the polarized or grounding-type plug. A polarized plug has two blades with one wider than the other. A grounding-type plug has two blades and a third grounding prong. The wide blade or the third prong are provided for your safety. If the provided plug does not fit into your outlet, consult an electrician for replacement of the obsolete outlet.
Protect the power cord from being walked on or pinched particularly at plugs, convenience receptacles, and the point where they exit from the apparatus.
Use only attachments/accessories specified by the manufacturer.
Use only with the cart, stand, tripod, bracket, or table specified by the manufacturer, or sold with the apparatus. When a cart is used, use caution when moving the cart/apparatus combination to avoid injury from tip-over.
Unplug this apparatus during lightning storms or when unused for long periods of time.
Refer all servicing to qualified service personnel. Servicing is required when the apparatus has been damaged in any way, such as power supply cord or plug is damaged, liquid has been spilled or objects have fallen into the apparatus, the apparatus has been exposed to rain or moisture, does not operate normally, or has been dropped.
The apparatus shall be connected to a MAINS socket outlet with a protective earthing connection.
Where the MAINS plug or an appliance coupler is used as the disconnect device, the disconnect device shall remain readily operable.
Correct disposal of this product: This symbol indicates that this product must not be disposed of with household waste, according to the WEEE Directive (2012/19/EU) and your national law. This product should be taken to a collection center licensed for the recycling of waste electrical and electronic equipment (EEE). The mishandling of this type of waste could have a possible negative impact on the environment and human health due to potentially hazardous substances that are generally associated with EEE. At the same time, your cooperation in the correct disposal of this product will contribute to the efficient use of natural resources. For more information about where you can take your waste equipment for recycling, please contact your local city office, or your household waste collection service.
Do not install in a confined space, such as a book case or similar unit.
Do not place naked flame sources, such as lighted candles, on the apparatus.
Please keep the environmental aspects of battery disposal in mind. Batteries must be disposed-of at a battery collection point.
Use this apparatus in tropical and/or moderate climates.
LEGAL DISCLAIMER
Music Tribe accepts no liability for any loss which may be suffered by any person who relies either wholly or in part upon any description, photograph, or statement contained herein. Technical specifications, appearances and other information are subject to change without notice.All trademarks are the property of their respective owners. Midas, Klark Teknik, Lab Gruppen, Lake, Tannoy, Turbosound, TC Electronic, TC Helicon, Behringer, Bugera, Auratone and Coolaudio are trademarks or registered trademarks of Music Tribe Global Brands Ltd. © Music Tribe Global Brands Ltd. 2020 All rights reserved.
LIMITED WARRANTY
For the applicable warranty terms and conditions and additional information regarding Music Tribe's Limited Warranty, please see complete details online at www.musictribe.com/warranty.
FEDERAL COMMUNICATIONS COMMISSION COMPLIANCE INFORMATION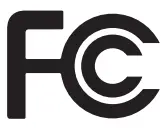 TC ElectronicsMASTER X HD-DT
Responsible Party Name: Music Tribe Commercial NV Inc.Address: 901 Grier Drive Las Vegas, NV 89118 USAPhone Number: +1 702 800 8290
MASTER X HD-DT
complies with the FCC rules as mentioned in the following paragraph:
This equipment has been tested and found to comply with the limits for a Class B digital device, pursuant to part 15 of the FCC Rules. These limits are designed to provide reasonable protection against harmful interference in a residential installation. This equipment generates, uses and can radiate radio frequency energy and, if not installed and used in accordance with the instructions, may cause harmful interference to radio communications. However, there is no guarantee that interference will not occur in a particular installation. If this equipment does cause harmful interference to radio or television reception, which can be determined by turning the equipment off and on, the user is encouraged to try to correct the interference by one or more of the following measures:
Reorient or relocate the receiving antenna.
Increase the separation between the equipment and receiver.
Connect the equipment into an outlet on a circuit different from that to which the receiver is connected.
Consult the dealer or an experienced radio/TV technician for help.
This equipment complies with Part 15 of the FCC Rules. Operation is subject to the following two conditions:
(1) This device may not cause harmful interference, and(2) This device must accept any interference received, including interference that may cause undesired operation.
Important information:Changes or modifications to the equipment not expressly approved by Music Tribe can void the user's authority to use the equipment.
Very Important, Do Not Throw Away!!! Your Personal MASTER X HD Plug-in iLok Activation Code.

References
[xyz-ips snippet="download-snippet"]