Tech Kidz Exploration Laptop Instruction Manual

Support Email: [email protected]
UNPACKING
When unpacking, ensure that the following elements are included:1 x educational laptop1 x mouse1 x instruction manual
WARNING: All packaging materials, such as tape, plastic sheets, wire ties and tags are not part of this toy and should be discarded for your child's safety.
POWER SUPPLY
Your educational laptop computer is powered by 3 x 1.5V AA batteries (not included). The laptop will automatically turn off after 3 minutes of no keyboard or mouse activity.
Installing batteries:
Using a screwdriver, open the battery door located under the device.
Insert 3 x 1.5V AA/ batteries observing the polarity markings inside the battery compartment see picture below
Close the battery compartment and tighten the screw.
Non-rechargeable batteries are not to be recharged. Rechargeable batteries are to be removed from the toy before being charged. Rechargeable batteries are only to be charged under adult supervision. Different types of batteries or new and used batteries are not to be mixed. Only batteries of the same or equivalent type as recommended are to be used. Batteries are to be inserted with the correct polarity. Exhausted batteries are to be removed from the toy. The supply terminals are not to be short circuited. Do not throw batteries into a fire. Remove the batteries if you are not going to use the game for a long period of time. Battery shall not be exposed to excessive heat such as sunshine, fire or the like.
WARNING: Mal-function or loss of laptop memory may be caused by strong frequency interference or electrostatic discharge. Should any abnormal function occur, remove the batteries and insert them again. If laptop does not power on remove the batteries wait for 15 minutes and reinsert the batteries and power on the device

DESCRIPTION OF FUNCTION KEYS

CARE SECTION
Do not collide with hard item.
Do not drop unit.
Do not dismantle the unit.
Do not leave unit in bright sunlight or any other direct source of heat.
Do not get the unit wet.
Clean unit with a soft damp cloth.
Do not use chemical solvents to clean unit.
Remove the batteries when not using unit for long periods of time.
Children must be accompanied by an adult to use this unit.
Don't throw the toys in fire for the batteries might be blasted.
MAINTENANCE AND WARRANTY
Protect the toy from humidity. Should it become wet, wipe it immediately. Do not expose it to direct sunlight, nor to a heat source. Do not allow it to fall. Do not attempt to disassemble it. To clean it, use a slightly damp cloth, avoiding the use of any detergent product. In the event of malfunction, first try to change the batteries. If the problem persists, carefully read again the manual in order to verify that no step has been omitted.
Note: Please keep this instruction manual, it contains important information.
WARNING! Not suitable for children under 3 years. Choking Hazard – Small parts.
ACTIVITIES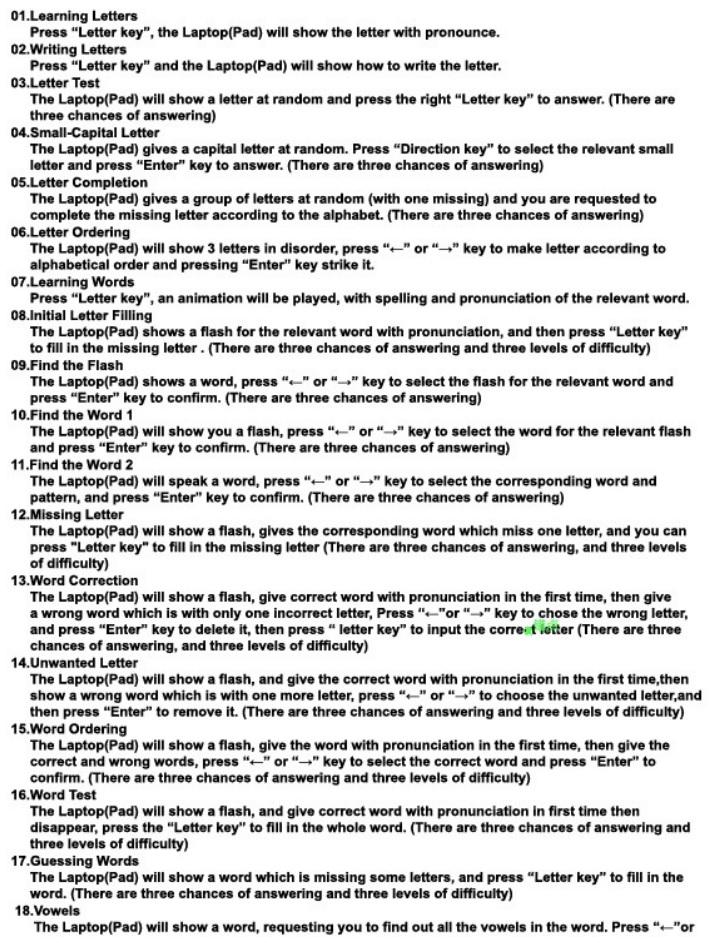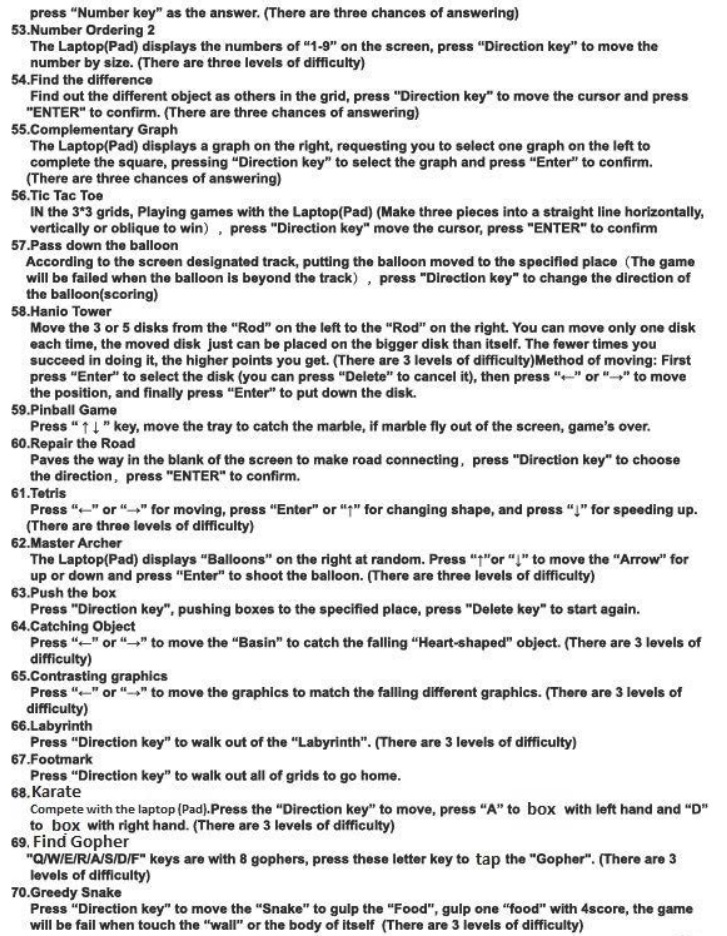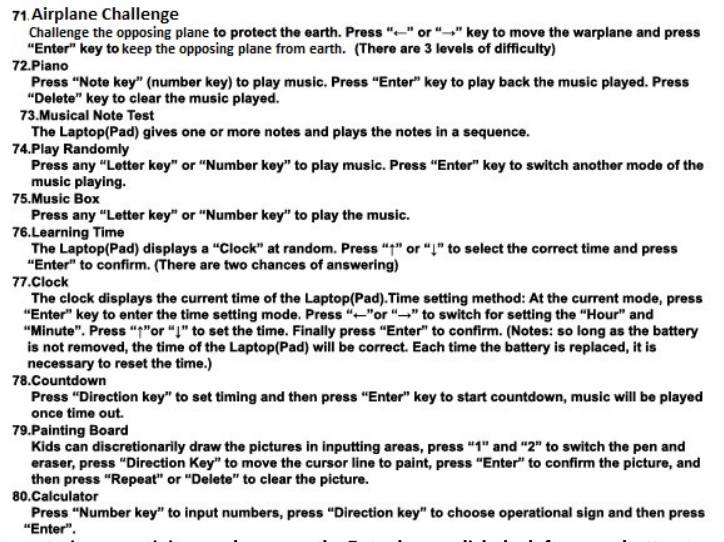 After entering an activity number press the Enter key or click the left mouse button to confirm and begin the activity. To change the difficulty level during an activity press the Level key and click the left or right arrow to increase or decrease the level then press the Enter key or click the left mouse button. Each activity if applicable such as Math activities offer 3 levels of difficulty.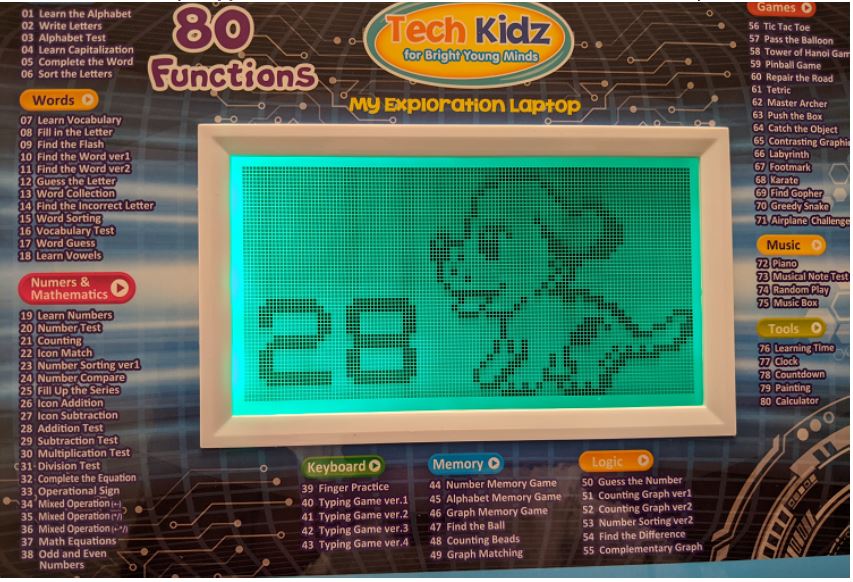 [xyz-ips snippet="download-snippet"]