ThermoPro TP-59 Bluetooth Thermometer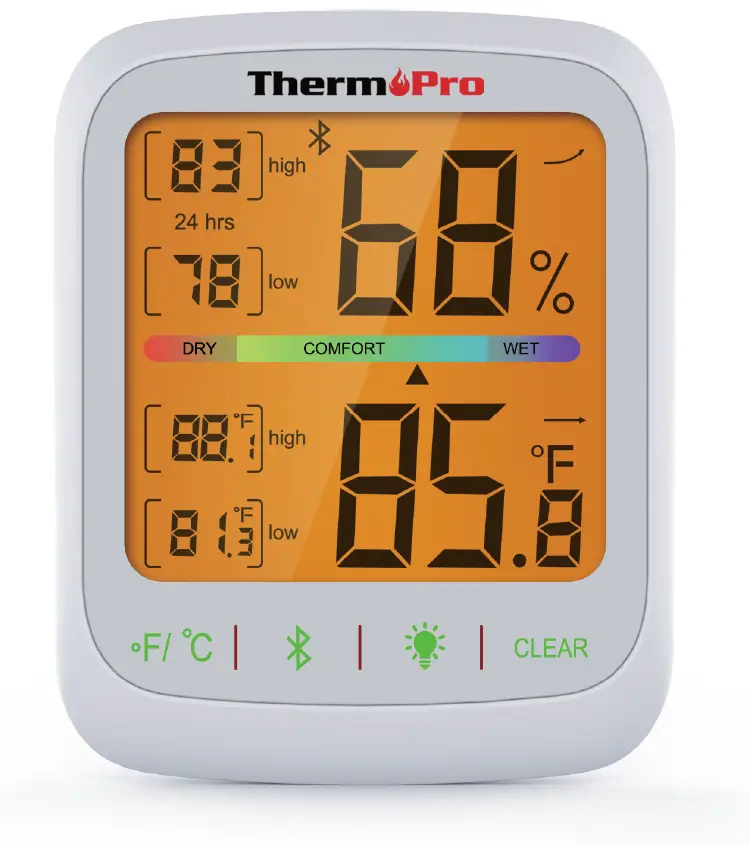 According to the operating system of your smartphone, scan the following QR code to download and install.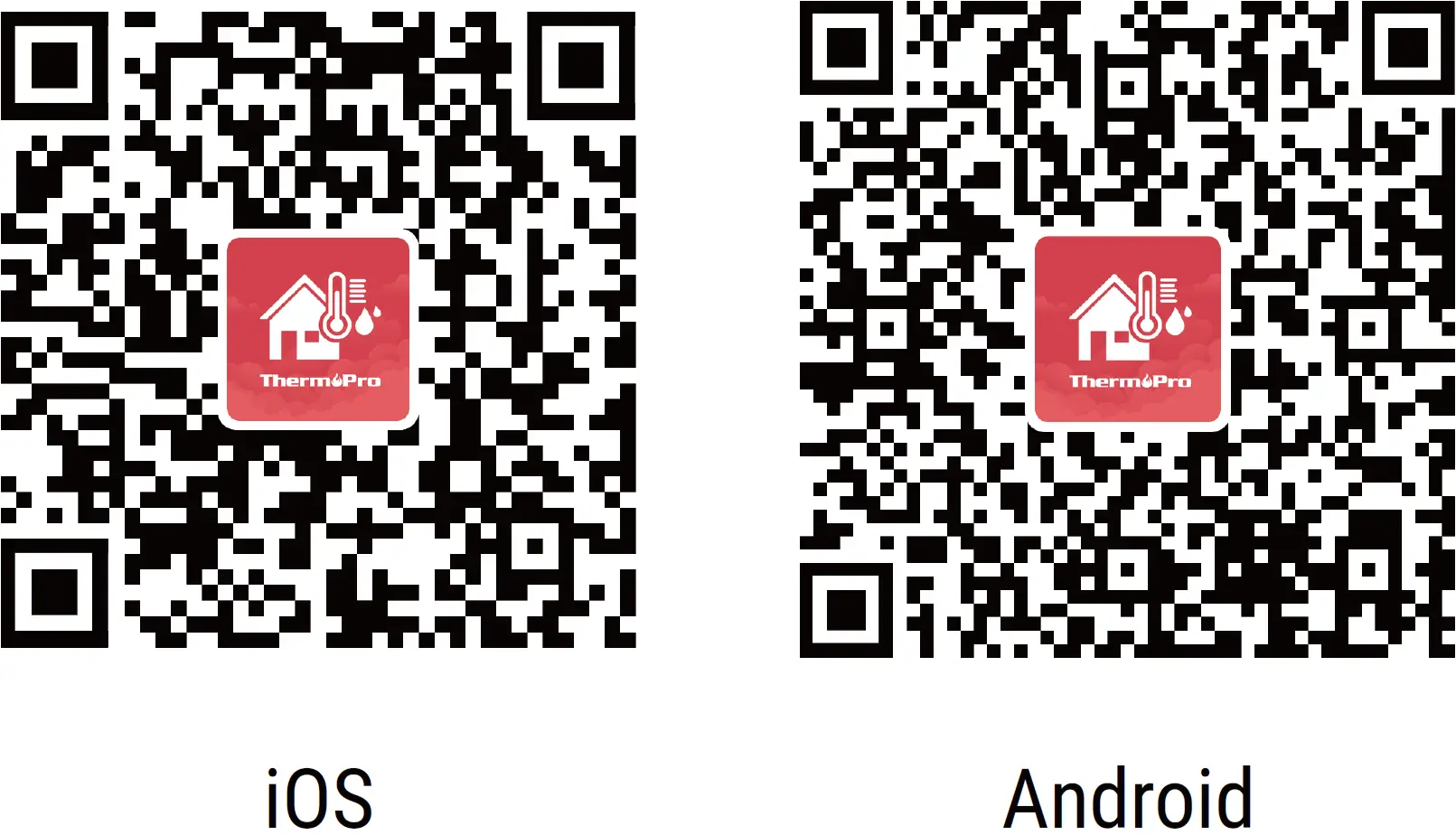 Features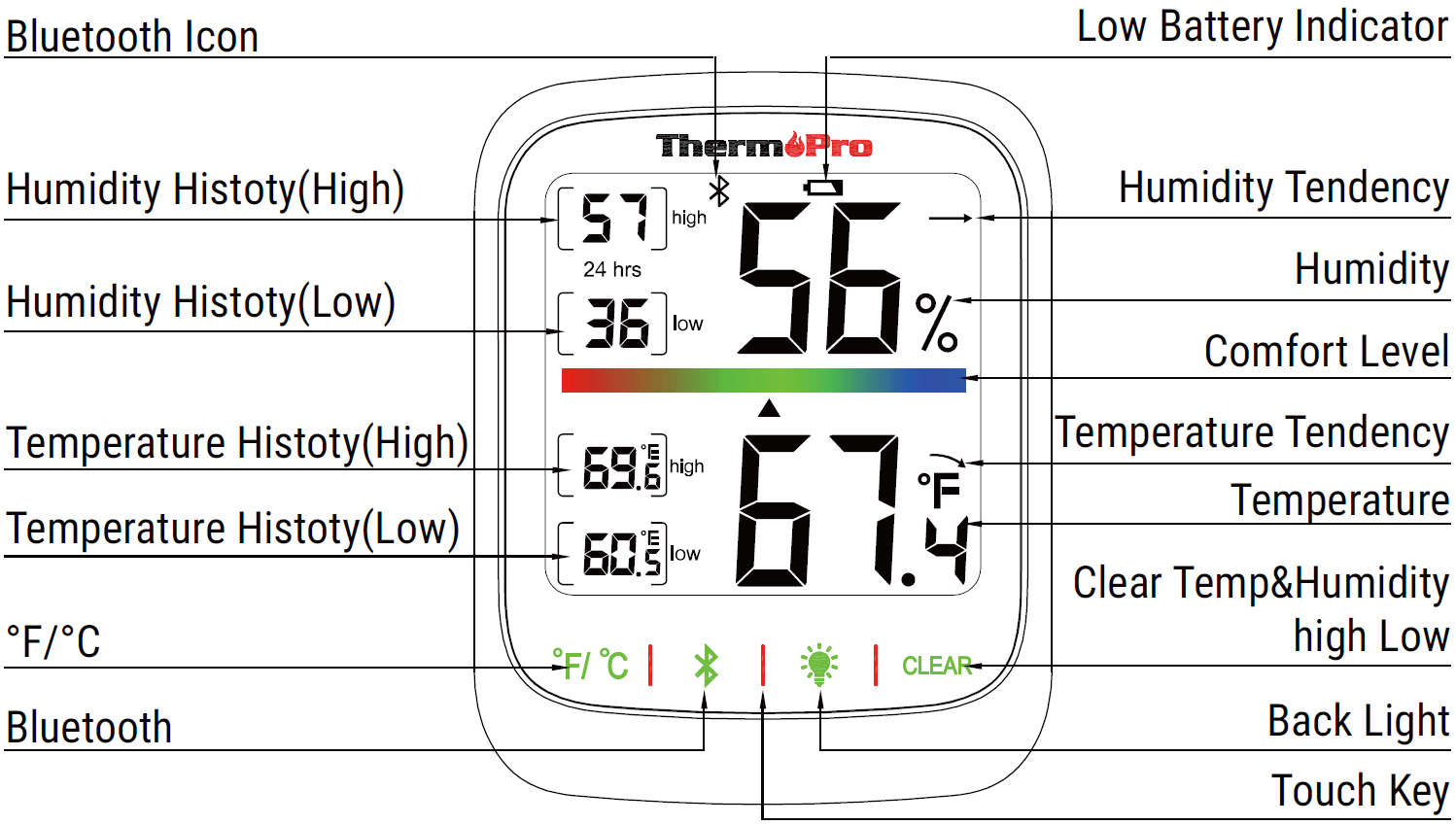 °F/°C Button: Touch to switch temp unit to °F/°C on LCD screen
Bluetooth button: Press and hold for 2 seconds to enter pairing status
Light Button: Touch to turn on/off Backlight
CLEAR Button: Touch and hold 2s to clear High and Low Records in the past 24hrs
Comfort Level
| | |
| --- | --- |
| DRY | 10%~30% |
| COMFORT | 31%~60% |
| WET | 61%~99% |
Components
| | |
| --- | --- |
| Bluetooth Hygrometer | 1 |
| AAA Battery (Included) | 2 |
| Manual | 1 |
Specifications
| | |
| --- | --- |
| Wireless Bluetooth Range | 260ft/80m |
| Temperature Range: | -4 °F ~ 140°F (-20 °C ~ 60 °C) |
| Temperature Accuracy | ±0.5°F |
| Humidity Range | 10% ~ 99% |
| Humidity Accuracy | ±2%RH |
| High and Low Records | 24hrs |
| Comfort display | DRY, COMFORT, WET. |
| Units | °F/°C Selector |
| Trend Arrow |   |
Installing Batteries
Open the battery compartment of the sensor and insert two "AAA" batteries with correct polarity.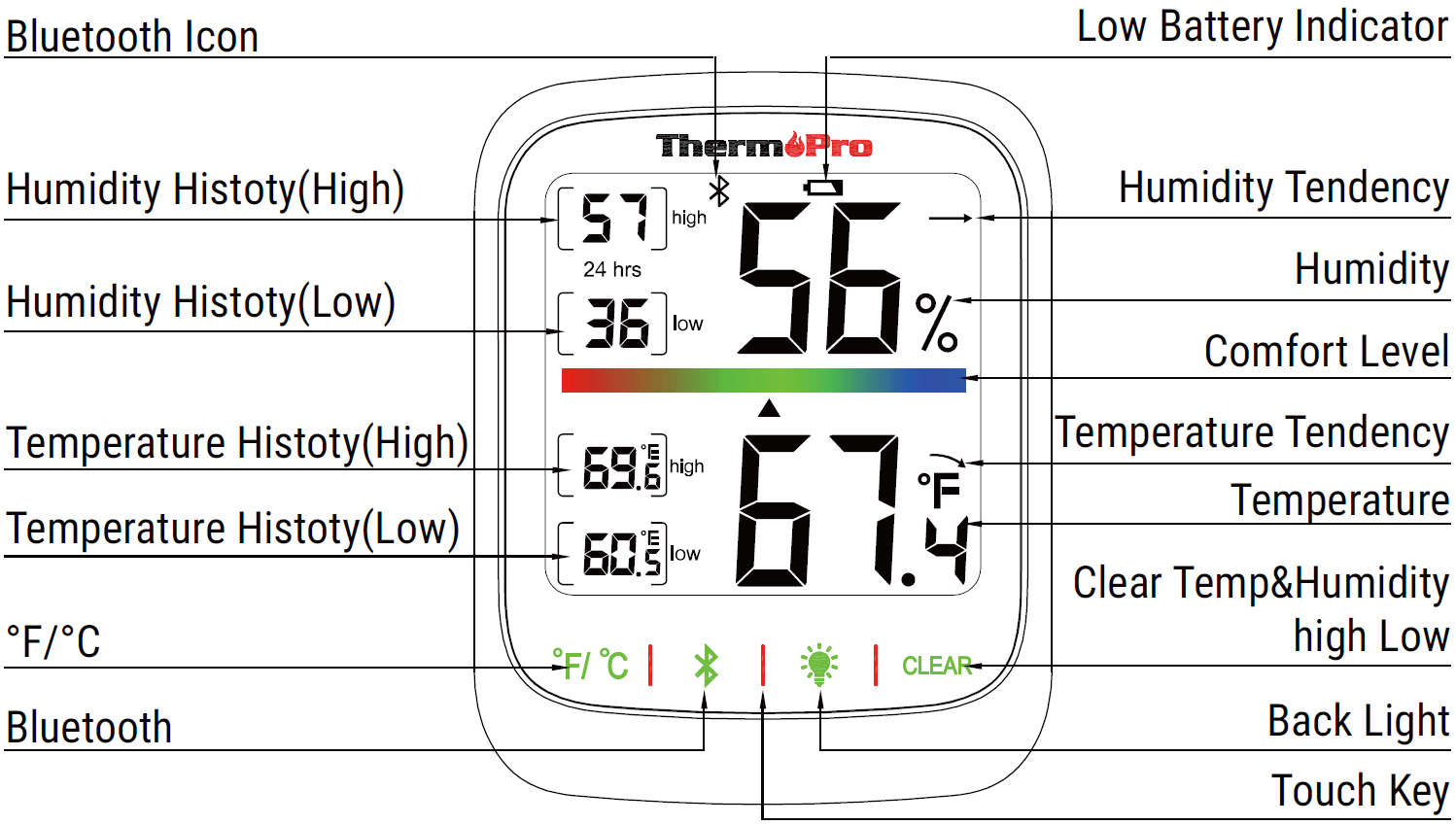 Install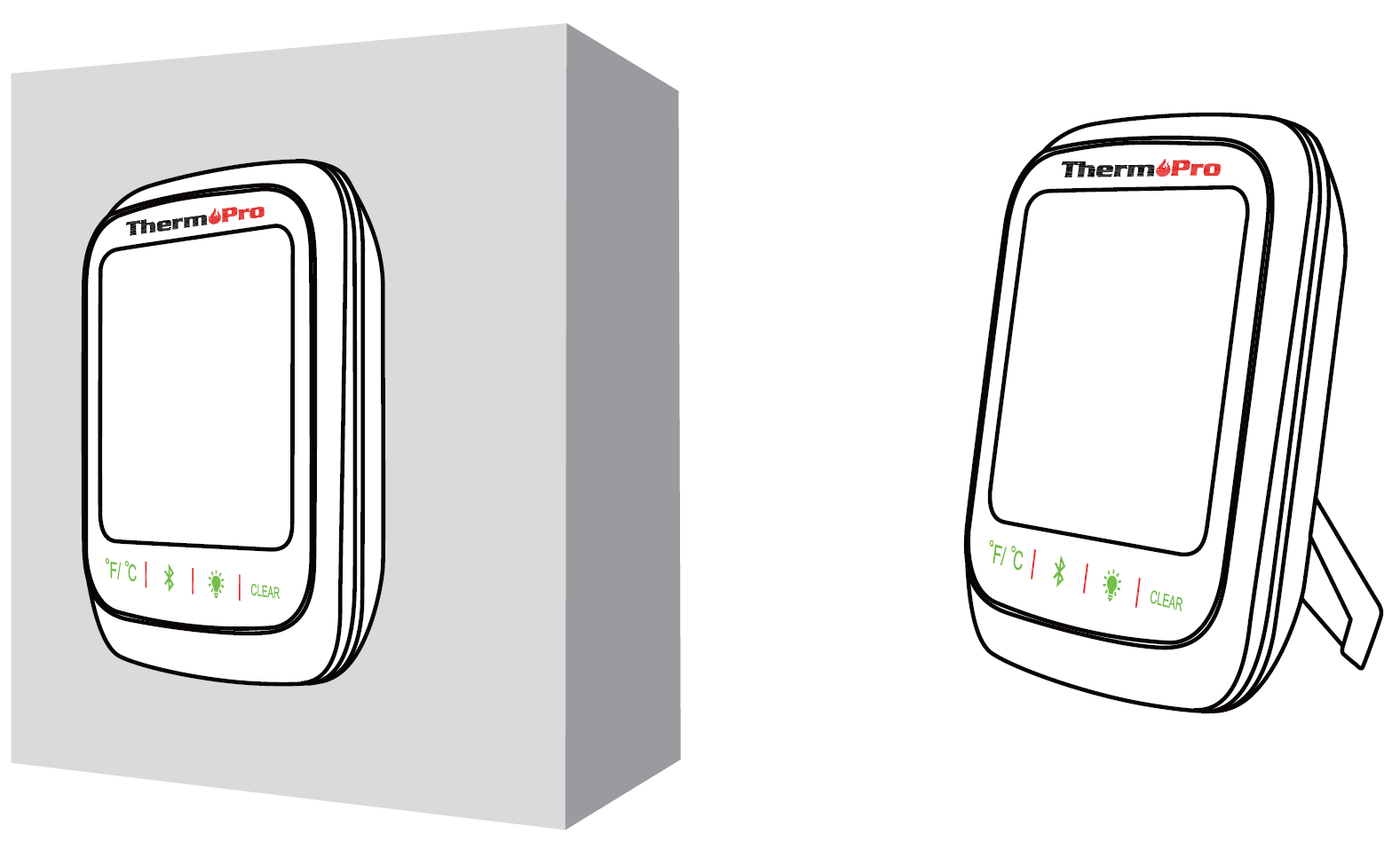 Mount on the wall using the hanging hole or magnetize to a metal surface.
Stand upright using the tabletop stand.
Download the ThermoPro Sensor APP
Download the Thermopro Sensor APP from the App Store(iOS devices) or Google Play (Android devices).A smart phone or tablet running ios 9.3 (or above)or Android 4.3 (or above)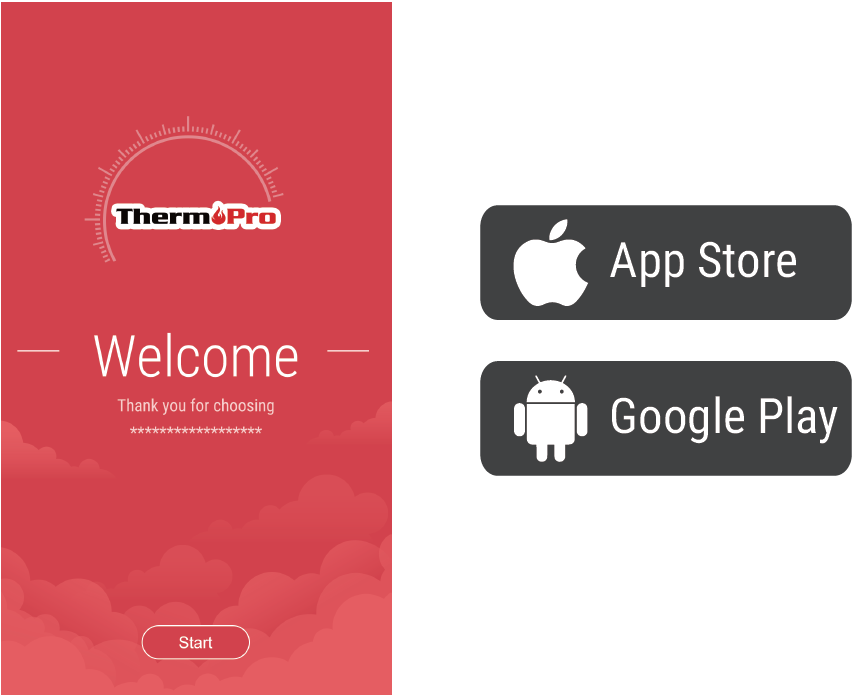 Connect to Bluetooth
The thermometer and hygrometer Bluetooth function are enabled by default. The Bluetooth icon flashes for 2 minutes when Bluetooth is disconnected. If the thermometer and hygrometer are not connected within 2 minutes, the Bluetooth icon will disappear, press and hold for 2 seconds to enter pairing status again.
Enable Bluetooth on your phone and get close to the Indoor Thermometer & Hygrometer. (Location Services /GPS should be turned on for Android users).
Open ThermoPro Sensor, tap the "+" icon in the top right corner and select "Thermopro-TP59XXXX"
Press the sensor name, the pairing should be successful now.
Using ThermoPro Sensor App
To enter the main settings menu, press the menu button in the top left corner.

To adjust sensor settings, press the edit button in the top right corner of the sensor.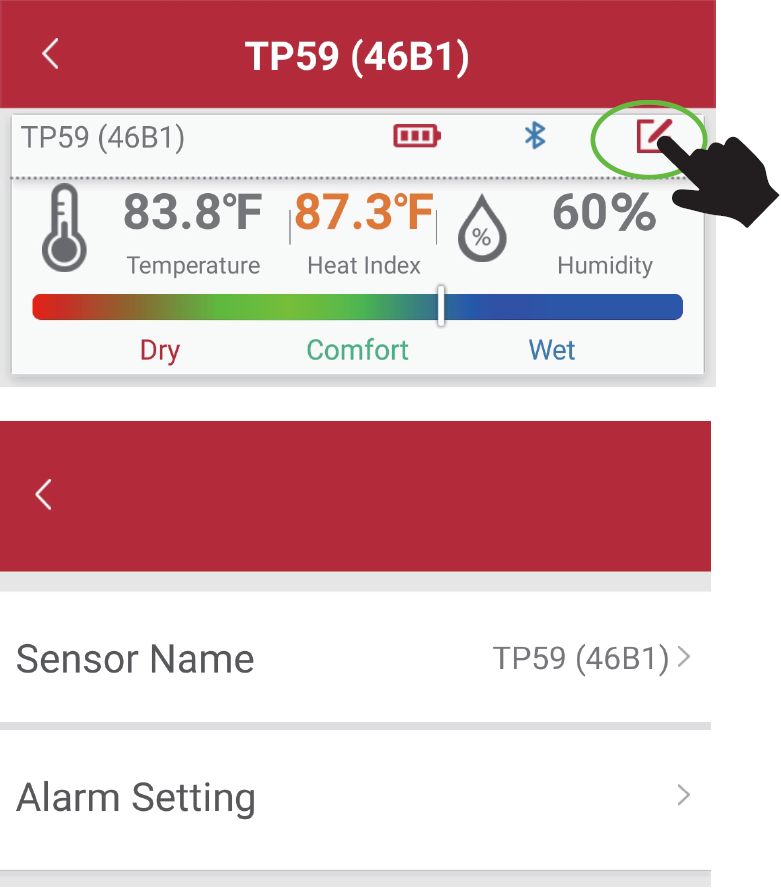 Press Sensor Name to rename your sensor's name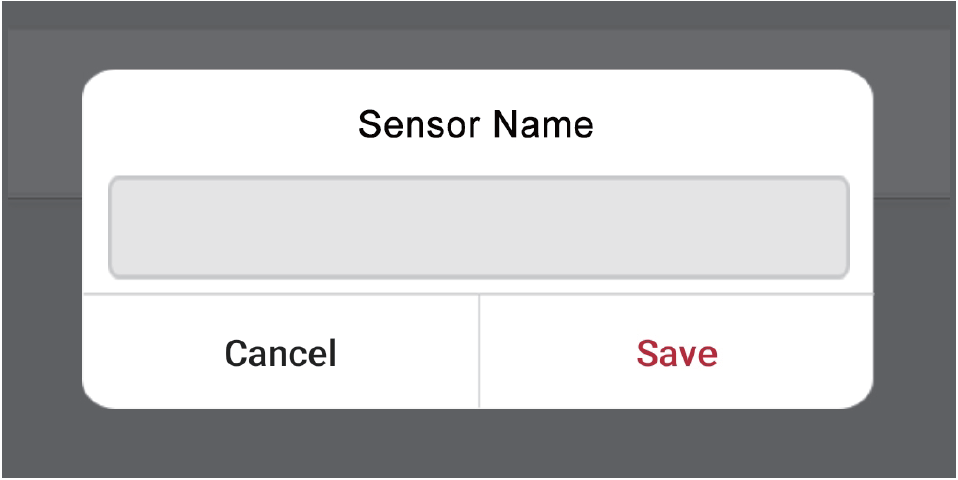 Press Alarms to enable/disable temperature or humidity alarms. Further, set your desired MAX/MIN temperature or humidity range.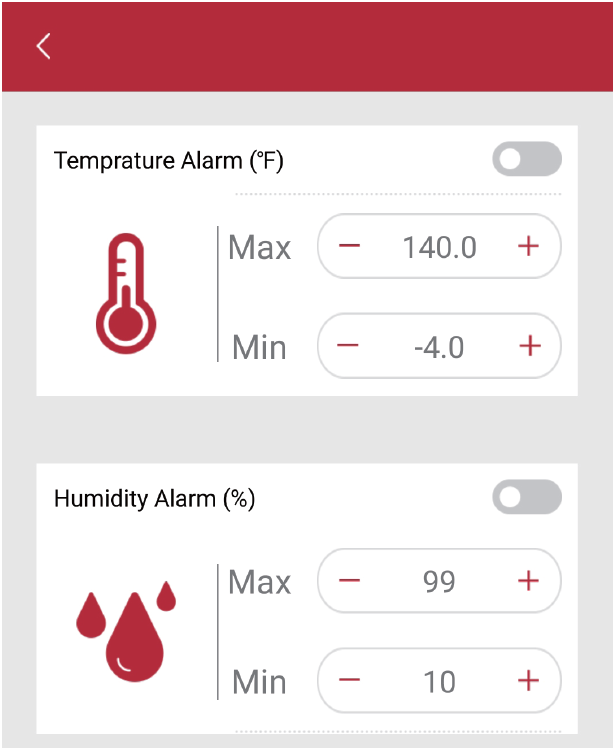 Press to view temperature and humidity data recorded in the past 24hrs/ 1 week and 1 year.

Declaration of Conformity
Hereby, the manufacturer declares that this product complies with the basic requirements and applicable regulations of the Radio Equipment Directive 2014/53/EU, the EMC Directive 2014/30/EU. The complete declaration of conformity can be found at: https://itronicsmall.com/eu-declaration-of-conformity
Disposal of The Electronic Appliance
This electronic appliance should not be disposed of with normal household waste. Dispose of the unit at an approved facility or at your local recycling center. Please observe the current rules and regulations when disposing of the appliance. Contact your local council if in doubt.
Limited One-Year Warranty
ThermoPro warrants this product to be free of defects in parts, materials and workmanship for a period of one year, from date of purchase.Should any repairs or servicing under this warranty be required, contact Customer Service by phone or email for instructions on how to pack and ship the product to ThermoPro.This warranty gives you specific legal rights and you may also have other rights which vary from state to state.
Customer Service
Telephone: 1-877-515-7797 (USA & Canada only)44-80-164-1683 (UK)Email: [email protected]Hours: Weekdays 8:00 AM- 8:00 PM EST(USA & Canada only)1:00 PM – 12:00 PM CET(UK)

[xyz-ips snippet="download-snippet"]