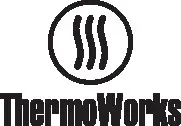 EXEC™ Operating Instructions
Accuracy to ±0.9°F (±0.5°C)
3-4 second readings
–40 to 572°F range
Calibration trim
IP67 rating
180° rotating display
Backlight
Max/Min function
NIST-traceable certificate
Instrument Operation
Press the power button to activate the thermometer. The unit will turn off automatically after 35 minutes to save battery life. Press and hold the power button for 3 seconds to turn off EXEC. To activate the backlight, press the power button once while the instrument is turned on. Press again to turn it off.Insert the stainless-steel probe to the desired depth. The measured temperature will be shown on the LCD display within 3 to 4 seconds.
Using MIN/MAX
Press the MAX/MIN button to read the last highest / maximum temp measured.Press once more to read the last lowest / minimum temperature measured.Press once more to return to the normal display.Press and hold the MAX/MIN button for three seconds then release it to reset the memory.MAX and MIN are reset when the unit is powered off.
Battery Installation
Replace the battery when the low battery symbol 'Bat' flashes. Replace with a 3 volt, type CR1632, button-cell battery or equivalent.Use a screwdriver of a suitable size to open the battery cover on the back.Install the battery observing the correct polarity, (+) positive side up, sliding the battery under the metal clip.Close the battery cover.

To Select ˚F or ˚CPress the °C/°F button on the back of the thermometer to select the desired temperature unit.Calibration Trim New from the factory EXEC should read within ±0.9°F. Normally a calibration adjustment should never be needed. For instructions on performing a one-point calibration trim go to the EXEC webpage at www.thermoworks.com.
Care and Cleaning
Clean the probe immediately after each measurement to avoid cross-contamination. Do not expose the thermometer body to temperatures over 122°F (50°C). Do not leave inside ovens. Avoid submerging the entire thermometer.
Technical Support
For warranty, service, and technical assistance, please contact hermoWorks' Technical Support at (801) 756-7705 or email at [email protected].For additional cooking tips and doneness temperatures, and to see the full line of ThermoWorks tools, visit our website at www.thermoworks.com.
Specifications
| | |
| --- | --- |
| Probe Range | –40 to 572°F (–40 to 300°C) |
| Accuracy | ±0.9°F (±0.5°C) between 14 to 212°F  (–10 to 100°C),±4.5°F (±2.5°C) between 392 to 572°F (200 to 300°C)otherwise ±2.7°F (±1.5°C) |
| Display Resolution | 0.1° |
| Units | °C/°F |
| Response Time | Approx. 3-4 seconds from ambient to 32°F ±0.9°F |
| Auto-Off | After 35 minutes |
| Display Size | 0.45 H x 0.94 W inches (11 H x 24 W mm), automatically rotates 180° |
| Backlight | 10 seconds |
| Digit Size | 0.29 H x 0.16 W inches (7.5 H x 4.0 W mm) |
| Probe | 4.8 L x 0.1 dia. inches; reduces to  0.67 L x 0.06 (1/16″) dia. inches(125 L x 2.5 dia. mm; reduces to  17 L x 1.5 dia. mm), Thermistor |
| Minimum Immersion | Approx. 0.25 inch (6.4 mm) |
| Water Resistance | IP67 |
| Battery | 3 volt, type CR1632 or equivalent  x 1 piece (included) |
| Battery Life | 3,000 hours continuous use |
| Product Size | 8.3 H x 0.9 W x 0.6 D inches (211.5 H x 23 W x 16 D mm) |
| Operating Range | 32 to 122°F (0 to 50°C) |
Chef-Recommended Temps
Beef, Veal & LambRoasts, Steaks & Chops
Rare120-130°F*49-54°C
Med. Rare130-135°F *54-57°C
Medium135-145°F *57-63°C
Med. Well145-155°F *63-68°C
Well Done155°F-up *68°C-up
PorkRoasts, Steaks & Chops
USDA-Done145°F *63°C
Well Done150°F-up *66°C-up
BBQBrisket, Ribs, & Pork Butt
Done190-205°F88-96°C
* These temperatures are ideal peak temperatures. Meats should be removed from heat several degrees lower and allowed to rise during resting.** Chef-recommended temperatures are consistent with many expert sources for taste and safety.USDA-recommended temperatures are 5 to 10°F (2 to 5°C) higher.
Minimum Done Temps for Food Safety
| | | | |
| --- | --- | --- | --- |
| Ground Meat:Beef, Veal, & Sausage* | 160°F 71°C | Chicken, Turkey &Duck (whole or pieces)* | 165°F 74°C |
| Ham (raw) | 160°F 71°C | Poultry Dark Meat** | 175°F 79°C |
| Ham (pre-cooked) | 140°F 60°C | Stuffing (in the bird) | 165°F 74°C |
| Egg dishes | 160°F 71°C | Tuna, Swordfish &Marlin** | 125°F 52°C |
| Casseroles & Leftovers | 165°F 74°C | Other Fish** | 140°F 60°C |
Water Temps (at sea level)
Poach
160-180°F71-82°C
Simmer
185°F 85°C
Low Simmer
180°F 82°C
Slow Boil
205°F 96°C
Rolling Boil
212°F 100°C
Other Food Temps
| | | | |
| --- | --- | --- | --- |
| Bread: Rich Dough | 190-200°F88-93°C | Butter: Chilled | 35°F 2°C |
| Bread: Lean Dough | 200-210°F93-99°C | Butter: Softened | 60-67°F16-19°C |
| Water temp to addactive dry yeast | 105-115°F41-46°C | Butter:Melted & Cooled | 85-90°F29-32°C |
Candy or Sugar Syrup Temps (at sea level)
| | | |
| --- | --- | --- |
| Thread | 230-234°F (110-112°C) | Syrup |
| Soft Ball | 234-240°F (112-116°C) | Fondant, Fudge & Pralines |
| Firm Ball | 244-248°F (118-120°C) | Caramels |
| HardBall | 250-266°F (121-130°C) | Divinity & Nougat |
| Soft Crack | 270-290°F (132-143°C) | Taffy |
| Hard Crack | 300-310°F (149-154°C) | Brittles, Lollipops & Hardtack |
| Caramel | 320-350°F (160-177°C) | Flan & Caramel Cages |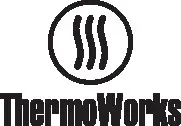 www.thermoworks.com741 E. Utah Valley Dr.American Fork, UT 84003
For service or warranty:1-800-393-64341-801-756-7705[email protected]P-20-010-02-a
References
[xyz-ips snippet="download-snippet"]