TOA MD-200 Media Player

Thank you for purchasing TOA's Media PlayerPlease carefully follow the instructions in this manual to ensure long, trouble-free use of your equipment.
SAFETY PRECAUTIONS
• Be sure to read the instructions in this section carefully before use.• Make sure to observe the instructions in this manual as the conventions of safety symbols and messages regarded as very important precautions are included.• We also recommend you keep this instruction manual handy for future reference.
WARNINGIndicates a potentially hazardous situation which, if mishandled, could result in death or serious personal injury.Indicates a potentially hazardous situation which, if mishandled, could result in moderate or minor personal injury, and/or property damage
When Installing the unit
Do not expose the unit to rain or an environment where it may be splashed by water or other liquids,
Do not cut, klink, otherwise damage nor modify the power supply cord. In addition, avoid using the power cord in close proximity to heaters, and never place heavy objects — including the unit itself — on or electric shock.
Avoid installing or mounting the unit in unstable locations, such as on a rickety table or slanted surface. Doing so may result in the unit falling down and causing personal injury and / or property damage.
To prevent lightning strikes, install the unit at yet within the protective range (angle of 45°) the lightning conductor.
When Installing the unit
• Never plug in or remove the power supply plug with wet hands, as doing so may cause electric shock.• When unplugging the power supply cord, be sure to grasp the power supply plug, never pull on the cord it self. Operating the unit with a damaged power• When moving the unit, be sure to remove its power supply cord from the wall outlet. Moving the unit with the power cord connected to the outlet may cause shock. When removing the power cord, be sure to hold its plug to pull.• Avoid installing the unit in humid or dusty locations, in locations exposed to the direct sunlight, near the heaters, or in locations generating sooty smoke electric shock.• The socket – outlet shall be installed near the equipment and the plug (disconnecting device) shall be easly accessible.
GENERAL DESCRIPTION
The MD-200-AS is a media player and digital processing FM radio tuner. The unit has a USB and SD card slot that allows MP3 playback. It also has the capability to store up to 30 radio channels which can be called up with 1 touch of a button. The unit can be mounted on an EIA equipment rack.
Functions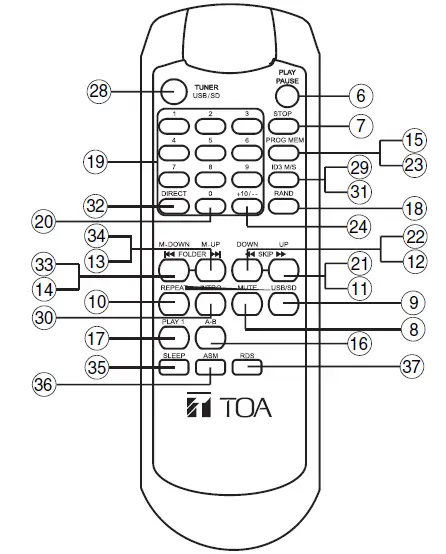 Power SwitchPress this button to Activate (Turn ON) Media Player. (LCD Light Blue, Text Appear "Welcome" and Tuner Station, Button function Light On) Press once again to Turn OFF Media Player.
Slot for SD CardWhen SD Card plugged ON, Text Appears "Card", Folder No., and Track Qty.
Slot for USB CardWhen USB plugged ON, Text Appears "USB", Folder No., and Track Qty.
LCD DisplayUSB/SD Card status including track number and playing time.
USB/SD IndicatorPress USB/SD/TUNER button on remote to change LED Indicator. (When USB/SD Indicator light on, function remote button only for USB/SD card.
( ) or PLAY/PAUSEPress once to start playing, Press again to pause. Text Appears "Title, No. of Track, Time, Extension Track, Back Light GREEN. When Pause mode Music stop (No Sound) Text Appears "Title, No. of Track, Time (blinking), Extension Track".
( ) or STOPPress this key to stop playing. Text Appears "Disc", Folder No., and Track Qty, Back Light RED
MUTEPress this key while playing to mute sound, press again to recovery, Sound Appear. Display "MUTE ON or MUTE OFF".
USB/SDPress this key to change to USB or SD Card mode. Text Appears "Reading CARD/USB"
( ) or REPEAT(Press this key while playing) pressing this key will switch between : " PLAY ALL RANDOM REPEAT TRACK REPEAT FOLDERREPEAT ALL RANDOM REPEAT PLAY ALL".
( ) or SKIPPress this key will skip to the next track (Available for USB and SD card). Keeping pressing this key will fast-forward (Time will running).
( ) or SKIPPress this key will skip to the previous track (Available for USB and SD card). Keeping pressing this key will fast-rewind (Time will running).
( ) or FOLDERPress this key will skip to the next Folder (Available for USB and SD card). Keeping pressing this key will fast-forward Folder.
FOLDERPress this key will skip to the previous Folder (Available for USB and SD card). Keeping pressing this key will fast-rewind Folder.
PROGSet to programming mode. When the STOP key is pressed during programming mode, all program are cleared Display. "P-01 000 0000"
A-BWhen this key is pressed during play, the beginning of time is marked. Press this key one more time, the end of time is also marked, and the set will play from the beginning to the end cyclically. Press this key again to reset the function.
PLAY 1will stop "PLAY 1" ( Not automatically play next track ). To play next track have to press PLAY button. While playing the track, press this key again to stop this condition. Text Appears "PLAY ALL".
RANDPress this key to Random of track. Press again, Random Track will stopped.Display text appear "RANDOM REPEAT" and "RDM", press again text will disappear.
0-9Press this keys to select the track directly ( 1 – 9999 ) Press this keys to select frequency station radio has been saved or directly.
10/0Press this key to change to channel station number 10.
UPPress this key the reception frequency Radio (FM) will increased 50 kHz. When the button is pressed for a few seconds, automatic adjustment frequency. Starts and will stops automatically as soon as a station is detected. (Text appears "FM", Frequency Radio Station, "CH" no.).
DOWNPress this key the reception frequency Radio (FM) will decreased 50 kHz. When the button is pressed for a few seconds, automatic adjustment frequency. Starts and will stops automatically as soon as a station is detected. (Text appears "FM", Frequency Radio Station, "CH" no.).
MEMpreset memory of 30 CH) To save the displayed reception frequency in the preset memory, press the MEM key, then press the number key. Press the MEM key again to save the reception frequency in that number key. (Display CH01, CH02, …CH30).
+10/–Press this key once, the preset station number will add 10. Press this key a few seconds, then use number key to input the preset station.
TUNER IndicatorPress USB/SD/TUNER button on remote control to change LED Indicator. When TUNER Indicator light on, function remote button only for tuner.
IRPick up signal from the remote controller.
FM TUNER DisplayFM Tuner status including FM band and channels memory.
TUNER USB/SDPress this key to change LED Indicator to indicate that the remote work for USB/SD, or Tuner.(For Example When LED Indicator tuner Light ON Function Remote Button only for tuner).
ID3(Press this key while playing) Pressing this key will info about USB or SD Function.Text appear "USB" or 'CARD".
INTROPress this key to INTRODUCE each track such as Title of Song and No. Track. Time for INTRODUCE is about 10 second for each track. Press again will stop INTRODUCE track. Display text appear "INTRO" Running Title, Time Track, "INT ".
M/SPress these key to change Sound Audio of Station Radio to MONO / STEREO System. Display text "MONO" or "STEREO".
DIRECTThis is a direct search function. Press this key once, then use number key (0 – 9) to input the station frequency, press DIRECT key again toThe tuner jump to this station. If the input frequency is beyond the range or incomplete, the tuner will display ERROR.
M-DOWNPress this key to search Channel Frequency has been saved (Channel freq is decrement).
M-UPPress this key to search Channel Frequency has been saved (Channel freq is increment).
SLEEPWhen the SLEEP key is pressed, the sleep function 5 seconds. The sleep time begins from the 90 minutes and change cyclically as shown below. When the SLEEP time is set, the power is automatically switched off after the sleep time. Display "90 80 70 60 50 40 30 20 10 OFF Min" The sleep function is cleared, if the SLEEP key is pressed till the sleep time is not displayed on the LCD
ASMPress these key to auto scan mode and memory function.Press this key in a few seconds, the tuner will search the station and store in memory automatically (will saved 30 CH station Radio).
RDSPress these key to activate the Radio Data System (RDS) RDS is a standard communication protocol for embedding small amounts of digital information on conventional FM broadcasts. RDS standardized several types of information sent. One of them: time, radio station name and program information* PS (name service program)This is only eight static characters display that represents the name of the radio station that broadcasts it.* PTY (type of program) being broad
Rear

Dimensions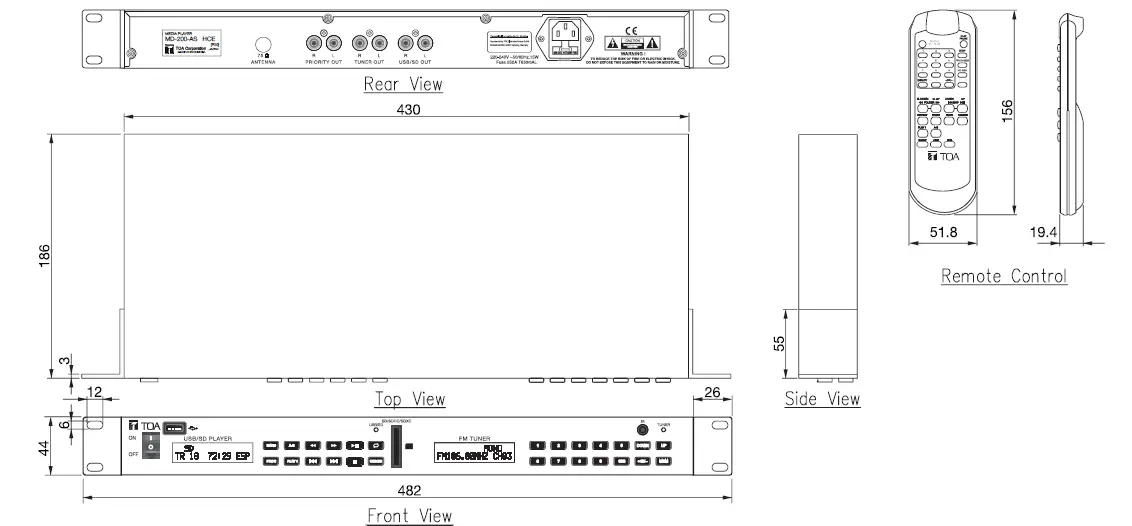 Specification
References
[xyz-ips snippet="download-snippet"]