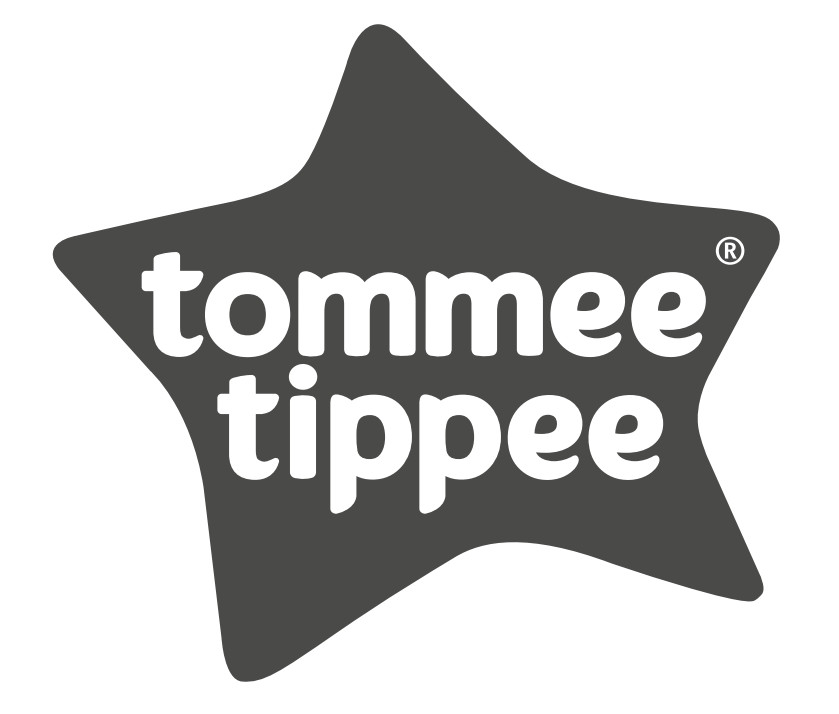 microwave steam sterilizer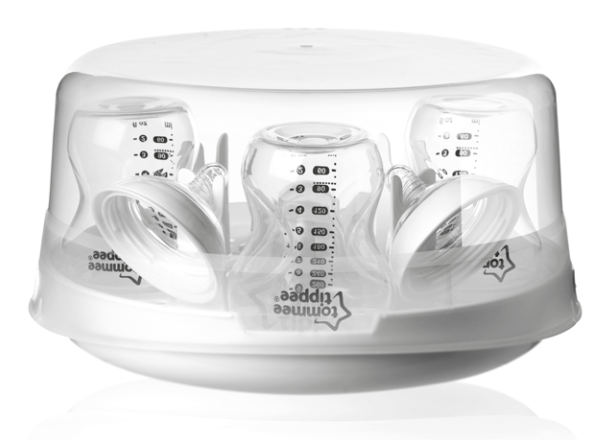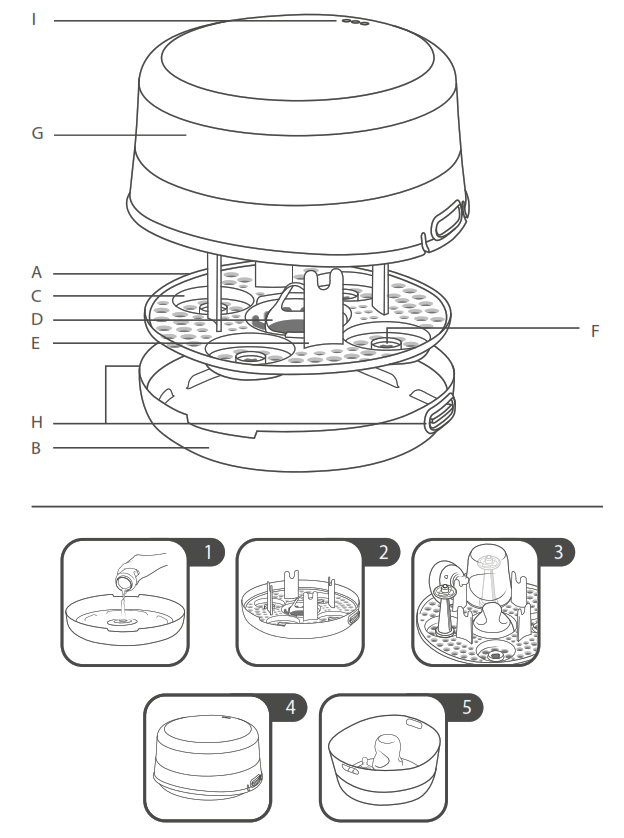 Closer to Nature® microwave steam sterilizerBefore using your closer to nature® sterilizer, please ensure that you read these instructions thoroughly.Please keep this instruction sheet for future reference as it includes important information.This sterilizer is designed for use with tommee tippee® closer to nature® and ultra® bottles. The sterilizer will hold up to 4 closer to nature® bottles, and 3 ultra® bottles.PARTS GUIDE (see diagram)A. Removable trayB. Sterilizer baseC. Bottle neck locatorD. Locator for bottle hoodE. Locator for screw ring and nippleF. Locator for Closer to Nature® anti-colic plus valve (if sterilising Closer to Nature® anti-colic plus bottles)G. Removable lid / Preparation surfaceH. Side buttonI. Steam ventsFOR INSTRUCTIONS ON HOW TO CLEAN AND STERILIZE THE TOMMEE TIPPEE® BOTTLES, PLEASE SEE SEPARATE LEAFLET.USING THE MICROWAVE STEAM STERILIZER (see instruction diagrams)
Before sterilization, wash all bottles and feeding accessories in hot soapy water or in a dishwasher (top rack only) to remove any milk residues. Separate all components for washing and reassemble nipple and screw ring for sterilizing.WARNING: DO NOT ALLOW PRODUCT TO COME INTO CONTACT WITH OIL-BASED FOODS (e.g. OIL/TOMATO BASED SAUCES) AS STAINING WILL OCCUR.
Remove the tray and pour 7 fl.oz. / 200ml water into the sterilizer base (see diagram 1).
Replace the tray. (see diagram 2)
Place the bottle parts in the locators as shown in diagram 3.
If using Closer to Nature® anti-colic plus bottles, place bottle parts in the locators as shown in diagram 3.
Place the lid over the sterilizer base. Make sure the sides of the lid are securely ftted over side buttons. (see diagram 4)
Place the sterilizer in the microwave, and microwave on full power according to the table below:
 Allow cooling for 5 minutes before removing the sterilizer from the microwave.
Wash your hands thoroughly before handling sterilized items. Take care as the items will be hot.
Remove the sterilized items. The nipple tongs can be used to remove the small items. The lid when removed and placed flat becomes a hygienic work surface for making up feeds. (see diagram 5)
If the sterilizer is left unopened its contents will remain sterile for up to 24 hours.
Drain and rinse unit to prevent a build-up of limescale.
WARNING!
Always add 7 fl.oz / 200ml of water before use. Ensure unit does not boil dry.
Ensure the microwave timer is set correctly on full power.
Always allow at least 5 minutes cooling time before removing from the microwave.It is recommended that oven gloves are used to prevent scalding.
When removing the sterilizer from the microwave, take care as it will contain hot water and steam.Place on a hard, heat-resistant surface.
Always open the lid away from you to allow the steam to escape.
Do not use chemical sterilizing solutions/tablets in the microwave.
Not suitable for use in a grill oven or a microwave with the grill feature switched on.
Do not use metallic items as this will damage your microwave.
Keep out of reach of small children.
Make sure that the microwave turntable is clean and dry before use.
Copyright© Mayborn 2016Tous droits réservés © Mayborn 2016TOMMEE TIPPEE and CLOSER TO NATURE are registered trademarks of Jackel International Limited.Distributed by Mayborn USA Inc. dba Mayborn Group 1 Edgewater Drive, Suite 109 Norwood, MA 02062Made in ChinaLeaflet Code 0522610
Tommee Tippee Closer to Nature Microwave Steam Sterilizer User Guide – Tommee Tippee Closer to Nature Microwave Steam Sterilizer User Guide –
[xyz-ips snippet="download-snippet"]