Owner's ManualS3MT-Series 3-PhaseInput Transformers:480V-208VModels: S3MT-20K480V, S3MT-30K480V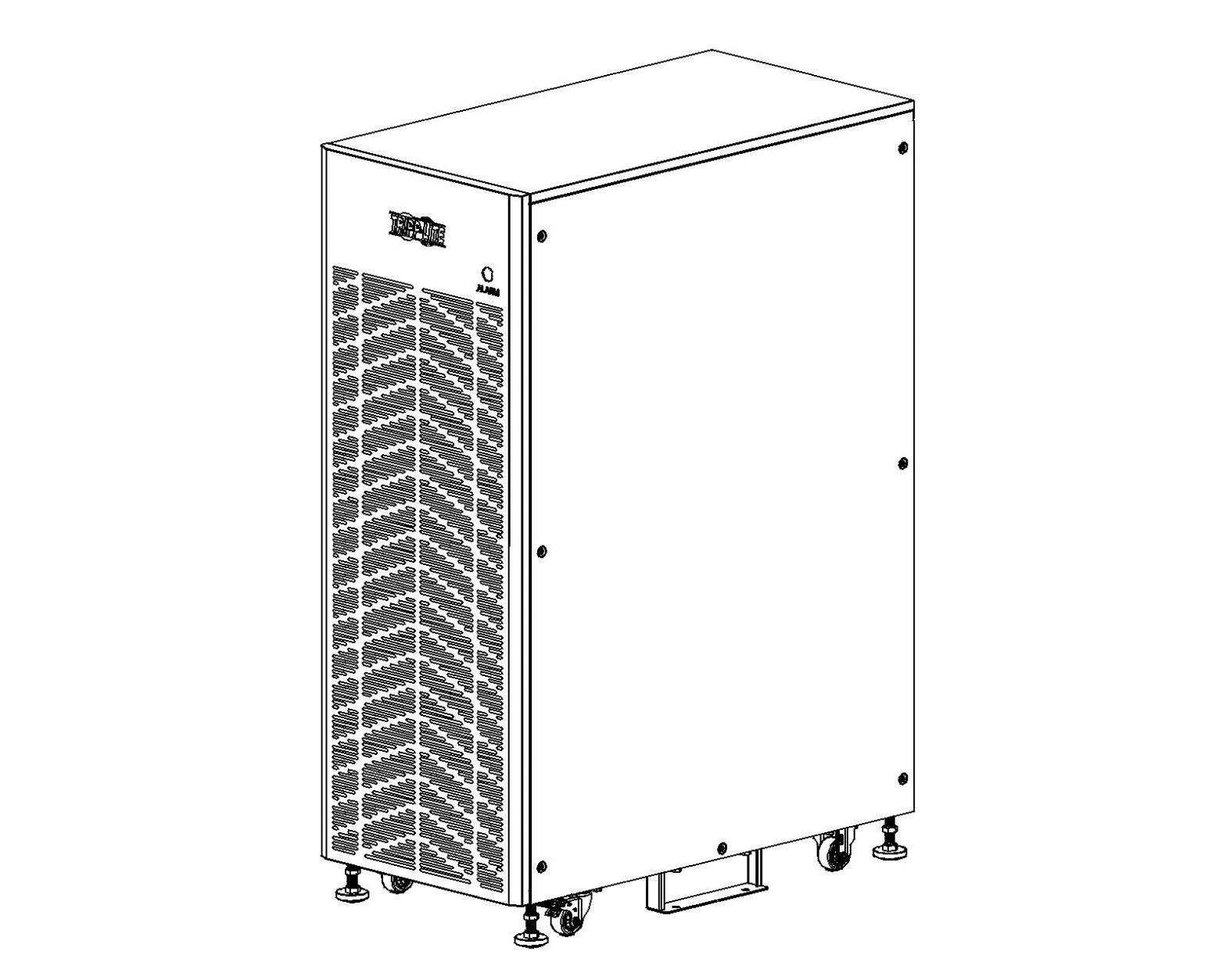 WARRANTY REGISTRATIONRegister your product today and be automatically entered to win an ISOBAR® surge protector in our monthly drawing!tripplite.com/warranty

http://www.tripplite.com/warranty
1111 W. 35th Street, Chicago, IL 60609 USA • tripplite.com/supportCopyright © 2021 Tripp Lite. All rights reserved.
Introduction
Tripp Lite's S3MT-20K480V and S3MT-30K480V Input isolation transformers provide 480V (Delta) to 208V (Wye) step-down and isolation protection to the connected UPS and its load.The transformer has input isolation to mitigate utility line surges and spikes while protecting the UPS. The transformer includes a built-in breaker at the transformer output side for protection. Two ball-bearing fans maintain quiet operation. An overheat sensing relay and switch combine with a warning light to provide over-temperature warning and overheating protection.The UPS system's small footprint and quiet acoustic profile enable installations with minimal space and noise impact. All transformer models feature rugged stainless steel housings with front panels similar to the S3M-Series 208V 3-Phase UPS line.
| | | | |
| --- | --- | --- | --- |
| UPS Model | Series Number | Capacity | Description |
| S3MT-20K480V | AG-0508 | 20kW | 480V to 208V Input Isolation Transformer |
| S3MT-30K480V | AG-050C | 30kW | 480V to 208V Input Isolation Transformer |
Typical applications4-Wire (3Ph+N+PE) IT equipment loads in government, manufacturing, hospitals, industrial settings and corporate settings that have a 480V electrical feed and 208V/120V IT Loads.Key Features
Isolation protection to the UPS input, with stepped-down input from 480V (Delta) to 208V/120V (Wye)
Circuit breaker and overheating protection
95% to 97.5% efficiency
Wide input voltage and frequency operating range Voltage: -20% to +25% @ 100% load and 40-70 Hz
Insulation class: 180°C material
Reliability-tested according to ISTA-3B for vibration, shock, drop (tip test)
UL and CSA TUV certifications
Rugged stainless steel housing shipped ready for installation
2-year warranty
Typical Configuration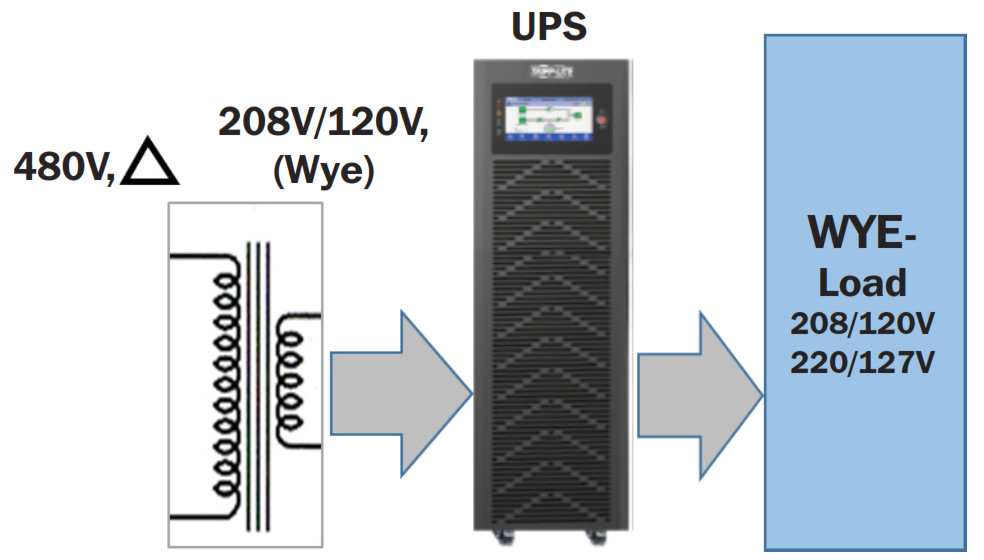 These 480V Input Transformers may be purchased separately or as part of kit model with a Tripp Lite S3M Series 3-Phase UPS:
InputTransformer Models
MaximumConstant Load
Compatible with208V 3Ph UPS
Kit Models: UPS + Transformer
Kit Models
Kit Models Include
480V
S3MT-20K480V
20kW
10-20kW UPS
S3M20K-20K4T
S3MT-20K480V +S3M20K3B UPS
S3MT-30K480V
30kW
20-30kW UPS
S3M25K-30K4T
S3MT-30K480V +S3M25K UPS
S3M30K-30K4T
S3MT-30K480V +S3M3OK UPS
Important Safety Warnings
SAVE THESE INSTRUCTIONSThis manual contains important instructions for models S3MT-20K480V and S3MT-30K480V that should be followed during installation and maintenance of the transformer and UPS.

CAUTION! Risk of electrical shock! Hazardous live parts inside this unit are energized from the transformer even when the breaker is turned off.

WARNING! The unit is intended for installation in a controlled environment.

CAUTION! A transformer can present a risk of electric shock and a high short circuit current. The following precaution should be observed when working on the transformer:
Remove watches, rings or other metal objects.
Use tools with insulated handles.
To reduce the risk of electric shock, disconnect the transformer and UPS from the mains supply before performing maintenance or service.Servicing of the 3-phase transformer and UPS should be performed by Tripp Lite certified personnel with knowledge of the 3-phase transformer and UPS and all required precautions.The transformer is extremely heavy. Caution should be taken in moving and positioning equipment. The instructions contained within this manual are important and should be closely followed at all times during installation and follow-up maintenance of the 3-phase transformer and UPS.

CAUTION!The transformer has a dangerous level of heat. If the transformer's front-panel red LED indicator is on, the unit's outlets may have a dangerous level of heat.All servicing on this equipment must be carried out by Tripp Lite-certified service personnel.Before conducting any maintenance, repair, or shipment, first, ensure everything is turned off completely and disconnected.Special Symbols – The following symbols are used on the transformer to warn you of precautions:

RISK OF ELECTRIC SHOCK – Observe the warning that the risk of electric shock is present.

CAUTION – REFER TO THE OWNER'S MANUAL for information regarding important operating and maintenance instructions.

SAFE GROUNDING TERMINAL – Indicates THE primary safe ground.
Installation
Mechanical Data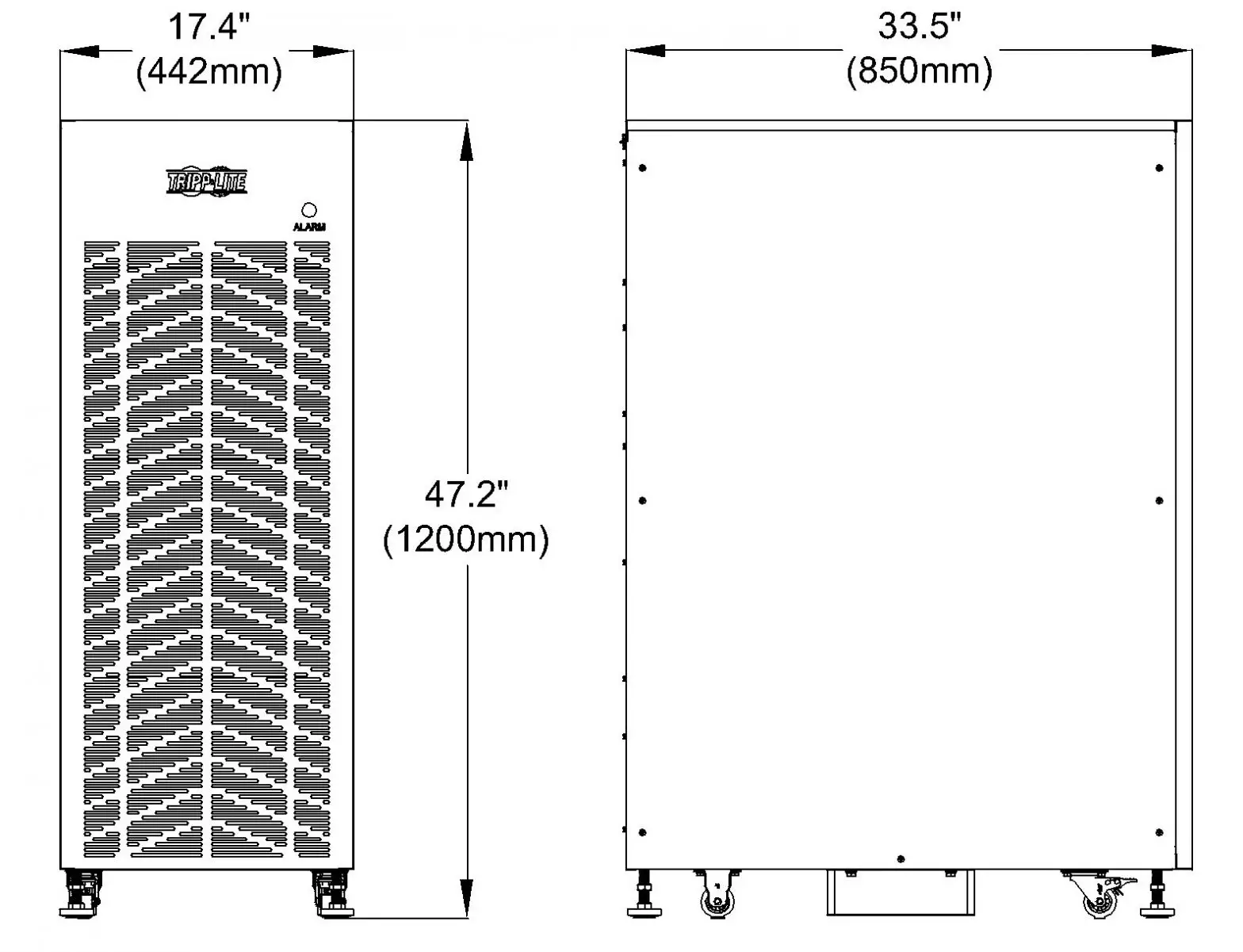 Physical RequirementsLeave space around the cabinet for operation and ventilation (Figure 3-1):
Leave at least 20 in. (500 mm) space in the front for ventilation
Leave at least 20 in. (500 mm) space at the right and left for the operation
Leave at least 20 in. (500 mm) space at the back for ventilation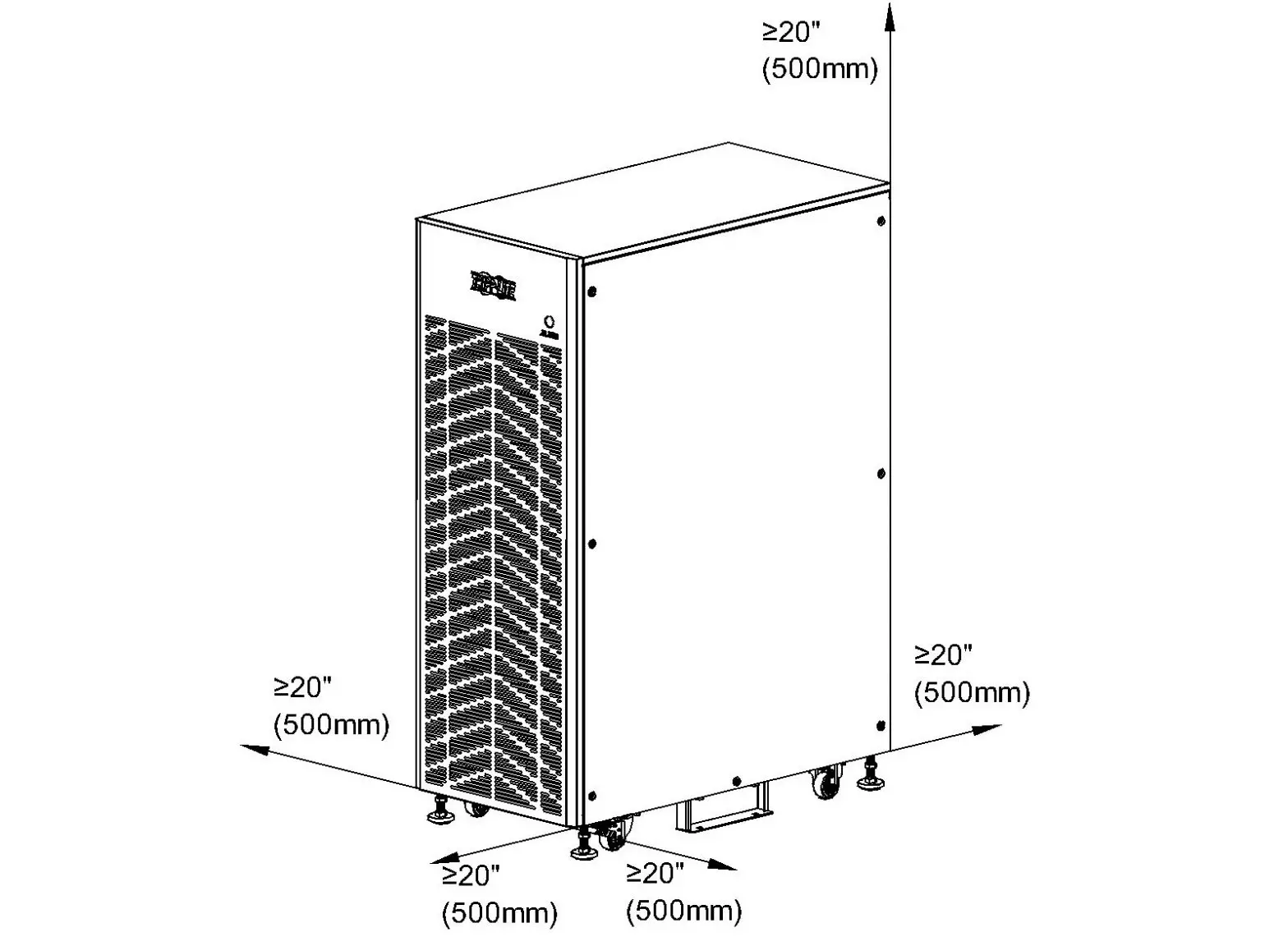 Figure 3-1
Package Inspection
Don't lean the transformer cabinet when removing it from the packaging.
Check the appearance to see if the transformer cabinet was damaged during transport. Do not power on the transformer cabinet if any damage is found. Contact the dealer immediately.
Check the accessories against the packing list and contact the dealer in case of missing parts.
Unpacking the UPS
Hold the sliding plate steady. Cut and remove the binding straps (Figure 3-2).
Remove the plastic bag and the outer carton (Figure 3-3).
Remove the foam packing material and the beveled pallet(Figure 3-4).
Unfasten the screws and remove the sheet metal affixed to the cabinet (Figure 3-5).
Slowly slide the unit from the pallet (Figures 3-6A and 3-6B).
Package Contents
Contents
TL P/N
S3MT-20K480V
S3MT-30K480V
Input Transformer
1
1
Owners Manual
933D03
1
1
Cabinet Overview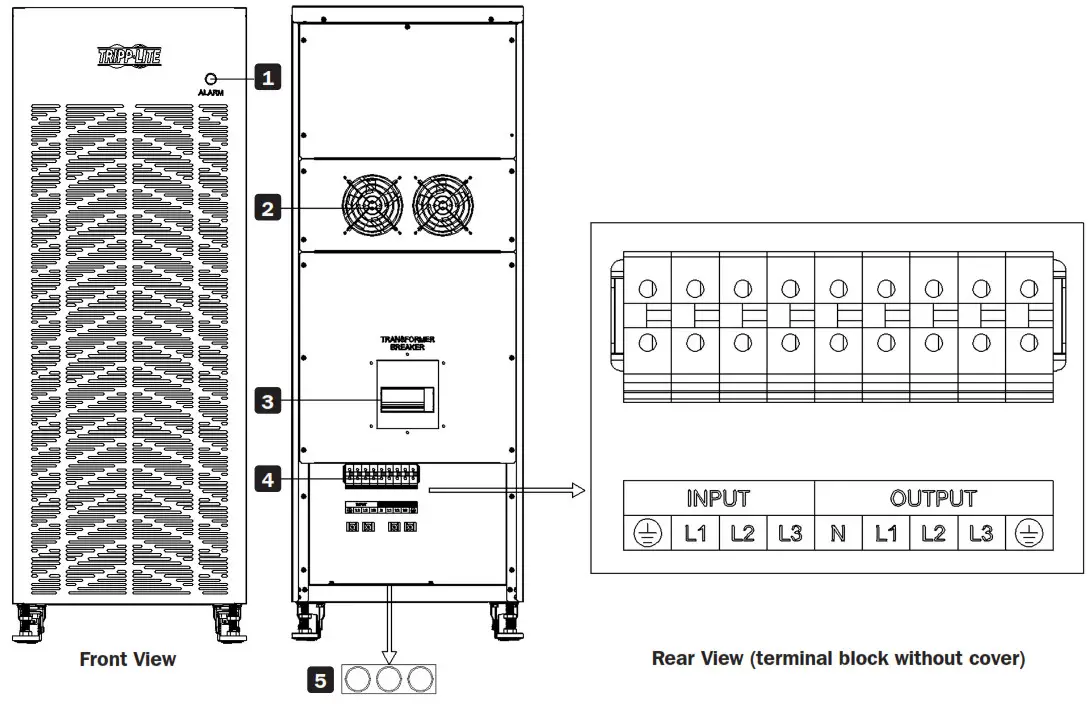 Over-Temperature Alarm LED
Cooling Fans
Breaker with Trip
Cabling Terminals
Bottom Entry Knockouts (for Power Cable Entry and Exit)
Power CablesThe cable design shall comply with the voltages and currents provided in this section, and in accordance with local electrical codes.

WARNING!UPON STARTUP, ENSURE YOU ARE AWARE OF THE LOCATION AND OPERATION OF THE EXTERNAL ISOLATORS CONNECTED TO THE UPS INPUT/BYPASS SUPPLY OF THE UTILITY DISTRIBUTION PANEL. ENSURE THESE SUPPLIES ARE ELECTRICALLY ISOLATED AND POST ANY NECESSARY WARNING SIGNS TO PREVENT INADVERTENT OPERATION.Cable Sizes
UPS Model
Cable Sizes (THHW wiring at 75°C)
AC Input
AC Output
Neutral
Grounding
Gauge
Torque
Gauge
Torque
Gauge
Torque
Gauge
Torque
S3MT-20K480V
10 AWGMax.4 AWG
6.5 N•m
4 AWGMax.4 AWG
6.5 N•m
4 AWGMax.4 AWG
6.5 N•m
4 AWGMax.4 AWG
6.5 N • rin
S3MT-30K480V
6 AWGMax.3 AWG
6.5 N•m
3 AWG  Max.3 AWG
6.5 N•m
3 AWGMax.3 AWG
6.5 N•m
3 AWGMax.3 AWG
6.5 N•m
Transformer-to-UPS Connection Line DiagramConnections are shown below for the cabinet with a built-in input isolator transformer, breakers, and the red over-temperature LED.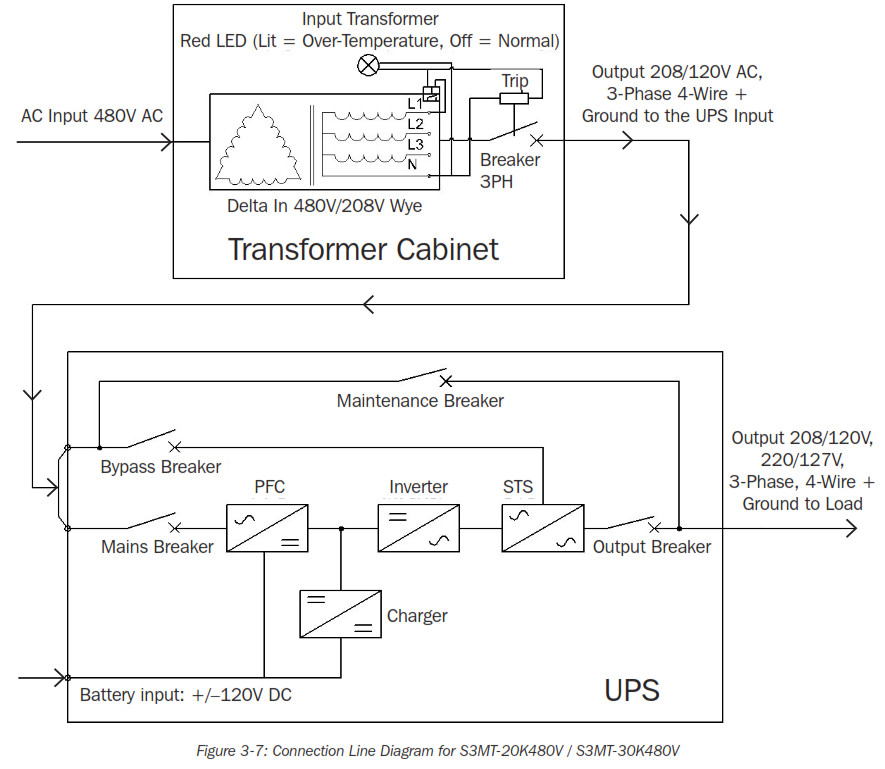 Transformer-to-UPS Connections

WARNING: The transformer output neutral is not bonded to chassis ground. Please provide a means to connect the transformer chassis ground to the transformer output neutral.Note: The transformer chassis ground must be connected to earth ground.

IMPORTANT: You may view and/or download this manual from the tripplite.com website to view the cable connections in colors.Connection for S3MT-20K480V to S3M20K3B UPSTransformer input is Delta 3-Wire (3Ph + Ground). The transformer output is Wye 4-Wire (3Ph + N + Ground).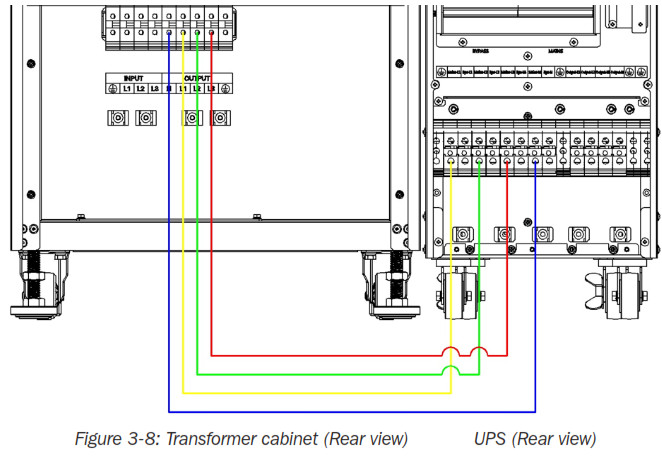 Connection for S3MT-30K480V to S3M25Kor S3M30K UPSTransformer input is Delta 3-Wire (3Ph + Ground). The transformer output is Wye 4-Wire (3Ph + N + Ground).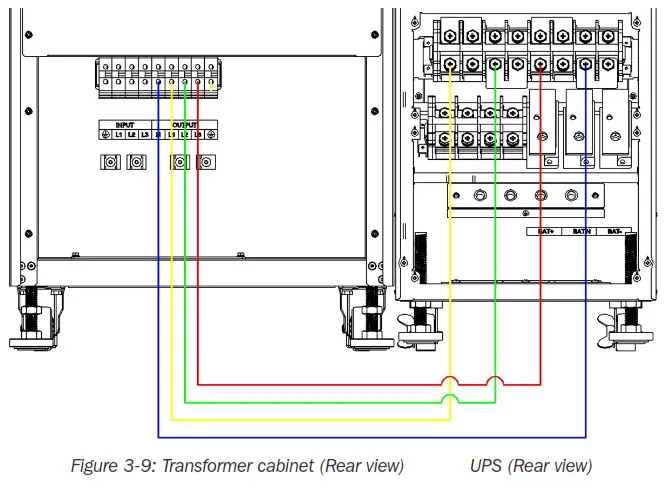 Operation

WARNING: It is not advised to connect two UPS in parallel when using individual transformers for each UPS.Over-Temperature ProtectionOver-Temperature Red Warning LEDThe transformer includes a warning LED light on the top portion of the front panel. The light turns ON when the transformer reaches a temperature of 160°C ±5°C, i.e. a range of 155°C to 165°C (311°F to 329°F). The light turns OFF when the transformer cools to a temperature of 125°C ±5°C, i.e. a range of 120°C to 130°C (248°F to 266°F).Over-Temperature Protection Relay and Thermal SwitchThe transformer includes an over-temperature protection relay and thermal switch to protect the transformer from overheating. At temperatures of 160°C ±5°C, i.e. a range of 155°C to 165°C (311°F to 329°F), an over-temperature protection relay and the thermal switch will activate and will open the output beaker of the transformer. Once the transformer temperature has cooled down and the warning LED light has turned OFF, you may manually re-activate (close) the output breaker to restart normal operation.
Specifications
Models
S3MT-20K480V
S3MT30K480V
Description
3-Phase 20k Input IsolationTransformer, Delta 480V/208V Wye
3-Phase 30k Input IsolationTransformer, Delta 480V/208V Wye
Transformer Type
Dry-Type
Input
Input Voltage
480V
Input Voltage Operational Range and De-Rating
-45%,-20%. +25% at 40 % load+25% at 100% load
Input Amps
35A I 51A
Input Connections
3-Wire (L1, L2, L3 + PE)
Input Configuration
Delta
Input Connection Type
Terminal Block
Rated AC Input Frequency
50/60 Hz
Frequency Range and Derating
40-70 Hz
Voltage Selection
No
Voltage Drop: Ratio Output, No Load to Full Load
s 3%
Inrush Current
s300A (10 ms) I s1010A (10 ms)
Input Isolation
Yes
Output
VA Rating
20kVA 30kVA
Transformer Output Voltage
208/120V, (3-Phase, 4-Wire)
Output Amps
75A
83A
Transformer Output Breaker Rating
80A
125A
Output Watts Detailed
20,000W
30,000W
Output Connections
4-Wire (L1. L2 L3. +N. +PE)
Output Connection Type
Terminal Block
Output Configuration
Wye
Input Tranfonner, Output Isolation
Yes
Operation
Over-Temperature Warning LED Light (Red)
Turns ON at 160°C ±-5°C,i.e. a range of 155°C to 165°C (311T to 329°F)Tams OFF at 125°C -±5°C,i.e. a range of 248T to 266°F (120°C to 130°C)
Over-Temperature Protection Reset Device
Transformer output turns OFF at temperatures of 160°C ±5°C. i.e.a range of 155°C to 165°C (311°F to 329T).The transformer output breaker can be turned ON manually whenthe warning light turns OFF.
Insulation Class
180°C
Temperature Rise
125°C
Full Load Efficiency
95.%
95.%
Half Load Efficiency
9630%
98.%
Physical Info
Unit Height
47.2 in. (1200 mm)
Unit Width
17.4 in. (442 mm)
Unit Depth
33.5 in. (850 mm)
Unit Weight
430 lb. (195 kg) I 617 lb. (280 kg)
Models
S3MT-20K480V
S3MT-30K480V
Floor Loading
519 (ke/m2)
745 (kg/m2)
Unit Carton Height
55.6 in. (1411 mm)
55.6 in. (1411 mm)
Unit Carton Width
22 2 in (563 mm)
22.2 tn. (563 mm)
Unit Carton Depth
38.2 in. (970 mm)
38.2 in. (970 mm)
Unit Carton Weight
485 lb. (220 kg)
712 lb. (323 kg)
Tip. n-Tell Label Included on Overpack Box
Yes
Environment
Audible Noise at 1 m
65 dB max.
RH Humidity. Non-Condensing
95%
Online Thermal Dissipation Full Load ( BTU/hr)
3413 I 4915
Storage Temperature
5-F to 140°F (-15C to 60T)
Operating Temperature
32T to 104°F (Oct to 40°C)
Operating Elevation
<1000 m for nominal power(over 1000 m, the power de-rating ts 1% per 100 m)
Mechanical
Transformer Windings
Aluminum
Cabinet Material
Cold Rolled Galvanized Steel (SGCC)
Cabinet Color
FtAL 9011
Fan (TypeliQuenbly)
2x Ball 8eanng. 120 mm (288 total CFM)
Reliability
Vibration
ISTA – 3B
Shock
ISTA – 3B
Drop
ISTA. 3B (Tip Test)
Agency Approvals
Approving Agency
SUVs
Agency Standard Tested
UL 1778 5th Edition
Canadian Approvals
CSA 22.2.107.3-14
CE Approvals
WA
EMI Approvals
WA
RoHS/REACH
Yes I Yes
Storage
Before storing the isolation transformer, ensure all connections have been disconnected and all breakers are turned OFF. Replace all input or output access covers to avoid damaging any contacts.The transformer must be stored in a clean, secure environment with temperatures between 5°F to 140°F (-15°C to 60°C) and relative humidity less than 90% (non-condensing).Store the transformer in its original shipping container, if possible.

WARNING: The transformer(s) is/are very heavy. Before storing the transformer, make sure to take into account the floor loading (kg/m²) requirements listed in section 5. Specifications under "Physical Info" to store safely.
Warranty and Regulatory Compliance
Limited WarrantySeller warrants this product, if used in accordance with all applicable instructions, to be free from original defects in material and workmanship for a period of 2 years from the date of initial purchase. If the product should prove defective in material or workmanship within that period, Seller will repair or replace the product, in its sole discretion. Service under this Warranty includes parts only. International customers should contact Tripp Lite support at Continental USA customers should contact Tripp Lite Customer Service at 773-869-1234 or visit tripplite.com/support/helpTHIS WARRANTY DOES NOT APPLY TO NORMAL WEAR OR TO DAMAGE RESULTING FROM ACCIDENT, MISUSE, ABUSE OR NEGLECT. SELLER MAKES NO EXPRESS WARRANTIES OTHER THAN THE WARRANTY EXPRESSLY SET FORTH HEREIN. EXCEPT TO THE EXTENT PROHIBITED BY APPLICABLE LAW, ALL IMPLIED WARRANTIES, INCLUDING ALL WARRANTIES OF MERCHANTABILITY OR FITNESS, ARE LIMITED IN DURATION TO THE WARRANTY PERIOD SET FORTH ABOVE;AND THIS WARRANTY EXPRESSLY EXCLUDES ALL INCIDENTAL AND CONSEQUENTIAL DAMAGES. (Some states do not allow limitations on how long an implied warranty lasts, and some states do not allow the exclusion or limitation of incidental or consequential damages, so the above limitations or exclusions may not apply to you. This Warranty gives you specific legal rights, and you may have other rights, which vary from jurisdiction to jurisdiction.)Tripp Lite; 1111 W. 35th Street; Chicago IL 60609; USAWARNING: The individual user should take care to determine prior to use whether this device is suitable, adequate, or safe for the use intended. Sinceindividual applications are subject to great variation, the manufacturer makes no representation or warranty as to the suitability or fitness of these devices for any specific application.Product RegistrationVisit tripplite.com/warranty today to register your new Tripp Lite product. You will be automatically entered into a drawing for a chance to win a FREE Tripp Lite product!** No purchase necessary. Void where prohibited. Some restrictions apply. See website for details.WEEE Compliance Information for Tripp Lite Customers and Recyclers (European Union)

Under the Waste Electrical and Electronic Equipment (WEEE) Directive and implementing regulations, when customers buy new electrical and electronicequipment from Tripp Lite they are entitled to:
Send old equipment for recycling on a one-for-one, like-for-like basis (this varies depending on the country)
Send the new equipment back for recycling when this ultimately becomes wasteUse of this equipment in life support applications where the failure of this equipment can reasonably be expected to cause the failure of the life supportequipment or to significantly affect its safety or effectiveness is not recommended.
Tripp Lite has a policy of continuous improvement. Specifications are subject to change without notice. Photos and illustrations may differ slightly from actual products.

1111 W. 35th Street, Chicago, IL 60609 USA • tripplite.com/support
References
[xyz-ips snippet="download-snippet"]