ColorFlowHi-Fi Speaker LampUser Guide

INTRODUCTION & FEATURES
Enjoy a fun and soothing psychedelic glow to the sound of your favorite music with the AuralED lava lamp Bluetooth Speaker. This 16.5-inch speaker features a wavy tube shape and AUX or Bluetooth connectivity to accompany your media from any device with a colorful green and blue ambiance.
PACKAGE CONTENTS
1 x lava lamp Bluetooth Speaker1 x 3.5 mm AUX Cable
BLUETOOTH LAVA LAMP
Colorful & Soothing liquid Wax Motion Display
Perfect for Bedrooms, Parties & More
Bluetooth Connectivity for Smartphones & Smart Devices
Provides Relaxing Soft light; Great for Kids & Night lights
PARTS AND FEATURES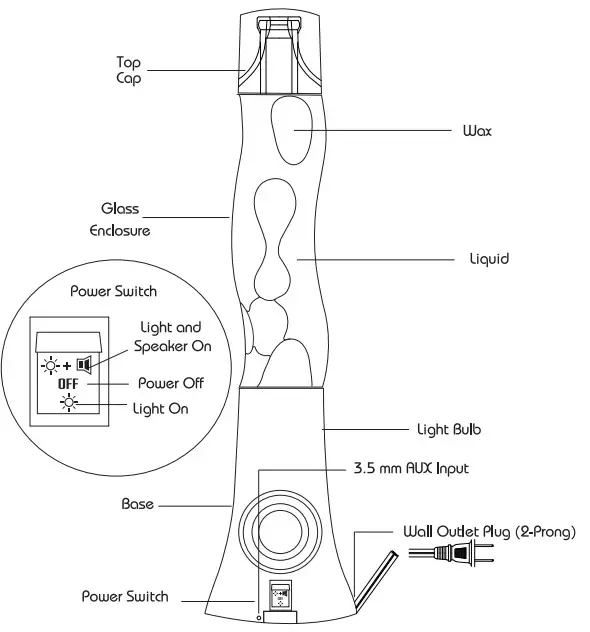 USING YOUR LAVA LAMP
NOTE: This lamp operates at a very warm temperature. Never touch the unit once it is plugged in/turned on.
STEP 1: POSITION THE LAMP
Put the glass enclosure on top of the base, put the top cap above the glass enclosure.
Make sure the glass enclosure is centered and sitting securely on top of the base.
Choose a position away from extreme cold or warm temperatures, such as heating or air conditioning vents.
Make sure the lamp is positioned on a solid stationary flat surface and that it is not at risk for falling.
STEP 2: CONNECT THE LAMP TO POWER
locate an AC wall plug and insert the power plug securely.
Flip the power switch to the ON position (see diagram for reference).
If necessary, allow the lamp to reach room temperature before turning it on.
The lamp will take between 1 and 3 hours to warm up to a proper starting temperature.
STEP 3: CONNECT TO MEDIA.
Bluetooth Connection: Turn the lamp on and activate Bluetooth pairing from your device's Settings menu. Search for the device name "Aura Lava Lamp– and select to connect. You'll immediately be able to control media using your device.
AUX Connection: Connect the included 3.5 mm AUX cable to the AUX port on the back of the unit (see diagram for reference). Once connected, insert the other 3.5 mm head into your device's audio jack. You may now control the media and volume from your device.
CLEANING, STORAGE & TIPS FOR USE
Keep the area around your lava lamp free of the clutter that could catch fire, including books, stray papers or posters.
Only use fine glass cleaner and a soft cloth to clean your lamp. Never use harsh chemical cleaners.
Always unplug your lamp from the power source before cleaning.
Before carrying/transporting the lamp, check to make sure the wax is completely flat and solidified.
If you plan to store your lamp for long periods of time, ensure that the unit does not reach temperatures below freezing. Store the lamp in its original box. Only store your lava lamp on a cool, dry, and flat surface. Wrap the cord around the base of the lamp and keep it away from moisture.
During operation, be sure to never move or shake the lamp to avoid permanent damage.
Never heat up or cool down the lamp artificially. Doing so could permanently damage the unit.
The space at the top of the vase is provided for liquid expansion. Do not break the seal of the cap to fill it with liquids or solids.
The color of the wax may begin to fade slightly after 2-3 uses. If the room temperature is high, the wax may overheat, resulting in smaller bubbles/formations that float to the top of the vase. If the operating temperature is too low, the wax will stay in the bottom of the vase without floating. If this happens, wait until the room temperature is back to the designated range before restarting the unit.
PRODUCT SPECIFICATIONS
Bluetooth Version: 4.2Light Bulb: G4 / 35WSpeaker Rated Power: 5WImpedance: 40Sensitivity: ≤3%Frequency Response: 100Hz – 18,000 HzWorking Distance: ≤10 m (33 ft.)Power Consumption: AC 120 VUnit Dimensions: 4 1/4 x 4 1/4 x 16 1/2 in.Colors: Yellow Wax in Blue Liquid
WARNINGS & SAFETY PRECAUTIONS
This lamp is not a toy and should be kept out of reach of children and pets.
Do not attempt to disassemble or modify your unit in any way. Keep the unit away from all heat sources, including direct sunlight and heating vents. Do not expose the lamp to humidity, water, or any other liquid. Do not expose to extremely hot or extremely cold temperatures/conditions.
Do not ingest the lava lamp's liquid contents. Doing so could cause harm or injury to the user.
Never touch a lava lamp that is turned on or has been used recently. Lamps become hot and can cause severe burns.
Never use your lava lamp if it has a damaged cord or plug if it is not working properly, if it has been dropped or damaged, or dropped into water.
If you have any other questions or issues with product use and/or care, please contact tzumi Technical Support at: [email protected] or 1-855-Go-TZUMI.
[xyz-ips snippet="download-snippet"]