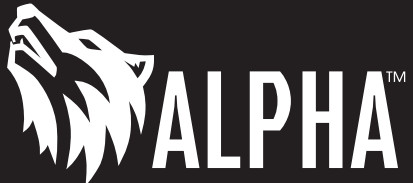 POCKED CHARGERUSER GUIDE  
Charging your Flashlight
Note: Your Alpha Pocket Charger will come fully or partially charged out of the package.
To fully charge the Alpha Pocket Charger, insert a Micro-USB charging cable into the bottom end of the flashlight (you will see a Micro-USB charging port at the base when you lift the protective tab).
Connect to a reliable USB power source (USB wall charger, portable power bank, etc.), and your Alpha Pocket Charger will begin to recharge.You will see the LED battery indicator flicker while charging:Red flicker means 0-35% battery life. Yellow flicker means 35-70% battery life.Green flicker means 70-99% battery life. When full charged, the LED battery indicator will remain solid green.
Product Components
Rechargeable Battery
Bright LED
USB Output
Weatherproof Design

Charging Devices with your Flashlight
To power devices with your Alpha Pocket Charger, lift the protective tab on the bottom of the flashlight to expose its charging ports.
Insert a USB-compatible charging cable into the charger's USB port. The unit does not include a charging cable, but it is compatible with any manufacturer-supplied USB-compatible cable (including the Apple lightning or USB-C cables used for Rapes and Android devices).
Connect the device you wish to charge (such as a smartphone or tablet) by inserting the appropriate connector into your device's charging port. The device will begin to charge: Red flicker means 0-25% charge on your device. Solid red means 25-50% charge on your device. Solid yellow means 50-75% charge on your device. Green means 75-100% charge on your device. When your device is fully charged (or your Alpha Pocket Charger runs out of battery). the green LED will turn off.
5000 Flashlight Charger
Your light mode is functional regardless if it is charging a device, or being charged.
| | |
| --- | --- |
| HIGH | LASTS 8 HOURS |
| MEDIUM | LASTS 48 HOURS |
| STROBE | LASTS 32 HOURS |
Safety Precautions
Your flashlight is weatherproof. Keep away from flammable objects and excessive heat.
Do not attempt to alter or modify the Alpha Pocket Charger in any way, including disassembly
If your Alpha Pocket Charger malfunctions, do not attempt to repair it yourself. Doing so will void the Tzumi Warranty and may cause physical injury or permanent damage. Instead, contact the Customer Support team at Tzumi.com/Support for assistance
Avoid Eye Injury – Do not shine the flashlight beam directly into anyone's eyes or stare directly into the beam. If this product is used improperly it could cause retina damage. This product is also not recommended for use by anyone under the age of 14. Any type of battery can release harmful chemicals, which can burn skin, clothing or the inner workings of the flashlight. TO AVOID RISK OF INJURY DO NOT EXPOSE BATTERIES TO EXTREME HEAT.
Operations
Your Alpha Pocket Charger features 3 light mode settings: High, Medium, and Strobe.
Press Power Button Once: Flashlight turns on: High mode.
Press Power Button Again (2 Times Total): Medium setting
Press Power Button Again (3 Times Total): Strobe setting
Press Power Button Again (4 Times Total): Turn Flashlight off.
To adjust the beam of light emitted from your flashlight, pull the flashlight head outward slowly. As the head is pulled from its home position, the beam will gradually turn from a FLOOD beam to a SPOT beam. Do not attempt to twist the head.
Product Specifications
Battery Capacity: 3.1V / 5000mAh (up to 2 Extra Smartphone Charges)
Input. DC5V/2A
Output: DCSV/2.1A
Brightness/Intensity: 200 Lumens
Distance: Up to 300 Ft.
Adjustable Beam: Spot and Flood Options
3 Flashlight Modes: High. Medium, Strobe
Weatherproof
Alpha Pocket Charger LED Flashlight Posner Bank. Distributed by twig kr. NY, NY, 10016. Copyright 2020 Inn Inc. All Rights Reserved. Pocket Charger is a copyrighted trademark of turn Inc. 'Phone" is a trademark of Apple Inc., registered in the U.S. and other countries. Lumen output levels of ordinary flashlights vary. Comparison Is based on a base model LED flashlight of the ajar manufacturer. Made In China.

[xyz-ips snippet="download-snippet"]