SmartThings Hub UA-HUB HUB QSG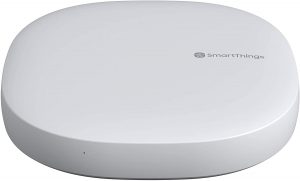 Setup
Connect the SmartThings Hub to the wall power using the supplied power cable.Tip: The SmartThings Hub works best when placed in a central location in your home. It should not be placed on top of or immediately next to other wireless devices.
Download the free SmartThings app for Android or iOS, and create an account. Select the "Add device" card and then select the "Hubs" category to connect your SmartThings Hub.
Follow the on-screen instructions in the SmartThings app to connect the Hub to your Wi-Fi network and complete setup.Tip: You can also connect the SmartThings Hub to your Wi-Fi router using the supplied Ethernet cable.
If you have any difficulty setting up your SmartThings Hub, please visit Support.SmartThings.com for assistance.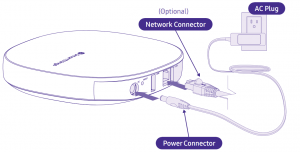 Suggestions
There are many ways that you can use a SmartThings Hub as the brain of your smart home:
Monitor, control, and help secure your home.
Automate your lights, control your home's temperature, and help save money.
Teach your home a few new tricks and make life a little bit easier.
Visit SmartThings.com/Welcome for more ideas, tips, and special offers.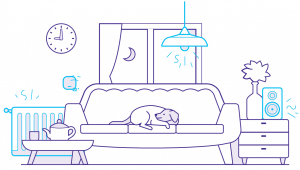 Works with SmartThings
SmartThings works with a wide range of connected devices, including lights, cameras, locks, thermostats, sensors, and more.

Look for the Works with SmartThings label next time you're buying a connected device for your home, or visit SmartThings.com to see the full list of compatible devices.

Revised 05/18. Copyright 2017. SmartThings, Inc. All rights reserved.
References
[xyz-ips snippet="download-snippet"]