H-4377 ROTARY DRUM PUMP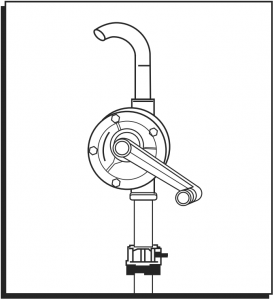 TOOLS NEEDED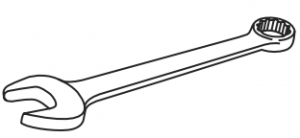 1/2″ (13 mm) Wrench       Flathead Screwdriver
SPECIFICATIONS
Pump Type                                 Rotary – VaneFlow                                           8 GPM (12 oz / Stroke)Maximum Fluid Temperature    130°F / 54°CBung Adapter                            2″ MaleSuction Tube Length                 40″ MaximumInlet                                           1¼" O.D.Outlet                                        1″ O.D. Curved SpoutWetted Parts                               PP, PVDF, PTFE, 304SS & EPDMMaximum Viscosity                    1,000 cps
OPERATING INSTRUCTIONS
IMPORTANT! This pump is made out of polypropylene, PVDF, PTFE, 304 stainless steel and EPDM. Use chemicals compatible with these materials and follow OSHA guidelines when using this pump, including proper grounding and protective gear as required. Unit not UL or FM approved.
Rotate handle clockwise several times to prime. If unit does not prime after a few turns, pouring some fluid into pump inlet may help free pump.
For siphoning, position handle straight down.
To stop siphoning, rotate handle 1/4 turn (leave handle in horizontal position).
After using pump, position handle straight down. Liquid will drain back into the container.
If pump is removed from drum, rinse it thoroughly in a liquid that is compatible with both the pump and the fluid being pumped.
Regularly check pump and suction tubes for leaks. Leaks in the suction line or in pump housing will cause inefficient pumping and loss of prime.
ASSEMBLY AND INSTALLATION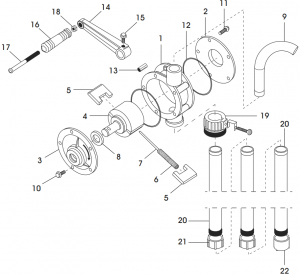 #   DESCRIPTION             QTY.1     Pump Body                          12     Rear Cover                           13     Front Cover                         14     Rotor                                   15     Vane                                    26     Spring                                  17     Spring Rod                           18     Lip Seal                                19     Discharge Spout                  110   Cap Screw                           411   Cap Screw                           612   O-Ring                                213   Hex Bridge                          214   Crank Arm                          115   Set Screw                             116   Handle                                 117   Handle Shaft                        118   Hex Nut                               119   Bung Adapter                       120   Suction Tube                        321   Tube Connector                   222   Suction Filter                        1
1. Check to see if all parts are included.2. Screw discharge spout (9) into pump body (1) outlet using PTFE sealant tape provided.
CAUTION! Do not use pipe sealant.
3. In order to avoid leakage, use PTFE sealant tape (included) to seal three suction tubes (20) with two tube connectors (21).4. Attach bung adapter (19) onto the top of the assembled suction tube. Screw assembled suction tube into pump body (1).5. Insert handle shaft (17) through handle (16). Turn hex nut (18) onto handle shaft until handle rotates freely.6. Screw assembled handle to crank arm (14). Keep handle shaft from turning. Tighten hex nut (18) against crank arm. Then insert crank arm assembly onto rotor (4), taking care to align set screw (15) to indent in rotor shaft.7. Insert assembled pump into drum and hand tighten the fixed screw onto bung adapter (19). Be sure to set pump and assembled suction tube so that the suction tube is at the desired depth in the drum and is not blocked.

1-800-295-5510uline.com
0721 IH-4377
[xyz-ips snippet="download-snippet"]