ULINE H-8174 Stainless Steel Lift Table User Manual
1-800-295-5510uline.com
TECHNICAL INFORMATION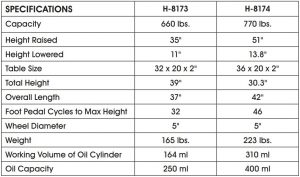 GENERAL INFORMATION
Read all instructions carefully before operating the lift table.
DO NOT overload the lift table and always operate it within the rated load. Overloading will cause damage to the lift table and the operator.
DO NOT stand or sit on the table to work.
DO NOT put hands or feet under the table when lowering.
Apply the brakes while loading to prevent the table from moving.
The load must be distributed uniformly across the whole table.
DO NOT load loose or unstable loads onto the table.
DO NOT leave the table loaded for extended periods of time.
DO NOT move the truck while lifting.
The table should only be used on flat solid surfaces.
Make sure not to overload the table when it is in the raised position. The safety valve only works as the table is lifted. Overloading in the raised position may damage the table.
When loading and unloading goods in the raised position, do not drag loads across the table. This may cause offset loading and the table may turn over.
When maintaining and repairing the table, the stand bar should be used to support the fork arm in order to prevent table from falling. There should not be a load on table while maintaining and repairing the table.
ASSEMBLY
These are folding tables. They can only be operated if the handle is in the upright position.
The foot lever is dismantled when shipped. It must be attached to lift table before operating.
FOOT LEVER INSTALLATION
Foot lever mounting: insert the foot pedal into the hole of the square bar. Fix the foot pedal with a bolt, flat washer a lock washer, and a nut. Tighten the nut with a wrench.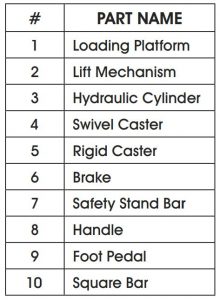 MAINTENANCE
It is very important to conduct necessary maintenance and upkeep to prolong service life and safety of the lift table. Check lift table before operation accordingly:
Check for any distortion or bending of any parts.
Check the brake and condition of the wheels.
Check for oil leakage in the hydraulic system.
Add or fill lubricant to each friction surface before daily operation.
If there is any failure, the lift table should be repaired at once before it is put into use again.
Change hydraulic oil every twelve months. Choose appropriate hydraulic oil for climate conditions.
To change the hydraulic oil:                                                                                                   a. Unscrew sealing screw with a wrench.                                                                                b. Lift the hand lever.                                                                                                             c. Twist off screw of oil plug and fill pump with hydraulic oil.
TROUBLESHOOTING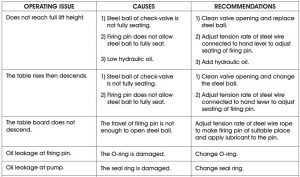 [xyz-ips snippet="download-snippet"]