Glass Protection Tape S-19223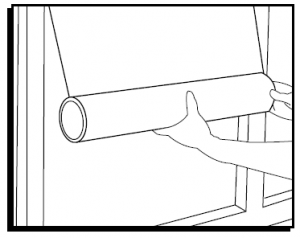 S-7588, S-9779, S-10513 S-12924, S-14523, S-19222 S-19223GLASS PROTECTION TAPE
1-800-295-5510uline.com
IMPORTANT INFORMATION
The manufacturer and distributor warrant that this product is free from defects in material and workmanship under normal use in accordance with their instructions and specifications. Their sole responsibility for any breach in this warranty is to replace that quantity of the product not conforming to such warranty. The customer is required to provide prompt written notification to the manufacturer or distributor of any defect covered by this warranty. Return or other disposition of defective material will then be authorized.
The manufacturer and distributor assume no responsibility for any loss or damage caused by: (1) any modification made to the product, (2) use of a version of the product that has been previously used or reconditioned, or (3) the use of the product in a manner inconsistent with the manufacturer's or distributor's applicable instructions and specifications.The warranty given hereunder is limited, and is given in lieu of any other express or implied conditions and warranties, including those implied by applicable law or merchantability, fitness for a particular purpose or use, and all such other conditions and warranties are hereby disclaimed.
APPLICATION INSTRUCTIONS
There are many variations in glass surfaces (windows, mirrors and high-gloss surfaces) as well as in the framework finish that may surround the glass. This makes it imperative that the user of this product determines its suitability.
Newly treated glass must be free of solvents and fully cured before any glass protection film is applied.
Test the glass protection film on a small inconspicuous area of the glass and framework if possible.
Leave in place for 48 hours and then inspect to ensure there is no change to the glass and framework.NOTE: This product is used for temporary surface protection during painting, remodeling, relocation or construction.NOTE: The temporary usage period should not exceed 45 days. This product is not recommended for use in high humidity areas. Direct sunlight may reduce the effective use time period.
Application can be made easier by locating the tab at the beginning of the roll. For best results, clean and dry the glass surface prior to application.
Pull the first few inches of the film and press to the surface.
Pull the roll over the desired coverage area.
Apply pressure to the covered area to ensure the protective film remains in place.
Store this product in a dry place, not to exceed +100° or -40°F (+38° or -4°C).
[xyz-ips snippet="download-snippet"]