ULINE S-866 Tip-N-Tell Indicators User Guide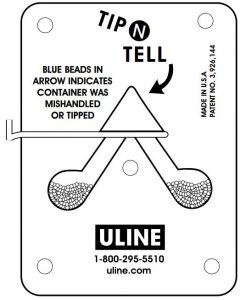 1-800-295-5510uline.com
INFORMATION
Each TIP-N-TELL comes complete with two warning labels per indicator device.
Place one warning label on the Bill of Lading to notify the carrier or consignee that the shipment contains a TIP-N-TELL warning device.
Place the second warning label visibly on your package or crate to inform handlers that the package contains this device.
TO ACTIVATE AND ATTACH TIP-N-TELL:
Hold TIP-N-Tell firmly with arrow pointing up. Do not tip during activation and mounting process.
Slowly pull out T-Bar on left side of unit until the slide stops.
Break off the T-Bar by bending the T-pin forward over the face of the indicator. NOTE: If the T-Bar slide is accidentally pulled all the way out, carefully re-insert and pull only to the stop. This will prevent beads from escaping through the slide track if the indicator is tipped.                                                              
The TIP-N-TELL has a pressure sensitive backing to firmly attach the device to your package. Peel off release liner from back of the indicator.
Firmly attach TIP-N-TELL to your package with arrow pointing up.
The TIP-N-TELL indicator is now activated.
[xyz-ips snippet="download-snippet"]