V-TAC MIRROR LIGHTS VT-7571 Installation Guide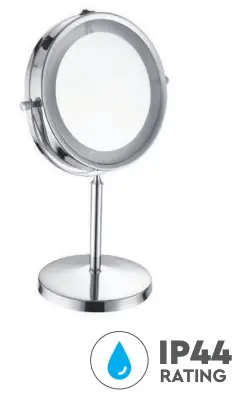 TECHNICAL DATA
| | |
| --- | --- |
| Model No: | VT-7571 |
| Watts: | 3W |
| Battery Voltage: | 5V, 4*AA (Battery Not Included) |
| Lumens: | 30lm |
| CRI/Ra: | ≥80 |
| Beam Angle: | 150° |
| Material: | Brass + SS304 + Zinc-alloy |
| Dimension: | 325*205MM |
INTRODUCTION
Thank you for selecting and buying V-TAC product. V-TAC will serve you the best. Please read these instructions carefully before starting the installation and keep this manual handy for future reference. If you have any another query, please contact our dealer or local vendor from whom you have purchased the product. They are trained and ready to serve you at the best. This product is warranted for manufacturing defects only.
IN CASE OF ANY QUERY/ISSUE WITH THE PRODUCT, PLEASE REACH OUT TO US AT: FOR MORE PRODUCTS RANGE, INQUIRY PLEASE CONTACT OUR DISTRIBUTOR OR NEAREST DEALERS. V-TAC EUROPE LTD. BULGARIA, PLOVDIV 4000, BUL.L.KARAVELOW 9B
WARNING!
Be sure that mirror is not in a position where it can reflect sunlight. Reflected light can cause fire.
Switch off before putting on or taking off parts.
Close supervision is necessary when this product is used by or near children or disabled persons.
Use this mirror only for its intended use as described in this manual.
DO NOT use attachment that is not recommended by the manufacturer.
Never drop or insert any object into any opening.
Do not use outdoors.
To disconnect, turn off the switch.
Unbroken lamps should never be put into the fire, incinerators, or trash compactors.
Do not disassemble the product to avoid damaging the internal structure.

This marking indicates that this product should not be disposed of with other household wastes.
IMPORTANT SAFETY INFORMATION
This mirror light is powered by AA battery charging, Always turn off the appliance when not in use. Do not operate where aerosol (spray) products are being used or where oxygen is being administered
FEATURES
This mirror uses copper-less mirror for high magnification with most advanced technology.
OPERATION
Switch on the power button on the top of mirror light to turn on the light. After use, switch off the power button.
Mirror light has a 4*AA battery power.
INSTALLATION INSTRUCTION
Open the cover of the mirror[with 3X sticker display on the front] and place the 4*AA battery [Not included] then put back the cover.
Switch on the power to test the light.
INSTALLATION DIAGRAM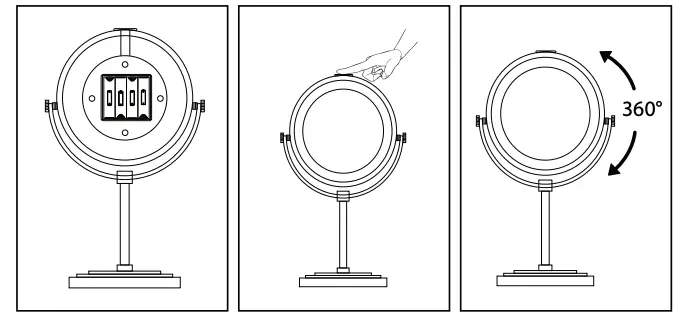 MAINTENANCE
Always turn off the mirror before cleaning.
Use only a soft damp cloth or non-abrasive cleaner to clean.
References
[xyz-ips snippet="download-snippet"]