veho STIX II True Wireless Earphone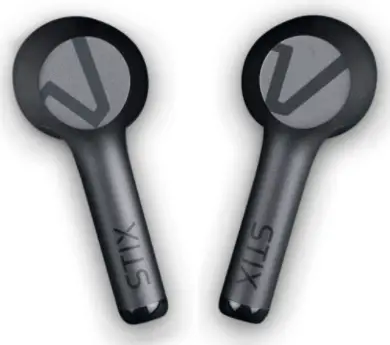 This manual is available in pdf format print from: veho-world.com/downloads
Guide to STIX II earphones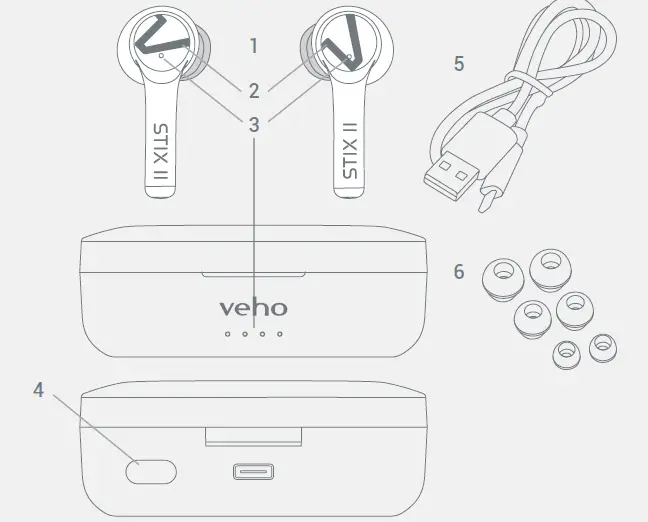 STIX II earphones
MFB smart touch
LED indicators
Battery test button
USB-C charging cable
Earbuds
Charging the case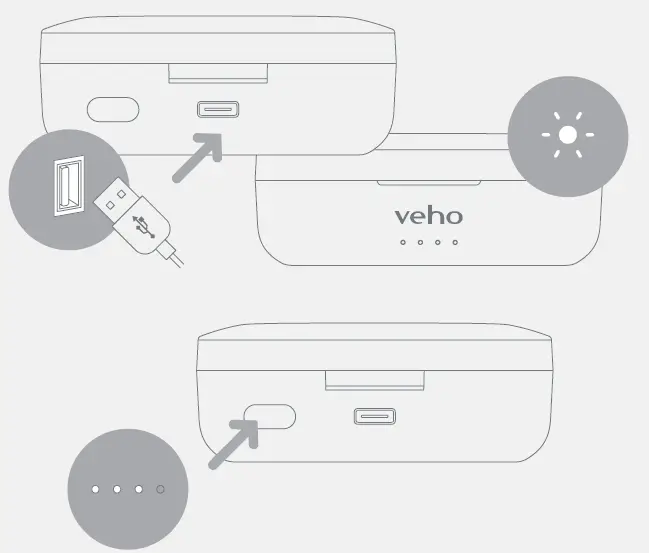 Charging the case The LED indicator on the case will flash white when charging, turning solid white once fully charged. The battery button displays the remaining charge, each LED represents 25% of battery life.
Charging the earphones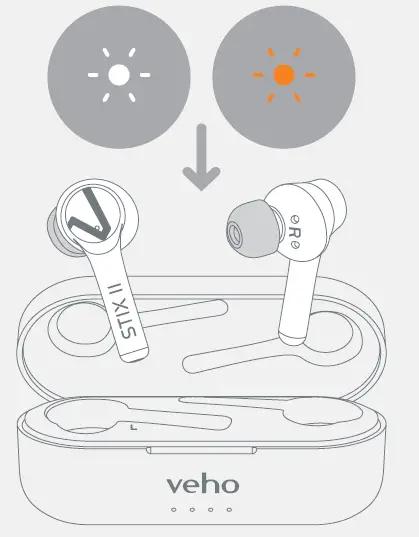 The LED indicator on the earphones will turn white when charging and turn off automatically once fully charged. When the battery is low the STIX II will beep and the LED will flash orange.
Pairing to each other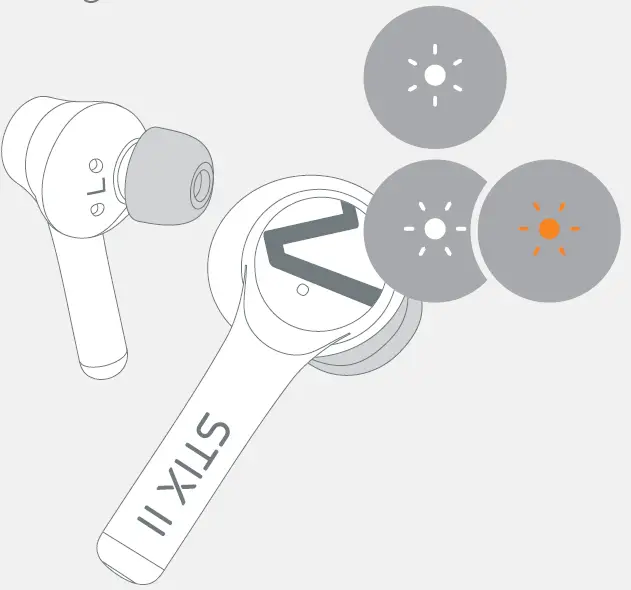 STIX II automatically pair to each other when switched on. The LEDs flash white when pairing, once successfully paired the right earphone LED will flash between white and orange.
Pairing with a device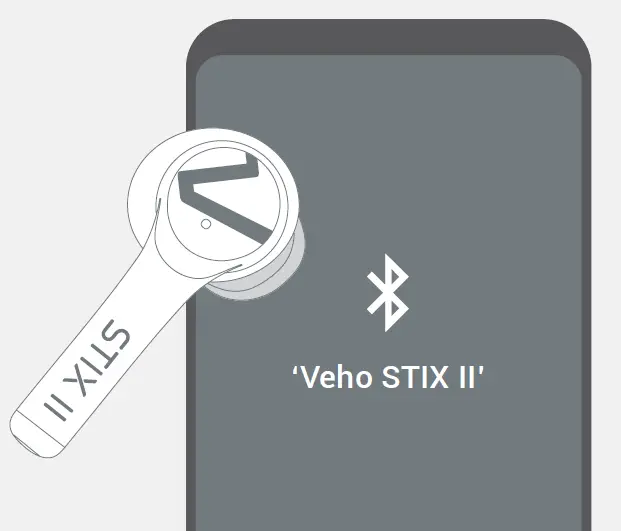 Pairing with a device On your device select 'Veho STIX II' from the Bluetooth® menu, you will hear a success tone when pairing is successful.
Power on/off
Touch and hold each STIX II for 3 seconds to turn on. You will hear a tone when the earphones switch on. Touch and hold for 5 seconds to turn off.
Play/pause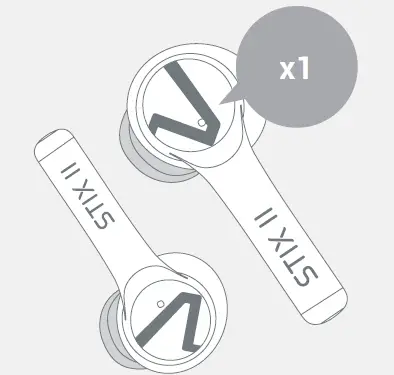 Tap either STIX II once to play, tap once again to pause.
Skipping tracks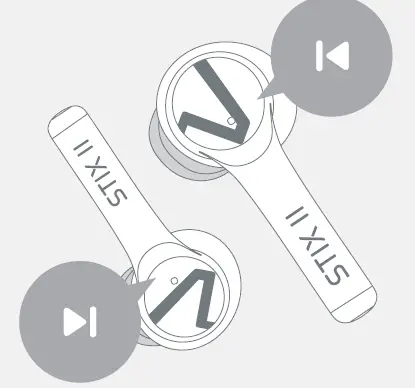 Double tap the right STIX II to skip to the next track. Double tap the left STIX II to skip to the previous track.
Answering incoming calls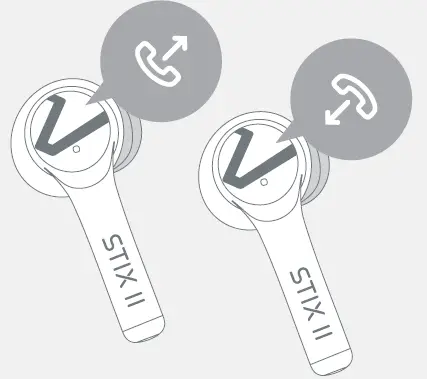 Tap the right STIX II once to answer a call, tap once again to end the call.
Rejecting incoming calls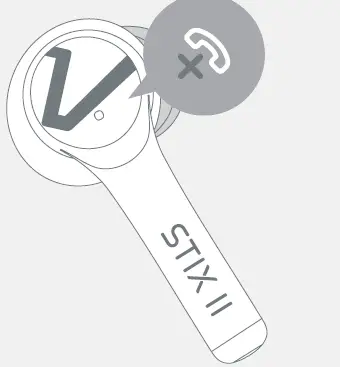 Tap and hold the right STIX II for 2 secs.
Using Siri or Google Assistant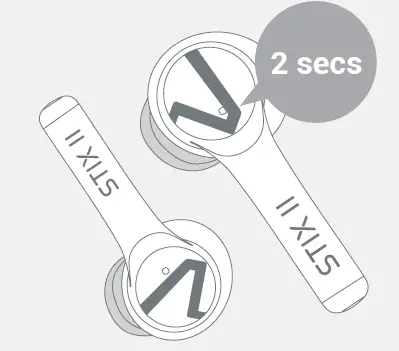 Press and hold either of the earphones for 2 seconds.
If you have more than one pairs of STIX II at home use the coloured dots to label the STIX II charging case for easy identification.
Specifications
Chipset Airoha 1562M
Bluetooth version V5.1
Frequency 20Hz-20KHz
Speaker size 6mm
Charge port USB-C
IPX rating IPX5
Microphone Dual microphone/ Hall Switch
Case battery 420mAh
Case battery life Fully charged up to 4.5 hours
Case charge time Up to 2 hours
Earphone battery 40mAh x 2
Earphone charge time Up to 45 minutes
Earphone play time Up to 5 hours
Working distance Up to 12 meters (39 ft)
Only use the charging cable supplied with the STIX II earphones and carry case to charge the STIX II, ensure you use a compatible power source.
DECLARATION OF CONFORMITYHereby, Veho UK LTD declares that the radio equipment type (VEP-210-STIX2-B, VEP-211-STIX2-A, VEP-212-STIX2-G) is in compliance with Directive 2014/53/EU. The full text of the EU Declaration of Conformity is available at https://veho-world.com/compliance/ Frequency band(s) – 2.402-2.480GHZ, 2.4G ISM band Maximum radio-frequency power – 8dB.
This symbol, affixed to the product or its packaging, indicates that the product must not be processed as household waste. This product should be correctly disposed of according to your local guidelines for electrical and battery operated products. Correct disposal of the battery will avoid potential harm to the environment and human health. For further information regarding the recycling of this product, please contact your local waste recycling centre.
References
[xyz-ips snippet="download-snippet"]