ViewBoard IFP50-3 seriesCommercial Touch Displayquick Start Guide
Package Contents
Power cable (ship by region)
RS232 adapter
Remote control
Clamp x 5
AAA battery x 2
Camera Plate

USB cable
Screw
Touch Pen
Signal cable compatible with
Quick start guide
HDMI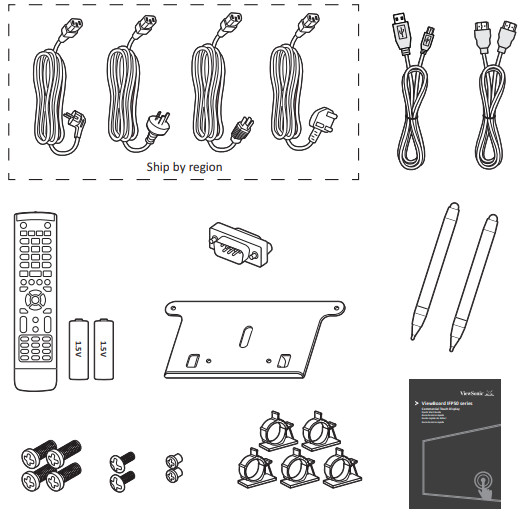 Wall Mount Kit Specifications (VESA)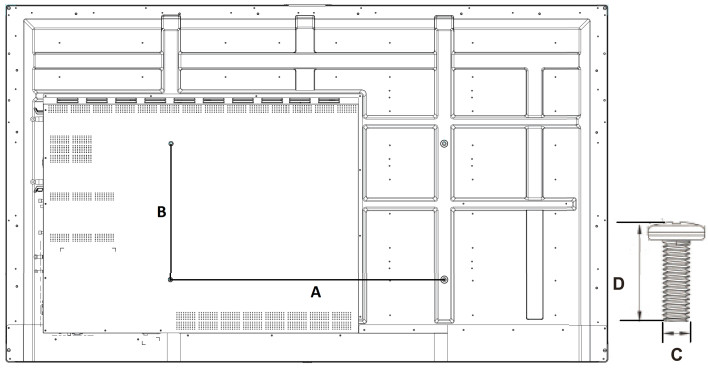 inch
VESA Spec. (A x B)
Standard Screw (C x D) Quantity
IFP5550 – 55″
400 x 200 mm
M8 x 25 mm
4
IFP6550 – 65″
600 x 400 mm
M8 x 25 mm
4
IFP7550 – 75″
800 x 400 mm
M8 x 25 mm
4
IFP8650 – 86″
800 x 600 mm
M8 x 25 mm
4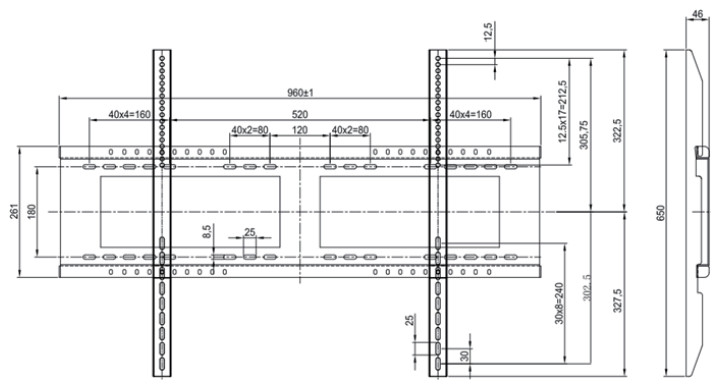 Installation Environment Attention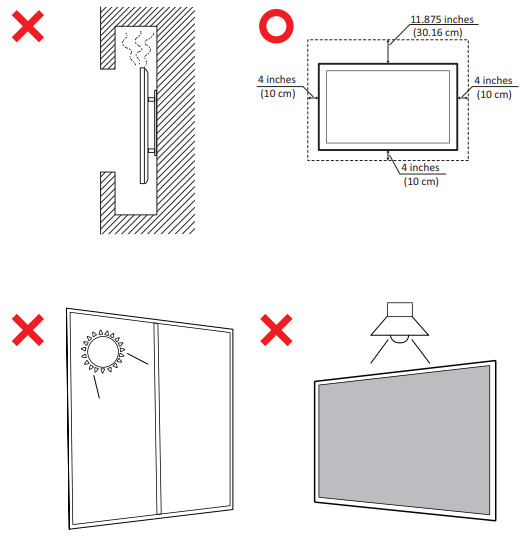 Control Panel Overview

| | |
| --- | --- |
| Item | Description |
| 1 | Press the key to turn on the devicePress the key to turn off/on the display backlight only Press and hold the key to turn off the device |
| 2 | Back to Embedded player main interface |
| 3 | Return to Embedded player previous level |
| 4 | Call up the function menu |
| 5 | Decrease volume |
| 6 | Increase volume |
| 7 | USB port for Embedded Player and internal PC |
| 8 | Receives signals from the remote control |
I/O PORT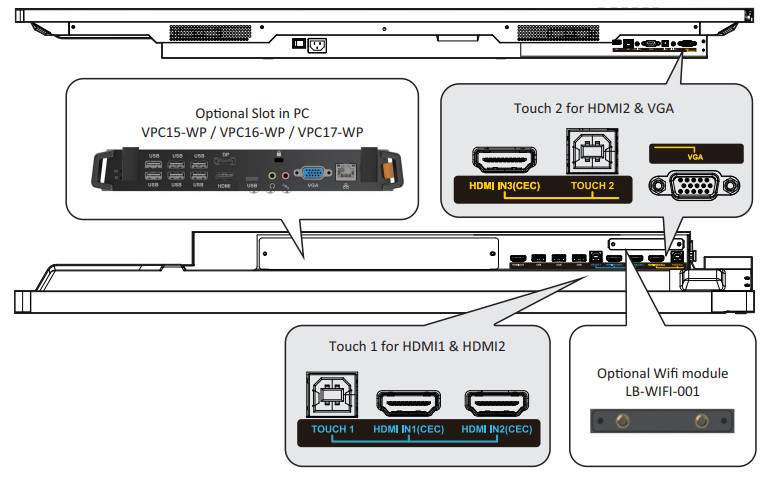 Remote Control Overview
| | | |
| --- | --- | --- |
| 1.Press to turn the display ON/OFF2.Mute / Unmute3. DISPLAYDisplay information of the current input source4. P.MODEBlank screen5. FREEZEFreeze screen6. Numeric buttonNumeric input button7.-/–ALT+TAIBPress to switch between PC applications8.0Numeric input button9.ALT44Close current PC window10. INPUTSource selection button11. MENUPress to display Menu12.RED+ ALTScreencapture13.GREEN+ TABPC Tab' button14. YELLOW+DESKTOPSwitch to slot in PC desktop15.BLUE+BACHSPACEPC 'Backspace button16. START/ D. MENUPC 'Windows' button17./DTITLEPC 'Menu' button18.Press to scroll up O 419.Press to scroll left20. Press to scroll right21.Press to scat down | 22. ENTEREnter button. Press it to select options.23./D.USBWriting software startup24.ESC / EXIT / D. SETUPShortcut button to exit dialog boxes25. EPGBack26. FAV / SPACEPC Space button27. CH.+/ CH. –CH+: PC previous pageCH–: PC next page28.VOL- / VOL-Increase / Decrease volume29. F1Windows F1 Function30. F2Windows F2 Function31. F3Windows F3 function32. F4Windows F4 Function33. F5Windows F5 Function34. F6Windows C6 unction35 .F7Windows F7 Function36. F8Windows C8 function37. F9Windows F9 function38. F10Windows F10 Function39. F11Windows F11 Function40. F12Windows F12 Function | |
Connecting an External PC
To display video and sound from an external PC follow the instructions below:Note: External PCs can also be connected to the display via HDMI cable.• Connect a VGA cable (15-pin) from your external PC to the VGA IN port on the display.• Connect an audio cable from the AUDIO OUT port on your external PC to the AUDIO IN port on the display.
Connect a USB cable to the external PC from the TOUCH OUT port of the display. Note: For optimal results, select 1920x1080p as the external computer's input resolution.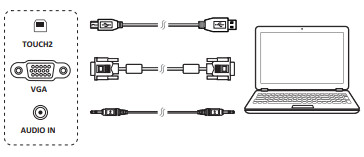 RS232 Connections
When you use an RS232 serial port cable to connect your display to an external computer, certain functions can be controlled by the PC, including power on/off, volume adjustment, and more.
Connecting USB Peripherals
USB Peripherals: Plug the USB device cable into the USB IN port.
Networking and modem cables: Plug the router cable into the LAN IN port. 3. Microphone: Plug the microphone cable into the MIC port.
HDMI Connections

 Start to Use
Compliance Statement
FCC Compliance Statement: This device complies with part 15 of FCC Rules. Operation is subject to the following two conditions: (1) this device may not cause harmful interference, and (2) this device must accept any interference received, including interference that may cause undesired operation. Industry Canada ICES-003 Compliance: CAN ICES-3 (B)/NMB-3(B)

ViewSonic Corporation (US/Canada/Latin America)

: www.viewsonic.com/support/product-registration

united states

1-800-688-6688

 [email protected]
Canada

 1-866-463-4775

 [email protected]
Puerto Rico & Virgin Islands

http://www.viewsonic.com/la/soporte/servicio-tecnicoLatin America

http://www.viewsonic.com/la/soporte/servicio-tecnico-la/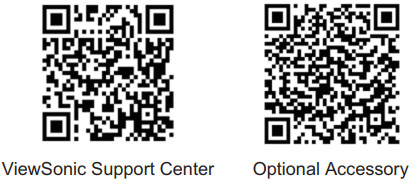 https://www.viewsonic.com/us/customer-service#
IFPSO-3 series_QSG_1b_ENG_20200210Copyright 0 2019 ViewSonk Corporation. All rights reserved.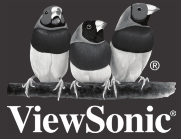 [xyz-ips snippet="download-snippet"]