vtech 21000933 My Friend Fawn User Guide
VTech understands that a child's needs and abilities change as they grow and with that in mind we develop our toys to teach and entertain at just the right level…
vtech Baby
Toys that will stimulate their interest in different textures, sounds and colours
I am…
…responding to colours, sounds and textures
…understanding cause and effect
…learning to touch, reach, grasp, sit-up, crawl and toddle
Bith-36 month
Pre-School
Interactive toys to develop their imagination and encourage language development
I want…
…to get ready for school by starting to learn the alphabet and counting …my learning to be as fun, easy and exciting as can be
…to show my creativity with drawing and music so my whole brain develops
3-6 Years
Electric Learning Computer
Cool, aspirational and inspiring computers for curriculum related learning
I need…
…challenging activities that can keep pace with my growing mind
…intelligent technology that adapts to my level of learning
…National Curriculum based content to support what I'm learning at school
4-10 Years
INTRODUCTION
Introducing My Friend Fawn by VTech! This adorable, cuddly little friend is designed to comfort your little one. Fawn easily transforms from a soothing blanket to a dummy and teether holder with a variety of soft fabrics that provide comforting tactile stimulation.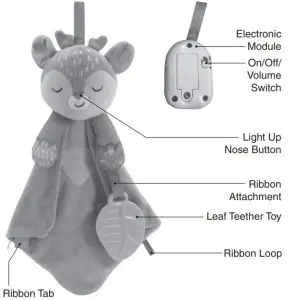 INCLUDED IN THIS PACKAGE
My Friend Fawn
Leaf Teether Toy
Parent's Guide
WARNINGAll packing materials such as tape, plastic sheets, packaging locks, removable tags, cable ties, cords and packaging screws are not part of this toy and should be discarded for your child's safety.
NOTEPlease keep this Parent`s Guide as it contains important information.
GETTING STARTED
Battery Removal and Installation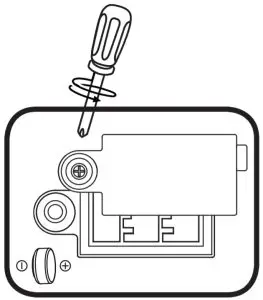 Make sure the unit is turned Off.
Find the battery cover on the back of the Electronic Module inside the fawn.Use a screwdriver to loosen the screw and then open the battery cover.
Remove old batteries by pulling up on the side of each button cell battery.
Install 3 new LR44 batteries following the the diagram inside the battery box.
Replace the battery cover and tighten the screw to secure.
WARNING
This product contain one or more button cells or coin batteries. If swallowed, a button or coin cell battery can cause internal chemical burns in as little as two hours and can lead to death. Dispose of used batteries immediately. Keep new and used batteries away from children. If you think batteries might have been swallowed or placed inside any part of the body, seek immediate medical attention, and go straight to the nearest hospital emergency department.
Australia/New Zealand
If you think batteries might have been swallowed or placed inside any part of the body, immediately call the 24-hour Poisons Information Centre on 13 11 26 (in Australia) or 24-hour National Poisons Centre on 0800 764 766 (in New Zealand) for fast, expert advice and go straight to the nearest hospital emergency room.
BATTERY NOTICE
Use three LR44 alkaline button cell batteries only for this toy.
The button cell batteries used with this product should be kept away from small children who might still put things in their mouths. If the button cell battery is swallowed, consult a doctor immediately.
Insert the button cell batteries with the correct polarity (+ and -).
Do not use damaged button cell batteries.
Do not short-circuit the button cell battery terminals.
Remove the exhausted battery cell battery from the toy.
Remove the button cell batteries during long periods of non-use.
Do not dispose of button cell batteries in fire.
Do not charge a non-rechargeable button cell battery.
Do not mix old and new batteries.
Do not mix different types of batteries: alkaline or standard (silver oxide).
Disposal of batteries and product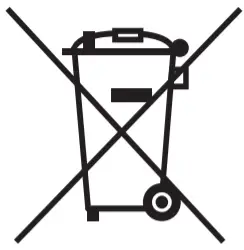 The crossed-out wheelie bin symbols on products and batteries, or on their respective packaging, indicates they must not be disposed of in domestic waste as they contain  substances that can be damaging to the environment and human health.
The chemical symbols Hg, Cd or Pb, where marked, indicate that the battery contains more than the specified value of mercury (Hg), cadmium (Cd) or lead (Pb) set out in Battery Directive (2006/66/EC).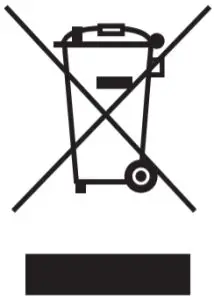 The solid bar indicates that the product was placed on the market after 13th August, 2005.Help protect the environment by disposing of your product or batteries responsibly.
VTech® cares for the planet.
Care for the environment and give your toy a second life by disposing of it at a small electricals collection point so all its materials can be recycled.
In the UK:Visit www.recyclenow.com to see a list of collection points near you.
In Australia & New Zealand:Check with you local council for kerbside collections.
CAUTION
Adult assembly required. For your child's safety, do not let your child play with the toy until it is fully assembled.
INSTRUCTIONS FOR WASHING
The My Friend Fawn is machine washable. Please remove the Electronic Module from the fawn before cleaning.
Open the hook-and-loop closure on the back of the fawn and remove the Electronic Module.
Follow the care instructions on the fabric tag.
After washing, re-insert the Electronic Module and secure the hook-and-loop closure.
PRODUCT FEATURES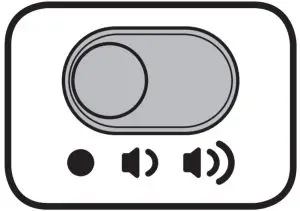 On/Off/Volume SwitchTo turn the unit On, slide the On/ Off/Volume Switch located on the Electronic Module to the Low or High volume position. You will hear a sing-along song, a welcoming phrase and sounds. To turn the unit Off, slide the On/Off/Volume Switch to the Off  position.
Automatic Shut-OffTo preserve battery life, the My Friend Fawn will automatically shut off after each audio response. The unit can be turned on again by pressing the Light Up Nose Button.
NOTEIf the unit powers down or if the light fades out during play, please install a new set of button cell batteries.
ACTIVITIES
Light Up Nose ButtonPress the fawn's Light Up Nose Button to hear a variety of soothing melodies and gentle nature sounds. Press and hold the Light Up Nose Button to hear sweet sounds and loving phrases. The light will flash with the voice and fade in and out with the music and sounds.
Ribbon Attachment and Teether ToyUse the included leaf-shaped Teether Toy to provide your child with oral sensory stimulation, or attach your own dummy using the RibbonAttachment.NOTEBefore using the Teether Toy for the first time and after each use, wash with warm soapy water, then rinse. DO NOT use boiling water, steam, a microwave or dishwasher to clean the Teether Toy.
Fold Up FawnTransform the fawn blanket into a fabric fawn to cuddle.
Folding Instructions
To change the fawn to a fabric toy, please follow these steps:
Lay the fawn flat, then fold the bottom point of the square back and in half to form a triangle.
Fold the right side in, then fold the left side on top, tucking the arms inside.
Secure the blue Ribbon Loop from the right side over the Ribbon Tab on the left.
Attach the included Teether Toy or a dummy (sold separately) to the Ribbon Attachment with the hookand-loop closure.
MELODY LIST
Toyland
Twinkle, Twinkle, Little Star
Bicycle Built for Two
Weber – Cradle Song
Tchaikovsky – Sleeping Beauty Waltz
Diddle, Diddle, Dumpling
Beethoven – Für Elise
Grandfather's Clock
White Coral Bells
Good Morning Merry Sunshine
London Bridge
Hickory, Dickory, Dock
Listen to the Mockingbird
Hey, Diddle, Diddle
Shannon – Irish Lullaby
Mary Had a Little Lamb
Rock-A-Bye Baby
Did You Ever See a Lassie?
Sailing, Sailing
Debussy – Clair de Lune
Home Sweet Home
Little Bo Peep
Little Miss Muffet
Teddy Bears' Picnic
Hush, Little Baby
SONG LIST
Song 1Play time, nap time,I'm ready for some cuddle time.
Song 2You and me, together we'll be,Best friends for ever.Let's have a great big hug.
Song 3Twinkle, twinkle, little star,How I wonder what you are.
CARE & MAINTENANCE
Keep the unit clean by wiping it with a slightly damp cloth.
Keep the unit out of direct sunlight and away from any direct heat sources.
Remove the button cell batteries if the unit will not be in use for an extended period of time.
Do not drop the unit on a hard surface and do not expose the unit to excess moisture.
The fawn is machine washable. Please remove the Electronic Module before cleaning and follow the washing instructions on the tag.
TROUBLESHOOTING
If for some reason the unit stops working or malfunctions, please follow these steps:
Please turn the unit Off.
Interrupt the power supply by removing the batteries.
Let the unit sit for a few minutes, then replace the batteries.
Turn the unit On. The unit should now be ready to play again.
If the unit still does not work, install a new set of batteries.
CONSUMER SERVICES
Creating and developing VTech products is accompanied by a responsibility that we at VTech take very seriously. We make every effort to ensure the accuracy of the information, which forms the value of our products. However, errors sometimes can occur. It is important for you to know that we stand behind our products and encourage you to call our Consumer Services Department with any problems and/or suggestions that you might have. A service representative will be happy to help you.
UK Customers:Phone: 0330 678 0149 (from UK) or +44 330 678 0149 (outside UK)Website: www.vtech.co.uk/support
Australian Customers:Phone: 1800 862 155Website: support.vtech.com.au
NZ Customers:Phone: 0800 400 785Website: support.vtech.com.au
PRODUCT WARRANTY/CONSUMER GUARANTEES
UK Customers:Read our complete warranty policy online at vtech.co.uk/warranty.
Australian Customers:
VTECH ELECTRONICS (AUSTRALIA) PTY LIMITED – CONSUMER GUARANTEES
Under the Australian Consumer Law, a number of consumer guarantees apply to goods and services supplied by VTech Electronics (Australia) Pty Limited. Please refer to vtech.com.au/consumerguarantees for further information.
Visit our website for more information about our products, downloads, resources and more.
www.vtech.co.ukwww.vtech.com.au
TM & © 2020 VTech Holdings Limited.All rights reserved.Printed in China.www.vtech.co.ukwww.vtech.com.au91-003924-001 UK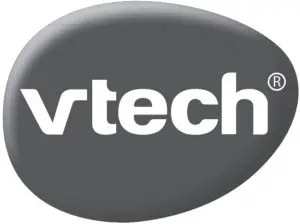 References
[xyz-ips snippet="download-snippet"]