VUZIX 494T00011 Blade Smart Glasses

Box Contents
Carrying Case
Blade
Microfiber Cleaning Pouch
Bluetooth Headset
Wired Headphone Adapter
Micro USB Cable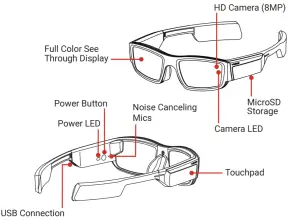 Charging and Power On and Off
Your Blade is shipped with a partial charge. It is recommended that the battery be fully charged for first time use.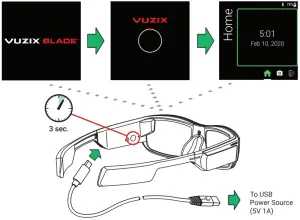 Power On
press and hold the power button for three seconds
Power Off
press and hold the power button for three seconds
select Power Off from the menu (one-finger tap on touchpad)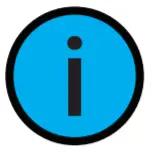 When starting your Blade for the first time, initial boot can take several seconds.
Basic Gestures
The touchpad allows for interaction with the Vuzix Blade. Taps and swipes are the primary gestures.
Tap (one-finger)
turn on display
wake up if in sleep mode
select an item (app, item or feature)
perform action
Swipe (one-finger)
navigate apps
navigate actions
navigate photos / videos
Advanced Gestures
Two-Finger Tap
move backward
close action bar
close apps
Two-Finger Hold One Second
return to home
One-Finger Hold One Second
open menu, if available
One-Finger Swipe Up / Down
navigate vertical lists
Two-Finger Swipe Up / Down
increase or decrease volume
Two-Finger Swipe Forward
delete action
clear current notification
delete media
add space
Two-Finger Swipe Backward
backspace
available gesture definable within app
Two-Finger Swipe Down, Hold One Second
mute
Three-Finger Tap
turns off the display and puts device to sleep
Three Finger Hold One Second
access virtual assistants on Blade
BladeOS
A list of apps is displayed horizontally allowing users to view different product features. One app is displayed at a time. Swipe the touchpad forward or backward to navigate through the app list.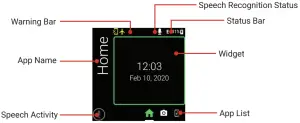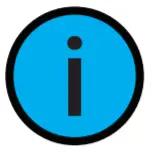 BladeOS has a built-in keyboard for character entry when needed. For in-depth information on this and other BladeOS features, refer to the online User's Manual at www.vuzix.com/support/blade-smart-glasses
Companion App
Download and install the Vuzix Blade Companion App from the App Store or Google Play.
Apple App Store Link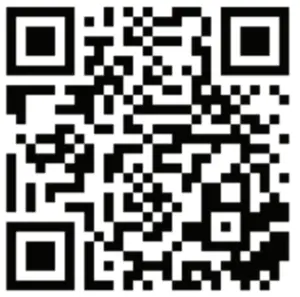 Once installed, tap Start Setup and follow the instructions on the screen to connect your iOS or Android smart phone with your Blade.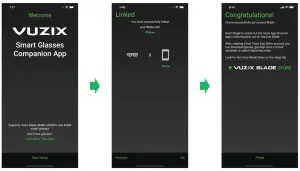 Vuzix App Store
Once linked to your phone, you can install Apps from the Vuzix App Store.
Once you login (or create an account if you do not have one) you will be able to install additional apps from the store.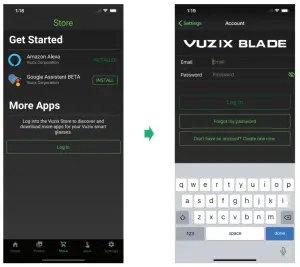 Keeping Vuzix Blade Clean and Safe
Treat your Blade as you would any quality eyewear. It is mostly maintenance free and requires only to be wiped down periodically.
Use only the included microfiber pouch or equivalent microfiber cloth.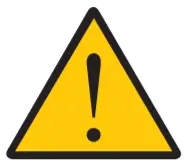 CAUTION: Do not spray with cleaners. If required, use a microfiber cloth moistened with standard eyeglass cleaner. Avoid drips or spills. Solvents, household cleaners and paper towels should never be used on your Blade.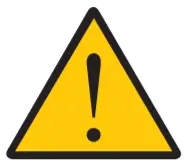 CAUTION: Do not pack loose objects in the zipper case with the Blade. Loose objects may rattle and cause damage.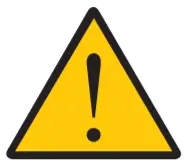 CAUTION: Vusi Blade is not water resistant. Avoid submerging and exposure to moisture. Excessive moisture will damage the Blade.
Learning More
Please register your Vuzix Blade AR Smart Glasses on our Vuzix App Store https://www.vuzix.com/Account/Register. You can also register as a developer in the Developer Center at www.vuzix.com/developers. As a developer, registration gives you access to Vuzix's suite of developer tools including product documentation, sample code, and more.
For information on pairing Bluetooth headphones, connecting to Wi-Fi networks, and other features, please refer to the developer center or user manual.
Visit www.vuzix.com/support/blade-smart-glasses to reference the comprehensive online User's Manual.
Visit www.vuzix.com/contact for technical support and other Vuzix contacts.
For safety, warranty and regulatory information, go to the Vuzix legal page at www.vuzix.com/support/legal
Additional information on the Vuzix Blade AR Smart Glasses is available at vuzix.com vuzix.eu vuzix.jp
© Vuzix 2020. This quick start guide is subject to change. Before using this product please read the online safety instructions at www.vuzix.com/support/safety-warranty-blade All trademarks belong to the respective owners.
447PB0002 (0007)-QUICK START GUIDE, BLADE, US

References
[xyz-ips snippet="download-snippet"]