RoKUTV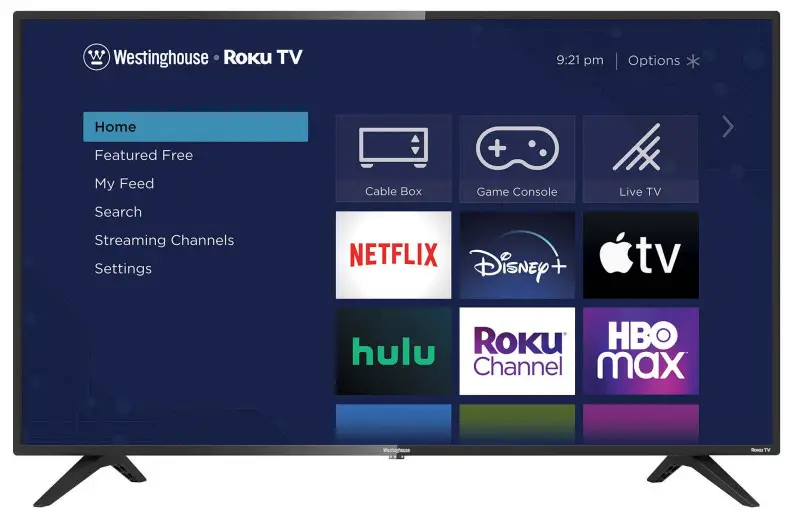 QUICKSTART GUIDE
IMPORTANT SAFETY INSTRUCTIONS
Read these instructions — All the safety and operating instructions should be read before this product is operated.Keep these instructions — The safety and operating instructions should be retained for future reference.Heed all warnings — All warnings on the appliance and in the operating instructions should be adhered to.Follow all instructions —All operating and use instructions should be followed.Do not use this apparatus near water — The appliance should not be used near water or moisture – for example, in a wet basement or near a swimming pool and the like.
Clean only with a dry cloth.
DO NOT:
Block any ventilation openings. Always install in accordance with the manufacturer's instructions.
Install near any hear sources such as radiators, heat registers, stoves, or other apparatus (including amplifiers) that produce heat.
Use a polarized plug for this television. A polarized plug has two blades with one wider than the other. A grounding-type plug has two blades and a third grounding prong. The wide blade (or third prong) are provided for your safety. If the provided plug does not fit into your outlet, consult an electrician for a replacement of the obsolete outlet
Protect the power cord from being walked on or pinched, particularly at plugs, convenience receptacles, and the point where they exit from the apparatus.
Only use attachments/accessories specified by the manufacturer.
Use only with the cart, stand, tripod, bracket or table specified by the manufacturer,or sold with the apparatus. When a cart is used, use caution when moving the cart apparatus combination to avoid injury from tip-over.
Unplug this apparatus during lightning storms or when unused for long periods of time.
Refer all servicing to qualified service personnel. Servicing is required when the apparatus has been damaged in any way, such as the power-supply cord or plug is damaged, liquid has been spilled or objects have fallen into the apparatus, the apparatus has been exposed to rain or moisture, does not operate normally, or has been dropped.
Keep unit in a well-ventilated environment.
WARNING:
To reduce the risk of fire or electric shock, do not expose this apparatus to rain or moisture. The apparatus should not be exposed to dripping or splashing. Objects filled with liquids, such as vases should not be placed on the apparatus.
The batteries shall not be exposed to excessive heat such as sunshine, fire, or the like.
The main plug is used as a disconnect device, the disconnect device shall remain readily operable.
To reduce the risk of electric shock, do not remove the cover (or back) as there are no user-serviceable parts inside. Refer servicing to qualified personnel.


This symbol is intended to alert the user to the presence of non-insulated "dangerous voltage" within the product's enclosure that may be of sufficient magnitude to constitute a risk of electric shock.

This symbol is intended to alert the user to the presence of important operating and maintenance instructions in the literature accompanying the appliance.
This equipment is a Class II or double insulated electrical appliance. It has been designed in such sway that it does not require a safe connection to electrical earth.

This product contains electrical or electronic materials. The presence of these materials may, if not disposed of properly, have potential adverse effects on the environment and human health. The presence of this label on the product means it should be disposed of as unsorted waste and must be collected separately. As a consumer, you are responsible for ensuring that this product is disposed of properly.

The terms HDMI and HDMI High -Definition Multimedia Interface,and the HDMI Logo are trademarks or registered trademarks of HDMI Licensing Administrator, Inc in the United States and other countries.
Supplier's Declaration of Conformity47 CFR § 2.1077 Compliance Information
Responsible Party — US contact informationCompany: Tongfang Global IncAddress: 6255 Providence Way,Eastvale,CA 92880Tel: (800)-701-0680FCC Compliance Statement (Products subject to Part 15)This device complies with Part 15 of the FCC Rules. Operation is subject to the following two conditions:(1)This device may not cause harmful interference, and(2)This device must accept any interference received, including interference that may cause undesired operation.

FCC STATEMENT
This device complies with Part 15 of the FCC Rules. Operation is subject to the following two conditions:
This device may not cause harmful interference, and
This device must accept any interference received, including interference that may cause undesired operation. Changes or not expressly approved by the party responsible for compliance could void the user's authority to operate the equipment.
NOTE: This equipment has been tested and found to comply with the limits for a Class B digital device, pursuant to Part 15 of the FCC Rules. These limits are designed to provide reasonable protection against harmful interference in a residential installation. This equipment generates uses and can radiate radio frequency energy and, if not installed and used in accordance with the instructions, may cause harmful interference to radio communications. However, there is no guarantee that interference will not occur in a particular installation. If this equipment does cause harmful interference to radio or television reception, which can be determined by turning the equipment off and on, the user is encouraged to try to correct the interference by one or more of the following measures:
Reorient or relocate the receiving antenna.
Increase the separation between the equipment and receiver.
Connect the equipment into an outlet on a circuit different from that to which the receiver is connected.
Consult the dealer or an experienced radio/TV technician for help.
FCC Radiation Exposure Statement
This equipment complies with FCC radiation exposure limits set forth for an uncontrolled environment.This equipment should be installed and operated with a minimum distance of 20cm between the radiator & your body.
This Quick Start Guide is provided so that you can properly set up your new TV.
PACKAGE CONTENT
*The picture is for reference only, subject to the actual product.
Need help?

If you encounter any issues during installation contact us atthe number below before returning to the store.

TECH SUPPORT

(800) 701-0680 tech support a westinghouseelectronics.com westinghouseTV-support.com
–   Phillips screw driver that you need (not included)–   Wireless router (needed for streaming)–   Internet connection (needed for streaming)–   Computer, tablet, or smartphone (needed for setup)For additional support, please refer to User Manual and Westinghouse Customer Support athttp://go.rokuscom/tvmanualhttp://westinghouseelectronics.com/support/
Key things to know: A paid subscription or other payments may be required for some streaming channel content. Channel availability is subject to change and varies by country.
INSTALLING THE TV STAND
It is recommended two people handle TV stand installation.To prevent scratch or damage to the TV screen, place the TV on a soft, flat surface.

Attach the stands to the bottom of the TV by inserting the stand into slots on the TV. Secure the stands to the TV with the supplied screws.
To attach the left and right leg that forms the stand:
Place the legs into the bottom slots of the TV, insert and tighten the screws (found in the accessories bag) in the circled areas with the screwdriver (not provided).
 After securing the stand, place the TV on a stable surface. The TV is ready for use now.Note: TV can also be wall-mounted. Wall-mount sold separately.*The picture is for reference only, subject to the actual product.
LOCATION OF CONNECTORS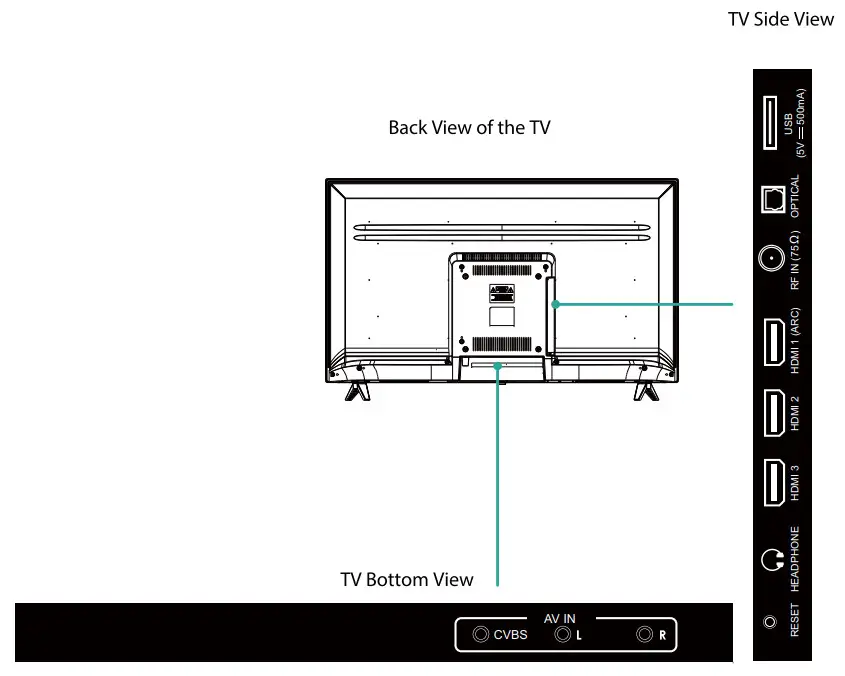 CONNECTING DEVICES TO YOUR TV
Westinghouse recommends using the best-quality video connection for your Cable Box, Satellite Receiver, Blu-ray, DVD player, Game box, or any other device starting with HDIVII®.

CAUTIONDisconnect the power cord before connecting the device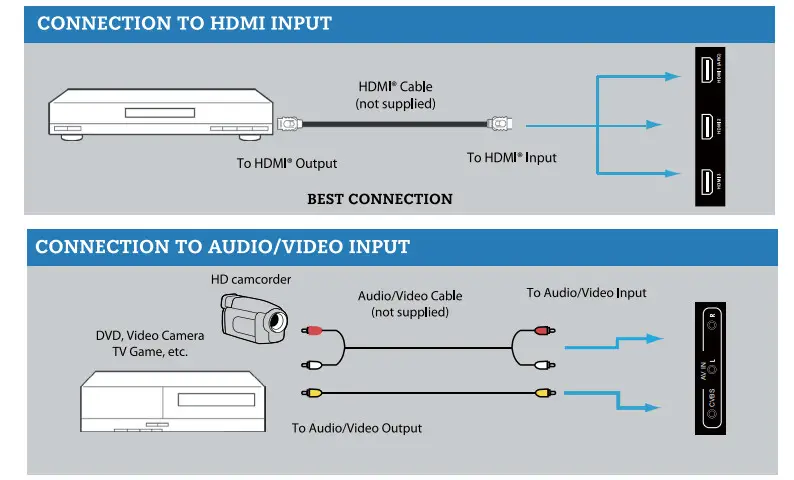 HDMI is a trademark of HDMI Licensing LLC in the United States and other countries.
SETTING UP YOUR TV
Place batteries in remotePower your TV remote by inserting the included batteries carefully matching(+) and (-) indicated inside the battery compartment.Tip: Always replace dead batteries with two brand-new batteries from the same manufacturer. Never use damaged batteries. If your remote gets warm/hot during use, discontinue use and contact customer support immediately at http://westinghouseelectronics.com/support/
Plugin and turn on the TVConnect your power cord to the TV, then plug it into the wall outlet. Press the power button on your TV remote control.*The picture is for reference only, subject to the actual product.
Follow the on-screen instructionsOnce your Roku TV powers on, follow the on-screen instructions. Your Roku TV will walk you through the initial setup and help connect to your preferred wireless network. Your TV will automatically detect wireless networks in your area. Have your network name and password handy and follow the easy on-screen instructions. Once connected your TV will automatically update with the latest software. This can take a few minutes to update. If you aren't ready to connect your TV to a wireless network, you can still use it as a regular TV.NOTE: Roku does not charge for activation support — beware of scams. Channels are subject to change, vary by region, and may require payment.
Activate your smart TVActivate your Roku TV using your computer, smartphone, or tablet to link to a Roku account. You need a Roku account to activate your Roku TV and access entertainment across thousands of streaming channels. Roku accounts are free and while a valid credit card number is not required to create a Roku account, saving your credit card information makes renting and purchasing entertainment from the Roku Channel Store fast and convenient.
CONNECT AN ANTENNA (OPTIONAL)
Check to ensure that you have selected the right cables for the ports and that they are connected securely. Loose connections can affect the quality of the picture image and color. (Cables and External Equipment not included.)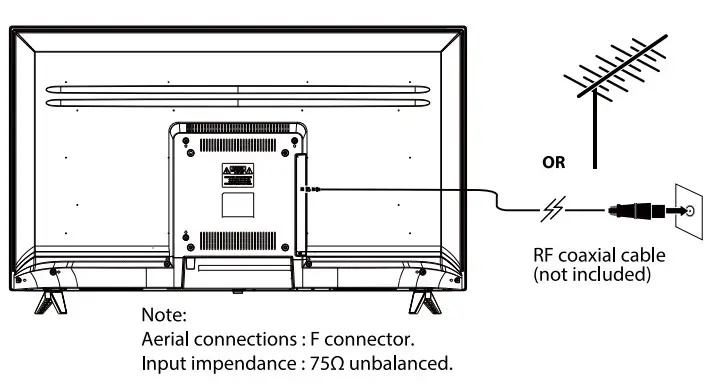 With the tuner built-in, you can connect your TV to an antenna and enjoy over-the-air entertainment.
When the setup wizard is complete select the Live TV icon from the home screen.
Follow the on-screen instructions.
Whenever you want to watch Live TV, select the Live TV icon.
REMOTE CONTROL
The Roku TV remote should feel right at home in your hand. We designed it to be incredibly intuitive for watching TV and navigating on-screen menus.
Tip: The The * gives you easy access to picture settings, display options, and more. Try it on every screen.Tip: If you prefer to use your cable set-top box or satellite receiver remote as a Universal Remote, please refer to the manual that your cable or satellite service provided. It includes instructions on how to program their remote to your television. You can find codes that work with your Westinghouse Roku TV and most common cable and satellite provider's universal remote controls at www.roku.com/universalremote."
Tip: Live TV Pause can pause content received on the antenna TV input for up to 90 minutes and requires a 16GB or larger USB drive and a valid Roku account. All data on the USB drive will be deleted prior to use.
Register your products online: www.westinghouseelectronics.com/support
Enjoy these benefits by registering your product online today!
Up-to-date product information
Exciting promotional offers
Industry news
Westinghouse Electronics has a comprehensive online privacy policy designed to protect our online visitor's information.Please visit www.westinghouseelectronics.com/privacy/ for our complete Online Privacy Policy.
Need help? Contact us at: (800) 701-0680or go to www.westinghouseelectronics.com/supportRoku, Roku N, and the Roku logo are the trademarks or registered trademarks of Roku, Inc. All other trademarks and logos herein are the property of their respective owners.

© 2021 Westinghouse All Rights Reserved.
References
[xyz-ips snippet="download-snippet"]